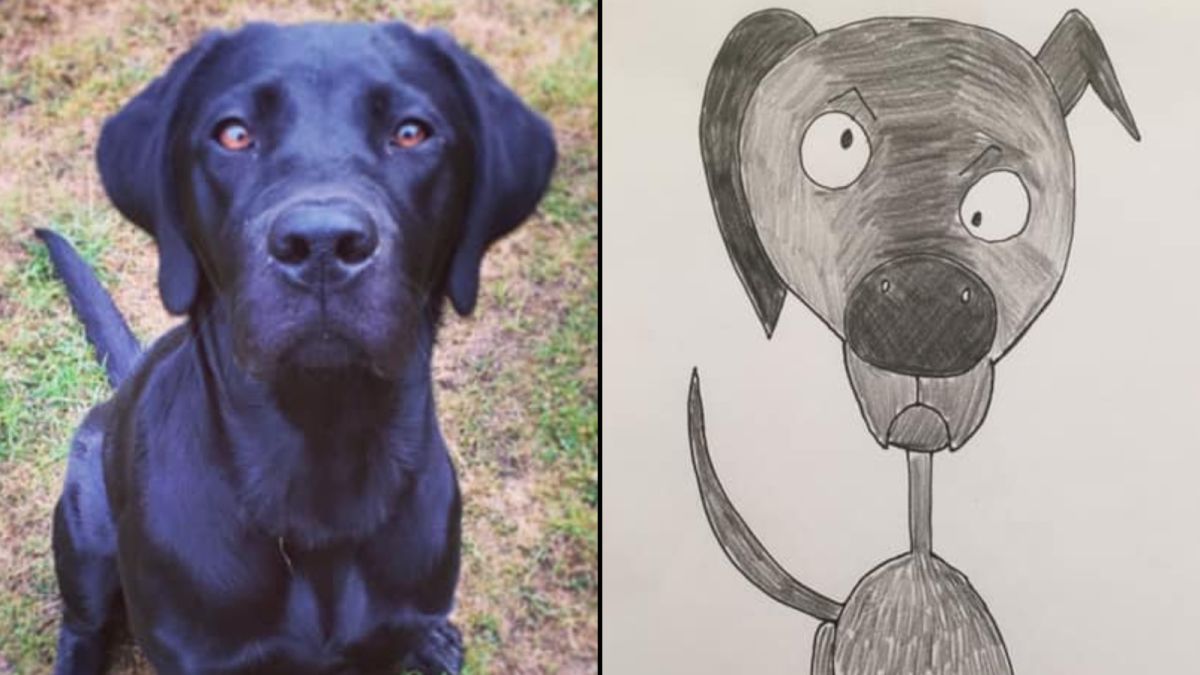 Mysterious Story Of How A Dad Is Raising Money For Charity Through Amateurish Pet Portraits
Mysterious things do occur every day. It's happened to Phil Heckels who has amassed thousands of pounds for charity by making drawings of people's pets.
Phil Heckels spoke to CNN about how it happened. It started six weeks ago when he tried to help his 6-year-old son create a thank you card for family.
He came up with an idea to sketch the family dog, a black Labrador with the name Narla just to motivate his son. He will later post the picture of the drawing on Facebook with the playful caption about selling it for $390.
"It was pretty crap," said Heckels, from Worthing, south England, who was startled to see offers for his work.
As the day drew to a close, he had gotten seven requests from pals who also desired drawings of their pets. The next few days would see many orders come in as his popularity grew daily.
Heckels who has a full time job in commercial real estate decided to create a special page for his artwork services. He named the page "Hercule Van Wolfwinkle", an alias he's made use of on Facebook for over ten years.
"Extremely realistic pictures which will grace any household," reads the tagline on the page but looking at it closely, this is not the case.
Big eyes, fat arms and abnormal features are characteristics of his works but Heckles claims he's working within what he knows how to do.
"I genuinely try quite hard to try and draw them," he said, mentioning the fact that he had little knowledge of art at school since he didn't study the subject at GCSE, the English standard of a high school degree.
To him, he's enjoying the whole thing.
"I'm just having a laugh with it," Heckels told CNN. "People seem to be enjoying it and I'm certainly enjoying it."
A particular client demanded to pay Heckles for his services, but Heckels surprisingly turned down the payment.
"I can't take any money for it so give some money to charity," Heckels said he told the client.
Heckels would later establish a JustGiving fundraiser for Turning Tides, a charity for the homeless and destitute. He claims his family has been an ardent supporter for years.
At the time of writing, the fundraiser has realized over £11,500 (about $15,000). Heckels says he's keen on ending homelessness.
"It's an absolute basic human need to have a roof over your head," he said further saying he'll keep producing more works as long as people are contributing to the cause.
In all, he's produced over 220 portraits, out of over 1,000 requests.
Though Heckels doesn't think he'll attend to all the requests, he's keen on raising more money as well as public attention in a bid of being a source of happiness during these difficult times.
"It is like a little bit of fun and a little bit of light when there isn't much to be cheery about at the minute," he said. "I would die a happy man if I could spend the rest of my life doing this.
Dog Trainer and Dog Groomer Get Married Accompanied By Their Best Friends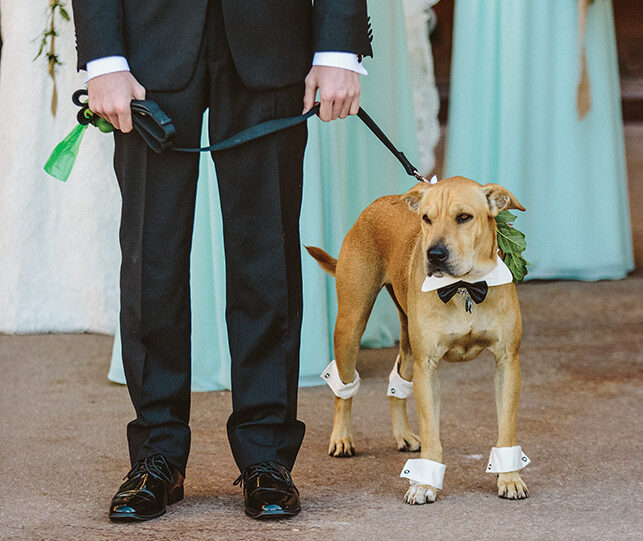 Weddings Are for Sharing With Loved Ones
When people get married, they spend one perfect day with their most loved friends and family. While many people only think about their human friends and family, there are a lot of people who could never imagine starting this important new chapter in their lives without their beloved pets. In fact, many people might have to admit, if they were being honest, that they loved their pets more than some of the relatives who came to the wedding, especially if they felt obligated to invite some relatives they rarely see and barely know.
Some People Already Spend Their Lives With Pets
Anyone who works full-time as a dog trainer or groomer already spends most of their working days with animals. They see dogs all day long, and they make the choice to do so because of many reasons. Working with pets is rewarding on many levels. Especially if you see the same dogs again and again, you form a close bond. Communicating with pets is therapeutic and generally far less stressful than dealing with humans. The people who work with dogs don't get sick of dogs and try to go home to a quiet house; they tend to have larger pet families than average.
A Dog Trainer and a Dog Groomer Tie the Knot
Paul and Annette Anthony are typical in that they work with dogs as a profession, and they have a large pet family. On the day they got married, their family consisted of 2 humans and 9 canines. Both Paul and Annette admitted that their pets were more to them than just fun — their beloved dogs also helped them get through rough times in their lives, including personal tragedies. Annette's German Shepherd Pesci is even an emotional support animal, helping her to deal with severe anxiety and depression. There was no way that their pets were going to be left out of the most important day of their lives going forward.
Canine Best Man
Paul's service dog Finn has earned his retirement. Finn has competed in over 40 events, earning titles and even setting records. He was also there for Paul when Paul developed PTSD after being at the scene of the deadliest plane crash in Pennsylvania's history. Finn was the one who helped with the proposal, giving Annette the ring with a note asking her to marry his dad. It was only fitting that Finn ended up being one of the best men at the wedding too.
A Family Affair
All 9 dogs walked down the aisle and stayed throughout the ceremony. Annette's dog Pesci even came to comfort her during the ceremony when she started to cry from happiness because he wanted to make sure his momma was all right. Whether you want to use your dogs in the ceremony as ring bearers, best men, or flower girls, or if you just want them to be present, it makes sense to have your pets help you celebrate such an important day in your life.