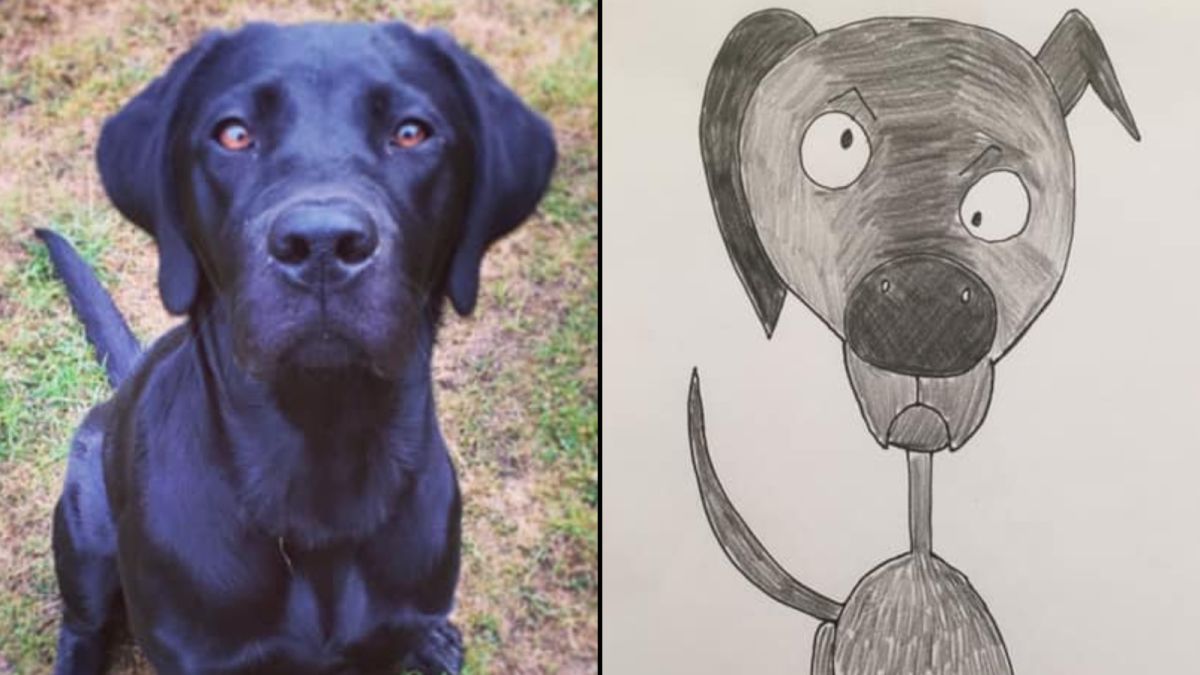 Mysterious Story Of How A Dad Is Raising Money For Charity Through Amateurish Pet Portraits
Mysterious things do occur every day. It's happened to Phil Heckels who has amassed thousands of pounds for charity by making drawings of people's pets.
Phil Heckels spoke to CNN about how it happened. It started six weeks ago when he tried to help his 6-year-old son create a thank you card for family.
He came up with an idea to sketch the family dog, a black Labrador with the name Narla just to motivate his son. He will later post the picture of the drawing on Facebook with the playful caption about selling it for $390.
"It was pretty crap," said Heckels, from Worthing, south England, who was startled to see offers for his work.
As the day drew to a close, he had gotten seven requests from pals who also desired drawings of their pets. The next few days would see many orders come in as his popularity grew daily.
Heckels who has a full time job in commercial real estate decided to create a special page for his artwork services. He named the page "Hercule Van Wolfwinkle", an alias he's made use of on Facebook for over ten years.
"Extremely realistic pictures which will grace any household," reads the tagline on the page but looking at it closely, this is not the case.
Big eyes, fat arms and abnormal features are characteristics of his works but Heckles claims he's working within what he knows how to do.
"I genuinely try quite hard to try and draw them," he said, mentioning the fact that he had little knowledge of art at school since he didn't study the subject at GCSE, the English standard of a high school degree.
To him, he's enjoying the whole thing.
"I'm just having a laugh with it," Heckels told CNN. "People seem to be enjoying it and I'm certainly enjoying it."
A particular client demanded to pay Heckles for his services, but Heckels surprisingly turned down the payment.
"I can't take any money for it so give some money to charity," Heckels said he told the client.
Heckels would later establish a JustGiving fundraiser for Turning Tides, a charity for the homeless and destitute. He claims his family has been an ardent supporter for years.
At the time of writing, the fundraiser has realized over £11,500 (about $15,000). Heckels says he's keen on ending homelessness.
"It's an absolute basic human need to have a roof over your head," he said further saying he'll keep producing more works as long as people are contributing to the cause.
In all, he's produced over 220 portraits, out of over 1,000 requests.
Though Heckels doesn't think he'll attend to all the requests, he's keen on raising more money as well as public attention in a bid of being a source of happiness during these difficult times.
"It is like a little bit of fun and a little bit of light when there isn't much to be cheery about at the minute," he said. "I would die a happy man if I could spend the rest of my life doing this.
Act of Kindness at Party City Launches Heartwarming Viral Challenge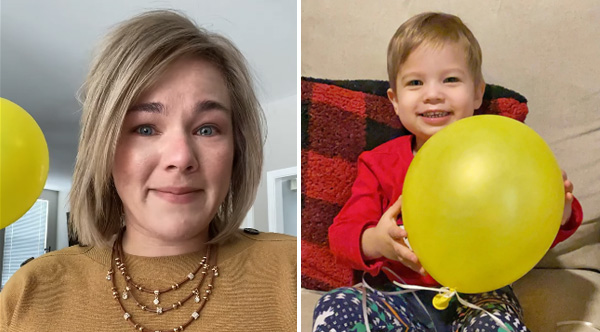 When Natasha and her son Grayson packed up their bags to visit Party City in Martinsburg, WV, they really had no idea what they were getting themselves into. Ostensibly on a trip to get some Valentine's Day gifts for school, Natasha and her son would end up engaging in a conversation with the cashier at the register. A short talk later and the cashier would gift young 2-year-old Grayson a yellow balloon. While the interaction may have seemed relatively mundane at a glance, it would go on to launch a viral challenge that would bring smiles to households around the world.
Launching a Viral Challenge — on Accident!
After returning home from Party City, Natasha Kable Fogle realized the depth of how touched she was by the gesture of kindness. Natasha would turn to Facebook in order to highlight the act of kindness granted at Party City as well as what it meant to her son, Grayson. While Natasha had wanted to spread the word about Party City's positive practices, she had no idea that her Facebook message would become the next big thing in viral challenges!
Natasha uploaded a video thanking the cashier at Party City for her act of kindness, and it wasn't long until the message had found its way around the internet. Pretty soon, a local law firm near Natasha would decide to launch the #YellowBalloonChallenge. The law firm, named Catrow Law PLLC, decided to launch the challenge on Twitter to start an avalanche of positive acts of kindness.
Catrow Law described the #YellowBalloonChallenge as a game of passing kindness forward in ways both large and small. From mowing the lawn or shoveling a driveway to paying for the car behind you at the coffee shop, the Yellow Balloon Challenge would quickly find its footing on the internet. To get things started, Catrow Law PLLC would pay $100 to Meals on Wheels by paying for a stranger's account. The donation was tagged with a simple message, "Keep the yellow balloon challenge going!"
The Internet Saves the Day
From Catrow Law PLLC, the Yellow Balloon Challenge would find its way to Studio M Boutique where it was summarily accepted. Studio M Boutique would agree to donate 10% of its sales for an entire night to a client that had been engaging in a fight against cancer. Not only would Studio M Boutique end up raising an exceptional amount of funds, but the business would push the Yellow Balloon Challenge into another demographic of potential challengers. Among the other local businesses to engage in the Yellow Balloon Challenge was TJ's Pit Stop who had dedicated its donations to The Boys and Girls Club.
Viral social media challenges have played a huge role in day-to-day life and the Yellow Balloon Challenge was no exception. First there was the Ice Bucket ALS challenge and now the Yellow Balloon Challenge. What else can the internet do to help those in need?