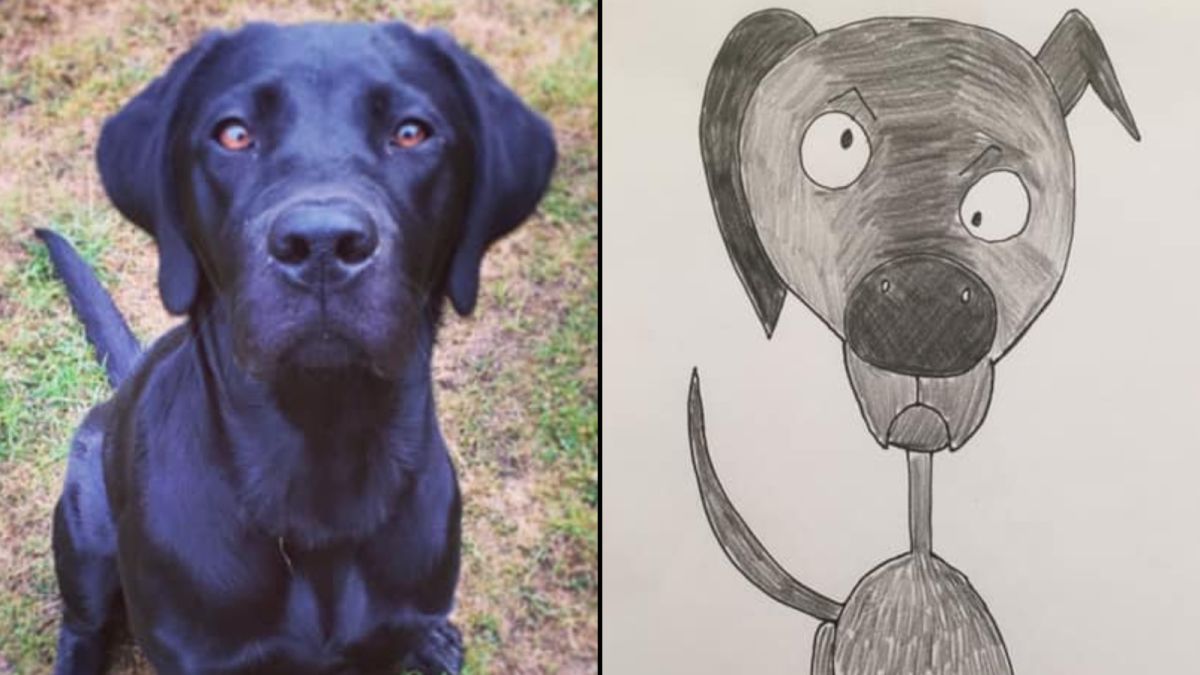 Mysterious Story Of How A Dad Is Raising Money For Charity Through Amateurish Pet Portraits
Mysterious things do occur every day. It's happened to Phil Heckels who has amassed thousands of pounds for charity by making drawings of people's pets.
Phil Heckels spoke to CNN about how it happened. It started six weeks ago when he tried to help his 6-year-old son create a thank you card for family.
He came up with an idea to sketch the family dog, a black Labrador with the name Narla just to motivate his son. He will later post the picture of the drawing on Facebook with the playful caption about selling it for $390.
"It was pretty crap," said Heckels, from Worthing, south England, who was startled to see offers for his work.
As the day drew to a close, he had gotten seven requests from pals who also desired drawings of their pets. The next few days would see many orders come in as his popularity grew daily.
Heckels who has a full time job in commercial real estate decided to create a special page for his artwork services. He named the page "Hercule Van Wolfwinkle", an alias he's made use of on Facebook for over ten years.
"Extremely realistic pictures which will grace any household," reads the tagline on the page but looking at it closely, this is not the case.
Big eyes, fat arms and abnormal features are characteristics of his works but Heckles claims he's working within what he knows how to do.
"I genuinely try quite hard to try and draw them," he said, mentioning the fact that he had little knowledge of art at school since he didn't study the subject at GCSE, the English standard of a high school degree.
To him, he's enjoying the whole thing.
"I'm just having a laugh with it," Heckels told CNN. "People seem to be enjoying it and I'm certainly enjoying it."
A particular client demanded to pay Heckles for his services, but Heckels surprisingly turned down the payment.
"I can't take any money for it so give some money to charity," Heckels said he told the client.
Heckels would later establish a JustGiving fundraiser for Turning Tides, a charity for the homeless and destitute. He claims his family has been an ardent supporter for years.
At the time of writing, the fundraiser has realized over £11,500 (about $15,000). Heckels says he's keen on ending homelessness.
"It's an absolute basic human need to have a roof over your head," he said further saying he'll keep producing more works as long as people are contributing to the cause.
In all, he's produced over 220 portraits, out of over 1,000 requests.
Though Heckels doesn't think he'll attend to all the requests, he's keen on raising more money as well as public attention in a bid of being a source of happiness during these difficult times.
"It is like a little bit of fun and a little bit of light when there isn't much to be cheery about at the minute," he said. "I would die a happy man if I could spend the rest of my life doing this.
Young Boy Keeps Toy He Was Measured Against As A Premature Baby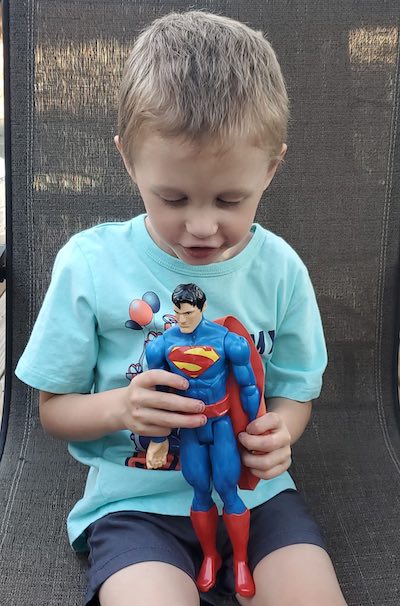 Doctors sent home a woman and her husband to prepare for a miscarriage, but the defiant parents stayed put and now have the tale of a lifetime to tell.
So does their four-year-old son Logan Ray, born less than six months of pregnancy, has a Superman action-figure as proof of how small he was at birth. He was only 12 inches in length and weighed a pound and a half. He and the action figure his parents Rob and Val placed beside him shortly after his birth, are now inseparable.
How did this fascinating and heartwarming story come about?
Nearly five years ago, when Val was pregnant with their son, doctors wiped the smiles off their faces by announcing that the baby would not make it to full term. The Physician claims the baby would not survive at all, and they should brace themselves for any eventuality.
The reason for the bad news was that Val had been diagnosed with a cervix problem. The doctors said examinations showed her Cervix was incompetent. That situation usually transpires when unstable cervical tissue induces or contributes to premature delivery or the loss of pregnancy even though the gestation is, on the other hand, healthy.
Val and Rob blocked out the bad news they received, and we're adamant that they would remain in the hospital to see the pregnancy through. The baby was a fighter too and stayed put for all of twenty-three weeks. Val helped out by keeping her feet elevated and staying in bed for three weeks without getting up to do anything that could further jeopardize the pregnancy.
She gave birth to a child now known as the "Superman Baby" for dual reasons. He was mighty strong and put up a fight to survive, and he was the size of a Superman toy. The toy idea came about when the nurses suggested to the mom that she should use something like a keepsake to measure the baby alongside. When she ran the idea by her husband, he was very supportive and they agreed on the Superman novelty.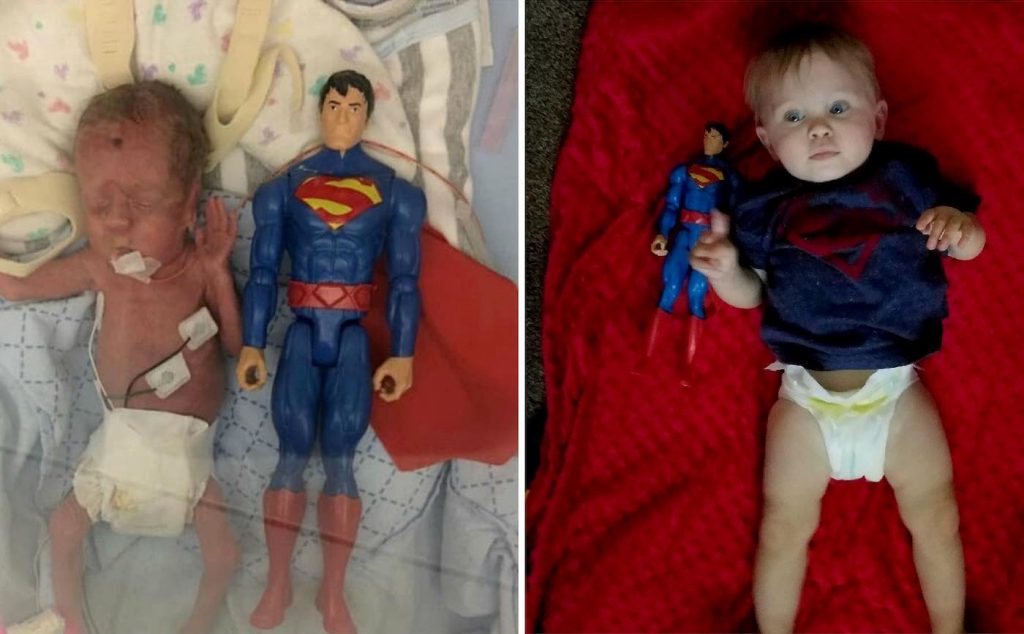 The doll was sanitized and placed beside Logan. For fifteen weeks, he remained in an incubator at the Randall Children's Hospital in Portland, Oregon fighting a myriad of complications that many feared would hinder the survival of Logan, but he pulled through like a champ. It was after those four months that he was finally able to leave with his parents.
From the hospital days to now, four years later, Val has been taking a multitude of photos with Logan carrying around his action figure. The doll is an indicator of Logan's successful development after a traumatic experience in the first few months of his life.
According to the happy and grateful parents, they communicate with the doctor who wants a regular update on Logan, who he refers to as " tough."
Many people consider not just Logan's survival but the fact that he has no further complications a miracle. Just like his action figure, Logan is healthy and strong as any regular child his age. His parents say they will never get rid of the Superman tog as memorabilia is not just for them, but for Logan when he becomes an adult.
He will have a tear-jerking story to tell years from now if or when he becomes a parent as well.