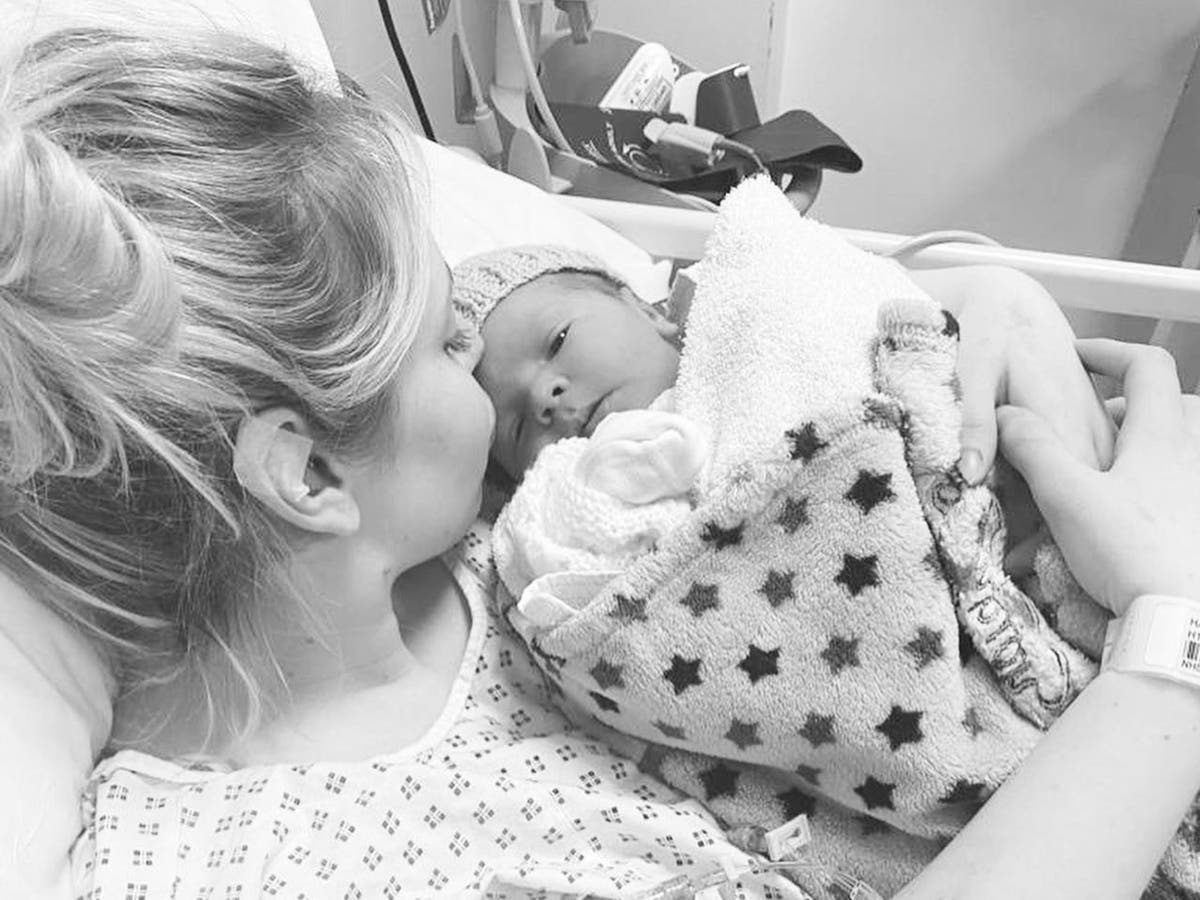 Meet 'Car Park Charlie': Parents Welcome Child to World in Unlikeliest of Places
There are few times in life where we feel less in control than when we welcome our first child to the world. Parents and nerves go hand-in-hand, particularly as they go through the process together for the first time. For Harriet Hanson and Adam Smith, the process couldn't have gone smoother or have happened in a less likely of situation.
In today's story, we are going to take a deep dive into the baby taking over the nation. We are going to introduce you to Car Park Charlie and the family that he calls his own.
It Started With a Hospital Trip
When Harriet Hanson and Adam Smith checked into the Premier Inn Grimsby, it wasn't because they had fallen in love with the place. Harriet and Adam had whisked themselves away to the hospital that previous morning after Harriet had begun to experience contractions late in her pregnancy. The two had driven from their hometown in Skegness for more than 45 minutes to arrive at the hospital in Grimsby of North East Lincolnshire. The advising doctor at the time told Ms. Hanson and her husband that she was still likely 'a ways off'. Harriet and Adam were told that they could go home and were advised to return when the event was nearer.
With home almost an hour away and snow rapidly accumulating on the roads, Harriet and Adam knew that they didn't want to drive all the way back to Skegness. After all, the long drive + the likelihood that they might have to immediately drive back made them more than a little nervous. So Adam would pull the family into the Premier Inn right outside Grimsby where his plan was to book a room. Fortunately, the night staff was headed by Mike Krofchak who was quick to get the couple a room, and quicker to come and save the day just hours later!
Settling Into the Hotel Room
It hadn't taken long for Adam and Harriet to realize that the hospital had been mistaken in sending them away. Harriet would soon experience her water breaking and due to the inclement weather, Adam and Mike were forced to take an active role in the process. Mike Krofchak, the quick-thinking night clerk, was quick to get on the phone with an ambulance while Adam and Harriet settled in for their adventurous night.
On the phone with the hospital, Adam was told that he must prepare Harriet for delivery himself. Fortunately, his skills weren't put to the test as paramedics arrived just in time to help deliver the child in their ambulance. Charlie, affectionately nicknamed 'Car Park Charlie', would enter the world at 12:29am on February 8th while weighing in at a solid 8lbs and 3.5oz. According to the team at the Premier Inn, Charlie would instantly become the youngest-ever guest to stay at the chain, and they have offered a complimentary stay for a return visit to the family.
According to Adam and Harriet, had they not made the decision to stay at the Premier Inn rather than drive home, it was very likely that their child could have come to a negative or unhealthy end. Adam told the press that his family made three lifesaving decisions on that night: avoiding snowy rides driving home, staying at a nearby inn, and choosing the Premier Inn.
For his part, Mr. Krofchak was just happy to be part of a fun story. Krofchak stated, "It was a real privilege to know I helped in some small way with the safe arrival (of Charlie)."
Jacksonville Man Spreads Love and Positivity at the Beach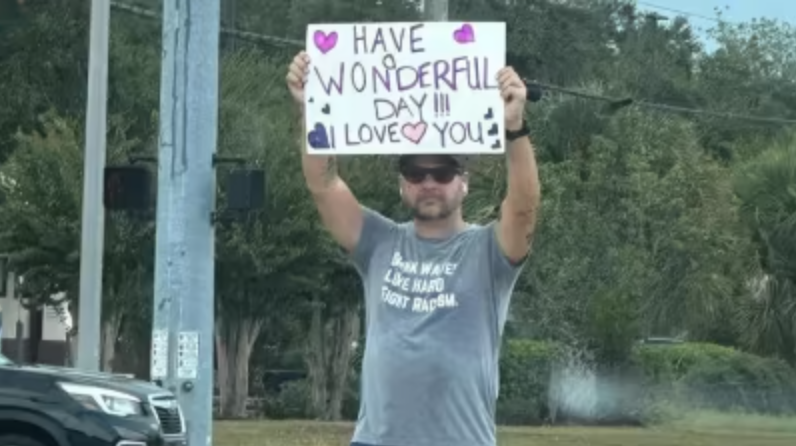 In Jacksonville, Florida, a man has been making waves of positivity and spreading kindness at the Beach Boulevard and San Pablo Road South intersection. With handmade signs that read, "Have a wonderful Day!! I Love You" and "You are Relevant," this man is on a mission to uplift the spirits of those who pass by. His heartwarming gestures have not gone unnoticed, and his actions are especially poignant during National Suicide Prevention Month.
Rika, a local resident, had a unique encounter with this compassionate individual. She was on her way to pick up her lunch when she saw a man standing in the median of the road, holding these uplifting signs. Most of us would just glance and continue on our way, but Rika decided to take a closer look. As she stopped at a red light, she took a few pictures to capture the moment. To her surprise, the man approached her car and handed her a sunflower.
"So picture this… you're out going to pick up your lunch, and there's this random guy walking by with a handmade sign," Rika recounted. "I'm sure like most of us, we'd glance and keep it moving, but I decided to read his sign since I was at a stop light. I snapped a few pictures because why not, but as I was doing this, he approached my car door to hand me a sunflower! Don't forget to appreciate the small things."
This simple act of kindness had a profound impact on Rika, as it has on many others who have encountered this man and his signs. His message of love and importance reminds us all to appreciate the small joys in life and to acknowledge our worth.
The man's efforts are not just a random act of kindness; they hold special significance during National Suicide Prevention Month. September is a time when people and organizations across the country work to raise awareness about mental health and suicide prevention. This Jacksonville man's compassionate actions align perfectly with the spirit of this month, as he strives to remind people that they matter and that there is goodness in the world.