Marquette Student's Open Iggy's Market – A Sustainable Solution for Affordability and Waste Reduction
In a powerful step towards sustainability and affordability, a Marquette University student-led initiative is transforming the way students approach the end of the academic year and the start of a new one. As the academic year draws to a close, students often face the challenge of discarding unwanted items, resulting in an unfortunate increase in waste. However, Marquette's forward-thinking program, aptly named Iggy's Market, is redefining this scenario by turning discarded belongings into a resourceful solution that benefits both the environment and the student community.
The brainchild of a Marquette student, Iggy's Market is a cornerstone of the university's larger sustainability program, Markept. The ingenious program aims to repurpose used items, ranging from school supplies to furniture and household goods, which are collected through student donations and even retrieved from nearby dumpsters. These gently-used items find a new lease on life through Iggy's Market, where they are offered at affordable prices or even given away for free.
Incoming students, who often bear the brunt of purchasing necessities, eagerly anticipate the fall yard sale hosted by Iggy's Market. It offers them the opportunity to acquire much-needed items without breaking the bank. "I just moved here a week ago. Everything is coming in piece by piece," shared Timothy Wotring, a graduate student from Ohio, adding that the market was a potential solution for furnishing his new space.
For Marquette University Law School student Brady Wirkes, the market offered a cost-effective solution to brightening up his living space. "I was looking for lamps. My friends and I are in a really dark apartment, so we thought it would be good to buy some lamps, and they're so cheap so it's like, you can't not get them," he expressed.
Iggy's Market not only makes college life more affordable but also contributes to a greener future. Chelsea Malacara, the sustainability and energy management coordinator for Marquette, highlighted the sense of accomplishment that comes with diverting usable items from landfills. "It is a very rewarding thing to know all these things are not going to go into the landfill and that it's helping students make college more affordable," she said.
Beyond affordability and environmental impact, the program is creating a sense of belonging and comfort for international students like Onyeka Idemili. "It's so much of a relief being that you are so far away from home and you have to get some things to keep in the house. Having it for very much of a lesser price and for some of the things very free as well is a way for international students (who are) settling, you know, kind of make a home away from home," explained Idemili.
As Iggy's Market continues to flourish and thrive, it exemplifies the power of student-driven initiatives to create positive change within their communities. Moreover, any funds generated through the program will be reinvested to ensure its self-sustainability, solidifying Iggy's Market as a lasting testament to Marquette University's commitment to both its students and the planet.
500,000-Year-Old Wooden Structure Rewrites History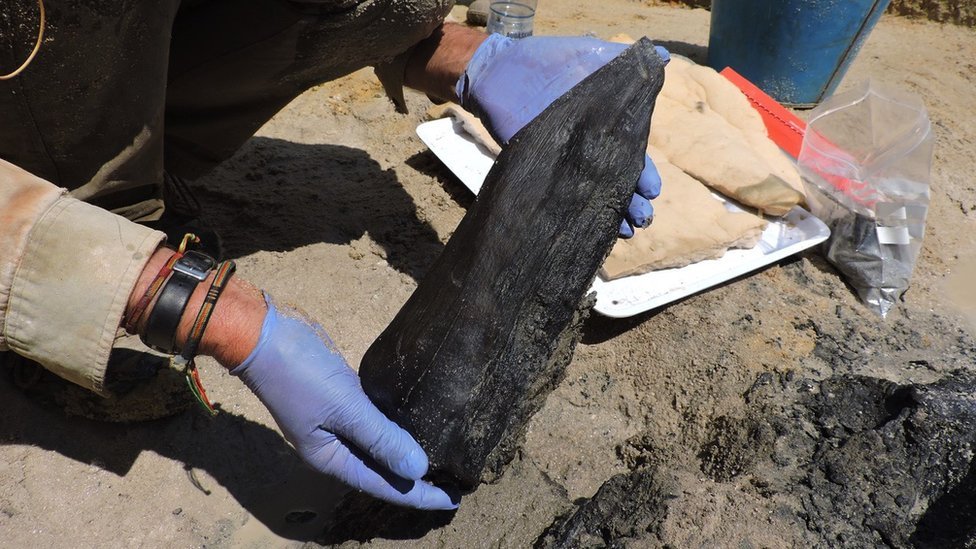 In an archaeological discovery, a wooden structure dating back an astonishing 500,000 years has been unearthed on the banks of a river in Zambia, challenging long-held beliefs about the capabilities of ancient humans. Researchers stumbled upon these ancient wooden logs, a revelation that has the potential to reshape our understanding of the lives of early humans.
The find, located on the riverbanks near Zambia's Kalambo Falls, provides compelling evidence that stone-age people may have constructed primitive shelters, forever altering our perception of their intelligence and resourcefulness. Archaeologist Prof Larry Barham, who led the research, was profoundly impacted by the discovery, stating, "This find has changed how I think about our early ancestors."
What makes this find truly remarkable is that it suggests ancient humans did more than merely survive; they thrived by creating something entirely new. These early humans exhibited intelligence, imagination, and craftsmanship by fashioning structures from wood, a material that had never before been transformed into such large and sophisticated objects.
The researchers also uncovered ancient tools, including digging sticks, but the most exciting find was two pieces of wood positioned at right angles to each other. "One is lying over the other, and both pieces of wood have notches cut into them," explained Geoff Duller, a professor of geography at the University of Aberystwyth and a member of the research team. "You can clearly see those notches have been cut by stone tools, making the two logs fit together to become structural objects."
Radiocarbon dating confirmed the wood's age, placing it at a staggering 476,000 years old. This revelation has ignited curiosity about the woodworking traditions of ancient societies, challenging the prevailing notion that early humans led simplistic, nomadic lives.
Perrice Nkombwe, a team member from the Livingstone Museum in Zambia, expressed her astonishment, saying, "I was amazed to know that woodworking was such a deep-rooted tradition. It dawned on me that we had uncovered something extraordinary."
The preservation of the wooden structure itself is a miracle. Typically, wood decays over time unless preserved under specific conditions. However, in the waterlogged environment along the Kalambo Falls, the wood remained intact, essentially pickled by the elements for millennia.
While the exact purpose of this ancient wooden structure remains a mystery, it has sparked numerous speculations. Prof. Duller suggests it might have been used as a place to sit beside the river and fish, although a complete understanding of its function remains elusive.
Moreover, the identity of the individuals who constructed this structure raises intriguing questions. "We don't know – it could have been Homo sapiens, and we just haven't discovered fossils from that age yet," Prof. Duller added. "But it could be a different species – [perhaps] Homo erectus or Homo naledi – there were a number of hominid species around at that time in southern Africa."
This discovery has the potential to enrich our understanding of ancient woodworking techniques, craftsmanship, and human interaction with the environment. As researchers continue their work at the Kalambo Falls site, the pages of history are being rewritten, and our appreciation for the ingenuity of our ancient ancestors grows ever deeper.