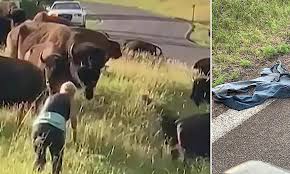 Lady Approaches Calf For Pic, Gets Charged By Bison—And It Literally Tosses Her Out Of Her Jeans
This year, the Sturgis Motorcycle Rally was alive and well in South Dakota in Custer State Park. South Dakota has no rule about wearing masks, and its policies on social distancing are weak. That suited most of the bikers just fine, and they turned out in droves for the rally. They were all coming along on an adventure shared by the crowd, but one visitor got more adventure than she'd bargained for.
A woman, 54, from Iowa, saw a bison calf in the wild and thought this made the perfect photo opportunity. It seemed amazing- a cute, baby animal right there where she could get to it for a photo.
There was a full herd of bison standing in the road, and this woman was close by. The officials at Custer State Park are careful to warn visitors to stay away from the bison that roam the park. After all, these animals are huge, and they can be temperamental. Forgetting the warning, this woman walked right up to the baby bison to take its picture. Just then, the mother of the bison calf saw her getting close to her baby and decided to take action.
The mother bison charged the woman and then threw her around the road several times before running away. A crowd of people witnessed this happen and were stunned by what happened to the woman. Some screamed while others stood in shock, too surprised to do much of anything once she had been attacked and stuck on the bison's horn for a time.
Just to add more embarrassment to the situation, the woman had been robbed of her jeans during the process. The mother bison's horn had gotten caught on the woman's belt as it charged. This resulted in her jeans being pulled completely off her. Her jeans were stuck on the horn of the mother bison for a while before someone was able to catch up to the bison and remove the pants from her horn.
So, did the woman survive the attack? Yes, she survived to see another day. Hopefully, she escaped from this situation a little wiser about how to treat wild animals and especially what to do when she sees a baby animal in the wild. Just like with humans, most animals don't tolerate anyone messing around with their babies. After this incident, the woman was not seen to move much, and paramedics were immediately called. She was airlifted to a local hospital, as she was expected to have serious, life-threatening injuries. But, the woman had only minor injuries and is currently in the recovery process.
What should you do if you see a bison in the wild, even a small one? Definitely keep your distance. Bison don't have any form of warning before they charge a human or other animal. They can simply turn on people in a split second and charge at them.
Young Boy Keeps Toy He Was Measured Against As A Premature Baby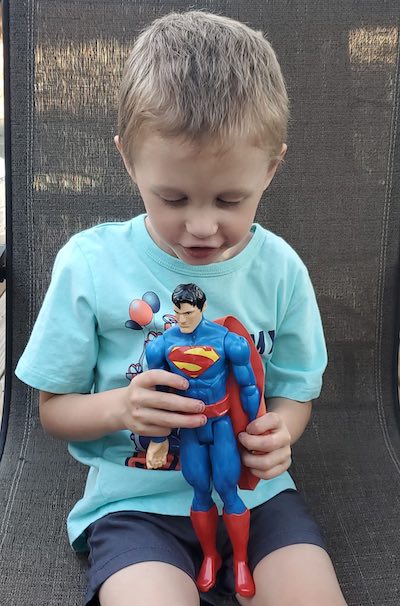 Doctors sent home a woman and her husband to prepare for a miscarriage, but the defiant parents stayed put and now have the tale of a lifetime to tell.
So does their four-year-old son Logan Ray, born less than six months of pregnancy, has a Superman action-figure as proof of how small he was at birth. He was only 12 inches in length and weighed a pound and a half. He and the action figure his parents Rob and Val placed beside him shortly after his birth, are now inseparable.
How did this fascinating and heartwarming story come about?
Nearly five years ago, when Val was pregnant with their son, doctors wiped the smiles off their faces by announcing that the baby would not make it to full term. The Physician claims the baby would not survive at all, and they should brace themselves for any eventuality.
The reason for the bad news was that Val had been diagnosed with a cervix problem. The doctors said examinations showed her Cervix was incompetent. That situation usually transpires when unstable cervical tissue induces or contributes to premature delivery or the loss of pregnancy even though the gestation is, on the other hand, healthy.
Val and Rob blocked out the bad news they received, and we're adamant that they would remain in the hospital to see the pregnancy through. The baby was a fighter too and stayed put for all of twenty-three weeks. Val helped out by keeping her feet elevated and staying in bed for three weeks without getting up to do anything that could further jeopardize the pregnancy.
She gave birth to a child now known as the "Superman Baby" for dual reasons. He was mighty strong and put up a fight to survive, and he was the size of a Superman toy. The toy idea came about when the nurses suggested to the mom that she should use something like a keepsake to measure the baby alongside. When she ran the idea by her husband, he was very supportive and they agreed on the Superman novelty.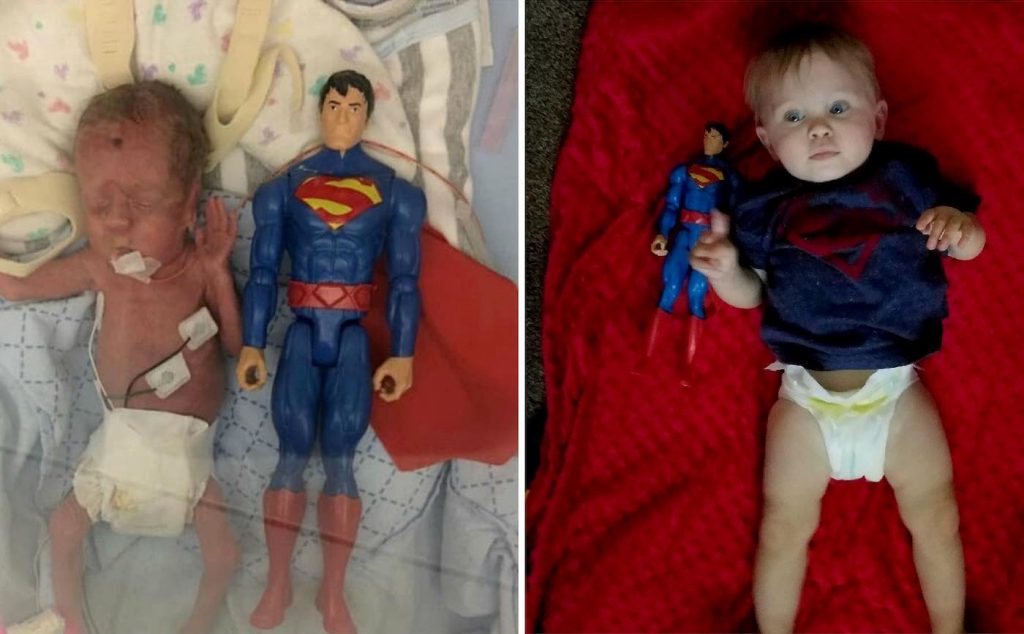 The doll was sanitized and placed beside Logan. For fifteen weeks, he remained in an incubator at the Randall Children's Hospital in Portland, Oregon fighting a myriad of complications that many feared would hinder the survival of Logan, but he pulled through like a champ. It was after those four months that he was finally able to leave with his parents.
From the hospital days to now, four years later, Val has been taking a multitude of photos with Logan carrying around his action figure. The doll is an indicator of Logan's successful development after a traumatic experience in the first few months of his life.
According to the happy and grateful parents, they communicate with the doctor who wants a regular update on Logan, who he refers to as " tough."
Many people consider not just Logan's survival but the fact that he has no further complications a miracle. Just like his action figure, Logan is healthy and strong as any regular child his age. His parents say they will never get rid of the Superman tog as memorabilia is not just for them, but for Logan when he becomes an adult.
He will have a tear-jerking story to tell years from now if or when he becomes a parent as well.