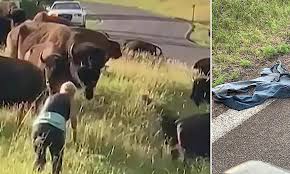 Lady Approaches Calf For Pic, Gets Charged By Bison—And It Literally Tosses Her Out Of Her Jeans
This year, the Sturgis Motorcycle Rally was alive and well in South Dakota in Custer State Park. South Dakota has no rule about wearing masks, and its policies on social distancing are weak. That suited most of the bikers just fine, and they turned out in droves for the rally. They were all coming along on an adventure shared by the crowd, but one visitor got more adventure than she'd bargained for.
A woman, 54, from Iowa, saw a bison calf in the wild and thought this made the perfect photo opportunity. It seemed amazing- a cute, baby animal right there where she could get to it for a photo.
There was a full herd of bison standing in the road, and this woman was close by. The officials at Custer State Park are careful to warn visitors to stay away from the bison that roam the park. After all, these animals are huge, and they can be temperamental. Forgetting the warning, this woman walked right up to the baby bison to take its picture. Just then, the mother of the bison calf saw her getting close to her baby and decided to take action.
The mother bison charged the woman and then threw her around the road several times before running away. A crowd of people witnessed this happen and were stunned by what happened to the woman. Some screamed while others stood in shock, too surprised to do much of anything once she had been attacked and stuck on the bison's horn for a time.
Just to add more embarrassment to the situation, the woman had been robbed of her jeans during the process. The mother bison's horn had gotten caught on the woman's belt as it charged. This resulted in her jeans being pulled completely off her. Her jeans were stuck on the horn of the mother bison for a while before someone was able to catch up to the bison and remove the pants from her horn.
So, did the woman survive the attack? Yes, she survived to see another day. Hopefully, she escaped from this situation a little wiser about how to treat wild animals and especially what to do when she sees a baby animal in the wild. Just like with humans, most animals don't tolerate anyone messing around with their babies. After this incident, the woman was not seen to move much, and paramedics were immediately called. She was airlifted to a local hospital, as she was expected to have serious, life-threatening injuries. But, the woman had only minor injuries and is currently in the recovery process.
What should you do if you see a bison in the wild, even a small one? Definitely keep your distance. Bison don't have any form of warning before they charge a human or other animal. They can simply turn on people in a split second and charge at them.
Father in Bumblebee costume escorts his kid back to school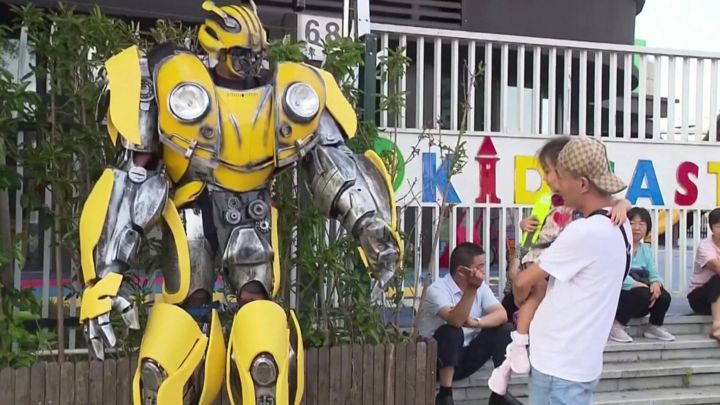 Bumblebee from the American sci-fi movie series Transformers never had a kid, but if he did, he'd have definitely escorted him to school.
A father in Shanghai, China has gone above and beyond to encourage his kid to go back to school after staying at home for months due to the Covid-19 pandemic. There's no way any child is refusing to walk with Bumblebee into school, and this man had that in mind when building his Autobot suit.
Just like the rest of the world, China had been on lockdown, and for months, kids had to stay away from school to prevent infection and spread of the deadly virus. However, some normalcy is being restored in some parts of the region, and schools now have the green light to open and allow children continue with their education.
The Bumblebee suit wasn't only for his kid, though. He built it to serve as some amusement and surprise to other kids at school- and that he did.
"I also want to bring happiness to other children. I didn't only wear it for my own child. All of them were preschoolers," he said in the video.
His suit looks like the real thing. The only things missing were metal, alien technology, and missiles- not much, right? Standing about 2.3-metre tall, the suit was built using soft materials to prevent touchy and curious children from getting injured- and he was right to have done that because he was rushed and hugged by children upon arrival at the school.
The excitement of the kids at the sight of Bumblebee could light up astronomical units of outer space, as the intergalactic warrior once again put smiles on the faces of humans. Kudos to this amazing dad for his efforts to make kids happy to resume back to school- he'd probably do it every day if he could.
The home-made suit seems to be inspired by the 2017 movie Bumblebee.