Kids Surprise 'Dr. Mom' With Signs And Dancing After She Turns In Her Dissertation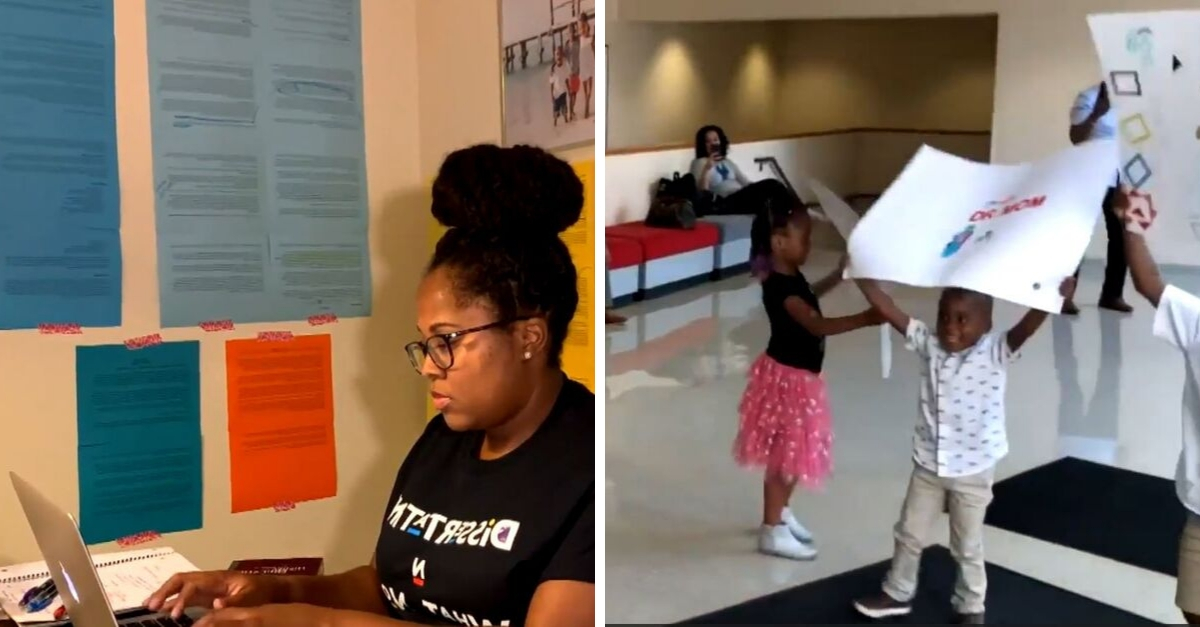 Imagine turning in your dissertation and coming home to your children who have orchestrated a celebration in your honor. Now, imagine your kids meeting you in the hallway of the school with congratulatory signs. This is what happened to Candace Hall.
The Ph.D. candidate handed in her dissertation at Maryville University only to find her kids – aged 4-years-old, 6-years-old, and 7-years-old respectively – in the hall. The youngsters were holding signs that read, "Congratulations, Mom" and "We Did It!" Candace's children topped off the celebration by dancing to 1K Phew's song, "We Did It." It was truly a moment to remember.
"I was pleasantly surprised," Candace told the press. "Not many people can effectively surprise me but they did. And it was just a joy to celebrate that moment with me."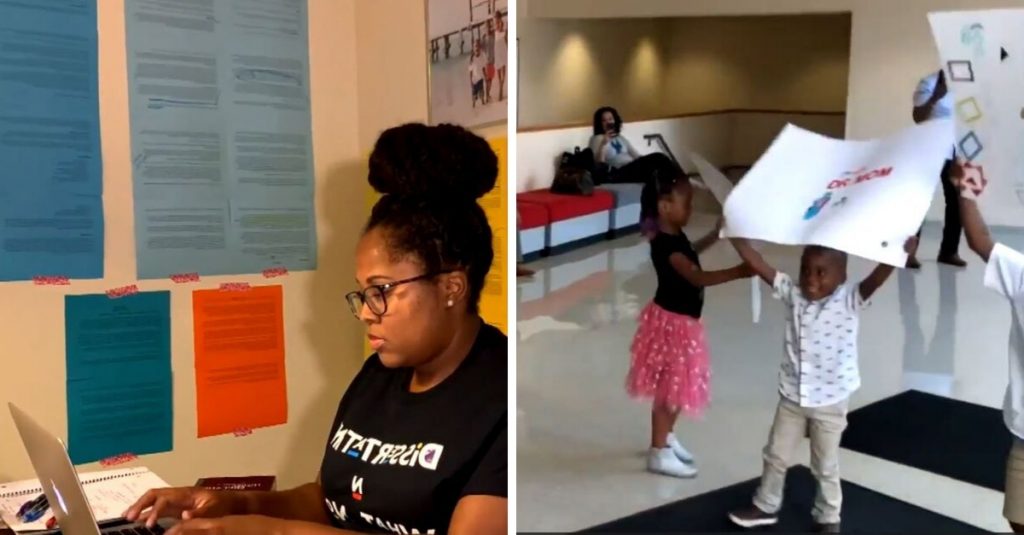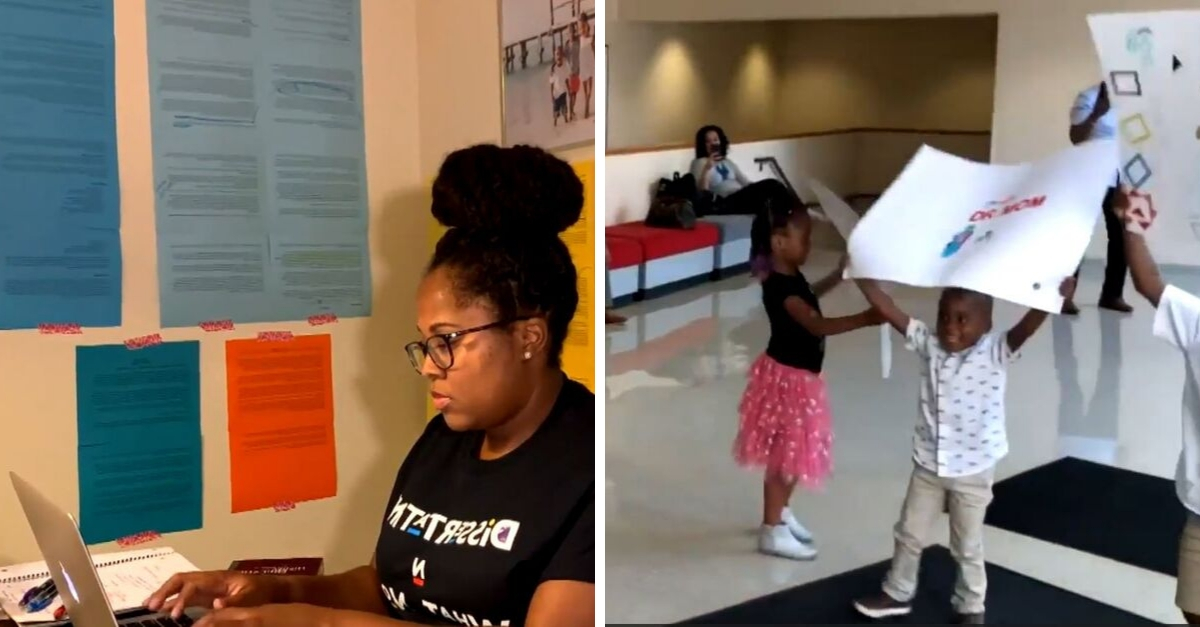 Candace's kids remember when their mom began her quest for a doctorate degree. The 31-year-old worked towards her goal for two years before seeing its manifestation this year.
"They saw me when I started the process, and then for them to see me finish, it was a blessing," Hall says. Of course, nothing meaningful comes easy.
"There are times where it was overwhelming and was like, 'I think about this too much. I have to balance way too much. I have to give up something," Candace admits. Such thoughts did not stay for long. "It was really important to just sit down and prioritize what was important to me. And then also to understand this would not be a permanent thing … the things that I would be sacrificing."
Candace's dissertation is about job satisfaction in academia with an emphasis on people of color. Her research was partially bred from personal experience. Candace works as a full-time academic coordinator at Washington University in St. Louis.
"My advice would be to write down your goals, what you see yourself doing and then put it up somewhere so that you see it and it's a reminder why you're doing this," Candace says regarding tips that she would give to others hoping to make their dreams a reality. "So that in those days, it feels impossible and you feel like giving up, you can remember why you started."
Candace can do a myriad of things with her doctorate degree. She already works in academia. It would not be too far-fetched, then, for Hall to broaden her horizons and move up in position using her new credentials.
Regardless of the path that she chooses, Candace knows that her kids are behind her full force. "I just hope my kids remember this when they get older and they feel like, 'Oh, I can't do it.' I hope they look back to this moment, like, 'Look what Mom did," Hall says.
Candace walks the graduation stage at Maryville University in Spring 2020. You can bet that her kids will be sitting front and center at the ceremony.
Too Shallow for Swimming With Sharks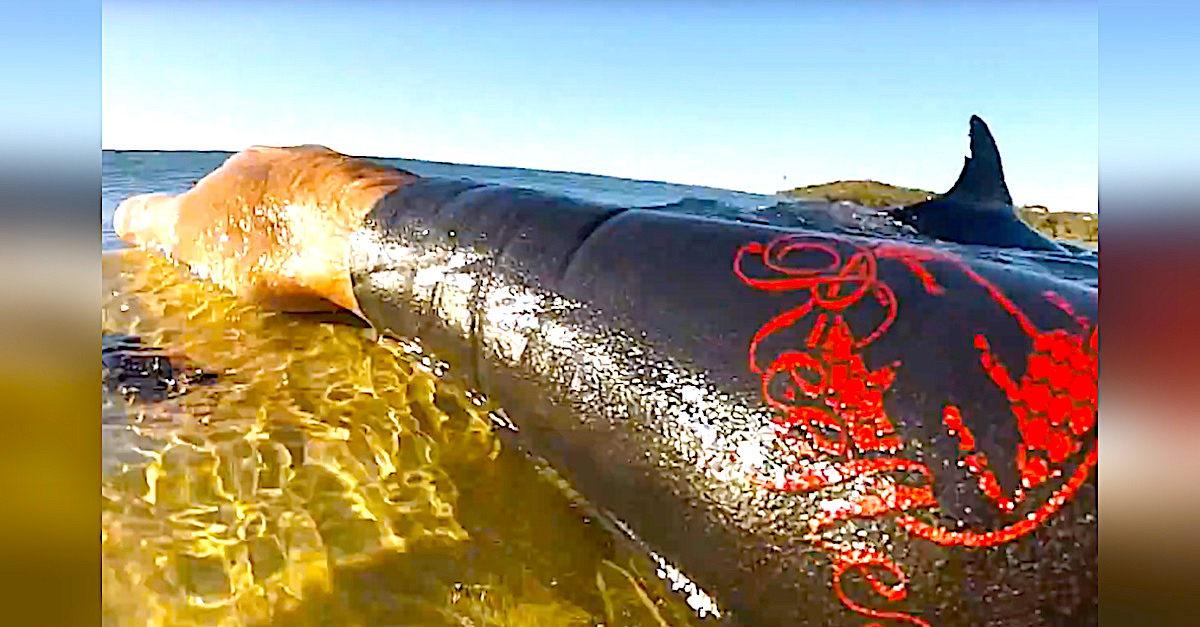 University of Florida student Stefani Luke loved the ocean. She lived to be on the water. She was given a surfboard when she was in high school, but growing up in Ft. Lauderdale didn't offer her much opportunity to ride any exciting waves. Going to college in Gainesville, Florida would provide her with a chance to take weekend trips to the popular beach town, St. Augustine to check out some waves.
One stormy Tuesday, Stefani and some friends heard the news about coastal swells reaching up to five feet. They loaded up their boards and began a caravan. There were 11 kids but only 8 surfboards. She was excited to finally have the chance to use her board on some real waves, but she was also very aware of sharks. She was a biology major, recently working as an intern at the US Fish and Wildlife Service. Most of her work there was done in a lab or in area rivers. The biggest risk at her job had been alligators.
Stefani's love of the ocean and interest in fisheries compelled her to stay abreast of shark activity along the east coast. She knew that in 2019, reports of shark attacks, either provoked or unprovoked, reached nearly 150.
The kids arrived at the beach, ready for some refreshing water and salty air. Today was a day to enjoy a day out of school. They unloaded the boards from their roof racks. Stefani waxed her beloved board alongside her good friends. Since there were more kids there than boards, Stefani offered her board up to a friend to try first. She figured she'd just do a little body surfing to warm up her muscles before fully engaging on her board.
The waves were slightly disappointing. The stories they'd heard about giant waves were exaggerated, topping out at maybe three feet. She swam into the surf and waited. She thought she was a good distance from the surfers with boards. The water was a little colder than expected, and she hadn't brought her wet suit. She swam parallel to the shore for a bit, to warm up. She ended up swimming close to her friend who'd borrowed her board. She waited in the line up, just beyond the breaking point of the waves. She was ready to body surf and catch some waves.
The waves were coming in sets of four. She took the first in a set. It picked her up and she swam with it. As she glided in toward the shore she saw the dark shadow of what she knew was a shark. Everyone knows that you don't panic when you see a shark. You don't thrash around in the water. You don't show signs of distress that signal to a shark that you're easy prey. She forgot all that. All Stefani could think was "I don't want to get eaten by a shark today!" She swam for her life. She swam fast, and probably a little crazy.
The realization of her frenzy made her calm down slightly. She dropped the panicky swimming. She stopped swimming to realize that she was only in about a foot of water! She felt very silly, probably looking like a fool to anyone who might've seen this spectacle.
She stood in the water to see her friend that had borrowed her board. Her friend asked with excitement, "Did you see that shark?!" Stefani acknowledged that she had in fact seen it. Her friend offered her the board back. Stefani declined, "No thanks. I like my legs. I like walking". It was at that moment that Stefani gave her board away. She was done surfing and never tried it again.