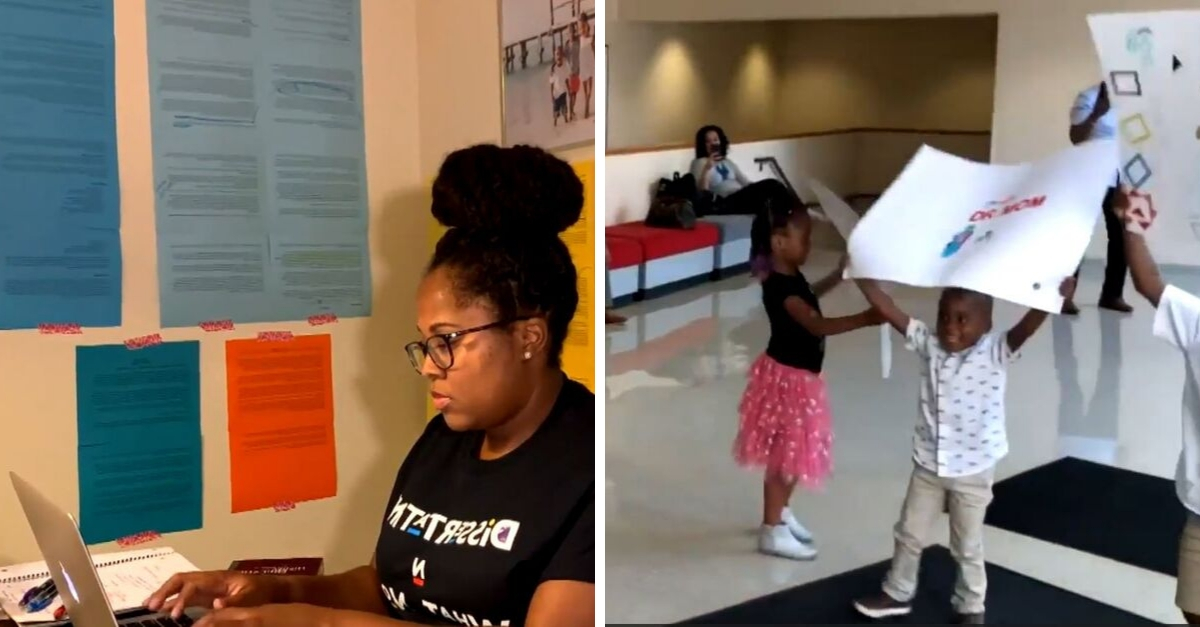 Kids Surprise 'Dr. Mom' With Signs And Dancing After She Turns In Her Dissertation
Imagine turning in your dissertation and coming home to your children who have orchestrated a celebration in your honor. Now, imagine your kids meeting you in the hallway of the school with congratulatory signs. This is what happened to Candace Hall.
The Ph.D. candidate handed in her dissertation at Maryville University only to find her kids – aged 4-years-old, 6-years-old, and 7-years-old respectively – in the hall. The youngsters were holding signs that read, "Congratulations, Mom" and "We Did It!" Candace's children topped off the celebration by dancing to 1K Phew's song, "We Did It." It was truly a moment to remember.
"I was pleasantly surprised," Candace told the press. "Not many people can effectively surprise me but they did. And it was just a joy to celebrate that moment with me."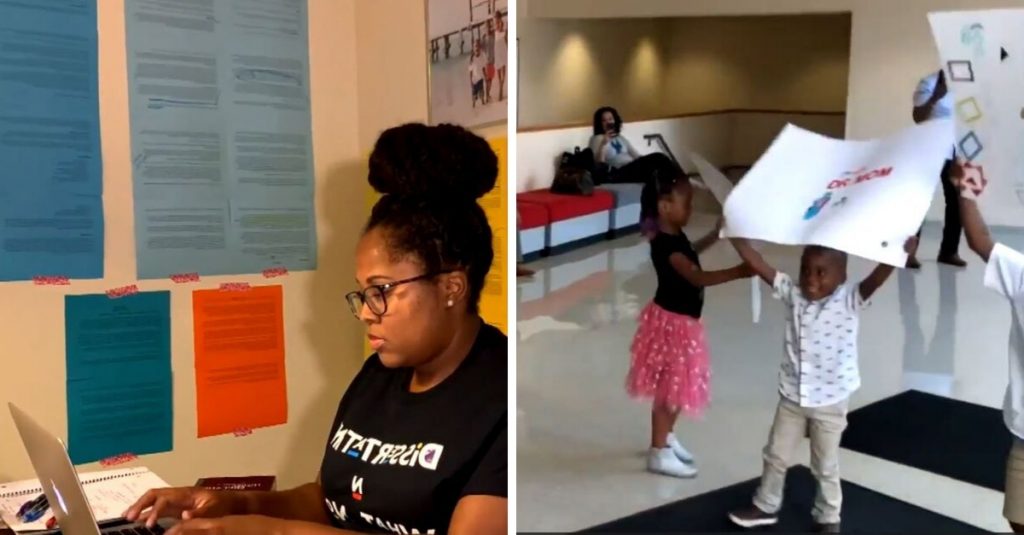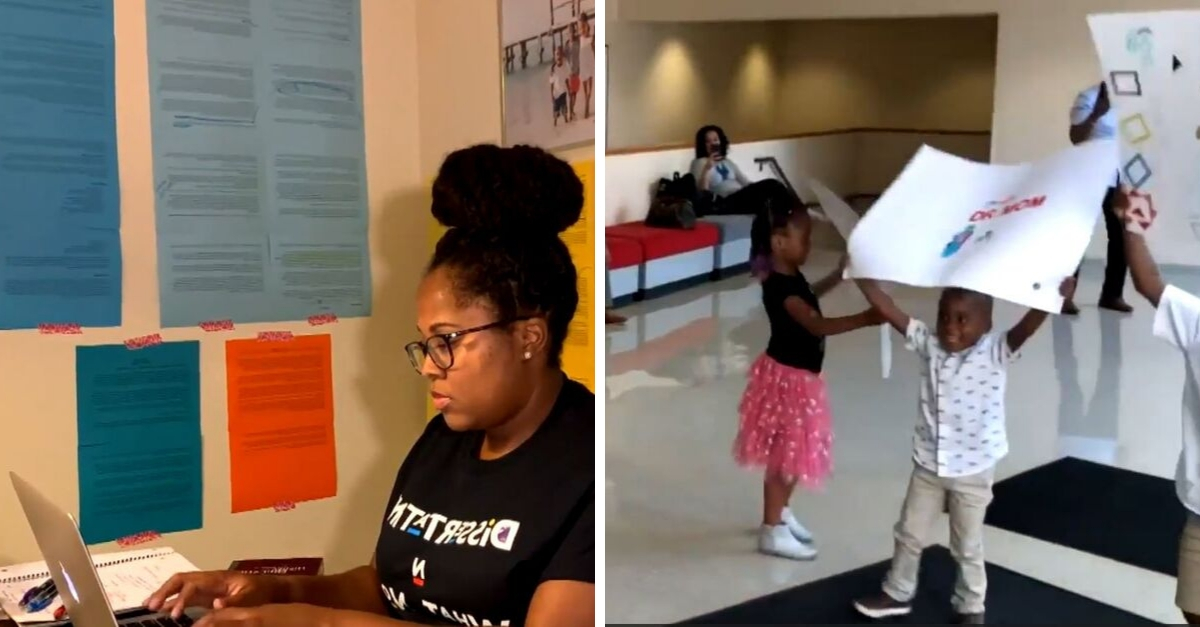 Candace's kids remember when their mom began her quest for a doctorate degree. The 31-year-old worked towards her goal for two years before seeing its manifestation this year.
"They saw me when I started the process, and then for them to see me finish, it was a blessing," Hall says. Of course, nothing meaningful comes easy.
"There are times where it was overwhelming and was like, 'I think about this too much. I have to balance way too much. I have to give up something," Candace admits. Such thoughts did not stay for long. "It was really important to just sit down and prioritize what was important to me. And then also to understand this would not be a permanent thing … the things that I would be sacrificing."
Candace's dissertation is about job satisfaction in academia with an emphasis on people of color. Her research was partially bred from personal experience. Candace works as a full-time academic coordinator at Washington University in St. Louis.
"My advice would be to write down your goals, what you see yourself doing and then put it up somewhere so that you see it and it's a reminder why you're doing this," Candace says regarding tips that she would give to others hoping to make their dreams a reality. "So that in those days, it feels impossible and you feel like giving up, you can remember why you started."
Candace can do a myriad of things with her doctorate degree. She already works in academia. It would not be too far-fetched, then, for Hall to broaden her horizons and move up in position using her new credentials.
Regardless of the path that she chooses, Candace knows that her kids are behind her full force. "I just hope my kids remember this when they get older and they feel like, 'Oh, I can't do it.' I hope they look back to this moment, like, 'Look what Mom did," Hall says.
Candace walks the graduation stage at Maryville University in Spring 2020. You can bet that her kids will be sitting front and center at the ceremony.
Kenyan Tree Planting Holiday: A Collective Effort Against Climate Change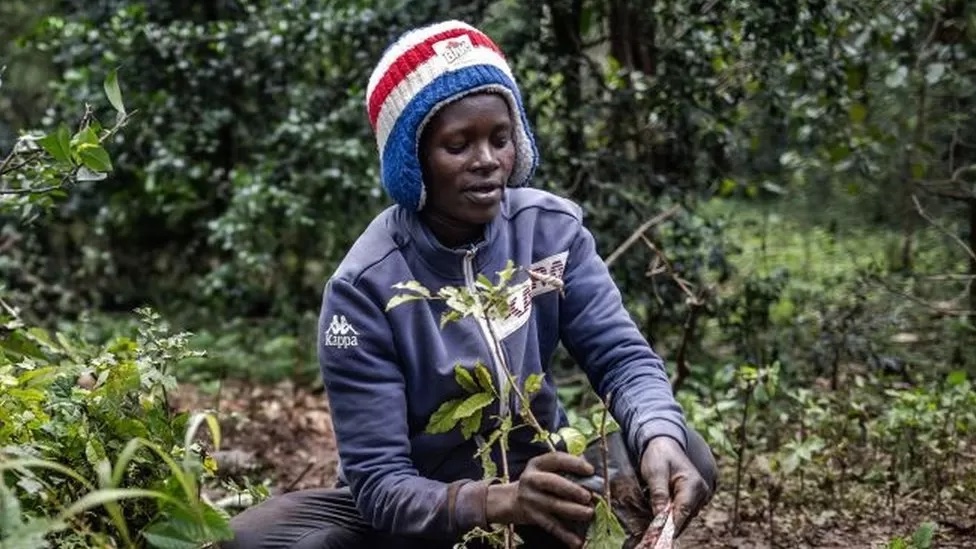 Kenya has embraced a unique and powerful approach to combating climate change with a national tree planting holiday. This initiative, led by Environment Minister Soipan Tuya, aims to involve every Kenyan in planting trees to contribute to a lofty goal of reaching 15 billion trees in the next decade. Recently, Kenyans came together to plant a staggering 100 million seedlings, demonstrating their commitment to a greener and more sustainable future.
The tree planting holiday allows "each and every Kenyan to own the initiative," as Minister Tuya emphasizes. This means that every citizen has a role to play in contributing to the ambitious goal of planting billions of trees. The target is for each Kenyan to plant at least two seedlings, a simple yet impactful way to make a difference.
The primary goal behind this massive tree planting effort is to fight climate change. Trees play a crucial role in mitigating climate change by absorbing carbon dioxide during photosynthesis. They act as natural carbon sinks, reducing the concentration of greenhouse gases in the atmosphere. Additionally, trees help regulate local climates, prevent soil erosion, and provide habitats for various species.
To encourage widespread participation, the Kenyan government is distributing tree seeds for free. However, there is also a push for planting trees in specific areas where they are more likely to thrive. This strategic approach ensures that the trees planted have a higher chance of growing into healthy, mature specimens.
While the initiative promotes free seed distribution, Kenyans are also encouraged to buy at least two seedlings for planting on their private land. This personal investment further engages citizens in the cause, fostering a sense of ownership and responsibility for the environment.
One notable tree planting site near the source of Kenya's second-longest river, Athi, saw active participation from various groups, including soldiers, residents, and families. The event showcased a collective effort to address environmental concerns.
To monitor the success of the tree planting initiative, an internet app has been introduced. This app allows individuals and organizations to record their planting activities, including details like plant species, the number of trees planted, and the date of planting. This technological aspect enhances transparency and accountability in achieving the set goals.
While the initiative has garnered widespread support, environmentalist Teresa Muthoni highlights some challenges. She notes that the effort is not organized in a way that ensures everyone is actively participating, as many individuals must prioritize their livelihoods. Additionally, Muthoni emphasizes the importance of planting the right trees in the right places, cautioning against the prevalence of exotic species in public nurseries.
Kenya's tree planting holiday exemplifies a collective and determined effort to combat climate change. By involving every citizen, the initiative seeks to make a significant impact on the environment. As the nation strives toward its ambitious goal of 15 billion trees in the next decade, the tree planting holiday stands as a beacon of hope for a greener and more sustainable future for Kenya and the planet.