Kids Surprise 'Dr. Mom' With Signs And Dancing After She Turns In Her Dissertation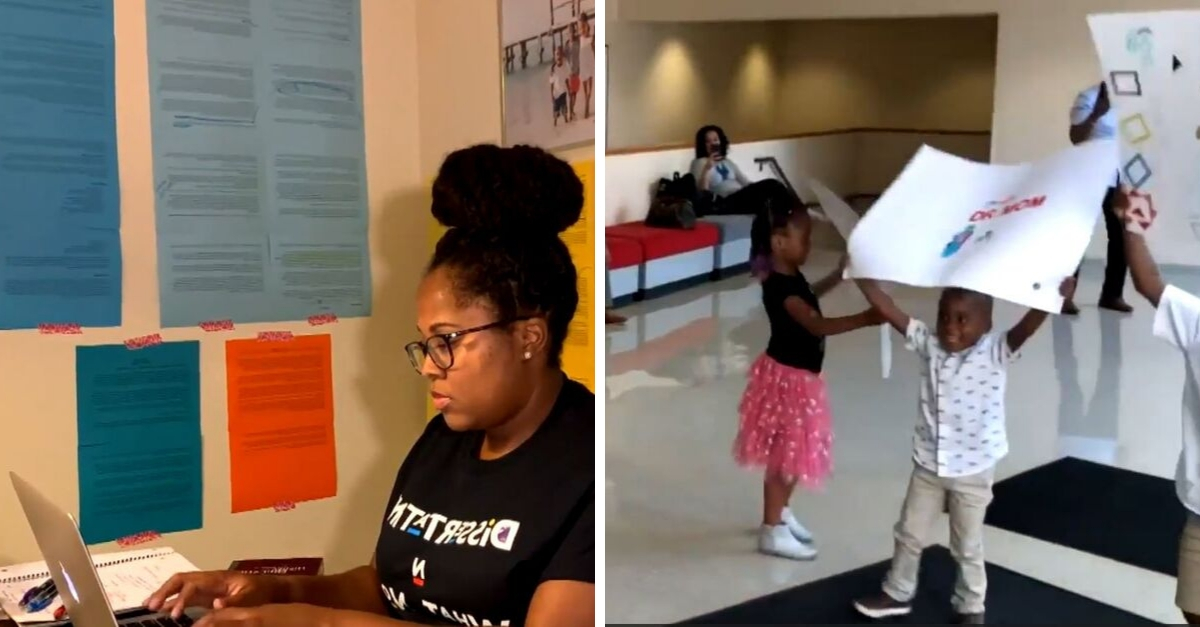 Imagine turning in your dissertation and coming home to your children who have orchestrated a celebration in your honor. Now, imagine your kids meeting you in the hallway of the school with congratulatory signs. This is what happened to Candace Hall.
The Ph.D. candidate handed in her dissertation at Maryville University only to find her kids – aged 4-years-old, 6-years-old, and 7-years-old respectively – in the hall. The youngsters were holding signs that read, "Congratulations, Mom" and "We Did It!" Candace's children topped off the celebration by dancing to 1K Phew's song, "We Did It." It was truly a moment to remember.
"I was pleasantly surprised," Candace told the press. "Not many people can effectively surprise me but they did. And it was just a joy to celebrate that moment with me."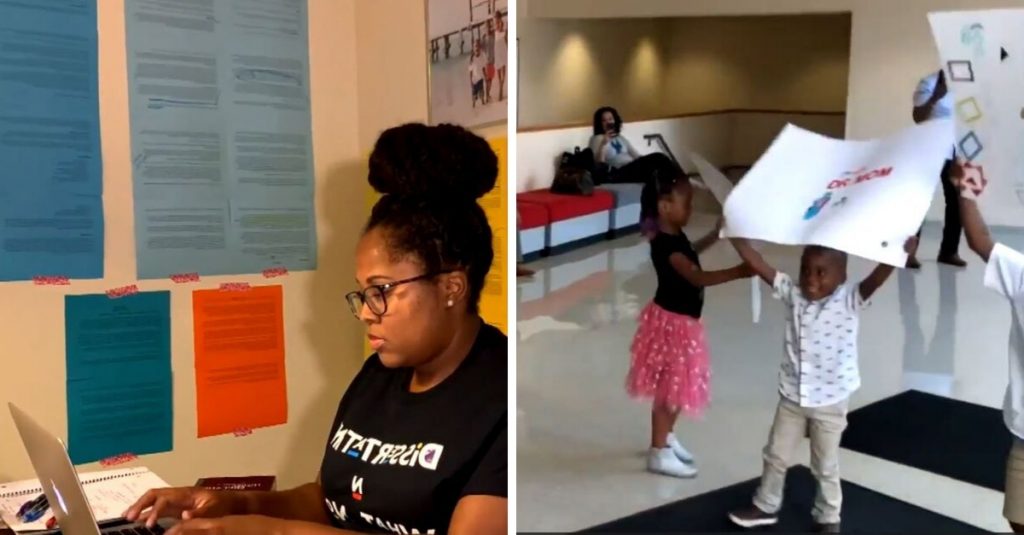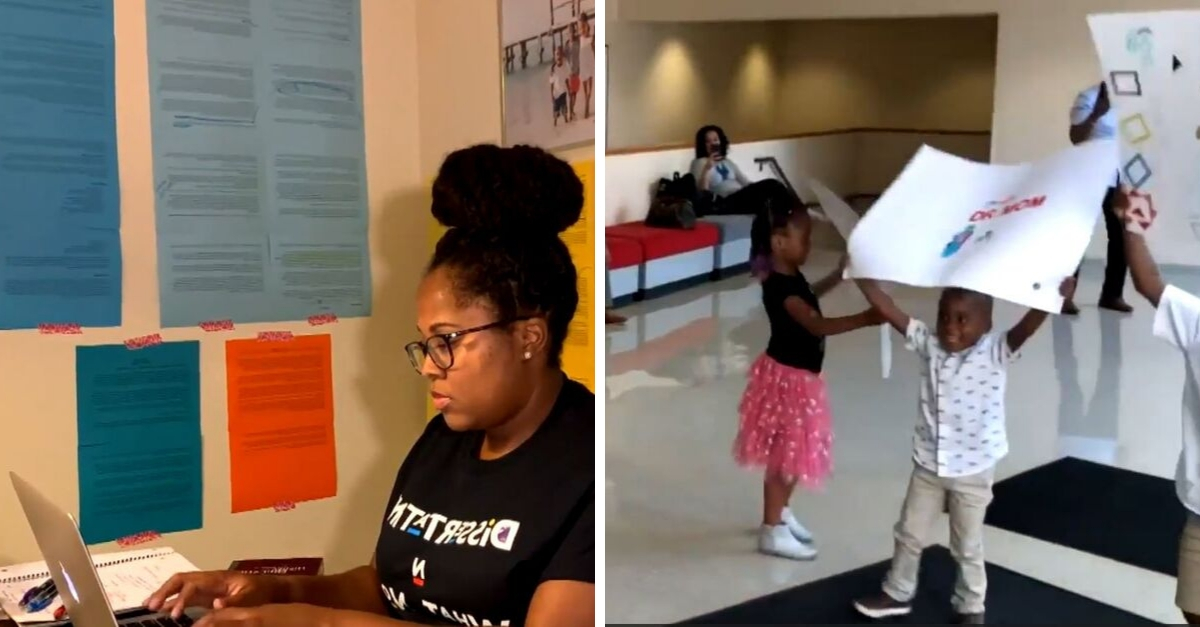 Candace's kids remember when their mom began her quest for a doctorate degree. The 31-year-old worked towards her goal for two years before seeing its manifestation this year.
"They saw me when I started the process, and then for them to see me finish, it was a blessing," Hall says. Of course, nothing meaningful comes easy.
"There are times where it was overwhelming and was like, 'I think about this too much. I have to balance way too much. I have to give up something," Candace admits. Such thoughts did not stay for long. "It was really important to just sit down and prioritize what was important to me. And then also to understand this would not be a permanent thing … the things that I would be sacrificing."
Candace's dissertation is about job satisfaction in academia with an emphasis on people of color. Her research was partially bred from personal experience. Candace works as a full-time academic coordinator at Washington University in St. Louis.
"My advice would be to write down your goals, what you see yourself doing and then put it up somewhere so that you see it and it's a reminder why you're doing this," Candace says regarding tips that she would give to others hoping to make their dreams a reality. "So that in those days, it feels impossible and you feel like giving up, you can remember why you started."
Candace can do a myriad of things with her doctorate degree. She already works in academia. It would not be too far-fetched, then, for Hall to broaden her horizons and move up in position using her new credentials.
Regardless of the path that she chooses, Candace knows that her kids are behind her full force. "I just hope my kids remember this when they get older and they feel like, 'Oh, I can't do it.' I hope they look back to this moment, like, 'Look what Mom did," Hall says.
Candace walks the graduation stage at Maryville University in Spring 2020. You can bet that her kids will be sitting front and center at the ceremony.
A Call to Change by An Amazing Third Grade Class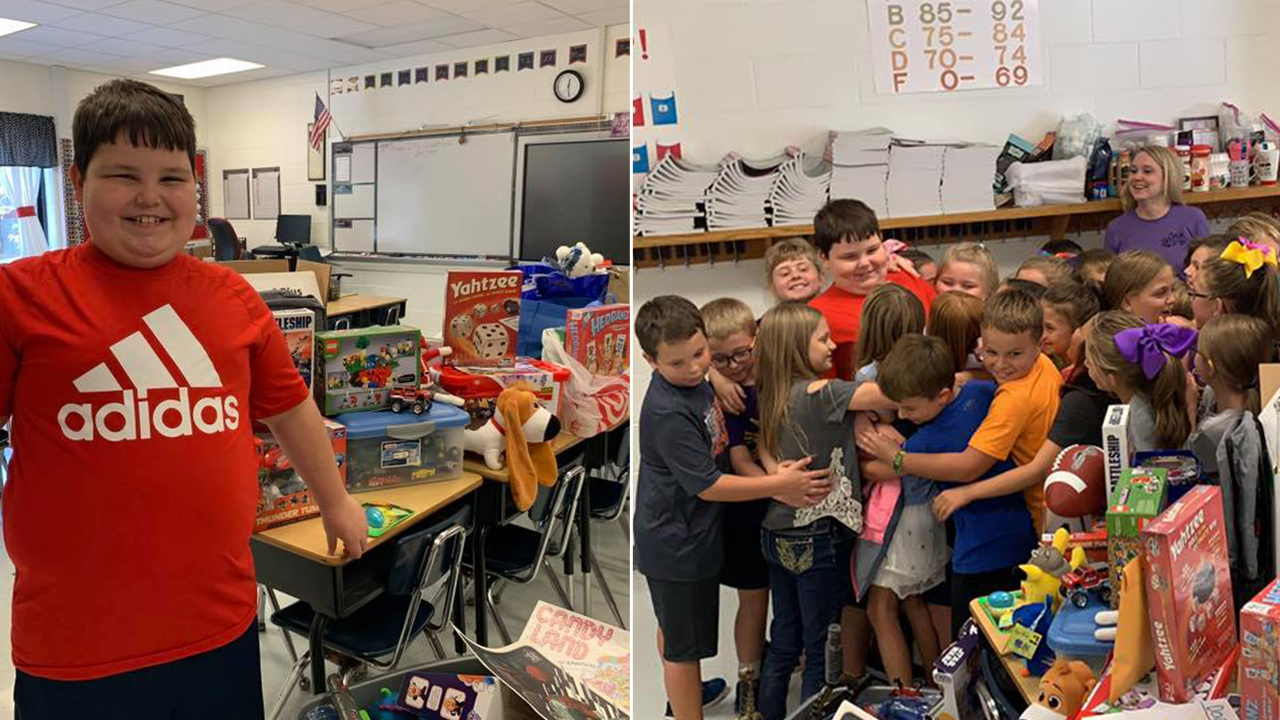 I have always believed that hate and greed are things that humans are taught- that they are learned behaviors- not characteristics that we are born with. Children are pure and, unless taught otherwise, they are full of love and compassion. This story encompasses this theory more than any other I have ever seen.
Just a few weeks ago on September 21, 2019, sweet and lovable eight year old Daniel Hunt's and his family's Tennessee home went up in smoke, along with their possessions. This included all of Daniel's beloved toys. What was a devastating blow to this child did not stop him from being the happy and friendly kid on campus.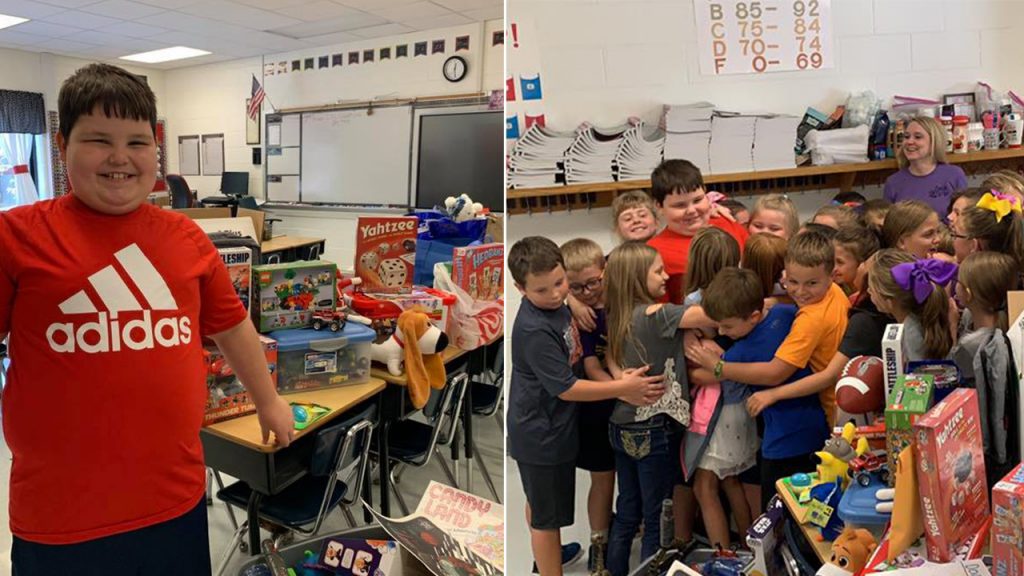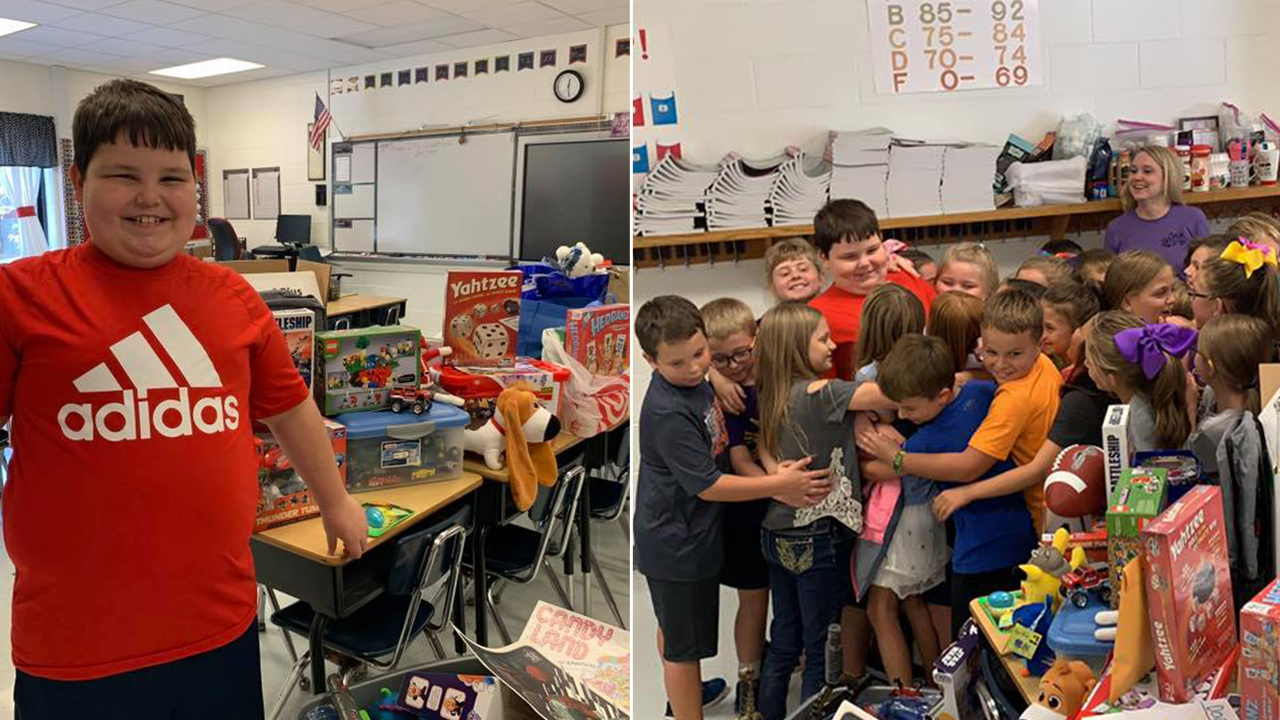 More touching, though, is his classmates' response. It started with being overly friendly- making an extra effort to play with him, holding doors for him, even sharpening his pencils for class- but sweet Daniel could have never guessed just how far it would go.
After being sent on an errand by the teacher, Daniel Hunt returns to his classroom to find a large pile of toys and classmates yelling, "Surprise!" Turns out, his teachers and classmates had been secretly collecting toys for Daniel. This group of 8 year olds had such compassion for their classmate that they put extreme effort into replacing the possessions that kids love most- his toys.
And, in true Daniel Hunt fashion, while being elated at his new toys, he responded in a way that most adults would not: He turned to his classmates first- before even approaching his new toys- to say, "I love it!" and called them all in for a giant group hug.
These selfless, loving, and compassionate acts from such young hearts is incredibly touching. At the same time, it calls us to question ourselves. When is the last time we have given so selflessly to others in need? As adults, it is so easy to worry about whether our bills are paid as opposed to caring for others as we should. Not these young children- they simply worried that their friend had nothing to play with.
This group of eight years olds- both Daniel and his classmates- can inspire the world to be different. They can remind us of the compassion that we should show other humans. They can remind us of the joy of giving. It is time that we learn to give again.
People are in need year round, so there is always a reason to give, but this time of year is a great time to start. With the holidays quickly approaching, we should bear in mind the families who cannot afford to buy their children Christmas presents, the elderly who have no family to visit them, the single moms and dads who are merely trying to keep their heads above water, the families with no heat for the winter, and those with no home at all.
Let's take a lesson from these incredible children and find the love that we were born with to give to others what they need this year and every year to come.