Internment Camp Made Into a National Park for History
While the Nazis became notorious for the atrocities they committed during World War II, they were not the only country that rounded people up because of their heritage and put them in camps during the War. The U.S. infamously did the same with Japanese American citizens and residents who were, for all intents and purposes, regular Americans with homes, jobs and lives. They were packed up at threat of arrest, relocated, and lived in internment camps for years while their property and homes were taken and given to others in their communities.
Since those days more than 80 years ago, local students in Colorado have been dedicated to helping with the preservation of a local camp in their area. That effort is now going to pay off. The U.S. federal National Park Service has designated the Amache Internment Camp as the next national park, which comes with all the protection and preservation authority for the Camp that one would find at Yosemite, for example.
The designation effort is part of the National Park Service's dedication to helping preserve American history, both the highlights as well as the low points. However, prior to the federal government stepping in, the hard work and elbow grease was managed for years by the local school district, student volunteers and one primary person as manager, John Hopper.
Hopper had been very familiar with internment camp history. With a background in social studies teaching, Hopper at some point in 1993 found himself translating a guest speaking event for students into something bigger. The idea went from an internment camp survivor's speech into an effort of action and community service, helping preserve a local camp site for future history and consideration. Hopper helped lead the effort to grow a preservation society, and students were brought in to help with the tremendous amount of legwork basic repair and cleaning so often take. This went on for 30 plus years.
It took another 15 years before the Amache Camp was formally identified as a historic landmark, the first step required before a site becomes something bigger in the federal camp system. It then took another 16 years before the location was declared a national park in 2022 by President Biden. The announcement formally retitled the entire camp property from the local jurisdiction of Granada City to the National Park Service.
Hopper himself has gone through changes as well. Today, he is the dean of his school, but he still makes sure students are involved, volunteering and helping with the maintenance of the Camp. It's a town's legacy now with generations having worked there to preserve history. The locals even help with archaeology digs on the site run by the University of Denver. The effort is a lifelong dedication, but more importantly, Amache Internment Camp is a reminder of how fragile people's rights are, particularly in a democracy.

The Ockendon Solar Farm's Remarkable Transformation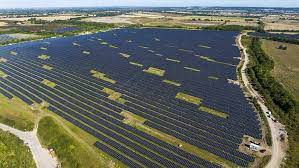 A once-neglected trash dump in England has undergone a breathtaking transformation into one of the United Kingdom's largest solar farms. The Ockendon solar farm, as it is now known, is set to provide electricity to an impressive 15,000 homes. With its 100,000 gleaming solar panels, it proudly stands as the third-largest solar farm in the entire UK.
This remarkable journey from waste ground to green energy oasis reflects the nation's growing commitment to renewable energy and sustainability. Frank Gordon, the director of policy at the Association for Renewable Energy and Clean Technology, highlighted the importance of projects like Ockendon solar farm in addressing the climate crisis. He told The Guardian, "We urgently need more solar in the UK to help meet our legally binding net-zero goals, and this summer's extraordinary global weather has further underlined the need for climate action."
The Ockendon solar farm is a shining example of the UK's transition to cleaner energy sources. Since 2020, nearly half of the nation's power has been sourced from a combination of wind, solar, bioenergy, and hydroelectric sources. This shift towards renewable energy not only reduces harmful emissions but also bolsters energy security and creates jobs in the burgeoning green energy sector.
The transformation of the Ockendon site is nothing short of inspirational. What was once a symbol of waste and environmental neglect has become a symbol of hope for a more sustainable future. As solar farms like Ockendon continue to sprout across the UK, they bring us one step closer to achieving our net-zero emissions goals and safeguarding the planet for generations to come.