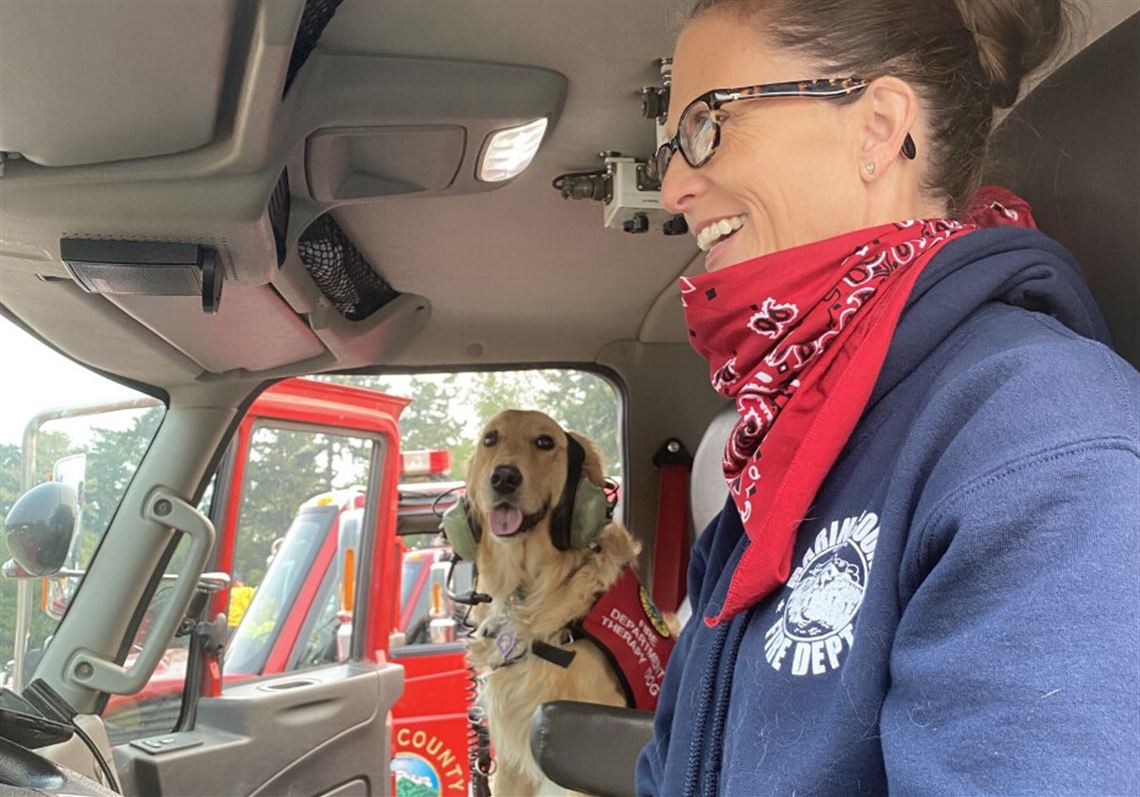 How One Special Golden Retriever Is Helping California Firefighters Deal With A Difficult Time
The state of California is currently undergoing an emergency, as millions of acres are being destroyed in wildfires. The wildfires have specifically done major damage to Marin County. Hundreds of fire fighters are working to put out the flames as soon as possible. There are multiple fire engines and helicopters being used to assist in the rehabilitation efforts.
According to the local fire department, the wildfires were sparked due to a lightning strike. While the firefighters are dealing with these challenging times, they are finding a sense of comfort from a special retriever. Kerith is a crisis response therapy dog. He has been trained with the unique skills and vibrant personality to uplift those who need it most. Kerith is a regular visitor to the wildfire base camp. His appearance helps improve the morale of the firefighters who work diligently to extinguish the flames. Kerith loves his job. In the process, he has become a social media sensation.
Research shows that animals can help alleviate stress and provide comfort. Therapy dogs are often used to help people grieve with tragedy and help families and towns recover from natural disasters. Therapy dogs are able to help people cope and heal during tough circumstances. Kerith takes great pride in helping the firefighters.
Kerith has become a member of the Marin County Fire Department family. The sweet 3 year old retriever has spent time with the firefighters over the last month. A quick glance at Kerith's social media page shows that the firefighters enjoy spending time with him. Everyone is smiling in all of the pictures. Kerith helps ease the mind of the men and women who serve long hours with the goal of extinguishing the flames damaging the forest and revitalizing the community.
On a typical day, Kerith enjoys time with the firefighters once they finish their initial meeting in the morning. The firefighters note that they face imminent danger every day, so hanging out with Kerith gives them some perspective. The demands are high, so Kerith brings a therapeutic dynamic to the fire department.
Kerith's story is even more interesting because he wasn't initially trained to provide therapeutic relief. Kerith was actually trained to be a guide dog and assist the blind. However, everyone believes that Kerith has chosen the right career path. In unfortunate situations, the firefighters may encounter death or a traumatic injury. Kerith helps the firefighters cope with the harsh realities of the job. Many firefighters find it difficult to open and express their feelings. However, playing with Kerith gives them the opportunity to relax and get comfortable.
For some firefighters, spending time with Kerith reminds them of being at home. It's a luxury that they don't take for granted as they spend long hours away from their loved ones. Kerith is proud to serve such a great purpose. He went through extensive training to become certified. Kerith enjoys being able to play with the firefighters.
The firefighters are comforted knowing that a sweet, smiling dog will be there for them to have fun with during this difficult time.
Father in Bumblebee costume escorts his kid back to school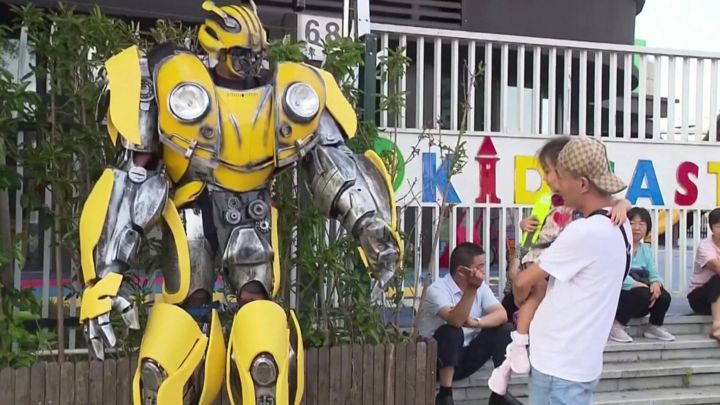 Bumblebee from the American sci-fi movie series Transformers never had a kid, but if he did, he'd have definitely escorted him to school.
A father in Shanghai, China has gone above and beyond to encourage his kid to go back to school after staying at home for months due to the Covid-19 pandemic. There's no way any child is refusing to walk with Bumblebee into school, and this man had that in mind when building his Autobot suit.
Just like the rest of the world, China had been on lockdown, and for months, kids had to stay away from school to prevent infection and spread of the deadly virus. However, some normalcy is being restored in some parts of the region, and schools now have the green light to open and allow children continue with their education.
The Bumblebee suit wasn't only for his kid, though. He built it to serve as some amusement and surprise to other kids at school- and that he did.
"I also want to bring happiness to other children. I didn't only wear it for my own child. All of them were preschoolers," he said in the video.
His suit looks like the real thing. The only things missing were metal, alien technology, and missiles- not much, right? Standing about 2.3-metre tall, the suit was built using soft materials to prevent touchy and curious children from getting injured- and he was right to have done that because he was rushed and hugged by children upon arrival at the school.
The excitement of the kids at the sight of Bumblebee could light up astronomical units of outer space, as the intergalactic warrior once again put smiles on the faces of humans. Kudos to this amazing dad for his efforts to make kids happy to resume back to school- he'd probably do it every day if he could.
The home-made suit seems to be inspired by the 2017 movie Bumblebee.