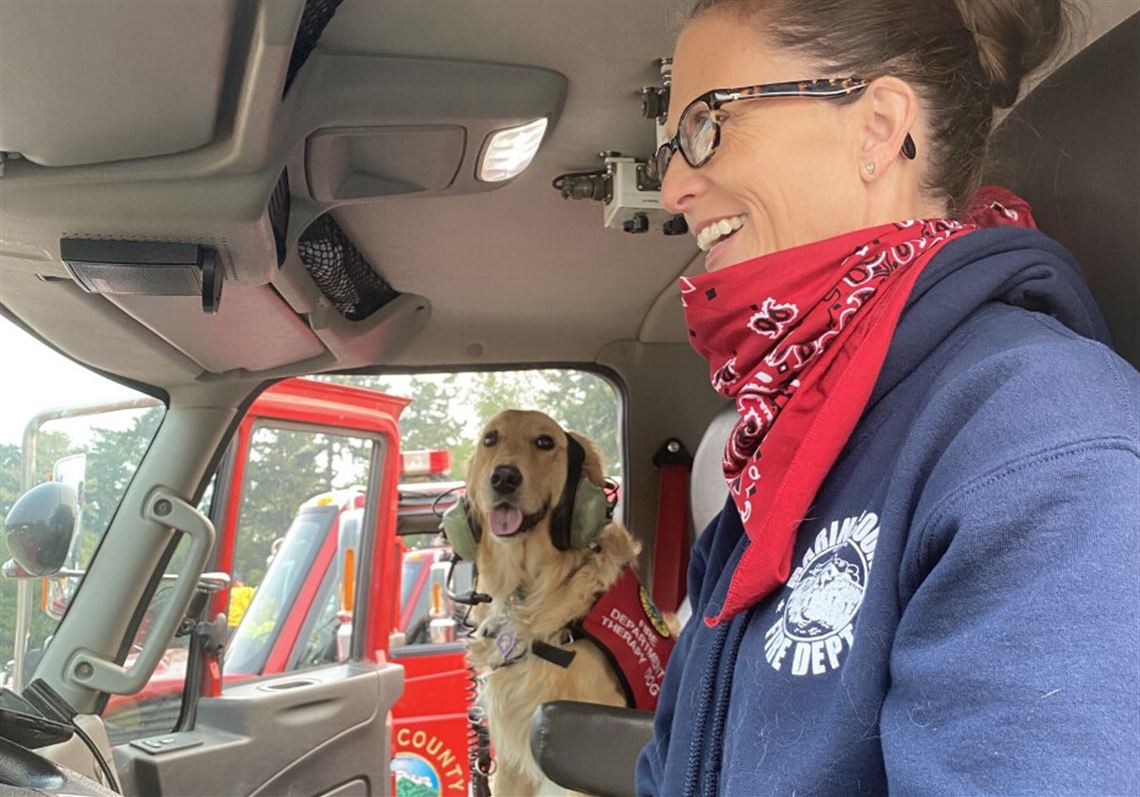 How One Special Golden Retriever Is Helping California Firefighters Deal With A Difficult Time
The state of California is currently undergoing an emergency, as millions of acres are being destroyed in wildfires. The wildfires have specifically done major damage to Marin County. Hundreds of fire fighters are working to put out the flames as soon as possible. There are multiple fire engines and helicopters being used to assist in the rehabilitation efforts.
According to the local fire department, the wildfires were sparked due to a lightning strike. While the firefighters are dealing with these challenging times, they are finding a sense of comfort from a special retriever. Kerith is a crisis response therapy dog. He has been trained with the unique skills and vibrant personality to uplift those who need it most. Kerith is a regular visitor to the wildfire base camp. His appearance helps improve the morale of the firefighters who work diligently to extinguish the flames. Kerith loves his job. In the process, he has become a social media sensation.
Research shows that animals can help alleviate stress and provide comfort. Therapy dogs are often used to help people grieve with tragedy and help families and towns recover from natural disasters. Therapy dogs are able to help people cope and heal during tough circumstances. Kerith takes great pride in helping the firefighters.
Kerith has become a member of the Marin County Fire Department family. The sweet 3 year old retriever has spent time with the firefighters over the last month. A quick glance at Kerith's social media page shows that the firefighters enjoy spending time with him. Everyone is smiling in all of the pictures. Kerith helps ease the mind of the men and women who serve long hours with the goal of extinguishing the flames damaging the forest and revitalizing the community.
On a typical day, Kerith enjoys time with the firefighters once they finish their initial meeting in the morning. The firefighters note that they face imminent danger every day, so hanging out with Kerith gives them some perspective. The demands are high, so Kerith brings a therapeutic dynamic to the fire department.
Kerith's story is even more interesting because he wasn't initially trained to provide therapeutic relief. Kerith was actually trained to be a guide dog and assist the blind. However, everyone believes that Kerith has chosen the right career path. In unfortunate situations, the firefighters may encounter death or a traumatic injury. Kerith helps the firefighters cope with the harsh realities of the job. Many firefighters find it difficult to open and express their feelings. However, playing with Kerith gives them the opportunity to relax and get comfortable.
For some firefighters, spending time with Kerith reminds them of being at home. It's a luxury that they don't take for granted as they spend long hours away from their loved ones. Kerith is proud to serve such a great purpose. He went through extensive training to become certified. Kerith enjoys being able to play with the firefighters.
The firefighters are comforted knowing that a sweet, smiling dog will be there for them to have fun with during this difficult time.
Young Boy Keeps Toy He Was Measured Against As A Premature Baby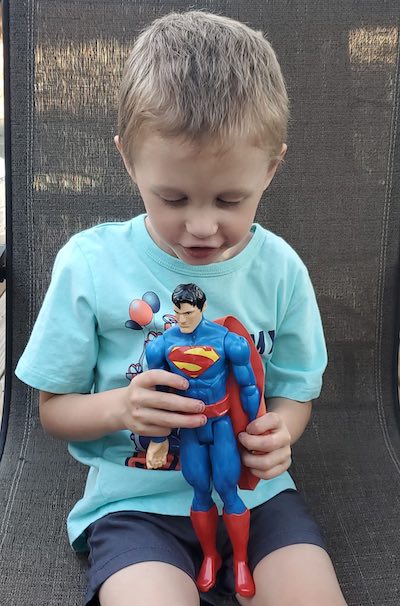 Doctors sent home a woman and her husband to prepare for a miscarriage, but the defiant parents stayed put and now have the tale of a lifetime to tell.
So does their four-year-old son Logan Ray, born less than six months of pregnancy, has a Superman action-figure as proof of how small he was at birth. He was only 12 inches in length and weighed a pound and a half. He and the action figure his parents Rob and Val placed beside him shortly after his birth, are now inseparable.
How did this fascinating and heartwarming story come about?
Nearly five years ago, when Val was pregnant with their son, doctors wiped the smiles off their faces by announcing that the baby would not make it to full term. The Physician claims the baby would not survive at all, and they should brace themselves for any eventuality.
The reason for the bad news was that Val had been diagnosed with a cervix problem. The doctors said examinations showed her Cervix was incompetent. That situation usually transpires when unstable cervical tissue induces or contributes to premature delivery or the loss of pregnancy even though the gestation is, on the other hand, healthy.
Val and Rob blocked out the bad news they received, and we're adamant that they would remain in the hospital to see the pregnancy through. The baby was a fighter too and stayed put for all of twenty-three weeks. Val helped out by keeping her feet elevated and staying in bed for three weeks without getting up to do anything that could further jeopardize the pregnancy.
She gave birth to a child now known as the "Superman Baby" for dual reasons. He was mighty strong and put up a fight to survive, and he was the size of a Superman toy. The toy idea came about when the nurses suggested to the mom that she should use something like a keepsake to measure the baby alongside. When she ran the idea by her husband, he was very supportive and they agreed on the Superman novelty.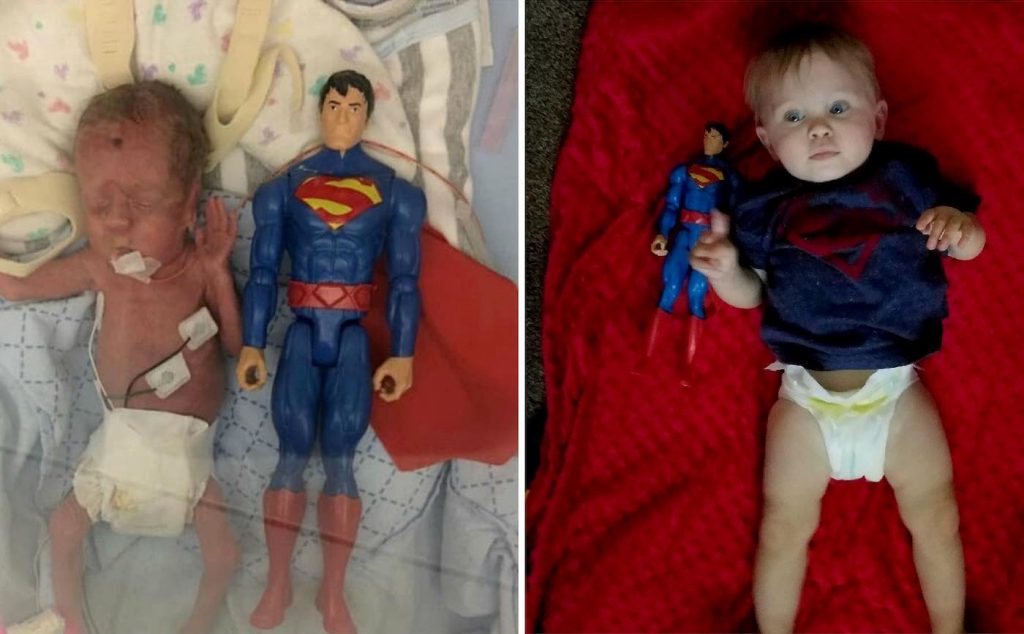 The doll was sanitized and placed beside Logan. For fifteen weeks, he remained in an incubator at the Randall Children's Hospital in Portland, Oregon fighting a myriad of complications that many feared would hinder the survival of Logan, but he pulled through like a champ. It was after those four months that he was finally able to leave with his parents.
From the hospital days to now, four years later, Val has been taking a multitude of photos with Logan carrying around his action figure. The doll is an indicator of Logan's successful development after a traumatic experience in the first few months of his life.
According to the happy and grateful parents, they communicate with the doctor who wants a regular update on Logan, who he refers to as " tough."
Many people consider not just Logan's survival but the fact that he has no further complications a miracle. Just like his action figure, Logan is healthy and strong as any regular child his age. His parents say they will never get rid of the Superman tog as memorabilia is not just for them, but for Logan when he becomes an adult.
He will have a tear-jerking story to tell years from now if or when he becomes a parent as well.