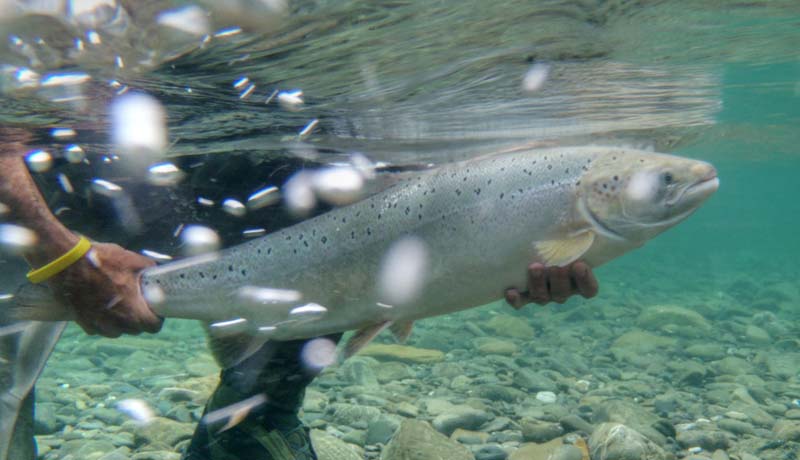 Hope on the Horizon: Wild Atlantic Salmon Making a Comeback in US Rivers
The United States has witnessed a resurgence in the population of wild Atlantic salmon in its rivers. After years of decline, recent counts have revealed a remarkable increase.
One of the most significant milestones in this revival occurred in the Penobscot River, which hosts the largest run of Atlantic salmon in the country. In a recent count, approximately 1,500 salmon were recorded, marking the highest number since 2011. This encouraging resurgence suggests that efforts to protect and conserve these magnificent fish may be paying off.
For years, Atlantic salmon have faced numerous challenges that have led to their decline. Factors such as overfishing, loss of habitat, and pollution have taken a toll on their populations. Recognizing the gravity of the situation, Atlantic salmon were granted protection under the Endangered Species Act, a crucial step in their conservation journey.
Sean Ledwin, the director of the Maine Department of Marine Resources' sea-run fish programs, believes that the increased survival of salmon may indeed be a result of these conservation measures. He stated, "The greater survival of the salmon could be evidence that conservation measures to protect them are paying off."
But the story of salmon's recovery isn't just about one species. The count of river herring, another essential part of the river ecosystem, has also seen an upswing. This increase in river herring populations plays a critical role in the salmon's precarious journey from the sea to the river. According to Ledwin, "The increasing runs of river herring help distract hungry predators such as seals and striped bass from the relatively rarer Atlantic salmon, which may help increase salmon survival of the predator gauntlet."
However, while the recent progress is undoubtedly cause for celebration, experts like Greg McCaw, a scientist with the Maine Department of Marine Resources, urge caution. "So it is a tick up compared to previous years, but in the grand scheme of things, it's still abysmal," he cautioned. Conservationists recognize that much work remains to be done to ensure the long-term survival of this cherished species.
In New England, conservation groups have been tirelessly working to remove dams and restore salmon habitats. The recent gains in salmon populations have emboldened these organizations, such as the Atlantic Salmon Federation, to continue their vital efforts.
Yet, the challenges facing Atlantic salmon extend beyond the local level. Climate change poses a growing threat to their survival. Neville Crabbe, a spokesperson for the Atlantic Salmon Federation, emphasized that global action is needed to address the root causes of climate change and its impacts on salmon populations. "It's going to take a commitment from everybody in the world to reduce emissions, and try to negate the most severe implications of climate change," he noted.
500,000-Year-Old Wooden Structure Rewrites History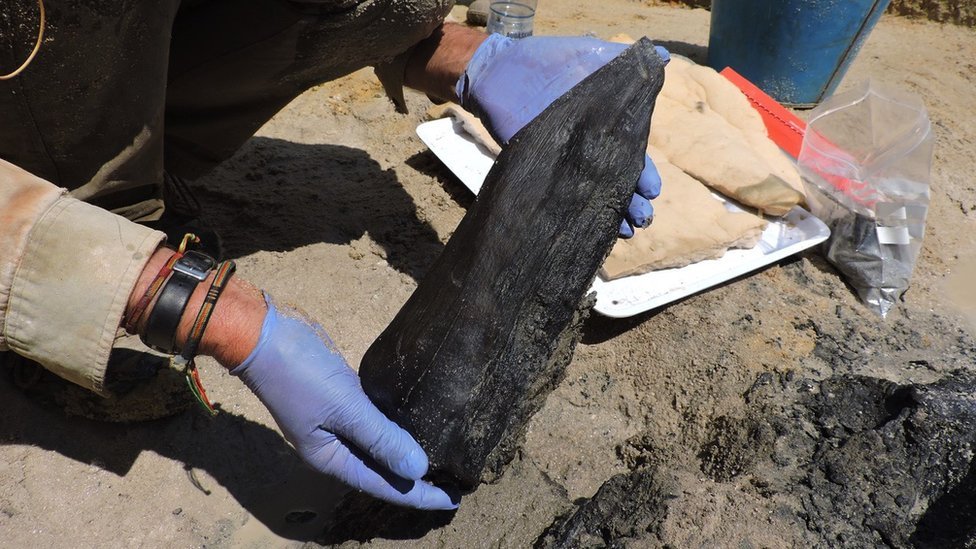 In an archaeological discovery, a wooden structure dating back an astonishing 500,000 years has been unearthed on the banks of a river in Zambia, challenging long-held beliefs about the capabilities of ancient humans. Researchers stumbled upon these ancient wooden logs, a revelation that has the potential to reshape our understanding of the lives of early humans.
The find, located on the riverbanks near Zambia's Kalambo Falls, provides compelling evidence that stone-age people may have constructed primitive shelters, forever altering our perception of their intelligence and resourcefulness. Archaeologist Prof Larry Barham, who led the research, was profoundly impacted by the discovery, stating, "This find has changed how I think about our early ancestors."
What makes this find truly remarkable is that it suggests ancient humans did more than merely survive; they thrived by creating something entirely new. These early humans exhibited intelligence, imagination, and craftsmanship by fashioning structures from wood, a material that had never before been transformed into such large and sophisticated objects.
The researchers also uncovered ancient tools, including digging sticks, but the most exciting find was two pieces of wood positioned at right angles to each other. "One is lying over the other, and both pieces of wood have notches cut into them," explained Geoff Duller, a professor of geography at the University of Aberystwyth and a member of the research team. "You can clearly see those notches have been cut by stone tools, making the two logs fit together to become structural objects."
Radiocarbon dating confirmed the wood's age, placing it at a staggering 476,000 years old. This revelation has ignited curiosity about the woodworking traditions of ancient societies, challenging the prevailing notion that early humans led simplistic, nomadic lives.
Perrice Nkombwe, a team member from the Livingstone Museum in Zambia, expressed her astonishment, saying, "I was amazed to know that woodworking was such a deep-rooted tradition. It dawned on me that we had uncovered something extraordinary."
The preservation of the wooden structure itself is a miracle. Typically, wood decays over time unless preserved under specific conditions. However, in the waterlogged environment along the Kalambo Falls, the wood remained intact, essentially pickled by the elements for millennia.
While the exact purpose of this ancient wooden structure remains a mystery, it has sparked numerous speculations. Prof. Duller suggests it might have been used as a place to sit beside the river and fish, although a complete understanding of its function remains elusive.
Moreover, the identity of the individuals who constructed this structure raises intriguing questions. "We don't know – it could have been Homo sapiens, and we just haven't discovered fossils from that age yet," Prof. Duller added. "But it could be a different species – [perhaps] Homo erectus or Homo naledi – there were a number of hominid species around at that time in southern Africa."
This discovery has the potential to enrich our understanding of ancient woodworking techniques, craftsmanship, and human interaction with the environment. As researchers continue their work at the Kalambo Falls site, the pages of history are being rewritten, and our appreciation for the ingenuity of our ancient ancestors grows ever deeper.