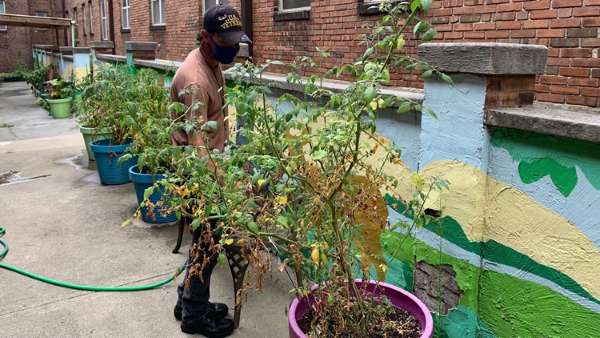 Homeless Army Veterans Use Urban Gardening To Heal Invisible Wounds
U.S. Army Veteran, Craig Browder served his country at the warfront for 22 years.
"No one forced me to join the military. I did it because I wanted to protect people," he said.
Browder was pretty sure about what he wanted to do with his life since he was young. He knew he wanted to be either a soldier or a police officer- to be in a position to serve and protect his community.
According to statistics by the Department of Veteran Affairs, less than 10 percent of Americans have served in the U.S. military, but in Indiana, one in three men that are homeless is a veteran, according to Helping Veterans and Families (HVAF). 
After his tours in Iraq, Browder found himself unable to provide basic necessities for his family, and so, he turned to the HVAF for assistance. HVAF is a system that exists to support and provide assistance to veterans finding it difficult to survive after their service.
"A lot of the times, I feel abandoned, left alone, isolated," he said.
As a father, one of the worst things that could happen to you is not to be able to provide for your kids, and Browder had suffered that fate.
"It's hard for a man not to be able to pay his bills, take care of his family, keep a roof- things a man are supposed to do," he said.
His fate changed positively after finding HVAF, and they have helped him get back on his feet, able to feed and provide for himself and his family.
"Now, I'm getting ready to move out of here in a couple of weeks. We got our own apartment, I'm back to working. My wife is now working. HVAF has helped us get on our feet."
Browder also believes that association with HVAF has helped him deal with his episodes of anxiety and PTSD.
"I can get real agitated. I don't want to talk. But I come out here, and I just smoke a cigarette and water the plants. It gives me time to calm down and let my mind take over instead of my emotions," he said.
HVAF case manager, Amanda Helfrich discovered some idle space in the facility and thought it best to transform it to an urban garden. The residents now find some solace in the garden, and love every bit of it.
According to Browder, many of the resident veterans and their families eat the food they've grown in the garden instead of going to the food pantry.
At the urban garden, many of the plants are potted. HVAF says it's a sign that the plants are not meant for the facility, but for the residents to keep with them forever, especially after they leave.
"Most of our veterans are going to move on to apartments, and these are ways that they're able to grow their own foods at their apartments," Helfrich said.
HVAF is nursing plans to expand its urban garden project to consist of more crops, plants, and flower beds, and it is currently looking for donations and sponsors to help execute it.
Man Dubbed a Hero After Saving a Baby Elephant With CPR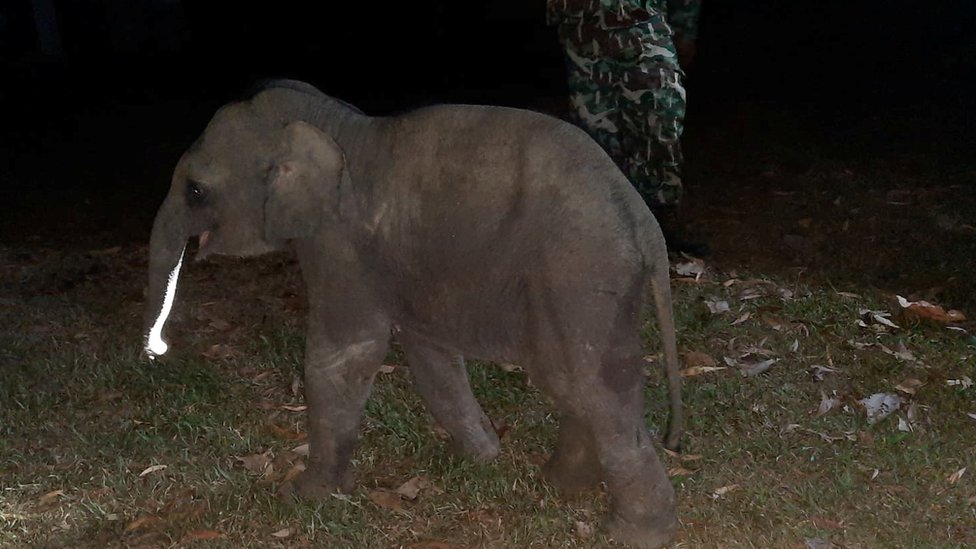 People who are trained to provide CPR to rescue others expect to be called upon in the odd moment to act. However, Srivate Mana never expected that his knowledge in how to save a life would be critical in saving a baby elephant. Yet, that is exactly what he found himself doing and was filmed in a video that went viral on the Internet shortly after. Savings a baby elephant left on the side of the road, Mana was able to bring the elephant back and it was standing again within 10 minutes.
Animals Can't Read Road Warning Signs
Like any animal, the baby elephant was simple moving from one part of the area to another looking for food and following its herd. However, unlike the older pachyderms, the young elephant was not yet used to the roads and vehicles that cut through roaming area of Chanthaburi. It had no idea what to make of the noise or the lights the vehicles had to signal they were approaching. And curiosity ultimately ended up being the animal's weakness. As a result, it had no idea what was hurtling towards the small animal when a motorcycle rider slammed into the creature at speed. The rider was okay, aside from scuffs and being thrown from the motorbike. Unfortunately, the baby elephant took the brunt of the impact and was laid out on the road.
Things Weren't Looking Very Good
When Mana arrived at the scene traveling the same path as his crew, he could see his coworkers taking care of the downed rider, but nothing was happening for the elephant. In the distance he could also hear the mother and adult elephants calling for the baby creature. Instinctually, Mana knows to jump into action to save a life, and even the elephant parents calling seemed to trigger his training. Trying to guess where the elephant's heart was, he got close to the creature on the road and started figuring out where to apply CPR. At the same time Mana was crying, feeling a wave of emotion for the junior pachyderm. Amazingly, the elephant began to move. He was in shock but for a good reason.
A Miracle on Four Legs, With a Trunk
After a few seconds of standing the baby elephant began to reorient itself and went right back to the same location where it was originally hit, probably looking for its mother. Amazingly, the baby elephant wasn't seriously injured, just completely dazed and confused. As the young elephant started calling out for any sign of its herd, the mother and the rest of the elephants came back out of the countryside to fetch it. Mana watched the reunion and smiled.