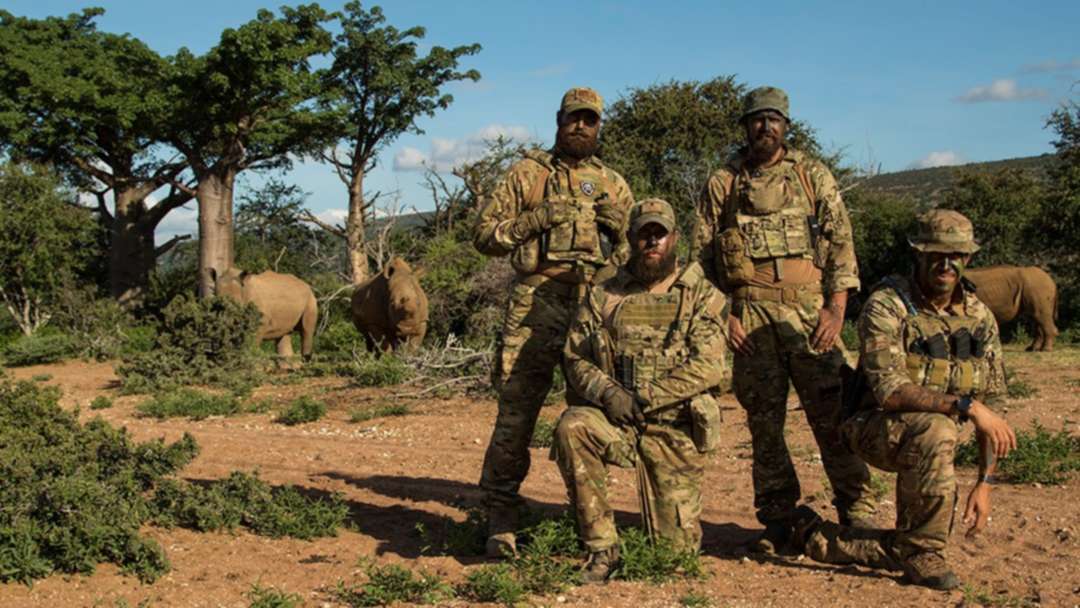 Helping Endangered Animals and Stopping Poachers
Animal poaching has been going on for a long time. Many species are becoming endangered as a result. Some species have been driven to extinction. Fortunately, plenty of activists are trying to solve these problems. Ryan Tate is one of them.
He's a U.S. Marine veteran, and he was actually inspired by a documentary about wildlife poaching. It's easier for people today to find documentaries online about almost all subjects. The people who create these documentaries are typically trying to bring about social change and raise awareness about important issues. It certainly worked in this case.
Ryan Tate talked about a documentary scene involving a terrified rhinoceros. During the scene, the poachers tranquilized the rhino and chopped off her horn. When the rhino was revived, she was so terrified that conservationists were not able to help her in time. The rhino bled to death and died. It was a powerful and horrifying occurrence, and it was more than enough to motivate Ryan Tate to try to help protect endangered animals.
He's now devoting his life to this new mission. Ryan Tate previously worked at the U.S. State Department, but he decided to found a non-profit organization that would help poached animals. Specifically, this is a non-profit organization staffed by veterans that protects endangered species all throughout Africa. It's called VETPAW, which is an appropriate and memorable acronym.
However, Ryan Tate's previous background with the U.S State Department was still valuable for him when he was working to set up VETPAW. He had connections that other non-profit founders wouldn't have had. He now works with wildlife park leaders in Tanzania. However, it's still important to note that this non-profit was started using Ryan Tate's money and time. He took care of these details and resources.
The park rangers that worked with Ryan Tate all had a lot of experience initially with tracking local animals. Ryan Tate's military background was helpful here. Everyone involved was able to set up a program that would train other workers. The park rangers needed more experience with medicine and first aid.
Malaria is a health hazard in the area. People working on a project like this would be spending a lot of time away from local hospitals, making it important to have a lot of workers who had medical training. The program also has plenty of medical supplies available now, including antibiotics and tourniquets. All of the workers also have the necessary equipment.
When people discuss the problem of animal poaching, it's important to note that animal poachers can be very aggressive to the people who are trying to stop them. Poachers can get tens of thousands of dollars for only one kilo of rhinoceros horns.
There's a big market for them, and the demand is still there. Elephants are also at risk, and a single tusk might be worth even more than ten thousand dollars. The veterans and rangers who are trying to address these problems are taking personal risks in the process, making them even more heroic.
After only a year, the rangers and veterans have managed to patrol one hundred thousand acres. There were around thirty veterans involved, and the staff is still adding more members. The members of the non-profit work alongside law enforcement professionals in the area, and these professionals are able to arrest poachers.
Veterans are being encouraged to become part of VETPAW. Of course, donating money is always helpful for all non-profit organizations. VETPAW needs medical supplies and the resources to train new people. Members of the general public can help the organization tremendously by contributing what they can.
Newly Discovered Flower Blooms Atop One of the World's RAREST Trees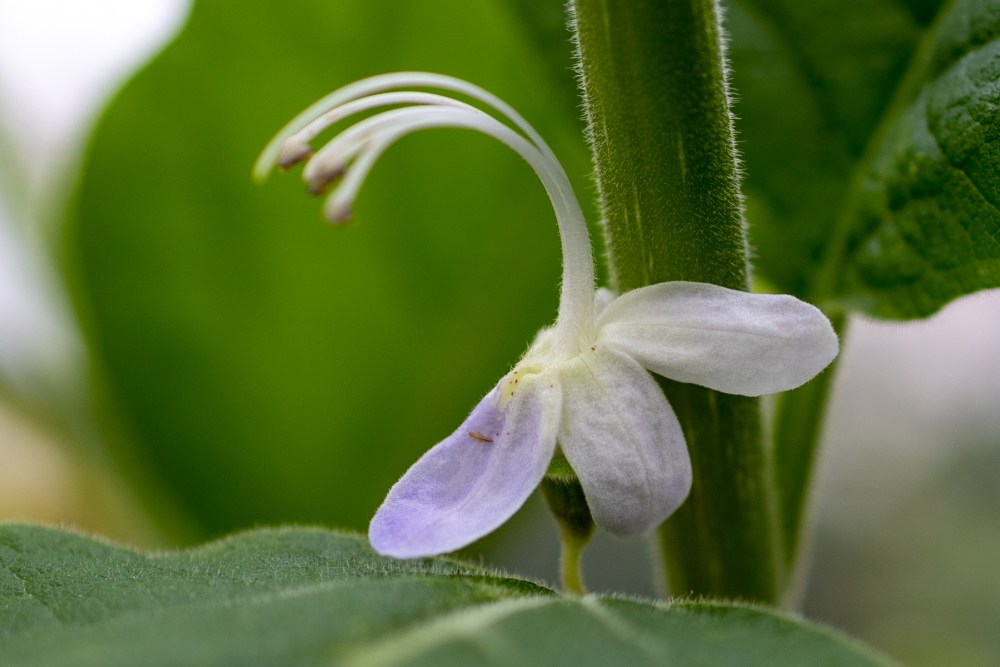 The Missouri Botanical Garden in St. Louis is known by locals for the intense work performed by the experts inside. When a small purple-and-white flower began to grow within their greenhouse, the team of experts at the Missouri Botanical Garden were confused. From their perspective, they were seeing something brand new – a completely fresh discovery.
Discovery on May 3rd
Justin Lee is a senior horticulturist at the Missouri Botanical Garden, and he was performing regular work on a Karomia Gigas sapling in the greenhouse when he first stumbled upon the rare purple-and-white flower. The Karomia Gigas is a tree from Africa with close relations to the mint plant. An endangered tree species in Africa, Justin was confused by the flower that had grown nearly an inch in length atop the tree.
Lee says of his discovery, "It's a bit odd for a mint flower. It seems flipped inside out."
The flower measured an inch in length with a strong halo of purple petals, sloping gently downward toward white stamens bearing pollen. According to Lee, the mint family likes to put out tube-styled flowers in an attempt to attract bees, butterflies, and moths. Lee also suggests that the tree can self-pollinate if necessary.
As the discovery made headlines around the city, the researchers at Missouri's Botanical Garden are preparing for more blooms in the future. Research has suggested that more Karomia Gigas flowers will grow at the greenhouse and it is then that their scientific research will really begin. Lee and his team are focused on successfully cultivating cross-pollination, thus improving the survivability of the plant in the world. At the time of this writing, only about two dozen of the Karomia Gigas trees can be found in the wilds throughout Tanzania.
The Wilds of Tanzania
At the time of this writing, the Karomia Gigas is considered so rare as to not even have a local Tanzanian nickname, nor is there an English one. What little is broadly known about the Karomia is that it can grow in straight stretches for up to 80 feet, limiting branch exposure until nearly halfway to its final height. As a result of its odd, stick-like growth, finding these unseen flower blooms has been harder than you might anticipate!
Roy Gereau is a program director for Tanzania at the Missouri Botanical Garden. Surprised but not shocked by the flower, Gereau was quick to admit that the bloom was new. Gereau said of the rare flower, "There certainly is no record of the flowers in scientific literature."
More important than discovering the flower, researchers in Missouri believe that they can maintain the health of the newly bloomed petals to prevent them from disappearing. Andrew Wyatt is the VP of Horticulture at the Missouri Botanical Garden, and he said, "We can make sure the species doesn't go extinct."
It has been a challenge to grow the plant in Missouri, as has been repeated by researchers at the facility. Seeds had been collected in 2018 from a series of Tanzanian field expeditions. These seeds were shipped to St. Louis where only around 100 were thought to be viable. To make things even more difficult, it was a task to match Tanzanian growing conditions within greenhouses in Missouri.
Despite the challenges that they had to face, it looks like the Karomia is finding solid footing within St. Louis. With some momentum and optimism on their side, what's next?
Andrew Wyatt said of the rare blooming flower and of his own future, "We were debating whether it would even flower in our careers."