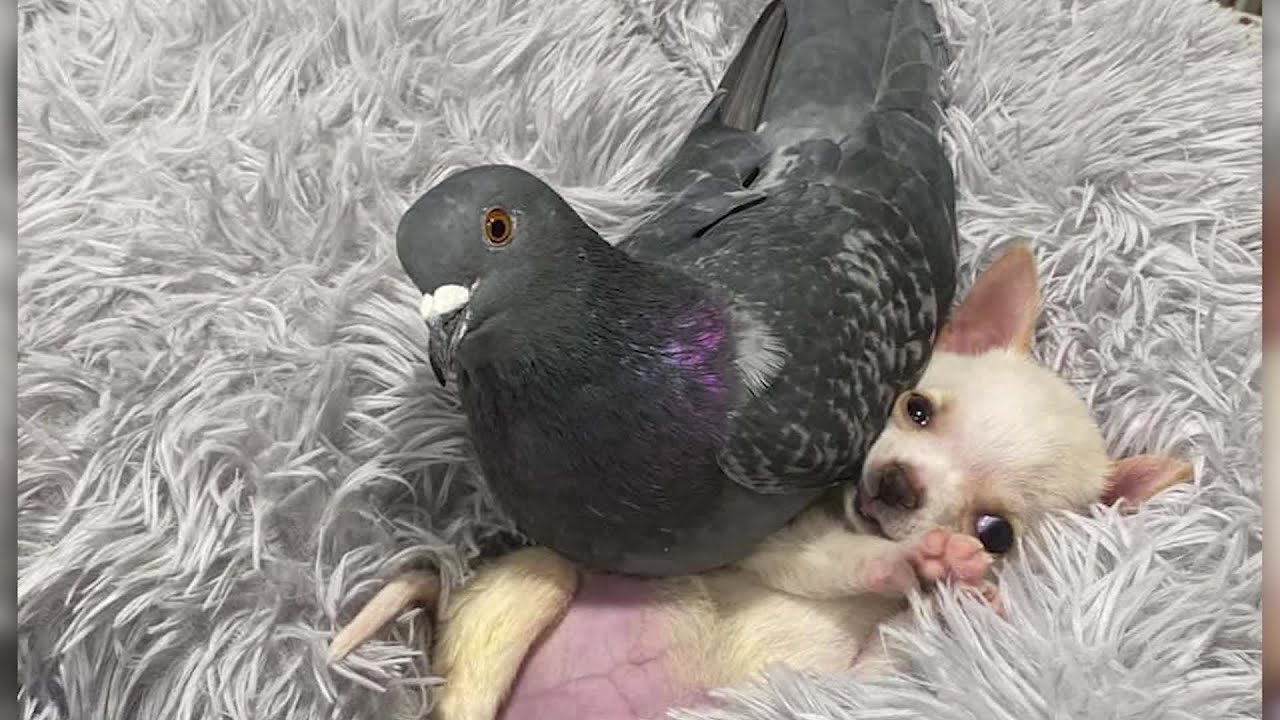 Handicapped Puppy Befriends Flightless Pigeon
In Rochester, NY, Sue Rogers runs a non-profit called the Mia Foundation. The rescue organization rescues and rehabilitates animals who have birth defects or deformities and tries to find them a loving home. About a year ago, a pigeon was found unable to move in the parking lot of a car dealership. The pigeon was huddled and cowering on the ground. When a local wildlife rescue was called, they said the bird had neurological damage that caused him not to be able to fly. They thought that euthanization would be the best option for him.
Sue was having none of that. She stepped in and took the bird, who she named Herman, under her wing, so to speak. She made space for him in her shelter and kept him close where she could keep an eye on him. He liked to sit on a furry dog pillow and watch her work.
A couple months ago, a tiny Chihuahua was brought to the Mia Foundation. He was an infant, maybe a few months old, when his South Carolina breeders sent him to Sue. He's a teacup sized Chihuahua they named Little Lundy and he was born with spinal cord damage. Sue also determined that he was suffering from swimmers syndrome. Swimmers syndrome is a developmental deformity that causes the front and hind legs to be splayed out. This makes it almost impossible for Little Lundy to walk.
Although swimmers syndrome is thought to be untreatable, according to a few studies and an article in a veterinary journal, it can be treatable. With some physical therapy and at-home treatment, Little Lundy could live a long and happy life, which is exactly what Sue plans for him.
When Little Lundy arrived at the Mia Foundation he decided to get acquainted with his new surroundings and the other animals at the shelter. One particular encounter, created a friendship that has gone viral. Herman and Little Lundy, a puppy and a pigeon, are the unlikeliest of friends, but they have a lot in common. They both have trouble walking, or flying in Hermans case, and they were living in the same place. You could say, they were in the right place at the right time to become instant friends.
In the six weeks they have been together, Herman and Little Lundy have become inseparable. They do everything together, which is a lot of sleeping and snuggling. Mostly, with Herman sitting on top of Little Lundy, which doesn't bother him in the slightest. This friendship was so out of the ordinary that Sue had to document it. The viral sensation of the puppy and pigeon has brought attention to the Mia Foundation that was much needed. The rescue organization runs solely on donations to help cover the costs of taking care of the animals and for needed surgeries. So far, about $6000 was donated because of this unlikely friendship and over 100 adoption inquiries. Hopefully when they are adopted, they are able to stay together.
Dog Trainer and Dog Groomer Get Married Accompanied By Their Best Friends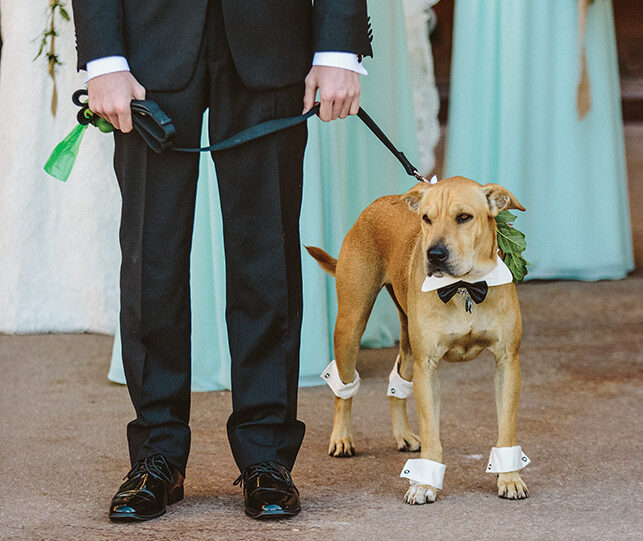 Weddings Are for Sharing With Loved Ones
When people get married, they spend one perfect day with their most loved friends and family. While many people only think about their human friends and family, there are a lot of people who could never imagine starting this important new chapter in their lives without their beloved pets. In fact, many people might have to admit, if they were being honest, that they loved their pets more than some of the relatives who came to the wedding, especially if they felt obligated to invite some relatives they rarely see and barely know.
Some People Already Spend Their Lives With Pets
Anyone who works full-time as a dog trainer or groomer already spends most of their working days with animals. They see dogs all day long, and they make the choice to do so because of many reasons. Working with pets is rewarding on many levels. Especially if you see the same dogs again and again, you form a close bond. Communicating with pets is therapeutic and generally far less stressful than dealing with humans. The people who work with dogs don't get sick of dogs and try to go home to a quiet house; they tend to have larger pet families than average.
A Dog Trainer and a Dog Groomer Tie the Knot
Paul and Annette Anthony are typical in that they work with dogs as a profession, and they have a large pet family. On the day they got married, their family consisted of 2 humans and 9 canines. Both Paul and Annette admitted that their pets were more to them than just fun — their beloved dogs also helped them get through rough times in their lives, including personal tragedies. Annette's German Shepherd Pesci is even an emotional support animal, helping her to deal with severe anxiety and depression. There was no way that their pets were going to be left out of the most important day of their lives going forward.
Canine Best Man
Paul's service dog Finn has earned his retirement. Finn has competed in over 40 events, earning titles and even setting records. He was also there for Paul when Paul developed PTSD after being at the scene of the deadliest plane crash in Pennsylvania's history. Finn was the one who helped with the proposal, giving Annette the ring with a note asking her to marry his dad. It was only fitting that Finn ended up being one of the best men at the wedding too.
A Family Affair
All 9 dogs walked down the aisle and stayed throughout the ceremony. Annette's dog Pesci even came to comfort her during the ceremony when she started to cry from happiness because he wanted to make sure his momma was all right. Whether you want to use your dogs in the ceremony as ring bearers, best men, or flower girls, or if you just want them to be present, it makes sense to have your pets help you celebrate such an important day in your life.