Great Dane on Home Security Camera Seen Protecting Family from Intruder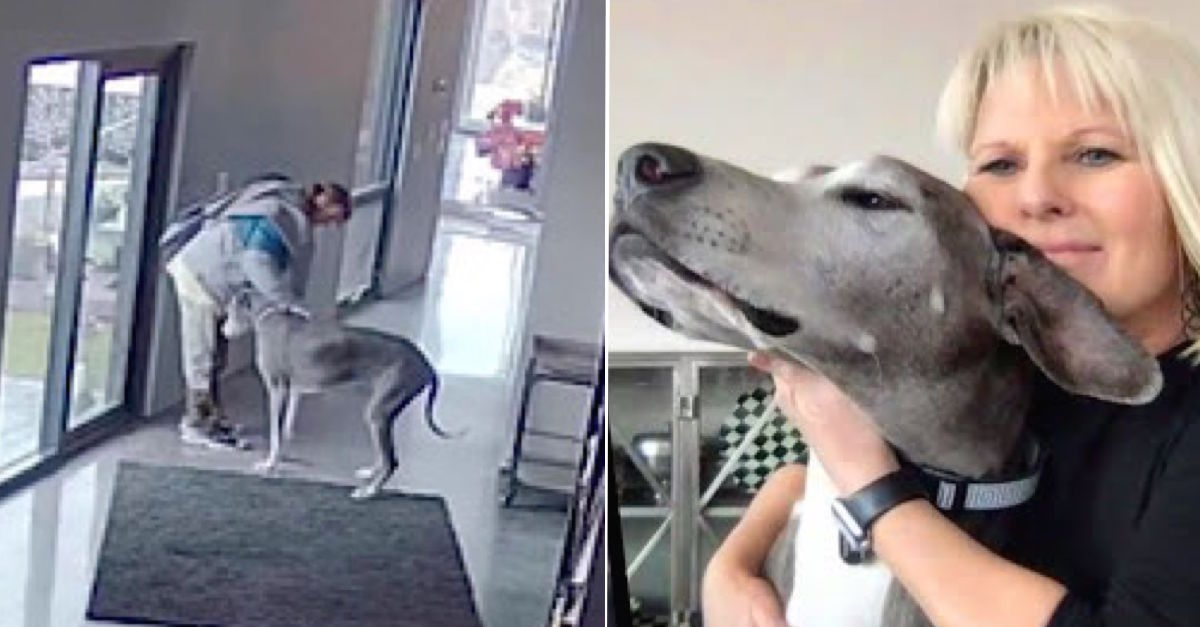 Humans just don't appreciate dogs as much as they should. Tracey McCoy and her son were at their home in Oklahoma City when her worst nightmare came true.
McCoy's security cameras were going in broad daylight and a strange man was seen going through the side door and entering the home. At first, McCoy thought that it was her older son. She was in the home at the time with her son, Nathaniel, who is blind.
The intruder walked right into the home as if he belonged there and owned the place. The intruder didn't know that he was about to be greeted by Dubai, the family's Great Dane mix, who weighs 133 pounds.
Dubai isn't normally a vicious dog. In fact, he's very friendly and docile. Dubai at first didn't even do anything to this unwanted visitor and allowed him to say hello and pet the dog. Just as Dubai and the intruder were becoming friendly, McCoy walked into the kitchen and screamed. Dubai jumped into action and realized this was not a wanted guest and his owner was absolutely terrified by this stranger in the home. Dubai attacked the intruder and escorted him out by the rear end with his teeth. McCoy was able to watch the suspect run away and then come back moments later while he was in the back of a patrol car. Luckily, the police were able to snatch him out quickly before he was able to break into another home that didn't have a trusty dog waiting to defend his owners. The suspect, Robert Ward, was positively identified by McCoy and is now facing a first-degree burglary charge but he was not armed.
This isn't the first time a Great Dane has been able to spring into action and help its owners. There are countless stories of Great Danes protecting their owners and even helping an owner carry some groceries. While Great Danes aren't usually thought of as service dogs, they are actually a perfect candidate for a service dog due to their size. The Service Dog Project has been training these large dogs to help war veterans and assist children with having a better quality of life. The Great Dane has stamina that was once needed to chase down bears and wild boars and they also have the strength and courage to stand up to predators, which was useful in the McCoy family case.
The Great Dane can be the perfect breed for a service dog because of its gentle personality and giant size. Dogs that are being used as balance support for the owner need to be large and about 65% of the person's weight and 45% of the height. It takes a tall and strong dog to give confidence to someone who needs help to walk and support to regain balance if they start to fall. Great Danes serve this unique purpose. Great Danes may be large but don't really require that much experience. Just a few walks a day are needed so it's even better to pair this breed up with someone who has limited mobility. Great Danes can be trained to do specific tasks, such as hold open doors, turn on light switches, pull wheelchairs, and pick up dropped objects. Of course, they don't need to be trained to protect their owners from intruders and will be happy to step in when needed.
While Dubai may not be trained to be a service dog anytime soon, he fulfilled his duty to the McCoy family and is getting lots of attention and treats for saving lives and property.
Too Shallow for Swimming With Sharks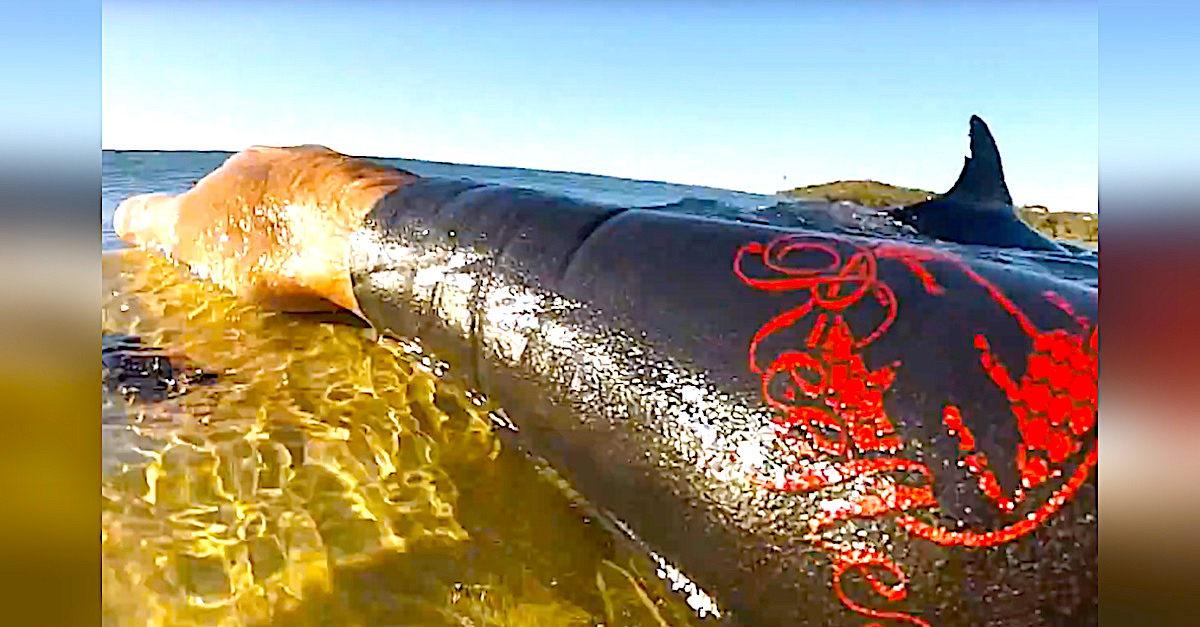 University of Florida student Stefani Luke loved the ocean. She lived to be on the water. She was given a surfboard when she was in high school, but growing up in Ft. Lauderdale didn't offer her much opportunity to ride any exciting waves. Going to college in Gainesville, Florida would provide her with a chance to take weekend trips to the popular beach town, St. Augustine to check out some waves.
One stormy Tuesday, Stefani and some friends heard the news about coastal swells reaching up to five feet. They loaded up their boards and began a caravan. There were 11 kids but only 8 surfboards. She was excited to finally have the chance to use her board on some real waves, but she was also very aware of sharks. She was a biology major, recently working as an intern at the US Fish and Wildlife Service. Most of her work there was done in a lab or in area rivers. The biggest risk at her job had been alligators.
Stefani's love of the ocean and interest in fisheries compelled her to stay abreast of shark activity along the east coast. She knew that in 2019, reports of shark attacks, either provoked or unprovoked, reached nearly 150.
The kids arrived at the beach, ready for some refreshing water and salty air. Today was a day to enjoy a day out of school. They unloaded the boards from their roof racks. Stefani waxed her beloved board alongside her good friends. Since there were more kids there than boards, Stefani offered her board up to a friend to try first. She figured she'd just do a little body surfing to warm up her muscles before fully engaging on her board.
The waves were slightly disappointing. The stories they'd heard about giant waves were exaggerated, topping out at maybe three feet. She swam into the surf and waited. She thought she was a good distance from the surfers with boards. The water was a little colder than expected, and she hadn't brought her wet suit. She swam parallel to the shore for a bit, to warm up. She ended up swimming close to her friend who'd borrowed her board. She waited in the line up, just beyond the breaking point of the waves. She was ready to body surf and catch some waves.
The waves were coming in sets of four. She took the first in a set. It picked her up and she swam with it. As she glided in toward the shore she saw the dark shadow of what she knew was a shark. Everyone knows that you don't panic when you see a shark. You don't thrash around in the water. You don't show signs of distress that signal to a shark that you're easy prey. She forgot all that. All Stefani could think was "I don't want to get eaten by a shark today!" She swam for her life. She swam fast, and probably a little crazy.
The realization of her frenzy made her calm down slightly. She dropped the panicky swimming. She stopped swimming to realize that she was only in about a foot of water! She felt very silly, probably looking like a fool to anyone who might've seen this spectacle.
She stood in the water to see her friend that had borrowed her board. Her friend asked with excitement, "Did you see that shark?!" Stefani acknowledged that she had in fact seen it. Her friend offered her the board back. Stefani declined, "No thanks. I like my legs. I like walking". It was at that moment that Stefani gave her board away. She was done surfing and never tried it again.