Good Samaritan Leaps Into Action to Save Bear Cub, Assist State Troopers.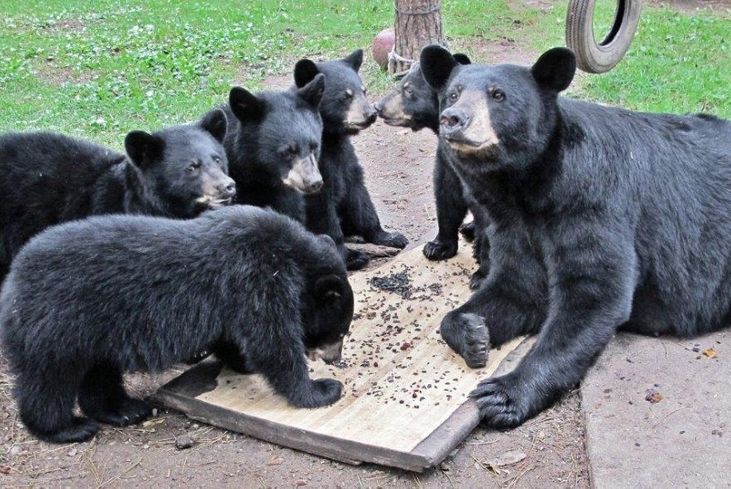 Imagine that you are driving down a country road minding your own business. The sun is high in the sky and the trees are green and beautiful. On the horizon, you see three state troopers walking what appears to be a massive dog. As your car drifts slower you begin to slow down. As you slow down, you realize that this isn't a massive dog — the state troopers are walking what appears to be a bear cub! This was the situation that John Gilroy found himself in as he drove along Route 209 outside of Marshalls Creek in Pennsylvania. As it turns out, John Gilroy would be pivotal in helping all parties involved — let's find out how!
As John Gilroy approached the trio of state troopers as well as their cub, he began to notice something very worrying. The bear cub was moving as if it was intoxicated. Stumbling around and barely able to stay level, the bear cub was clearly in distress. Cubs are typically around 15lbs when they first exit their dens. Around half of all bear cubs will die within their first six months of life with another third passing on before their first birthday. The odds that this cub was completely fine were against it!
Gilroy said, "The police officer, when we talked, it seemed like he got separated from the mother bear."
More than just getting separated, the bear cub was dehydrated and on the very verge of heat exhaustion. Had the state troopers not shown up, it was very likely that the cub would have passed away right there on the side of the road. Had John Gilroy not shown up, the cub would have died.
Gilroy quickly realized that the cub was in a state of distress, so the owner of Gilroy Northeast, Inc ran to his truck where he found a towel and a couple of bottles of water. After wetting the towel, Gilroy would place it across cub's head. By draping the cub with the wet towel, Gilroy and the state troopers were able to help ease the pain that the cub had been enduring. Gilroy would go on to say, "I had some waters in my truck, took the waters back. I squeezed some water onto some wet towels."
After addressing the cub's immediate needs, Gilroy and the troopers would call on the team at the Pocono Wildlife Rehabilitation and Education Center for further assistance. The rehabilitation facility for wildlife would arrive quickly to take the cub into their care, thus providing it with the help that was so desperately needed. According to the Pocono Center, the cub was roughly six months old and it had weighed in at 17lbs. Since the wildlife center took over care of the cub, Gilroy has been in contact with the institution in order to provide support. Gilroy stated, "We want to send them a donation to make sure the bear is going to be healthy."
Thanks to the quick efforts of a good Samaritan and a trio of brave state troopers, a bear cub got to buck the odds to survive. Thanks to the efforts of people like Gilroy and the team at Pocono Wildlife, black bears are actually seeing their population increase.
Handicapped Puppy Befriends Flightless Pigeon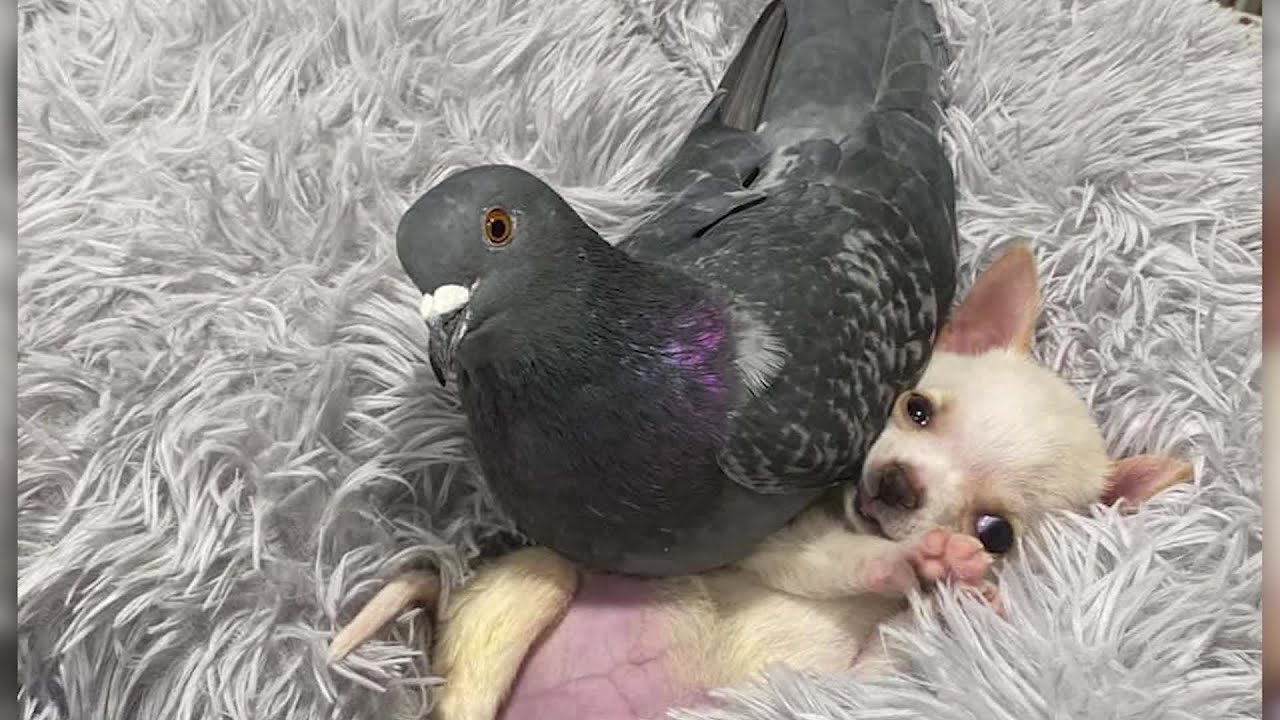 In Rochester, NY, Sue Rogers runs a non-profit called the Mia Foundation. The rescue organization rescues and rehabilitates animals who have birth defects or deformities and tries to find them a loving home. About a year ago, a pigeon was found unable to move in the parking lot of a car dealership. The pigeon was huddled and cowering on the ground. When a local wildlife rescue was called, they said the bird had neurological damage that caused him not to be able to fly. They thought that euthanization would be the best option for him.
Sue was having none of that. She stepped in and took the bird, who she named Herman, under her wing, so to speak. She made space for him in her shelter and kept him close where she could keep an eye on him. He liked to sit on a furry dog pillow and watch her work.
A couple months ago, a tiny Chihuahua was brought to the Mia Foundation. He was an infant, maybe a few months old, when his South Carolina breeders sent him to Sue. He's a teacup sized Chihuahua they named Little Lundy and he was born with spinal cord damage. Sue also determined that he was suffering from swimmers syndrome. Swimmers syndrome is a developmental deformity that causes the front and hind legs to be splayed out. This makes it almost impossible for Little Lundy to walk.
Although swimmers syndrome is thought to be untreatable, according to a few studies and an article in a veterinary journal, it can be treatable. With some physical therapy and at-home treatment, Little Lundy could live a long and happy life, which is exactly what Sue plans for him.
When Little Lundy arrived at the Mia Foundation he decided to get acquainted with his new surroundings and the other animals at the shelter. One particular encounter, created a friendship that has gone viral. Herman and Little Lundy, a puppy and a pigeon, are the unlikeliest of friends, but they have a lot in common. They both have trouble walking, or flying in Hermans case, and they were living in the same place. You could say, they were in the right place at the right time to become instant friends.
In the six weeks they have been together, Herman and Little Lundy have become inseparable. They do everything together, which is a lot of sleeping and snuggling. Mostly, with Herman sitting on top of Little Lundy, which doesn't bother him in the slightest. This friendship was so out of the ordinary that Sue had to document it. The viral sensation of the puppy and pigeon has brought attention to the Mia Foundation that was much needed. The rescue organization runs solely on donations to help cover the costs of taking care of the animals and for needed surgeries. So far, about $6000 was donated because of this unlikely friendship and over 100 adoption inquiries. Hopefully when they are adopted, they are able to stay together.