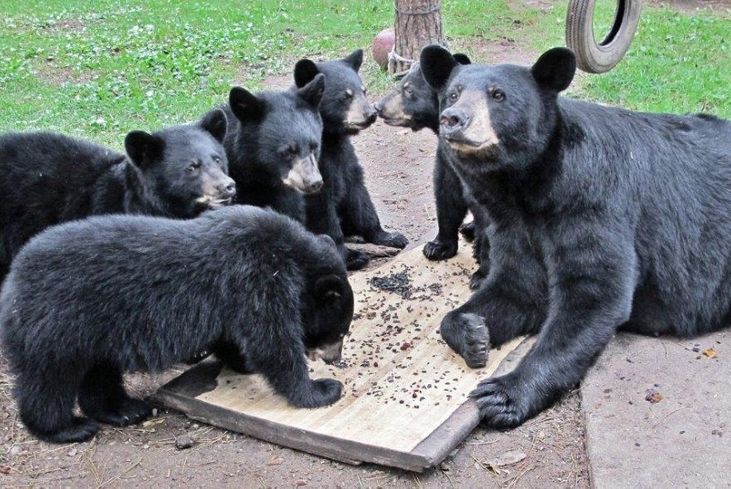 Good Samaritan Leaps Into Action to Save Bear Cub, Assist State Troopers.
Imagine that you are driving down a country road minding your own business. The sun is high in the sky and the trees are green and beautiful. On the horizon, you see three state troopers walking what appears to be a massive dog. As your car drifts slower you begin to slow down. As you slow down, you realize that this isn't a massive dog — the state troopers are walking what appears to be a bear cub! This was the situation that John Gilroy found himself in as he drove along Route 209 outside of Marshalls Creek in Pennsylvania. As it turns out, John Gilroy would be pivotal in helping all parties involved — let's find out how!
As John Gilroy approached the trio of state troopers as well as their cub, he began to notice something very worrying. The bear cub was moving as if it was intoxicated. Stumbling around and barely able to stay level, the bear cub was clearly in distress. Cubs are typically around 15lbs when they first exit their dens. Around half of all bear cubs will die within their first six months of life with another third passing on before their first birthday. The odds that this cub was completely fine were against it!
Gilroy said, "The police officer, when we talked, it seemed like he got separated from the mother bear."
More than just getting separated, the bear cub was dehydrated and on the very verge of heat exhaustion. Had the state troopers not shown up, it was very likely that the cub would have passed away right there on the side of the road. Had John Gilroy not shown up, the cub would have died.
Gilroy quickly realized that the cub was in a state of distress, so the owner of Gilroy Northeast, Inc ran to his truck where he found a towel and a couple of bottles of water. After wetting the towel, Gilroy would place it across cub's head. By draping the cub with the wet towel, Gilroy and the state troopers were able to help ease the pain that the cub had been enduring. Gilroy would go on to say, "I had some waters in my truck, took the waters back. I squeezed some water onto some wet towels."
After addressing the cub's immediate needs, Gilroy and the troopers would call on the team at the Pocono Wildlife Rehabilitation and Education Center for further assistance. The rehabilitation facility for wildlife would arrive quickly to take the cub into their care, thus providing it with the help that was so desperately needed. According to the Pocono Center, the cub was roughly six months old and it had weighed in at 17lbs. Since the wildlife center took over care of the cub, Gilroy has been in contact with the institution in order to provide support. Gilroy stated, "We want to send them a donation to make sure the bear is going to be healthy."
Thanks to the quick efforts of a good Samaritan and a trio of brave state troopers, a bear cub got to buck the odds to survive. Thanks to the efforts of people like Gilroy and the team at Pocono Wildlife, black bears are actually seeing their population increase.
Bobcat Visits Homeowner, Brings Her Five Excited Kittens!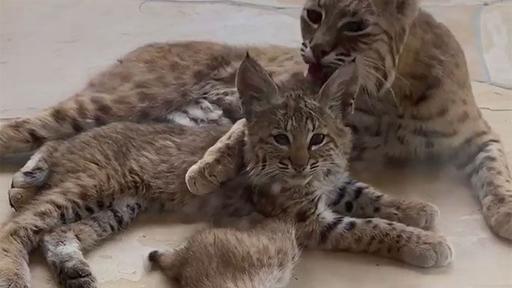 Would you consider yourself a cat person? Do you find yourself drawn to petting or cuddling with just about anything furry? If so, this story might be right up your alley! Earlier this year, a homeowner in the Midwest opened her front porch to find a massive female bobcat on her deck. As bobcats are the most populous wildcat in all of North America, this in and of itself wasn't a shock or a revelation. What came next, however, was as exciting as anything you could hope to find on your porch in the morning.
Before we dive into this exciting story, let's peel back our understanding of wildcats and bobcats. Bobcats are roughly double the size of a traditional house cat and many times more dangerous than their domesticated counterparts. Female bobcats tend to be smaller than their male counterparts, though both genders hover around three feet in length and roughly 20 to 30 pounds in weight. These polygamous animals mate during the winter and will give birth to up to six kittens in roughly two months. From there, the kittens will continue to nurse for an additional two months before eventually leaving home behind after a year.
During their youth, bobcat kittens are blind and as such will stay really close to their parents. After about eight weeks, bobcat kittens are significantly larger and more active. When this mama Bobcat came back to visit the homeowner in question, she brought along her entire litter! If you are a cat person, having a litter of bobcat kittens on your deck has to be a dream come true. Thankfully, the owner of the home went overboard on capturing photographs and we couldn't be happier if we wanted to. Just look at these small beans!
While wildcats aren't exactly rare or reclusive creatures, it is pretty unusual for people to get this close to wild animals. Thanks to the glass screen between the door and the deck, the owner of the home was able to get the kind of pictures that we can only dream of. The homeowner, one Kathy Maniscalco, considered herself as lucky as anyone when the mama Bobcat chose her porch to settle in on. As Kathy watched the kittens, she realized that there were five of them with the young Bobcat — this meant that the mother had nearly a full litter!
Bobcats are crepuscular animals that live relatively solitary lives when they are not mating or raising kittens. Living upwards of 12 to 13 years, bobcats are natural prey to wolves and cougars with bobcat kittens preyed upon by both owls and coyotes. Bobcats don't really have a history of attacking humans because they are fickle and easy to scare. If a bobcat does seem willing to attack a human, it means that they have rabies or are potentially near their kittens. In either situation, creating space is the safest course of action.
How would you react if you found a litter of bobcat kittens on your deck?