Giraffes May Become An Endangered Species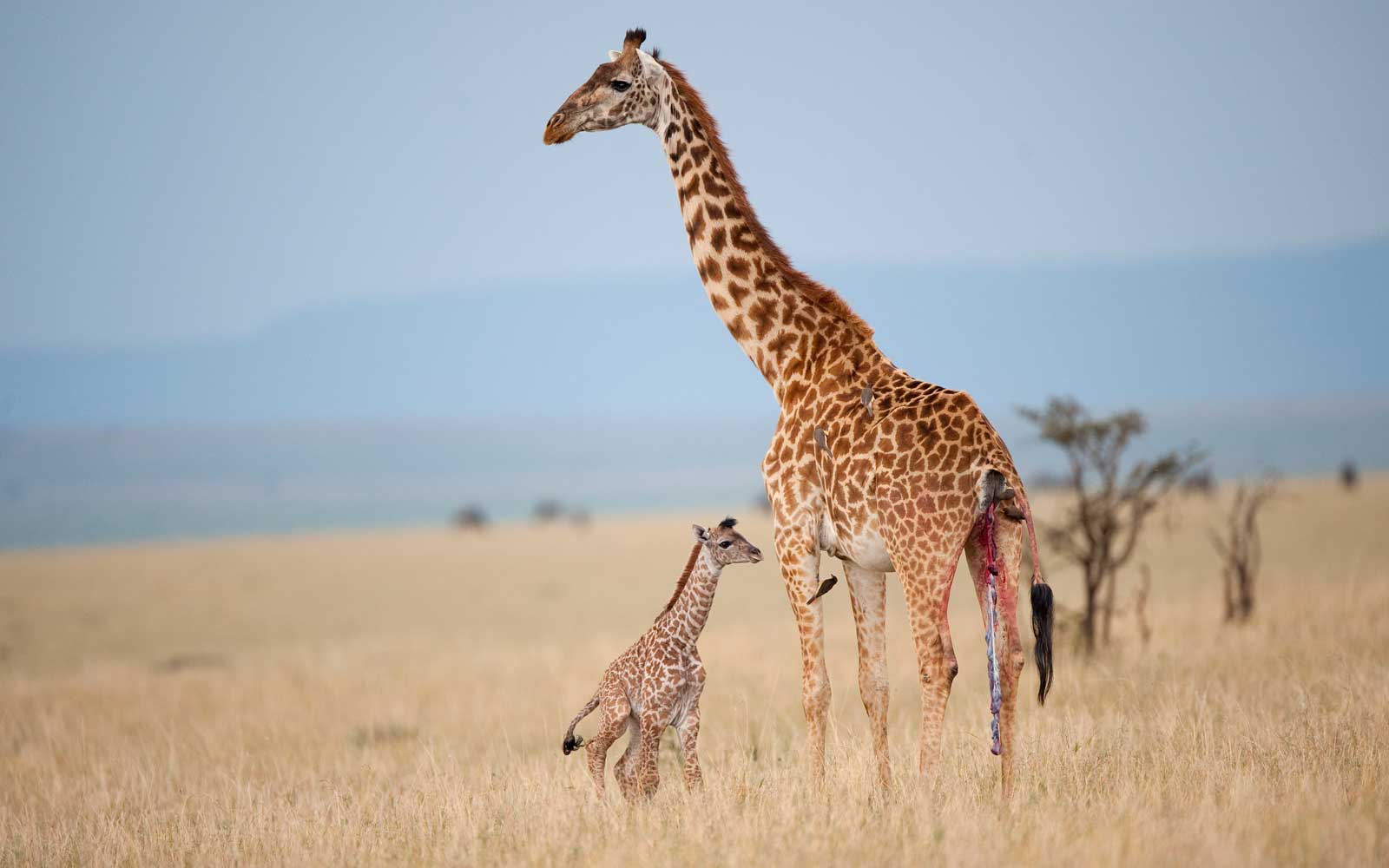 The US Fish and Wildlife Service will begin a 12-month review of the giraffe's status as an endangered species. The global population of the giraffe has decreased 40 percent since 1965. These statistics are provided by the International Union of Conservation for Nature. Several non-profit groups filed a petition with the government to suggest a study be conducted. There are only about 68,000 adult giraffes left in the world.
US Fish and Wildlife Service will study the giraffe for 12 months to determine whether it should be listed as an endangered species. During this time, the study will listen to public comments. The review process often takes longer that 1 year. The International Humane Society says that the governments frequently misses deadlines.
Some programs that support giraffes will be funded if they become listed as an endangered species. The importing of giraffe body parts that is unregulated will be under scrunity. Their parts are used for bone carvings, clothing, pillows, boot, knife handles and more. Legal hunting has little impact on the giraffe population, it is poaching that has diminished the global population. Pro hunting organizations like the Safari Club International claim that even in countries where hunting is banned giraffe populations are declining. They say that a lack of hunting is responsible for the decrease in the giraffe population.
Sometimes hunting groups fund anti poaching projects in African countries . These groups say that making giraffes an endangered species would hurt the funds that US hunters pay for giraffe hunts. The new label could reduce funding for habitat protect and anti poaching projects funded by hunters. The US would have to change the laws concerning hunter importing giraffe parts for commercial gain.
In countries that have giraffes the animal is hunted for meat. Now, they are being hunted by residents of other countries and used for meat. One of the biggest causes of the decline in the giraffe population is loss of habitat. This is due to building roads, construction, drilling for oil, and mining. A solution might be to relocate these creatures to protected locations. Poachers kill the giraffe for its tail because it is a status symbol in some countries and, the skin is used in fashion.
The giraffe is known as the world's tallest animal. Orange colored patches cover their body that are separated by white lines.. Tanya Serarib from the Center for Biological Diversity says that the biggest obstacle will be getting the giraffes on the endangered species list due to the many other species threatened. She is the legal director and senior attorney for this organization.
Giraffes should be listed on the endangered species because they are a uniqe and historical animal. Some interesting facts about giraffes are they only have seven bones in their long neck. Giraffes get water from the plants they eat. There are four different species of giraffes. Today giraffe are only found in sub-Saharan Africa. Their hooves are the size of a normal dinner plate. Often their horns are used by the males for fighting. Female giraffes give birth standing up.
Overall the fate of the giraffe surviving depends on conservation groups, consumers, the government, and hunting organizations working together to change the laws to protect them from extinction.
A baby bear, tiger, and a lion found in a basement 12 years ago are now best friends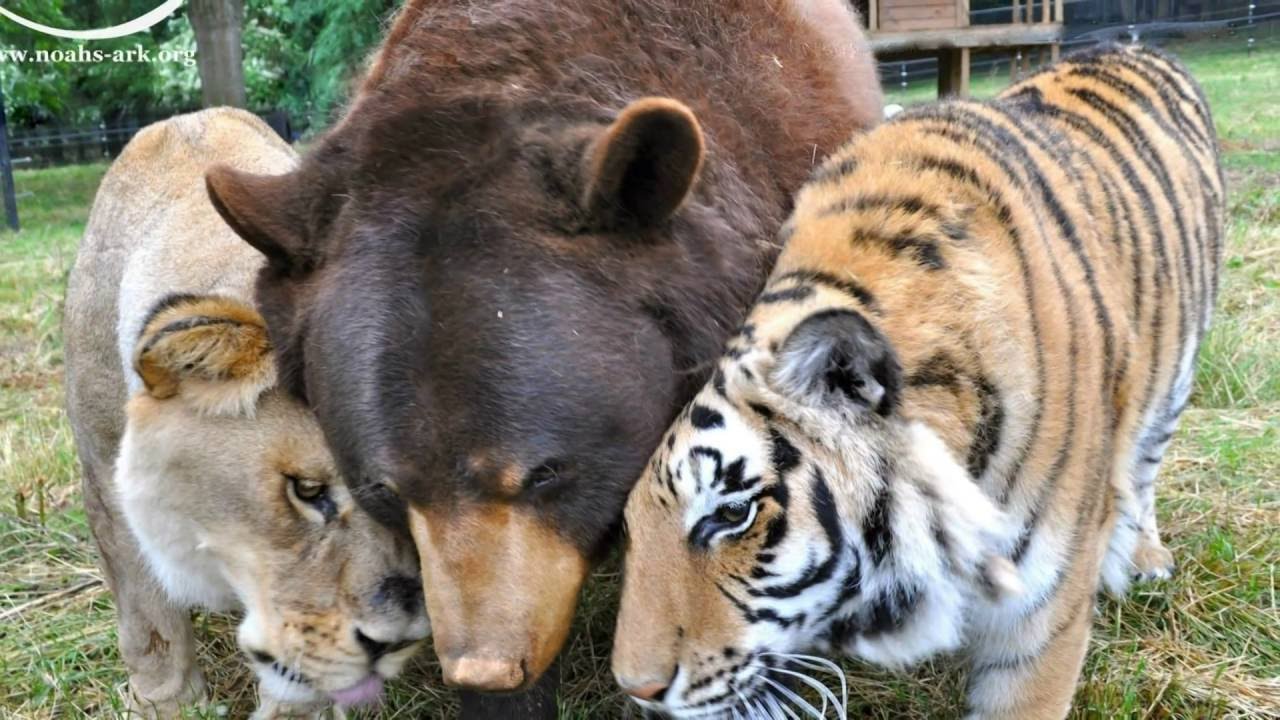 Wild animals try to stick to their natural habitat and they also tend to follow their natural social characteristics. For example, leopards are known to be very reclusive creatures and often prefer a solitary life. Bears and tigers are also not very social too.
In this fascinating story, a bear, a tiger, and a lion have grown up to become best buddies. In a video posted online, a 12-year-old Black Bear, named Baloo, walks over to his friend, Shere Khan, a Bengal Tiger, and cuddles with him as if they are brothers. Tigers don't even get along with their kin. So this friendship between the bear and tiger is even beyond kinship. To make things even more unbelievable, they have another friend, named Leo. You guessed it right, Leo is a lion.
What might explain this unusual friendship is their common history. 12 years ago, when these three animals were babies, they were being kept in terrible conditions in a basement. Fortunately, they were recovered by the police and bought to Noah's Ark Sanctuary in Locust Grove, GA. The three animals have cared for their entire life at the Sanctuary.
The staff at Noah's Ark Sanctuary have never heard of such friendship between a big cat and a bear. They do share the same habitat, especially in the Fat East, but any encounters between them as most aggressive or they just ignore each other and keep out of the way of the other. They don't walk up and cuddle each other. The staff at the sanctuary does point out that out of these three, Shere Khan has kept a little bit of natural wild mannerism but he is still very friendly. When it is sleep time, the trio shares the same room and cuddle together. They were kept as pets in that basement, which was legally not allowed. The owner of the basement was a drug dealer. They were confiscated and bought the sanctuary. Since then the owner of the sanctuary has looked after these three.
Unfortunately, Leo has passed away, leaving his loved ones with wonderful memories of him. He was 15 years of age when he passed away. He had been feeling sick and during surgery, his doctor found 80% of his liver was damaged. He could not have survived in such a condition. The difficult decision to let him go had to be made so that he does not suffer. His end in the world was peaceful.
Leo's best friends, Shere Khan and Baloo, were able to say a final goodbye to him. They have been doing all right since their best friend's departure. The staff at the sanctuary keeps a close eye to check off any worrisome signs of depression or change in behavior. The staff believes these two already knew Leo was terminally ill long before the staff was able to find out.
Leo's final resting place is located by the clubhouse at the sanctuary. Such compassion and bond in animals of different species are very rare. In the wild, they might have been foes, but at the sanctuary they were brothers. Their story is an example of when nurture overtakes nature. They grew up together and build a bond that went beyond the design of nature. Humans do not fully understand the communication or relationship dynamics of the animals. This story is an example of how wild animals can get along in the right environment.