Giant Seal is Beached and Then has a Baby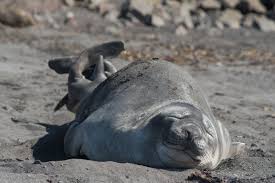 The exact moment when a mother sees her newborn baby for the first time is one of the most amazing sights in the world. The utter disbelief and joy on her face in combination with wonderment is one of the finest moments in any woman's life. It is the same feeling that animals have when they give birth and the look on their faces when they first see their babies is as equally magical.
Recently a tourist spotted a large female seal on the beach. She appeared to be in great pain because of the manner in which she was writhing around. The tourist shot a video of the seal. A few minutes later, the elephant seal appeared to have a spot beneath her tail. After some hard pushing, her calf was born. She quickly turned around and inspected her new baby to make certain that it was okay.
Elephant Seal Interesting Facts
Giant seals or elephant seals are the largest seals in the world. There are two types: the Northern elephant seal and the Southern elephant seal. The northern species are found in the coastal waters near Canada and Mexico and the southern species are found off the coast of South Africa, Argentina and New Zealand.
The adult bull or male seal has a proboscis that appears much like the trunk of an elephant, making it easy to distinguish males from females at a glance. The males roar through this appendage during the mating season to attract females. They also use it to fight with other males in order to win battles and claim females as their own.
The average adult southern male can weigh up to 6,600 pounds and reach a length of 16 feet in total. The female adults weigh about 2,000 pounds and measure around 10 feet long. Elephant seals may be light brown, dark brown, gray or rust colored.
Southern elephant seals can live to reach 22 years old and the northern species life span is only about 9 years.
Elephant Seal Reproduction
Elephant seals return to the coast for their breeding grounds in the winter. Female giant seals reach maturity between 3 and 6 years old and males mature slower between 5 and 6 years. Males battle each other to gain the alpha status that allows them to mate with the females. A male will mate with 30 to 100 females. A bit over 50 percent of first time breeding seals fail to produce a pup. A female elephant seal has one pup per year and the gestation period is 11 months. So, when females arrive at the breeding grounds in the winter, they are already pregnant. Females don't eat while nursing their pups for the first month of its life.
Don't Get Too Close to Wildlife
If you ever spot an animal of any kind that appears to be hurt, it's best not to get too close to them. In 2000, Homer, an elephant male seal terrorized Gisborne, a town in New Zealand. He attacked trash bins, cars, boat trailers, a tree and a power transformer in a rage. It isn't known what made him so mad, but it's best to keep your distance from all wildlife—thus the term of wild and life.
Handicapped Puppy Befriends Flightless Pigeon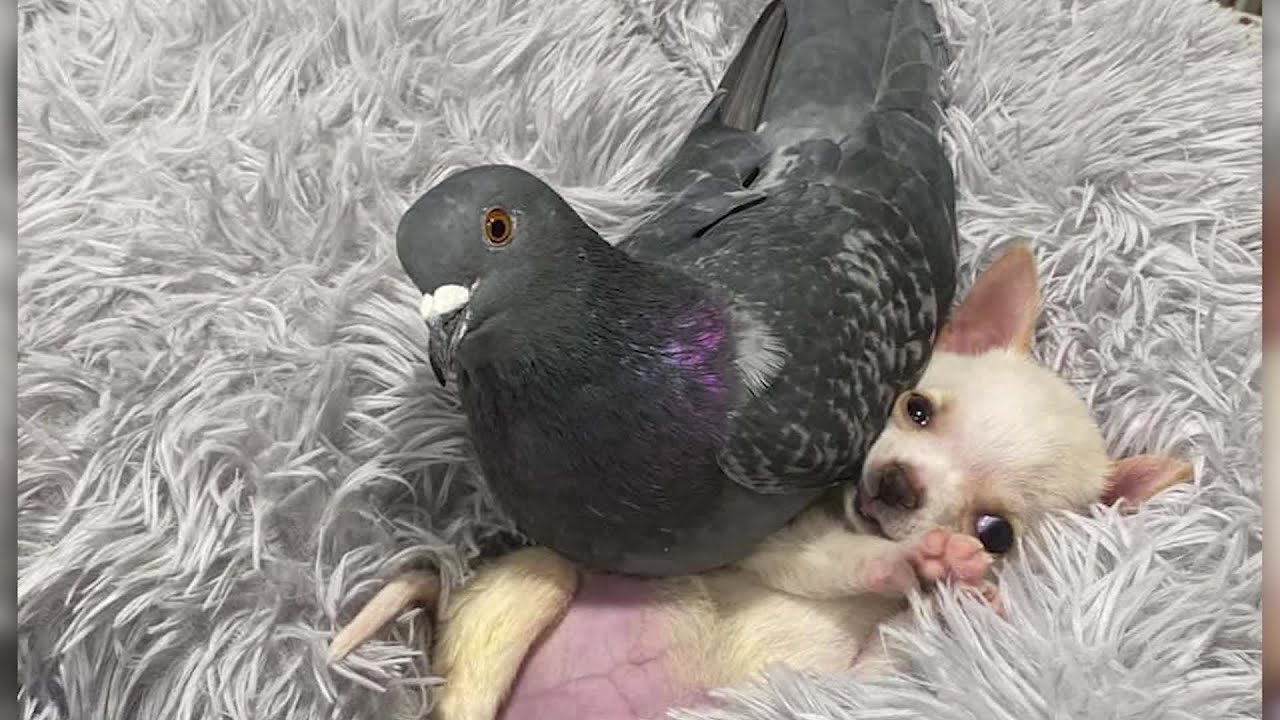 In Rochester, NY, Sue Rogers runs a non-profit called the Mia Foundation. The rescue organization rescues and rehabilitates animals who have birth defects or deformities and tries to find them a loving home. About a year ago, a pigeon was found unable to move in the parking lot of a car dealership. The pigeon was huddled and cowering on the ground. When a local wildlife rescue was called, they said the bird had neurological damage that caused him not to be able to fly. They thought that euthanization would be the best option for him.
Sue was having none of that. She stepped in and took the bird, who she named Herman, under her wing, so to speak. She made space for him in her shelter and kept him close where she could keep an eye on him. He liked to sit on a furry dog pillow and watch her work.
A couple months ago, a tiny Chihuahua was brought to the Mia Foundation. He was an infant, maybe a few months old, when his South Carolina breeders sent him to Sue. He's a teacup sized Chihuahua they named Little Lundy and he was born with spinal cord damage. Sue also determined that he was suffering from swimmers syndrome. Swimmers syndrome is a developmental deformity that causes the front and hind legs to be splayed out. This makes it almost impossible for Little Lundy to walk.
Although swimmers syndrome is thought to be untreatable, according to a few studies and an article in a veterinary journal, it can be treatable. With some physical therapy and at-home treatment, Little Lundy could live a long and happy life, which is exactly what Sue plans for him.
When Little Lundy arrived at the Mia Foundation he decided to get acquainted with his new surroundings and the other animals at the shelter. One particular encounter, created a friendship that has gone viral. Herman and Little Lundy, a puppy and a pigeon, are the unlikeliest of friends, but they have a lot in common. They both have trouble walking, or flying in Hermans case, and they were living in the same place. You could say, they were in the right place at the right time to become instant friends.
In the six weeks they have been together, Herman and Little Lundy have become inseparable. They do everything together, which is a lot of sleeping and snuggling. Mostly, with Herman sitting on top of Little Lundy, which doesn't bother him in the slightest. This friendship was so out of the ordinary that Sue had to document it. The viral sensation of the puppy and pigeon has brought attention to the Mia Foundation that was much needed. The rescue organization runs solely on donations to help cover the costs of taking care of the animals and for needed surgeries. So far, about $6000 was donated because of this unlikely friendship and over 100 adoption inquiries. Hopefully when they are adopted, they are able to stay together.