Giant Panda Cubs goof around with "Mom" not realizing parent is really a zookeeper in costume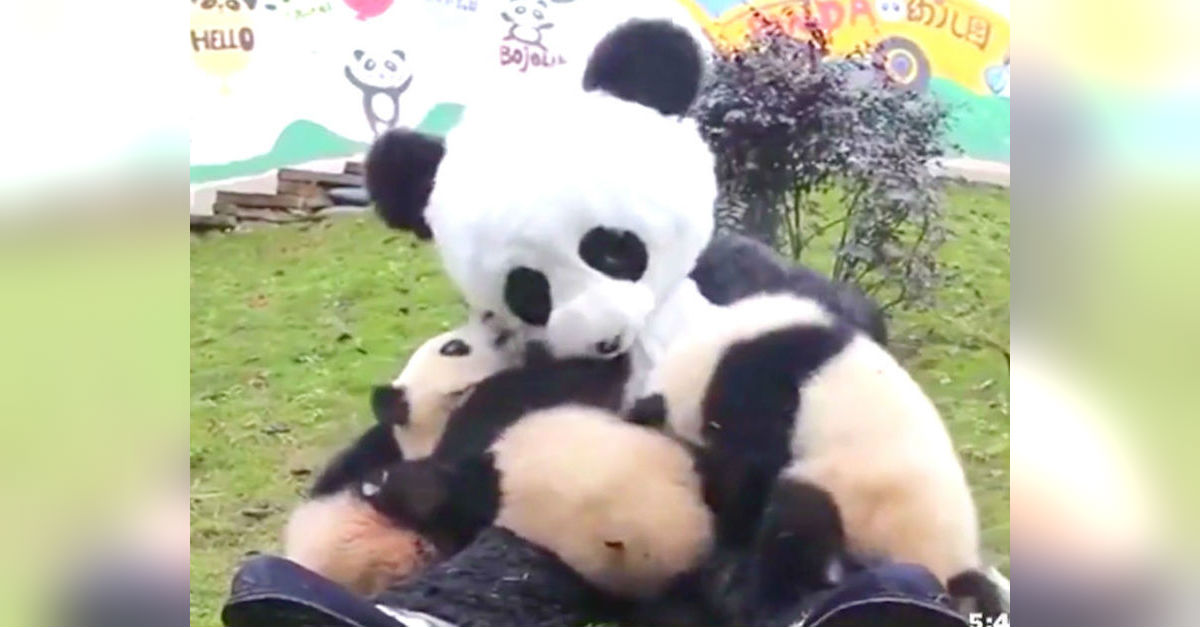 Giant Panda bear cubs attack their mom as she sits on the grass. The frisky young bear cubs play and snuggle with her. One cub even bites her ear. The scene delights onlookers. The Giant Panda cubs don't suspect their mom is actually a zookeeper in a giant panda costume. They frolic and even give the adult panda hugs. What a great part of the zookeeper's day. The zoo worker gets paid to romp and cuddle with these black and white cute roly-poly cubs.
The zoo worker plays a surrogate mom and encourages appropriate social panda cub behavior. The panda cubs need to learn how to climb, move around, and position themselves safely in trees. Forming a bond with a human will hinder their ability to survive on their own later, so the zookeeper wears a costume. The panda cubs mustn't realize they are currently relying on humans for their basic needs. Having a maternal figure visit their enclosure also lowers the stress level of the cubs. Nurturing, and playing with the young bears is important. Some zookeepers may even coat their costumes with panda excrement to cover their human scent. The zookeeper also develops an affinity to the cubs which causes mixed emotions of pride, joy, and sadness, when it is time to release the cubs into a larger habitat.
The Giant Panda cubs in the Wolong National Nature Reserve will eventually be released into their natural habitat. The release happens in stages, allowing the panda to adjust to each level of independence. It also allows zookeepers to monitor the bears' progress via video. When panda bears are moved or relocated to other parts of the nature reserve, their boxes are carried by workers in costume. When the box is opened, the bears see other pandas, not people. Upon release, the panda bears tend to run away immediately. During an early stage of the transition, models of the pandas' enemy, the Giant Snow Leopard are also released into the habitat enclosure. These models replicate the sound of a snow leopard. The nature reserve does this so the pandas will learn to sense danger.
When the cubs were born, they weighed around 5 ounces each. Unlike other newborn bears, Giant Panda cubs already have a thin layer of white fur. Their distinct fur pattern will grow in later. Normally, cubs stay with their mother for the first 18 -19 months of life, but then lead very solitary lives. Pandas spend half their time eating, so 12 hours a day are spent munching on bamboo. Adult giant pandas weigh between 220 and 300 pounds, the males usually weigh more than the females. A strong sense of smell enables the adult males to avoid each other. Giant Panda Bears like cool and wet habitats and are native to the central mountains of China. Although elusive, some of these bears have been spotted at 13,000 feet above sea level. The costumed zookeeper is one small part of the efforts to increase the population of Giant Panda Bears in the wild.
Handicapped Puppy Befriends Flightless Pigeon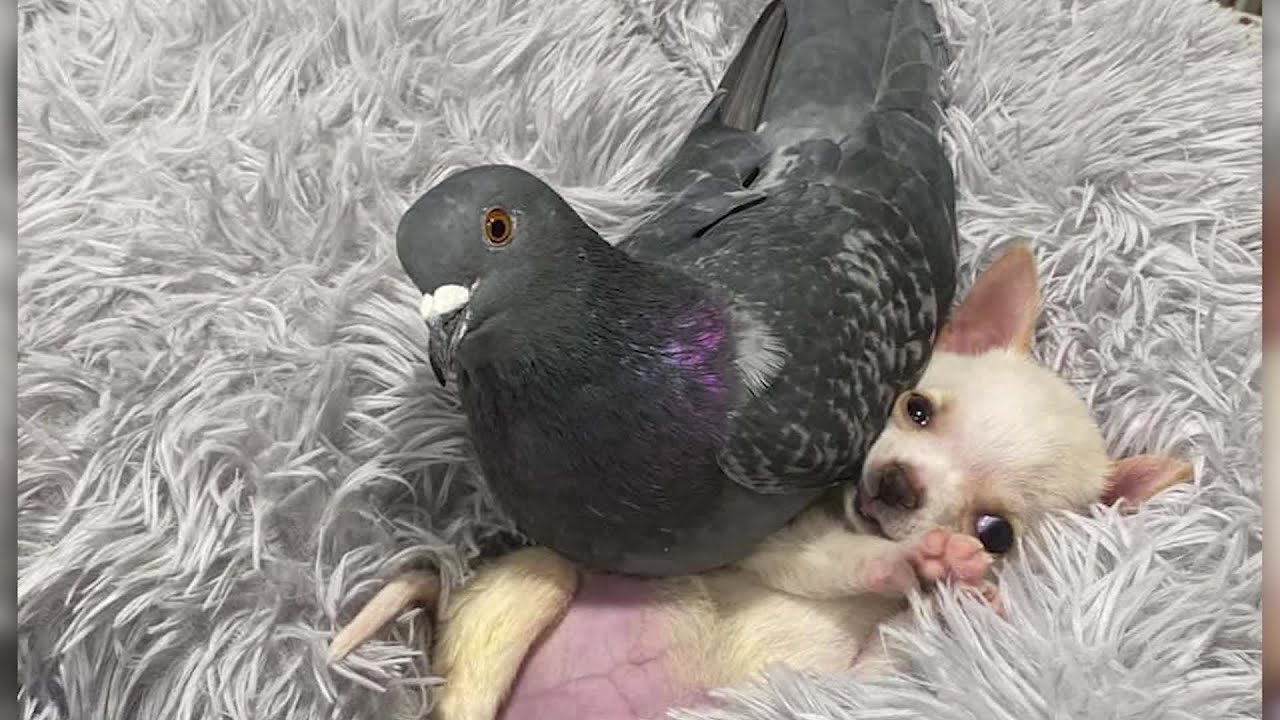 In Rochester, NY, Sue Rogers runs a non-profit called the Mia Foundation. The rescue organization rescues and rehabilitates animals who have birth defects or deformities and tries to find them a loving home. About a year ago, a pigeon was found unable to move in the parking lot of a car dealership. The pigeon was huddled and cowering on the ground. When a local wildlife rescue was called, they said the bird had neurological damage that caused him not to be able to fly. They thought that euthanization would be the best option for him.
Sue was having none of that. She stepped in and took the bird, who she named Herman, under her wing, so to speak. She made space for him in her shelter and kept him close where she could keep an eye on him. He liked to sit on a furry dog pillow and watch her work.
A couple months ago, a tiny Chihuahua was brought to the Mia Foundation. He was an infant, maybe a few months old, when his South Carolina breeders sent him to Sue. He's a teacup sized Chihuahua they named Little Lundy and he was born with spinal cord damage. Sue also determined that he was suffering from swimmers syndrome. Swimmers syndrome is a developmental deformity that causes the front and hind legs to be splayed out. This makes it almost impossible for Little Lundy to walk.
Although swimmers syndrome is thought to be untreatable, according to a few studies and an article in a veterinary journal, it can be treatable. With some physical therapy and at-home treatment, Little Lundy could live a long and happy life, which is exactly what Sue plans for him.
When Little Lundy arrived at the Mia Foundation he decided to get acquainted with his new surroundings and the other animals at the shelter. One particular encounter, created a friendship that has gone viral. Herman and Little Lundy, a puppy and a pigeon, are the unlikeliest of friends, but they have a lot in common. They both have trouble walking, or flying in Hermans case, and they were living in the same place. You could say, they were in the right place at the right time to become instant friends.
In the six weeks they have been together, Herman and Little Lundy have become inseparable. They do everything together, which is a lot of sleeping and snuggling. Mostly, with Herman sitting on top of Little Lundy, which doesn't bother him in the slightest. This friendship was so out of the ordinary that Sue had to document it. The viral sensation of the puppy and pigeon has brought attention to the Mia Foundation that was much needed. The rescue organization runs solely on donations to help cover the costs of taking care of the animals and for needed surgeries. So far, about $6000 was donated because of this unlikely friendship and over 100 adoption inquiries. Hopefully when they are adopted, they are able to stay together.