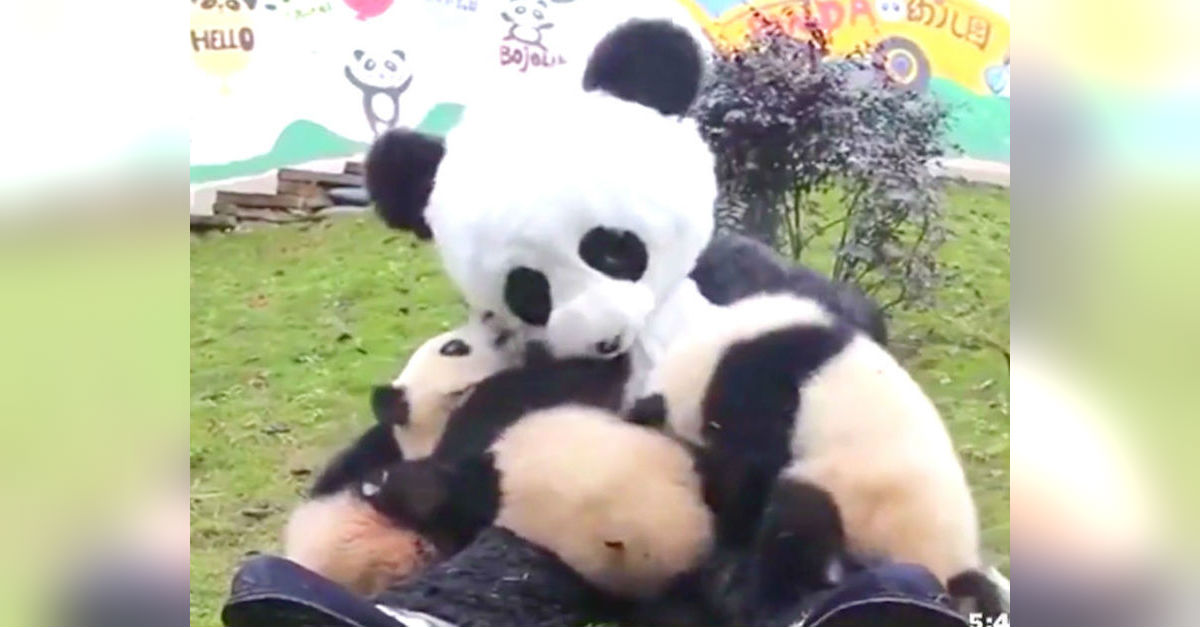 Giant Panda Cubs goof around with "Mom" not realizing parent is really a zookeeper in costume
Giant Panda bear cubs attack their mom as she sits on the grass. The frisky young bear cubs play and snuggle with her. One cub even bites her ear. The scene delights onlookers. The Giant Panda cubs don't suspect their mom is actually a zookeeper in a giant panda costume. They frolic and even give the adult panda hugs. What a great part of the zookeeper's day. The zoo worker gets paid to romp and cuddle with these black and white cute roly-poly cubs.
The zoo worker plays a surrogate mom and encourages appropriate social panda cub behavior. The panda cubs need to learn how to climb, move around, and position themselves safely in trees. Forming a bond with a human will hinder their ability to survive on their own later, so the zookeeper wears a costume. The panda cubs mustn't realize they are currently relying on humans for their basic needs. Having a maternal figure visit their enclosure also lowers the stress level of the cubs. Nurturing, and playing with the young bears is important. Some zookeepers may even coat their costumes with panda excrement to cover their human scent. The zookeeper also develops an affinity to the cubs which causes mixed emotions of pride, joy, and sadness, when it is time to release the cubs into a larger habitat.
The Giant Panda cubs in the Wolong National Nature Reserve will eventually be released into their natural habitat. The release happens in stages, allowing the panda to adjust to each level of independence. It also allows zookeepers to monitor the bears' progress via video. When panda bears are moved or relocated to other parts of the nature reserve, their boxes are carried by workers in costume. When the box is opened, the bears see other pandas, not people. Upon release, the panda bears tend to run away immediately. During an early stage of the transition, models of the pandas' enemy, the Giant Snow Leopard are also released into the habitat enclosure. These models replicate the sound of a snow leopard. The nature reserve does this so the pandas will learn to sense danger.
When the cubs were born, they weighed around 5 ounces each. Unlike other newborn bears, Giant Panda cubs already have a thin layer of white fur. Their distinct fur pattern will grow in later. Normally, cubs stay with their mother for the first 18 -19 months of life, but then lead very solitary lives. Pandas spend half their time eating, so 12 hours a day are spent munching on bamboo. Adult giant pandas weigh between 220 and 300 pounds, the males usually weigh more than the females. A strong sense of smell enables the adult males to avoid each other. Giant Panda Bears like cool and wet habitats and are native to the central mountains of China. Although elusive, some of these bears have been spotted at 13,000 feet above sea level. The costumed zookeeper is one small part of the efforts to increase the population of Giant Panda Bears in the wild.
Politics Are Never an Empty Field – Barbie Runs for Office in 2020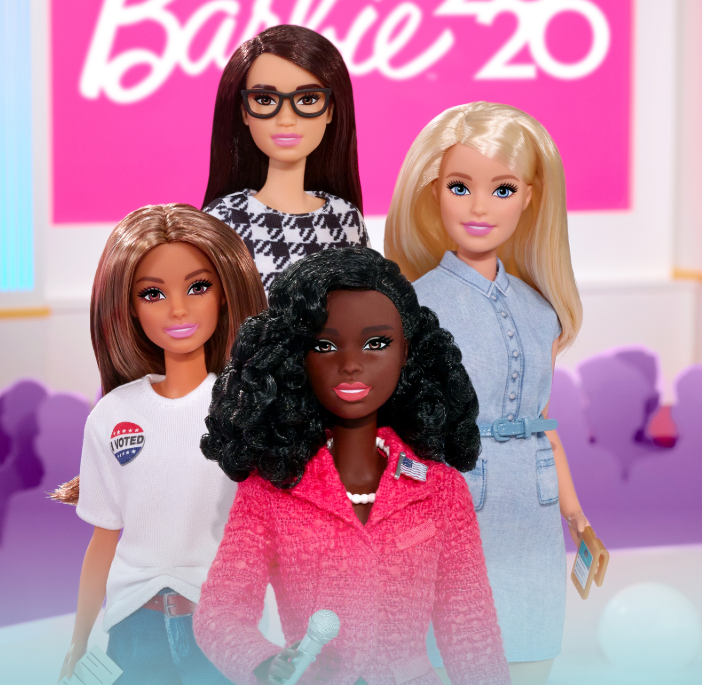 The classic American doll, Barbie, has performed, been portrayed in, or taken over just about every professional function in society. So, it's no surprise that given the real themes in 2020 that Barbie would also decide to go into politics. Art imitating life it may be, but Barbie is likely to represent a serious contender against even the most seasoned politicians, that is if her fans were old enough to vote.
2020 is not the first time Barbie has entered politics. Believe it or not, her first foray into elections was some 28 years ago in 1992 when she tried to run for President. However, the toy doll was a bit of an independent at the time and didn't get a lot of recognition on her own. Today, things are different. Not only is Barbie a 2020 candidate, she also has in place a solid professional election team on her side as well. Along with her are a handful of cool, savvy and with the times staffers and election strategists. The early polls are already showing Walmart and Target segments are responding, carrying her entire campaign team on the shelves and selling them as a combined unit.
Examined up close and interested electorate fans will find Barbie's campaign manager as a key strategist, her campaign fundraiser to keep things paid and moving, and even a Barbie voter. Of course, her fans can add votes too. The entire team is set to hit the prime time. Barbie herself is positioned to show herself as a leader ready to hit the ground running, complete in business suit and with her telecom assortment of communication tools. And, let's not forget, every business jacket should have an American flag lapel pin too.
Her campaign manager is decked out in a professional ensemble as well, ready to manage the stage as well as cue to the poll analysts and computer graphics behind the scenes to support her candidate. And Barbie's fundraiser is hitting the road in blue denim and comfortable style, driving miles and miles to bring in the donors.
The key message from Barbie, however, is to prime young girls for politics. Girls and women can not only have their part in campaigns, they can be the lead candidate as well. And the idea of a real woman President is no figment of the imagination. While Barbie is, after all, just a toy, the reality of a woman President is very likely in the next two elections if not the third. In fact, the U.S. is behind the curve in this respect, as many countries around the world have already had women leaders and many still do. When that happens, given elections happen every four years, the next candidate in 20 years may have well be a young girl who had Barbie as her own special election candidate.
In the meantime, Barbie and her campaign team let girls practice for the future now, complete with all the accessories and campaign road style needed to win the big ticket.