Friendly Game Of Scrabble Takes Emotional Turn Once Mom Notices Words On The Board Are Related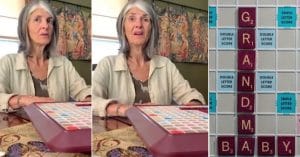 Scrabble Game: Special Announcement!
There are so many great reasons to play Scrabble. It's fun, and you can play comfortably indoors with your friends and family. It helps you build your vocabulary, and gives your brain a workout while you try to come up with the best words.
It's also competitive if you want it to be, while giving you a chance to work through any challenges calmly and carefully. Besides vocabulary, Scrabble teaches other important skills, like strategy and cooperation. As you learn more skills, you naturally become more confident and capable of taking on other challenges. It is no wonder Scrabble is such a well-loved game.
While Scrabble is a great game for building memories, it usually is still seen as just a fun game for most people. There is one family, though, that will never look at Scrabble the same way again after using it to share an important personal message.
Hopes and Dreams
Sarah is lucky enough to live in Shelton, Connecticut, with her husband and mother. Shelton is a city of about 40,000 people, so it's not too big and not too small. There are a lot of hiking trails and opportunities for outdoor fun, and a lot of families live in Shelton with their children.
Sarah's mother really wanted to have a grandchild, and she didn't bother hiding it. She loves the idea of getting to share her love with her own grandchild, so she kept asking Sarah when she and her husband were finally going to have children.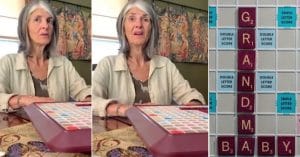 An Innocent Game?
Like many of the young wives in Shelton, Sarah has a close-knit family that enjoys spending time together. She had been married for five years at the point of the fateful Scrabble game, and she and her husband decided the time was right. So they decided the time was right to have their first child, and they wanted to break the news in a special way.
Instead of telling Sarah's mother that she was going to be a grandmother in a conventional way, Sarah and her husband decided to make their important announcement during the game. They were in on it together, working together to reveal the surprise in the sweetest way possible.
Disbelief and Tears
Sarah's family is serious about Scrabble, and they have a nice set which can be turned to face the next player. Grandma-to-be didn't catch on with the first clue, when the board was turned to face her and she saw that "Grandma" was the next word on the board. Then all doubt was taken away when "Baby" came next.
Still, she didn't want to get her hopes up if it wasn't true. She asked if her son-in-law was serious, and said "I'm not laughing." Then she got up, crying, and hugged her son-in-law, crying tears of happiness and contentment.
Great Dane on Home Security Camera Seen Protecting Family from Intruder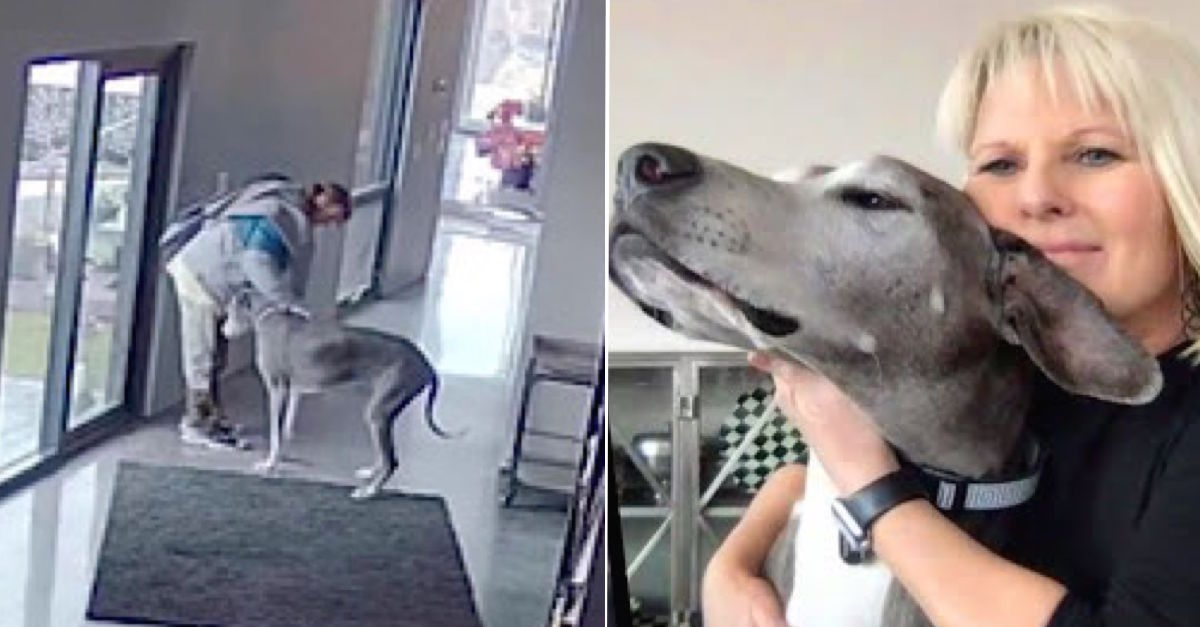 Humans just don't appreciate dogs as much as they should. Tracey McCoy and her son were at their home in Oklahoma City when her worst nightmare came true.
McCoy's security cameras were going in broad daylight and a strange man was seen going through the side door and entering the home. At first, McCoy thought that it was her older son. She was in the home at the time with her son, Nathaniel, who is blind.
The intruder walked right into the home as if he belonged there and owned the place. The intruder didn't know that he was about to be greeted by Dubai, the family's Great Dane mix, who weighs 133 pounds.
Dubai isn't normally a vicious dog. In fact, he's very friendly and docile. Dubai at first didn't even do anything to this unwanted visitor and allowed him to say hello and pet the dog. Just as Dubai and the intruder were becoming friendly, McCoy walked into the kitchen and screamed. Dubai jumped into action and realized this was not a wanted guest and his owner was absolutely terrified by this stranger in the home. Dubai attacked the intruder and escorted him out by the rear end with his teeth. McCoy was able to watch the suspect run away and then come back moments later while he was in the back of a patrol car. Luckily, the police were able to snatch him out quickly before he was able to break into another home that didn't have a trusty dog waiting to defend his owners. The suspect, Robert Ward, was positively identified by McCoy and is now facing a first-degree burglary charge but he was not armed.
This isn't the first time a Great Dane has been able to spring into action and help its owners. There are countless stories of Great Danes protecting their owners and even helping an owner carry some groceries. While Great Danes aren't usually thought of as service dogs, they are actually a perfect candidate for a service dog due to their size. The Service Dog Project has been training these large dogs to help war veterans and assist children with having a better quality of life. The Great Dane has stamina that was once needed to chase down bears and wild boars and they also have the strength and courage to stand up to predators, which was useful in the McCoy family case.
The Great Dane can be the perfect breed for a service dog because of its gentle personality and giant size. Dogs that are being used as balance support for the owner need to be large and about 65% of the person's weight and 45% of the height. It takes a tall and strong dog to give confidence to someone who needs help to walk and support to regain balance if they start to fall. Great Danes serve this unique purpose. Great Danes may be large but don't really require that much experience. Just a few walks a day are needed so it's even better to pair this breed up with someone who has limited mobility. Great Danes can be trained to do specific tasks, such as hold open doors, turn on light switches, pull wheelchairs, and pick up dropped objects. Of course, they don't need to be trained to protect their owners from intruders and will be happy to step in when needed.
While Dubai may not be trained to be a service dog anytime soon, he fulfilled his duty to the McCoy family and is getting lots of attention and treats for saving lives and property.