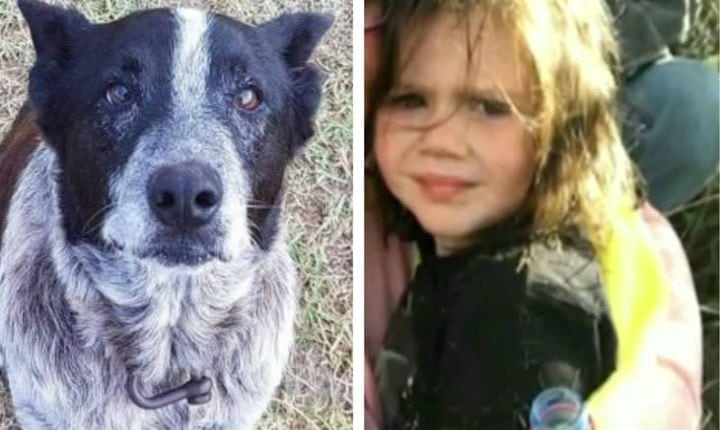 Elderly Dog Saves This Toddler's Life
The dog is referred to as 'man's best friend.' And there are countless stories that individuals can share of the friendship and love that they have with their dogs. However, the story of a three-year-old girl in Australia is a remarkable one. At first, one might be forgiven to think that it is a fictional story off a movie or storybook. But, the events are actual, and it goes to depict how amazing animals especially dogs can be once trust and loyalty have been built.
The encounter
The dog named Max has been around for over fifteen years and is partly deaf, partly blind. However, these shortcomings did not affect his intuition to know that Audrey was heading somewhere she might need help. The little girl was wandering off into the bush without the company of an adult, and the dog knew to follow her. If one was watching from afar, you might have thought that Max was just being playful and would not follow the girl for long but the little girl had just gotten a savior in disguise.
Search Efforts
It did not take long before the parents of Audrey realized that she was missing. As the night approached, they were terrified and had to report to the local administration for advanced search efforts to be initiated. Volunteers, neighbors and the fire department were dispatched into the forest in different directions to increase the chances of an early find. Nevertheless, the search progressed deep into the night and all hope seemed to be lost when it was almost daybreak. Not even a single trace of the girl or the dog after all those hours of searching! It was disappointing and horrifying. How could such a young girl bear the brunt of the night at such low temperatures and no appropriate clothing?
Ray of Hope
At daybreak, it seemed like it was the proverbial light at the end of the tunnel. Just as despair was setting in, one of the members of the search team spotted a movement near a creek. On moving closer, he realized he was facing a dog similar to the one given in the description at the start of the search. It was aggressive as if protecting someone or something precious. The other search team members were alerted and came rushing with enthusiasm.
As the mother approached, Max cooled down and rushed towards where Audrey was sleeping. She was coiled under a creek and covered with dry leaves. However, on close examination, it was realized that she had frostbite and had some few cuts on her legs, arms, and back. The medical team swung into action and performed first aid on site before transferring her to the ER. Apart from the few cuts, Audrey was in good health. The family was happy to be reunited with their daughter and had Max to thank for his bravery and loyalty.
Father in Bumblebee costume escorts his kid back to school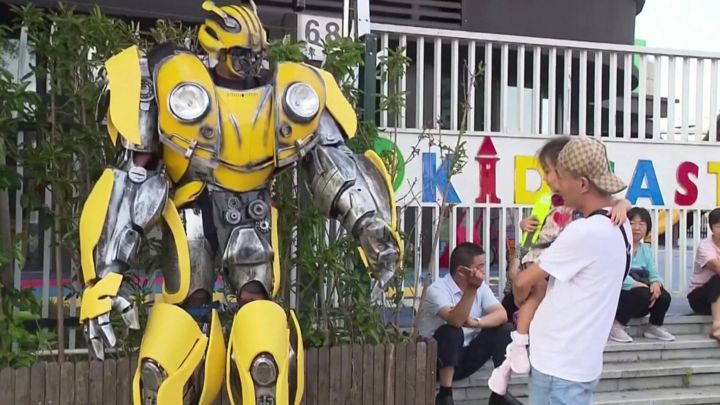 Bumblebee from the American sci-fi movie series Transformers never had a kid, but if he did, he'd have definitely escorted him to school.
A father in Shanghai, China has gone above and beyond to encourage his kid to go back to school after staying at home for months due to the Covid-19 pandemic. There's no way any child is refusing to walk with Bumblebee into school, and this man had that in mind when building his Autobot suit.
Just like the rest of the world, China had been on lockdown, and for months, kids had to stay away from school to prevent infection and spread of the deadly virus. However, some normalcy is being restored in some parts of the region, and schools now have the green light to open and allow children continue with their education.
The Bumblebee suit wasn't only for his kid, though. He built it to serve as some amusement and surprise to other kids at school- and that he did.
"I also want to bring happiness to other children. I didn't only wear it for my own child. All of them were preschoolers," he said in the video.
His suit looks like the real thing. The only things missing were metal, alien technology, and missiles- not much, right? Standing about 2.3-metre tall, the suit was built using soft materials to prevent touchy and curious children from getting injured- and he was right to have done that because he was rushed and hugged by children upon arrival at the school.
The excitement of the kids at the sight of Bumblebee could light up astronomical units of outer space, as the intergalactic warrior once again put smiles on the faces of humans. Kudos to this amazing dad for his efforts to make kids happy to resume back to school- he'd probably do it every day if he could.
The home-made suit seems to be inspired by the 2017 movie Bumblebee.