Elderly Dog Saves This Toddler's Life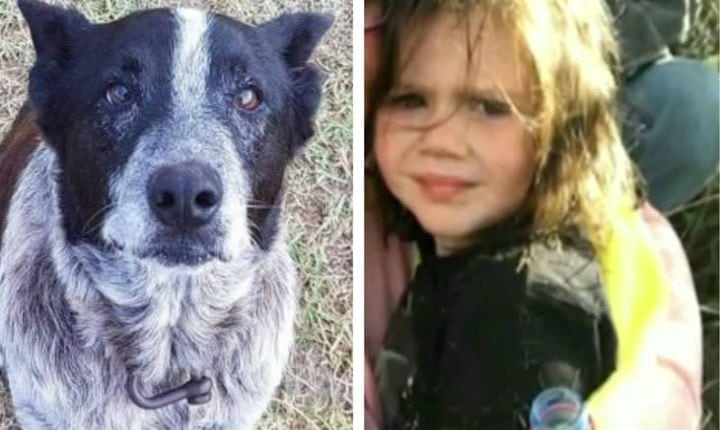 The dog is referred to as 'man's best friend.' And there are countless stories that individuals can share of the friendship and love that they have with their dogs. However, the story of a three-year-old girl in Australia is a remarkable one. At first, one might be forgiven to think that it is a fictional story off a movie or storybook. But, the events are actual, and it goes to depict how amazing animals especially dogs can be once trust and loyalty have been built.
The encounter
The dog named Max has been around for over fifteen years and is partly deaf, partly blind. However, these shortcomings did not affect his intuition to know that Audrey was heading somewhere she might need help. The little girl was wandering off into the bush without the company of an adult, and the dog knew to follow her. If one was watching from afar, you might have thought that Max was just being playful and would not follow the girl for long but the little girl had just gotten a savior in disguise.
Search Efforts
It did not take long before the parents of Audrey realized that she was missing. As the night approached, they were terrified and had to report to the local administration for advanced search efforts to be initiated. Volunteers, neighbors and the fire department were dispatched into the forest in different directions to increase the chances of an early find. Nevertheless, the search progressed deep into the night and all hope seemed to be lost when it was almost daybreak. Not even a single trace of the girl or the dog after all those hours of searching! It was disappointing and horrifying. How could such a young girl bear the brunt of the night at such low temperatures and no appropriate clothing?
Ray of Hope
At daybreak, it seemed like it was the proverbial light at the end of the tunnel. Just as despair was setting in, one of the members of the search team spotted a movement near a creek. On moving closer, he realized he was facing a dog similar to the one given in the description at the start of the search. It was aggressive as if protecting someone or something precious. The other search team members were alerted and came rushing with enthusiasm.
As the mother approached, Max cooled down and rushed towards where Audrey was sleeping. She was coiled under a creek and covered with dry leaves. However, on close examination, it was realized that she had frostbite and had some few cuts on her legs, arms, and back. The medical team swung into action and performed first aid on site before transferring her to the ER. Apart from the few cuts, Audrey was in good health. The family was happy to be reunited with their daughter and had Max to thank for his bravery and loyalty.
Handicapped Puppy Befriends Flightless Pigeon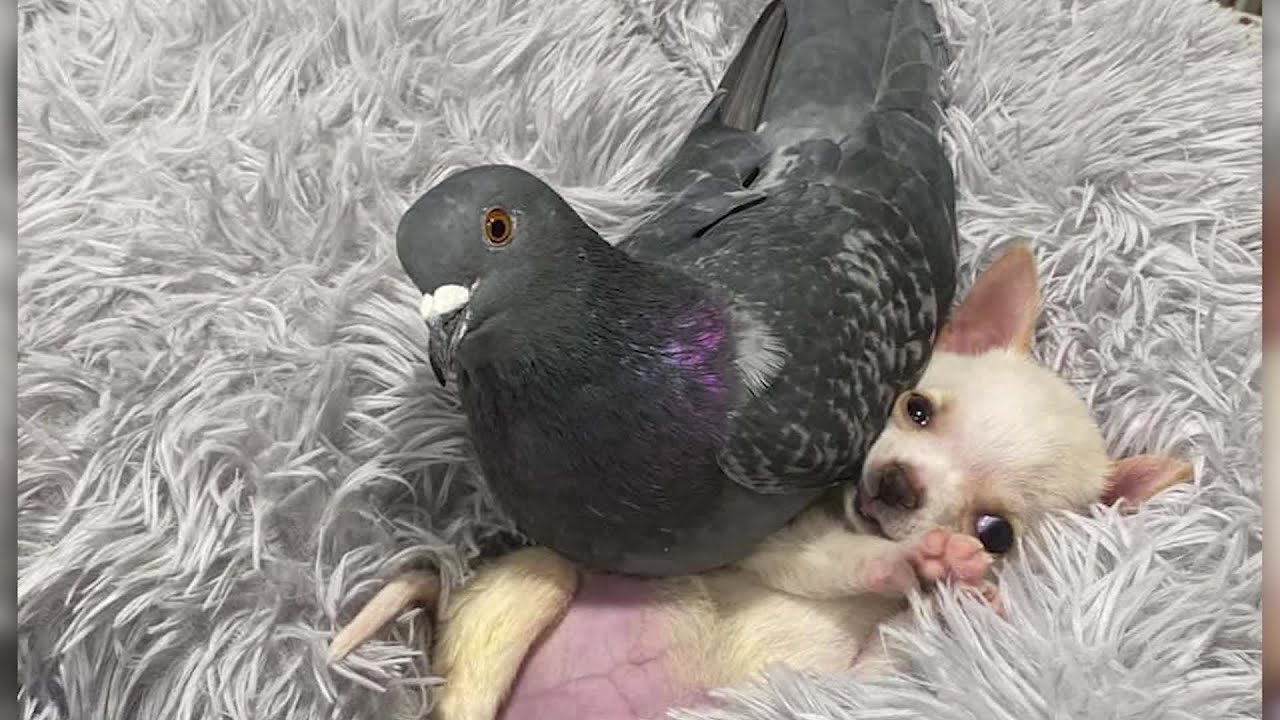 In Rochester, NY, Sue Rogers runs a non-profit called the Mia Foundation. The rescue organization rescues and rehabilitates animals who have birth defects or deformities and tries to find them a loving home. About a year ago, a pigeon was found unable to move in the parking lot of a car dealership. The pigeon was huddled and cowering on the ground. When a local wildlife rescue was called, they said the bird had neurological damage that caused him not to be able to fly. They thought that euthanization would be the best option for him.
Sue was having none of that. She stepped in and took the bird, who she named Herman, under her wing, so to speak. She made space for him in her shelter and kept him close where she could keep an eye on him. He liked to sit on a furry dog pillow and watch her work.
A couple months ago, a tiny Chihuahua was brought to the Mia Foundation. He was an infant, maybe a few months old, when his South Carolina breeders sent him to Sue. He's a teacup sized Chihuahua they named Little Lundy and he was born with spinal cord damage. Sue also determined that he was suffering from swimmers syndrome. Swimmers syndrome is a developmental deformity that causes the front and hind legs to be splayed out. This makes it almost impossible for Little Lundy to walk.
Although swimmers syndrome is thought to be untreatable, according to a few studies and an article in a veterinary journal, it can be treatable. With some physical therapy and at-home treatment, Little Lundy could live a long and happy life, which is exactly what Sue plans for him.
When Little Lundy arrived at the Mia Foundation he decided to get acquainted with his new surroundings and the other animals at the shelter. One particular encounter, created a friendship that has gone viral. Herman and Little Lundy, a puppy and a pigeon, are the unlikeliest of friends, but they have a lot in common. They both have trouble walking, or flying in Hermans case, and they were living in the same place. You could say, they were in the right place at the right time to become instant friends.
In the six weeks they have been together, Herman and Little Lundy have become inseparable. They do everything together, which is a lot of sleeping and snuggling. Mostly, with Herman sitting on top of Little Lundy, which doesn't bother him in the slightest. This friendship was so out of the ordinary that Sue had to document it. The viral sensation of the puppy and pigeon has brought attention to the Mia Foundation that was much needed. The rescue organization runs solely on donations to help cover the costs of taking care of the animals and for needed surgeries. So far, about $6000 was donated because of this unlikely friendship and over 100 adoption inquiries. Hopefully when they are adopted, they are able to stay together.