Dogs Can Help Children Learn To Read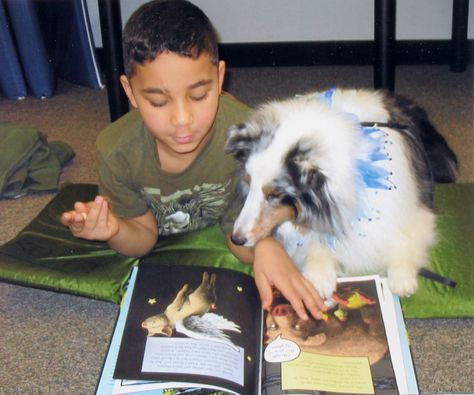 When children learn how to read, they often find it embarrassing if they need to read out loud to others. In recent years, a new activity has taken light to help children gain confidence when learning how to read. This is the action of reading to animals. Dogs, cats, or pocket pets are great subjects to give children a focal point for their reading activities without worrying about ridicule, laugher, or teasing.
17 years ago in Salt Lake City, Utah, a new program was created to help kids with their reading accomplishments. R.E.A.D. stands for Reading Education Assistance Dogs and the program has flourished across the United States. It was devised initially for children who struggled to read or who spoke other languages. Therapy dogs were already used for other means, but this was the first opportunity for children to use them specifically for educational purposes.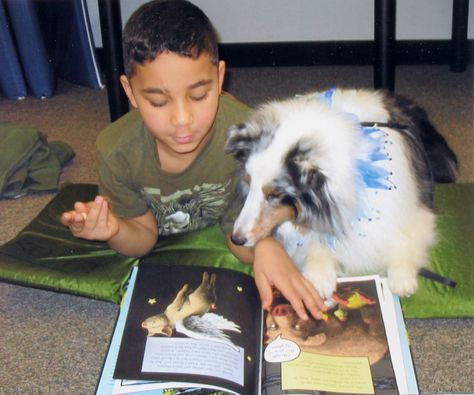 Kathy Klotz is the executive director this exciting program. She claims it was an idea that one of their board members had at the spur of the moment. The program members thought that if dogs were able to help others with therapeutic needs, why not try them for those who are learning to read.
It takes a special dog to be a reading companion. The pooch needs to have a desire to make those around it feel their best. A dog that aims to please is a desirable participant for the program. The dog's owner needs to also be ready to have their pet volunteer for this program. The pair needs to be trained before the dog sits down with a reading child. This is to ensure the dog has the right temperament for the job and that they will withstand engaging with children on a routine basis.
The R.E.A.D. program requires that a reading child is left alone with a therapy dog and their owner for each session. This is to stop the child from becoming distracted and to keep them engaged in the task at hand. The owner is there for facilitating reasons. The dog listens to the child as they read out loud and the dog's owner stays off to the side to let their pet do their work.
According to Klotz, "the thing about reading with dogs, is there is no peer pressure involved, which is a horrifying experience for many children". Dogs will not laugh at children if they say something incorrectly. They do not spread the word that a child is struggling with a particular word or phrase. Dogs do not become impatient if a child reads slowly. They simply sit down with a child and listen as they read.
During R.E.A.D.'s first pilot program, dozens of children from all age-levels participated with reading to dogs. Within a school year, each child's reading level increased from two to four levels. This requires 20 minutes of consistent reading every single week. As a child's confidence boosts during the program, they tend to start reading at home and participating in other activities where reading is necessary. This will cause an even further increase in confidence.
A study conducted by UCLA proves that therapy dogs assist with lowering a person's stress level. These dogs cause blood pressure to drop, the breathing rate to slow, and relaxation to overtake the body. The R.E.A.D. program is now available in all 50 states and has even been adopted in 15 foreign countries.

Cat Takes a Ride Among the Boxes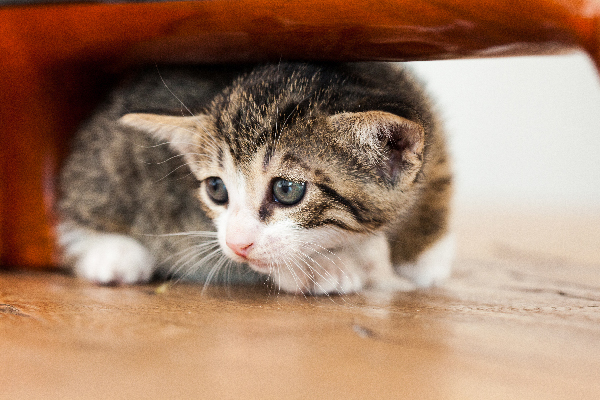 If you've ever owned a cat, you've observed the peculiar affinity cats have toward boxes. There are several reasons people love cats. They're affectionate, cute, soft and generally low-maintenance. For an average family cat, the monthly expense is approximately $100. You could lower that expense by replacing fancy cat toys and play-houses with empty cardboard boxes.
The comfort and security cats find from lounging in cardboard boxes went a little too far for Millie McMahon's adventurous cat Trixie. Trixie, like most cats, loves empty boxes. This worked out great for Millie when she was preparing to move from Boston to San Francisco. All the empty cardboard boxes around the house kept Trixie entertained and out from under foot while Millie packed her house.
As the moving truck retreated from Millie's driveway, Millie let out a deep sigh of relief. Only a few essential items remained, which Millie would pack in her car for her own trip across the country. Trixie was one of those "items", except Trixie was nowhere to be found. Millie waved it off as Trixie just being skittish about the packing and the movers, and her world being in disarray.
Trixie didn't show up the next day either. Or the next. Millie began feeling worried. She couldn't leave for California without her cat.
Meanwhile, traveling across the country in a moving truck, was Eddie. Eddie was no stranger to driving trucks. He found comfort in the humming of the wheels on the highway as he ambled along his route. He found it meditative.
Eddie lost his meditative mood on the second day of his drive. On day two he woke from his motel, showered, ate breakfast and settled into the driver's seat. Shortly after, as he rolled down the highway, he started to hear an odd squeaking noise. At first, he thought he was imagining the occasional soft mewing. By the end of the day he found it maddening. He ruled out engine issues after checking under the hood. He decided it had to be something in one of the boxes. The boxes, however, were too tightly and perfectly packed to unload and investigate. He'd have to just live with the unnerving noise.
Eddie finally arrived at Millie's new house and began unpacking his truck. At the back of the moving truck, among a shelf of blankets, shone a pair of glowing yellow eyes. Eddie was startled to see the eyes.He was even more shocked when the cat to whom the eyes belonged jumped from the blankets and onto Eddie's chest. Instinctively Eddie caught the cat and held him. This is the source of the three days' noise!
He held the cat as he walked to the cab of his truck, not knowing where the cat came from or what he was going to do. He just sat and looked at the cat, as the cat stared back at him, purring. He poured water into his coffee cup and thought how hungry this cat must be. He made a short trip to the corner market for some kitty food. As he opened the truck door, Trixie jumped out and ran quickly behind the building. Eddie couldn't see where the cat went.
Eddie returned to Millie's house to be sure it was secured, knowing Millie wouldn't be arriving for a few days. It was there that he spotted Trixie, sitting inside, in a sunny window!
Eddie called the number that Millie had given him, for use in the event of an emergency. Millie was relieved to hear that Trixie had been found. Eddie left enough food and water for Trixie. Millie could now embark on her own trip to California knowing that her cat was safe "at home".