Dogs Can Help Children Learn To Read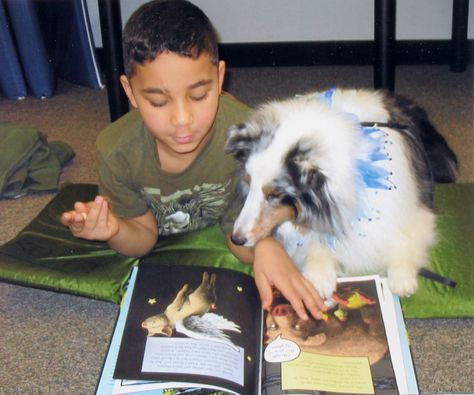 When children learn how to read, they often find it embarrassing if they need to read out loud to others. In recent years, a new activity has taken light to help children gain confidence when learning how to read. This is the action of reading to animals. Dogs, cats, or pocket pets are great subjects to give children a focal point for their reading activities without worrying about ridicule, laugher, or teasing.
17 years ago in Salt Lake City, Utah, a new program was created to help kids with their reading accomplishments. R.E.A.D. stands for Reading Education Assistance Dogs and the program has flourished across the United States. It was devised initially for children who struggled to read or who spoke other languages. Therapy dogs were already used for other means, but this was the first opportunity for children to use them specifically for educational purposes.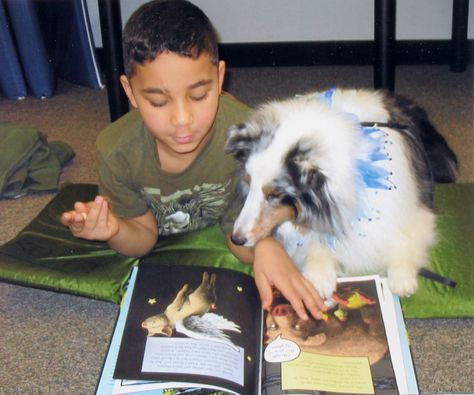 Kathy Klotz is the executive director this exciting program. She claims it was an idea that one of their board members had at the spur of the moment. The program members thought that if dogs were able to help others with therapeutic needs, why not try them for those who are learning to read.
It takes a special dog to be a reading companion. The pooch needs to have a desire to make those around it feel their best. A dog that aims to please is a desirable participant for the program. The dog's owner needs to also be ready to have their pet volunteer for this program. The pair needs to be trained before the dog sits down with a reading child. This is to ensure the dog has the right temperament for the job and that they will withstand engaging with children on a routine basis.
The R.E.A.D. program requires that a reading child is left alone with a therapy dog and their owner for each session. This is to stop the child from becoming distracted and to keep them engaged in the task at hand. The owner is there for facilitating reasons. The dog listens to the child as they read out loud and the dog's owner stays off to the side to let their pet do their work.
According to Klotz, "the thing about reading with dogs, is there is no peer pressure involved, which is a horrifying experience for many children". Dogs will not laugh at children if they say something incorrectly. They do not spread the word that a child is struggling with a particular word or phrase. Dogs do not become impatient if a child reads slowly. They simply sit down with a child and listen as they read.
During R.E.A.D.'s first pilot program, dozens of children from all age-levels participated with reading to dogs. Within a school year, each child's reading level increased from two to four levels. This requires 20 minutes of consistent reading every single week. As a child's confidence boosts during the program, they tend to start reading at home and participating in other activities where reading is necessary. This will cause an even further increase in confidence.
A study conducted by UCLA proves that therapy dogs assist with lowering a person's stress level. These dogs cause blood pressure to drop, the breathing rate to slow, and relaxation to overtake the body. The R.E.A.D. program is now available in all 50 states and has even been adopted in 15 foreign countries.

Handicapped Puppy Befriends Flightless Pigeon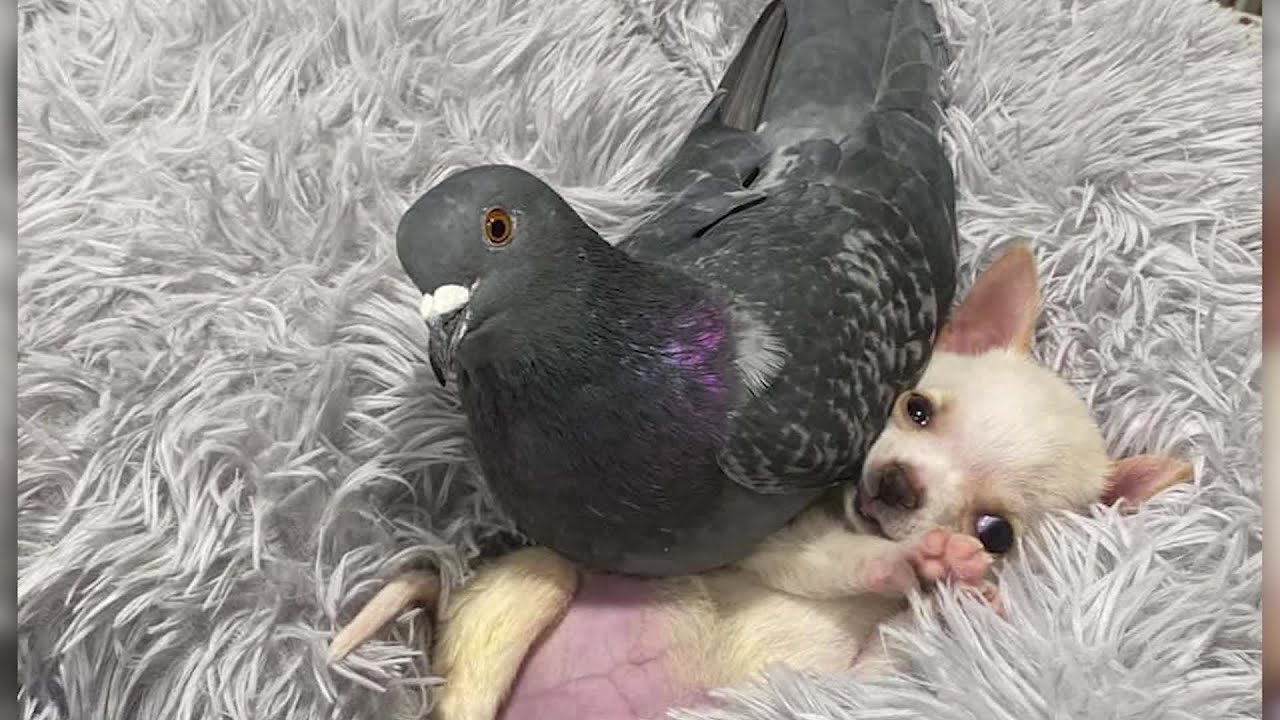 In Rochester, NY, Sue Rogers runs a non-profit called the Mia Foundation. The rescue organization rescues and rehabilitates animals who have birth defects or deformities and tries to find them a loving home. About a year ago, a pigeon was found unable to move in the parking lot of a car dealership. The pigeon was huddled and cowering on the ground. When a local wildlife rescue was called, they said the bird had neurological damage that caused him not to be able to fly. They thought that euthanization would be the best option for him.
Sue was having none of that. She stepped in and took the bird, who she named Herman, under her wing, so to speak. She made space for him in her shelter and kept him close where she could keep an eye on him. He liked to sit on a furry dog pillow and watch her work.
A couple months ago, a tiny Chihuahua was brought to the Mia Foundation. He was an infant, maybe a few months old, when his South Carolina breeders sent him to Sue. He's a teacup sized Chihuahua they named Little Lundy and he was born with spinal cord damage. Sue also determined that he was suffering from swimmers syndrome. Swimmers syndrome is a developmental deformity that causes the front and hind legs to be splayed out. This makes it almost impossible for Little Lundy to walk.
Although swimmers syndrome is thought to be untreatable, according to a few studies and an article in a veterinary journal, it can be treatable. With some physical therapy and at-home treatment, Little Lundy could live a long and happy life, which is exactly what Sue plans for him.
When Little Lundy arrived at the Mia Foundation he decided to get acquainted with his new surroundings and the other animals at the shelter. One particular encounter, created a friendship that has gone viral. Herman and Little Lundy, a puppy and a pigeon, are the unlikeliest of friends, but they have a lot in common. They both have trouble walking, or flying in Hermans case, and they were living in the same place. You could say, they were in the right place at the right time to become instant friends.
In the six weeks they have been together, Herman and Little Lundy have become inseparable. They do everything together, which is a lot of sleeping and snuggling. Mostly, with Herman sitting on top of Little Lundy, which doesn't bother him in the slightest. This friendship was so out of the ordinary that Sue had to document it. The viral sensation of the puppy and pigeon has brought attention to the Mia Foundation that was much needed. The rescue organization runs solely on donations to help cover the costs of taking care of the animals and for needed surgeries. So far, about $6000 was donated because of this unlikely friendship and over 100 adoption inquiries. Hopefully when they are adopted, they are able to stay together.