Dogs Can Help Children Learn To Read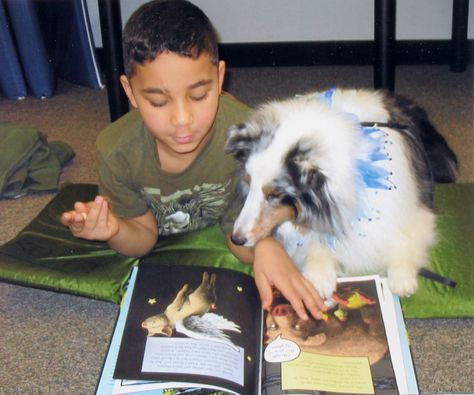 When children learn how to read, they often find it embarrassing if they need to read out loud to others. In recent years, a new activity has taken light to help children gain confidence when learning how to read. This is the action of reading to animals. Dogs, cats, or pocket pets are great subjects to give children a focal point for their reading activities without worrying about ridicule, laugher, or teasing.
17 years ago in Salt Lake City, Utah, a new program was created to help kids with their reading accomplishments. R.E.A.D. stands for Reading Education Assistance Dogs and the program has flourished across the United States. It was devised initially for children who struggled to read or who spoke other languages. Therapy dogs were already used for other means, but this was the first opportunity for children to use them specifically for educational purposes.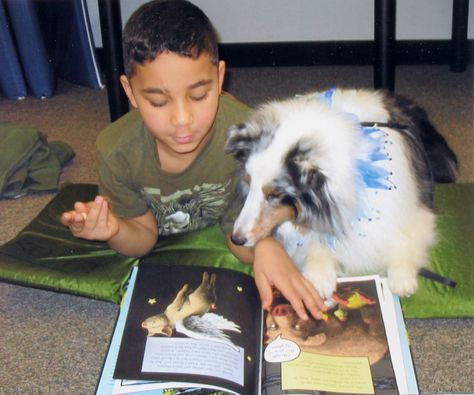 Kathy Klotz is the executive director this exciting program. She claims it was an idea that one of their board members had at the spur of the moment. The program members thought that if dogs were able to help others with therapeutic needs, why not try them for those who are learning to read.
It takes a special dog to be a reading companion. The pooch needs to have a desire to make those around it feel their best. A dog that aims to please is a desirable participant for the program. The dog's owner needs to also be ready to have their pet volunteer for this program. The pair needs to be trained before the dog sits down with a reading child. This is to ensure the dog has the right temperament for the job and that they will withstand engaging with children on a routine basis.
The R.E.A.D. program requires that a reading child is left alone with a therapy dog and their owner for each session. This is to stop the child from becoming distracted and to keep them engaged in the task at hand. The owner is there for facilitating reasons. The dog listens to the child as they read out loud and the dog's owner stays off to the side to let their pet do their work.
According to Klotz, "the thing about reading with dogs, is there is no peer pressure involved, which is a horrifying experience for many children". Dogs will not laugh at children if they say something incorrectly. They do not spread the word that a child is struggling with a particular word or phrase. Dogs do not become impatient if a child reads slowly. They simply sit down with a child and listen as they read.
During R.E.A.D.'s first pilot program, dozens of children from all age-levels participated with reading to dogs. Within a school year, each child's reading level increased from two to four levels. This requires 20 minutes of consistent reading every single week. As a child's confidence boosts during the program, they tend to start reading at home and participating in other activities where reading is necessary. This will cause an even further increase in confidence.
A study conducted by UCLA proves that therapy dogs assist with lowering a person's stress level. These dogs cause blood pressure to drop, the breathing rate to slow, and relaxation to overtake the body. The R.E.A.D. program is now available in all 50 states and has even been adopted in 15 foreign countries.

These Hermit Crabs Will Blow Your Mind With Stunning Natural Ritual.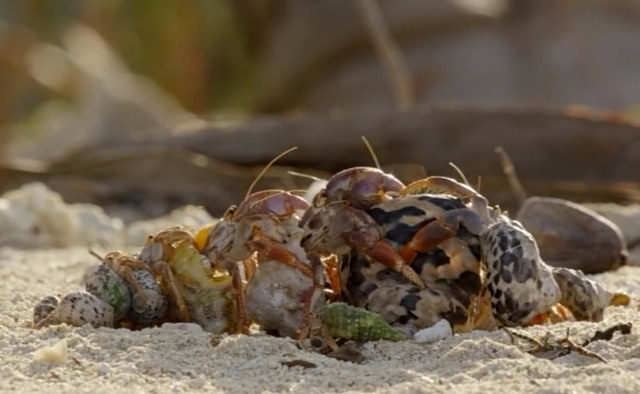 If you are like most people then you are likely fascinated with the ocean and all the creatures inside it. While we can talk forever about massive whales, scuttling squids, and scary sharks, we'd rather highlight a cute little crustacean known as the hermit crab. Now, you've likely heard of the hermit crab and, perhaps, you even know what it looks like. As a member of the superfamily known as the Paguroidea, hermit crabs manage to stand out all on their own. In fact, after learning about this natural ritual that hermit crabs complete, you might even want one of your own!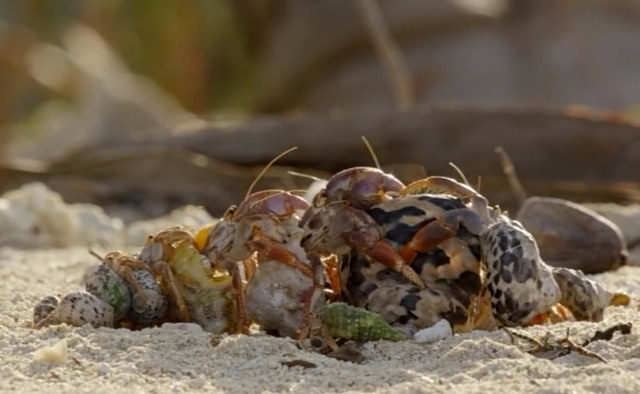 In a post shared on Facebook by a user named Melody Flowers, it was revealed that hermit crabs are always looking for bigger shells to live in. While you probably knew this already, what you didn't realize about this ritual is far more fascinating. According to the post, which has since been backed up by other scientific journals, hermit crabs like to line up next to shells that happen to be too big for them. Hermit crabs can wait for up to eight hours for another crab to come along and try the shell out. Why do these crabs wait next to shells that are too large for them? As it turns out, the first hermit crab is simply waiting for the second crab in line to discard its shell.
So we outlined a natural ritual that hermit crabs undertake when finding a new home. Why is this so fascinating? While you may have summoned up an image of two hermit crabs swapping shells, that isn't entirely accurate. As the second crab lines up behind the shell, more will come to follow. Before long, observers would be able to watch as dozens of hermit crabs all trade shells with one another to ensure that everyone has a comfortable home to live in. The smallest shell of the bunch gets left behind while the shell that started the queue will go to the largest hermit crab of the lot. That's pretty amazing, isn't it? The coordination and cooperation that these hermit crabs have to deploy is nothing short of impressive. If only humans could get along so well when it comes to making to sure everyone is comfortable and safe within their home.
Even though hermit crabs will work together in order to find homes, they are still a competitive species. Gastropod shells can become a limited resource due to a variety of natural and unnatural factors, such as climate change and pollution. When hermit crabs are of a similar size, they are more competitive and violent with one another. When hermit crabs vary dramatically in size, there are more resources available for every member of the group. Hermit crabs are a fascinating sort of creature because they can come in varying sizes with a lifespan ranging between 12 and 70 years. The next time that you see a hermit crab, make sure it has the perfect shell to call home. Maybe it will remember you a couple of decades later!