Dogs Can Help Children Learn To Read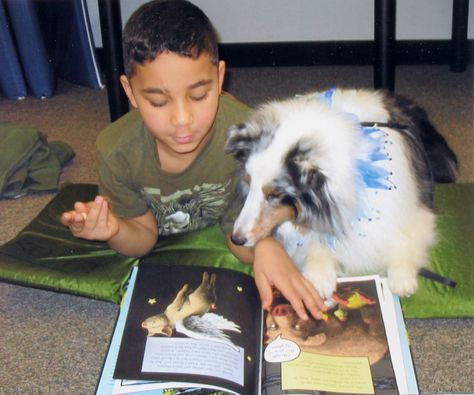 When children learn how to read, they often find it embarrassing if they need to read out loud to others. In recent years, a new activity has taken light to help children gain confidence when learning how to read. This is the action of reading to animals. Dogs, cats, or pocket pets are great subjects to give children a focal point for their reading activities without worrying about ridicule, laugher, or teasing.
17 years ago in Salt Lake City, Utah, a new program was created to help kids with their reading accomplishments. R.E.A.D. stands for Reading Education Assistance Dogs and the program has flourished across the United States. It was devised initially for children who struggled to read or who spoke other languages. Therapy dogs were already used for other means, but this was the first opportunity for children to use them specifically for educational purposes.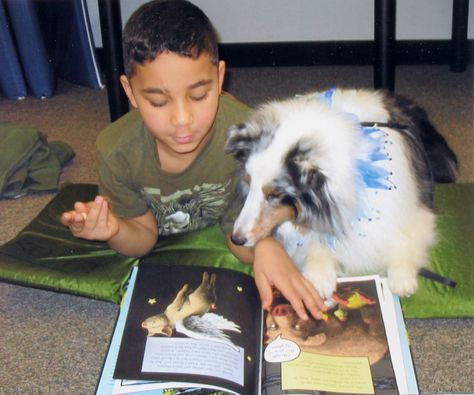 Kathy Klotz is the executive director this exciting program. She claims it was an idea that one of their board members had at the spur of the moment. The program members thought that if dogs were able to help others with therapeutic needs, why not try them for those who are learning to read.
It takes a special dog to be a reading companion. The pooch needs to have a desire to make those around it feel their best. A dog that aims to please is a desirable participant for the program. The dog's owner needs to also be ready to have their pet volunteer for this program. The pair needs to be trained before the dog sits down with a reading child. This is to ensure the dog has the right temperament for the job and that they will withstand engaging with children on a routine basis.
The R.E.A.D. program requires that a reading child is left alone with a therapy dog and their owner for each session. This is to stop the child from becoming distracted and to keep them engaged in the task at hand. The owner is there for facilitating reasons. The dog listens to the child as they read out loud and the dog's owner stays off to the side to let their pet do their work.
According to Klotz, "the thing about reading with dogs, is there is no peer pressure involved, which is a horrifying experience for many children". Dogs will not laugh at children if they say something incorrectly. They do not spread the word that a child is struggling with a particular word or phrase. Dogs do not become impatient if a child reads slowly. They simply sit down with a child and listen as they read.
During R.E.A.D.'s first pilot program, dozens of children from all age-levels participated with reading to dogs. Within a school year, each child's reading level increased from two to four levels. This requires 20 minutes of consistent reading every single week. As a child's confidence boosts during the program, they tend to start reading at home and participating in other activities where reading is necessary. This will cause an even further increase in confidence.
A study conducted by UCLA proves that therapy dogs assist with lowering a person's stress level. These dogs cause blood pressure to drop, the breathing rate to slow, and relaxation to overtake the body. The R.E.A.D. program is now available in all 50 states and has even been adopted in 15 foreign countries.

Family Adopts an Enormous Puppy Who Is Compared to a Hippo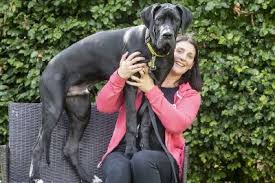 There is a saying that dogs are a man's best friend. There are countless individuals and families out there who are looking to share their love with a dog. One of the biggest questions people face when they are thinking about adopting a dog is the type of breed they would like. There are so many great options to choose from that it can be hard to make a decision. One couple in the United Kingdom decided to go with the biggest puppy they could possibly find.
This couple had been looking for a new dog for a long time. They already have four dogs at home but were ready for another. They were waiting and not sure if they would ever get the call that there was a dog waiting for them. Eventually, they got the call. There was a 5-month old puppy at the shelter who was looking for a new home. The animal had been surrounded by its previous owner who was no longer able to take care of the puppy. He was surrendered to the local shelter. The couple was so excited. They rushed down to meet the puppy.
They were utterly shocked by what they saw. They couldn't believe the dog they saw was still a puppy. Their eyes locked with a Great Dane. It was love at first sight. It turns out this puppy also happens to be the largest puppy in the entire country! The couple couldn't believe their luck!
The puppy was already towering at 6 feet tall. he also weighed in at 95 pounds. For comparison, this is more than most baby hippos! The owners were shocked to learn all of this information about a puppy that was going to be theirs. The shelter even told the couple that as the dog grows up, he might even get bigger. His size has the potential to double, which is quite absurd to most; however, this is exactly what happens with Great Dane puppies. The couple was so excited and started to love on him immediately.
The couple is already happy at home with their new family member. They say that the puppy has a big heart to match his enormous size. His heart is every bit as big as he is. He is playful and gentle at the same time. He is a joy to have around the house. The couple also knows that they don't know what's going to happen as he continues to grow up. The dog is only going to get bigger, so the couple has taken it upon themselves to try to safeguard some of the fragile items around the house.
Furthermore, the family also four other dogs they need to take care of in addition to the Great Done. The family also has a beautiful Dogue de Bordeaux, two separate Chinese crested dogs, and a gorgeous French bulldog. The family has said that the dogs still get along well. The dogs were a bit nervous at the size of the new puppy at first; however, they get along great now. The family is so excited to have a full house and there is plenty of love to go around.
The family also posts videos of what life is like with their new gentle giant as well. The walks can be quite entertaining as the family works to manage all of the dogs at once. This is a perfect example of the joy a dog can bring to the lives of people. What a beautiful family of dogs.