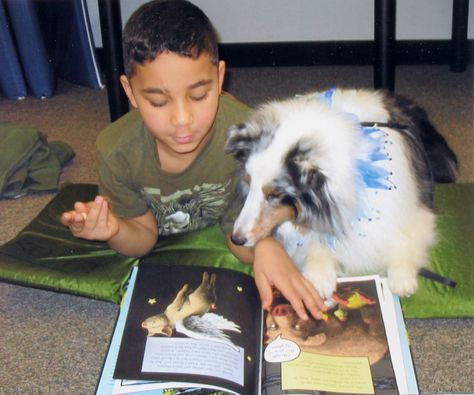 Dogs Can Help Children Learn To Read
When children learn how to read, they often find it embarrassing if they need to read out loud to others. In recent years, a new activity has taken light to help children gain confidence when learning how to read. This is the action of reading to animals. Dogs, cats, or pocket pets are great subjects to give children a focal point for their reading activities without worrying about ridicule, laugher, or teasing.
17 years ago in Salt Lake City, Utah, a new program was created to help kids with their reading accomplishments. R.E.A.D. stands for Reading Education Assistance Dogs and the program has flourished across the United States. It was devised initially for children who struggled to read or who spoke other languages. Therapy dogs were already used for other means, but this was the first opportunity for children to use them specifically for educational purposes.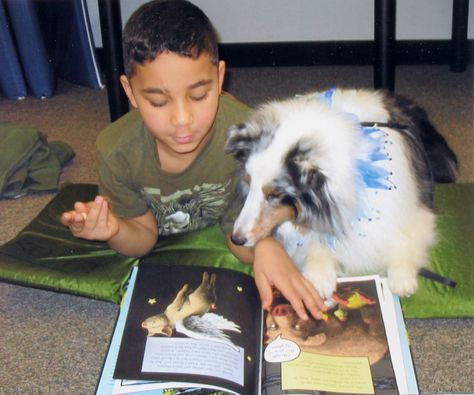 Kathy Klotz is the executive director this exciting program. She claims it was an idea that one of their board members had at the spur of the moment. The program members thought that if dogs were able to help others with therapeutic needs, why not try them for those who are learning to read.
It takes a special dog to be a reading companion. The pooch needs to have a desire to make those around it feel their best. A dog that aims to please is a desirable participant for the program. The dog's owner needs to also be ready to have their pet volunteer for this program. The pair needs to be trained before the dog sits down with a reading child. This is to ensure the dog has the right temperament for the job and that they will withstand engaging with children on a routine basis.
The R.E.A.D. program requires that a reading child is left alone with a therapy dog and their owner for each session. This is to stop the child from becoming distracted and to keep them engaged in the task at hand. The owner is there for facilitating reasons. The dog listens to the child as they read out loud and the dog's owner stays off to the side to let their pet do their work.
According to Klotz, "the thing about reading with dogs, is there is no peer pressure involved, which is a horrifying experience for many children". Dogs will not laugh at children if they say something incorrectly. They do not spread the word that a child is struggling with a particular word or phrase. Dogs do not become impatient if a child reads slowly. They simply sit down with a child and listen as they read.
During R.E.A.D.'s first pilot program, dozens of children from all age-levels participated with reading to dogs. Within a school year, each child's reading level increased from two to four levels. This requires 20 minutes of consistent reading every single week. As a child's confidence boosts during the program, they tend to start reading at home and participating in other activities where reading is necessary. This will cause an even further increase in confidence.
A study conducted by UCLA proves that therapy dogs assist with lowering a person's stress level. These dogs cause blood pressure to drop, the breathing rate to slow, and relaxation to overtake the body. The R.E.A.D. program is now available in all 50 states and has even been adopted in 15 foreign countries.

Mayor Max III: The Golden Retriever Who Leads with Love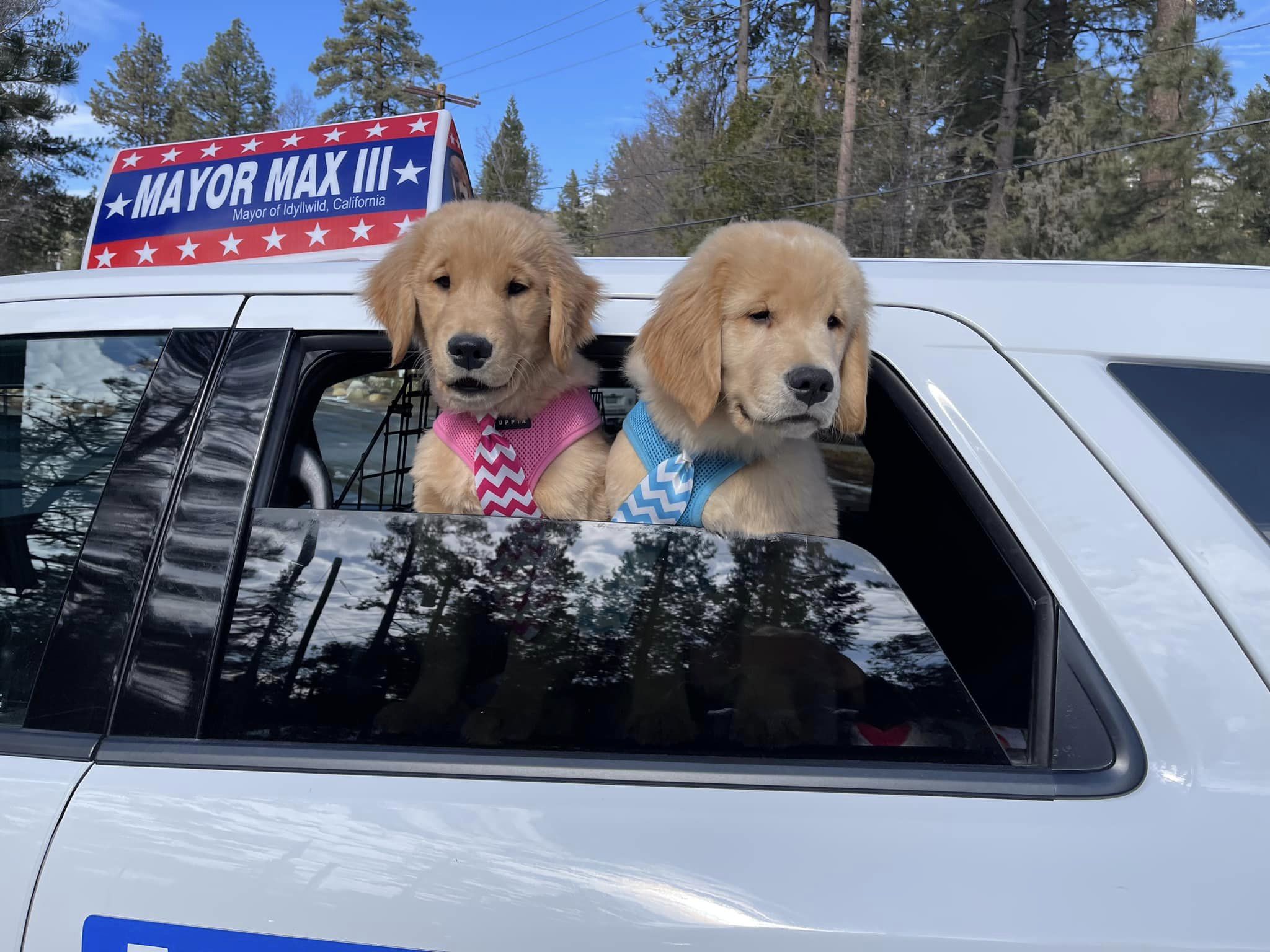 In the picturesque unincorporated mountain town of Idyllwild, nestled in the heart of Southern California, an extraordinary political figure has been making waves for the past year. But this isn't your typical politician; this is Mayor Max III, a lovable and charismatic golden retriever who has celebrated a year in office as the town's mayor. In a town known for its unique and quirky traditions, Max III has carved out a special place in the hearts of the residents.
The legacy of golden retriever mayors in Idyllwild began in 2012 when Mayor Max I took office, followed by Mayor Max II. These remarkable dogs were more than just pets; they were symbols of unity and positivity in a world sometimes marked by division and strife. Max III proudly continues this legacy, and some say he possesses a unique talent passed down from his predecessors—a charming "mouth-closing trick."
Phyllis Mueller, Max III's owner, attests to the magic of this trick. "I just held the treat above his mouth, and he knew exactly what to do, without any instruction," she says with a proud smile. This special skill has become a signature move during his public appearances in the center of town, where Max III has embraced his role with enthusiasm.
Mayor Max III's duties extend beyond his charming tricks. He is a dog on a mission to bring joy and comfort to the people of Idyllwild. His calendar is filled with visits to schools, nursing homes, and hospitals, where he spreads cheer and offers a welcome distraction from life's challenges. "It's a fun way to do politics because we don't do anything divisive, ever," Mueller explains.
Max's journey to becoming the mayor of Idyllwild is a heartwarming tale. Phyllis Mueller, a successful owner of a full-service marketing agency, always maintained a commitment to living on a smaller budget with the intention of giving back to the community. When she adopted Max, she realized that golden retrievers were the perfect ambassadors for her mission to achieve world peace through love and compassion.
Several golden retrievers later, Mueller, along with her husband Warren and their elderly dog Max, made a life-changing move from Pasadena to Idyllwild in the summer of 2011. Fate seemed to be on their side when the town's animal rescue center announced that it would be holding its first-ever election for a non-human mayor. This was the opportunity they had been waiting for.
In their cozy mountain home, Mayor Max III enjoys the perks of his position. Mueller proudly showcases one of two tie closets for the mayor, where Max's collection boasts an impressive 3,000 ties. However, being a mischievous pup at heart, Max couldn't resist indulging in a few of his ties, devouring three of them during his first month in office.
But beyond the ties and the charming tricks, Mayor Max III serves as a reminder to the people of Idyllwild that there is still goodness in the world. "Every day, people do good things," says Mueller, "and these dogs here, they are living angels, and they love you with all their heart."
As Mayor Max III continues his reign, the town of Idyllwild remains a shining example of how love, unity, and the unbreakable bond between humans and their four-legged companions can make the world a better place—one adorable golden retriever at a time.