Dog Reunited With Owner After Two Years: Ukraine's Incredible Journey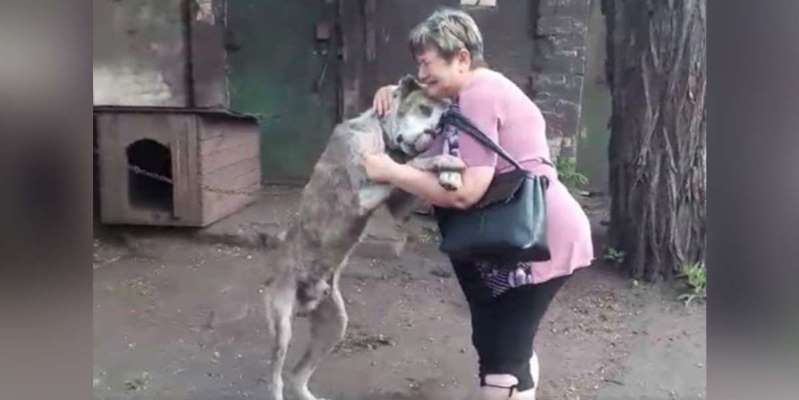 It's always an incredible journey when pets find their owners after years of neglect, life on the streets and a constant search for their owners. That's just what happened for a blue-eyed stray dog in Ukraine recently when the animal-care workers posted his photo to social media.
Ukrainian Dog Rescue: Lord
The animal rescue workers picked up the large, blue-eyed dog from the streets. He was emaciated and in poor health, but the workers were dedicated to finding him a home. They captured a few pics. Then, Galina Lekunova posted them to social media with the hopes that a kind dog-loving person would volunteer to take him home.
What the animal rescue workers didn't realize was that Lord already had a home. His owner had been searching for him for two years. She hadn't given up hope, but her options for finding her big, blue-eyed furry friend was growing more remote and even impossible with time.
Lord Stolen from Garden by Thief
The owner told the rescue workers a story of how she'd lost the dog. A thief broke into her yard and stole her dog, named Lord, from an enclosed garden. Even though two years have already passed, she never gave up hope. She had faith that she would find him, and that hope ended up bringing her that hope fulfilled.
Her friend saw the social media post and sent the photo to her immediately. She recognized Lord, and then she called to set up a reunion visit the next day.
Even after all that time, Lord still remembered his owner, and his owner still loved him without reservation. The joy and exuberance were evident when the two met, with lots of hugs and tears. It was clear from their immediate interaction that they'd missed each other, and that the pair belonged together.
Lord Represents Hope for Other Lost & Stolen Pets
With all the stories of animal loss and neglect, it's also amazing that the Ukraine animal shelter was able to bring Lord back to his owner with just a few photos and a willingness to do what it took to rescue Lord and animals like him from almost certain starvation and life-threatening injury on the streets.
The reunion also represents an incredible, but unknowable, adventure. His owner really has no idea where he's been for the last two years. It just goes to show that stories of the most bedraggled and emaciated pets really can turn around. There are people out there who really do care enough to give them homes, nurse them back to health, and even show them the love they've been missing over all those years.
Every story of hope and rehabilitation offers a window into why animal rescue workers do what they do, and why so many people support their important rescue mission.
Zookeepers Set Up Camera And Capture Pregnant Rhino Giving Birth Without Any Assistance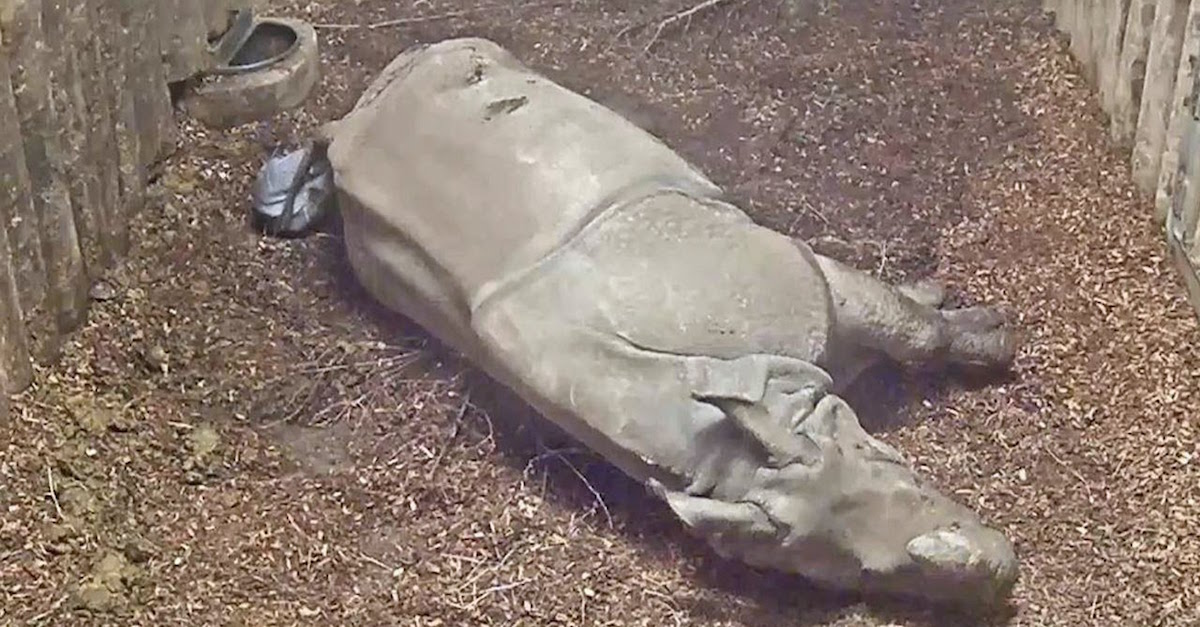 For a whopping sixteen months, Asha carried her baby in her womb. Asha, a rare greater one-horned rhinoceros, lives at the Chester Zoo in Cheshire, England. Luckily, her labor and delivery were much quicker than the gestational period was for her baby Rhino to come into the world.
After only about 20 minutes of labor, Asha successfully delivered a healthy male calf in the early morning hours on May 3, 2018, at her home at the Chester Zoo. The staff at the zoo were able to capture Asha's labor and delivery on video. The mama had an easy delivery on the floor of her enclosure and did not require assistance from the staff as she labored and brought her 132-pound baby boy. Once he is fully grown, Asha's son will balloon to an eye-popping two tons plus in weight!
Guests of the Chester Zoo were excited to visit the little rhino and his mama in their exhibit. Asha's baby is named Akeno which means "beautiful sunrise." Along with his birth, Akeno's first steps were also caught on tape along with snuggles with his 11-year-old mother Asha. They are a hit at the zoo and seem to be getting along well.
The staff at the well-visited zoo have been working towards keeping beautiful animals like Asha and baby Akeno together and better protected. One-horned rhinos are one-horned rhinos that are endangered at this point in a critical way and the staff is hoping the miraculous birth will not only attract visitors to the zoo but will draw attention to their work on this front. Animals like Asha and baby Akeno are the object of hunters who illegally poach them to be able to obtain their horns and sell them. There is a market for them as they are used in traditional Chinese medicine. A hunter can sell a single horn on the Asian black market for around $65,000 United States dollars. Even more offensive is the fact that wealthy hunters simply want the horns to hang on their walls and show off to friends as a status symbol of wealth and popularity.
According to a staff member of the Chester Zoo, not long ago there were less than 200 greater one-horned rhinoceros in the wild.
"They were hunted almost to extinction. Just in time steps were taken to protect them. Now there are about 2,600, but they still face threats in India and Nepal… it's important we do all we can to stop their numbers going down to critical levels again."
As the staff and many others work hard to fight against the illegally poaching of these beautiful animals, Asha and Akeno, who appears like he is dressed in a dark gray suit of armor, are enjoying their stay at the zoo and the many delighted visitors they come into contact with each day. The birth of Akeno on video has drawn more new visitors to the Chester Zoo and everyone seems to be happy with this new situation.