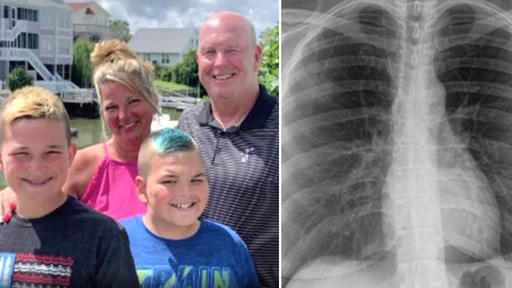 Dad suffering from broken heart syndrome, tells others to watch out for stress during the pandemic. 
Richard Watkins is a family man first and businessman second who lives with a family in Ohio. As the executive of a large car manufacturing firm, stress is already something Richard is quite familiar with.
The COVID-19 pandemic, which hard last March in the United States, however, has made his stress rise to entirely new levels. Due to shutdowns and decreasing consumer demands, many jobs had to lay off or fire many workers as nearly 52% of small businesses have shut down for good.
In the face of mass layoffs, which left nearly 30 million Americans out of work and no jobs to turn to, Richard found himself in the position of having to lay off many workers as well.
The company simply couldn't afford to keep paying worker wages while taking in no revenue since their manufacturing had all but stopped.
The result was an unfortunate but necessary layoff where Richard had to tell hundreds of workers the company could no longer pay them and had to lay them off for the time being.
In the midst of that incredibly stressful time, Richards's father, who was 91 years old, also passed away.
On the day of Richards's father's funeral, Richard remarked to his wife that he's back felt unusually tight, and his arms both went numb.
Richard then laid his head down on the kitchen table and closed his eyes. Initially, his wife didn't react as Richard just seemed to be bowing his head down.
However, after nearly a minute of silence, Richard began to turn blue and did not respond to his wife's frantic calls to him. Richard's heart had stopped beating.
Richards's wife immediately called 911, and paramedics were able to resuscitate Richard and get his heart back up and running.
Doctors at first believed Richard had suffered from a heart attack. However, this wasn't the case. Richards's heart and arteries did not have any blockages, and we're seemingly healthy.
Instead, Richard says that immense stress had caused his stress to stop beating. Although rare, this phenomenon has been documented in the past.
Now Ricard has taken to social media to warn people about the dangers of stress. Richard says that reducing stress and dealing with it head-on is extremely important for your health. In fact, stress can even cause other issues like chronic inflammation, poor sleep, depression, and more.
Richard says he found many ways to reduce stress, which may or may not work for other people. One popular and scientifically proven way to reduce stress is through meditation. That doesn't necessarily mean sitting silently for hours at a time.
Some people meditate for just five to ten minutes at a time. While others may "actively meditate" by silently walking and paying attention to their thoughts as they walk. Other people find other coping mechanisms like reducing obligations in their schedlues and taking more "me time" for themsleves.
Other experts urge people to take mental health days, and spend more time and money foucsing on their happiness other than pleasing work bosses or appeasing other unhealthy work ethics. All in all, the key seems to be making your life more simple and getting outside more often.
Good Samaritan Saves Four Kids After Witnessing Car Plunge into River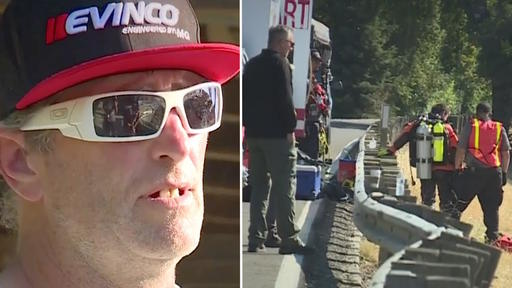 It was an average evening for Harrell Fischer who was working on his boat one night in Sacramento, California. Suddenly he heard gunshots. Like out of a movie, he watched in awe as a car sped by and crashed into the river.
Immediately, Harrell and his friend jumped in the boat to rescue the passengers. The second he opened the car door, a child's face was staring back at him, followed by little hands reach out to him. He reacted immediately after realizing four children, ages two-to-six, were trapped in the sinking car.
Thankfully, Harrel and his friend were about to rescue all four devasted children, who were in shock, from the freezing water. The boy who Harrell saved first said, "He killed my mom."
There is a twist in the story. Before the car plunged into the river, the mother of four was shot in the head and killed instantly by the father. After the car crashed into the Sacramento River, the father exited and refused to help Harrell and his friend save the children.
The shooter in the crime is 27-year-old Mendiko Cuarzo who was sitting in the passenger seat when an argument ensued. The conversation became heated and he shot the 23-year-old mother. Mendiko is the father of three of the four children. The shooting caused the vehicle to run off the road and into the river.
This experience was incredibly traumatizing for the children. In addition to watching their mother be murdered while driving, they must deal with that loss. Also, their father will now go to prison so these children will be without either parent.
Harrell Fischer has mixed emotions of being at the scene. He is glad that he was there to save the lives of the children but also not happy he had to bear witness to the murderous situation and neglect from the father.
Investigators continue to look for motives in the killing. Cuarzo has previous convictions including illegal possession of a firearm.
Since the beginning of the Covid-19 pandemic, the country has witnessed a sharp increase in gun violence. The number of gun-related deaths has been trending upward when compared to the same period from 2019 as the peak of the virus continues.
The economy has seen an unprecedented increase in gun sales and, when combined with social isolation and economic distress, the country's long-standing gun violence crisis is intensifying. The murder of these four children by Cuarzo is the latest representation of this issue.
The Covid-19 pandemic has highlighted weak gun purchase and access laws allowing guns to fall into the hands of those with ill-intent. The pandemic also further emphasizes the structural inequity of the nation. The virus is putting vulnerable populations, such as children, women, and communities of color, at high risk.
The resulting impact has been lethal and devastating to local communities but also identifies that through policies, laws, and programs, citizens can remain healthy and safe in the future.
In addition to the increase in gun purchases, domestic violence is spiking due to the prolonged financial strain on middle and lower-income households. This leaves domestic violence victims trapped with abusive partners, many of whom have easy access to guns. Having access to a gun makes it five times more likely that an abuser will murder his female victim.
These troubling statistics indicate that there is a need for quick political action on proven programs and policies to keep families safe during these times. Some of the focal points must be a reassertion of the federal regulation of ghost guns, enact Extreme Risk laws, raise awareness of firearm storage practices, and increase funding for gun violence programs.