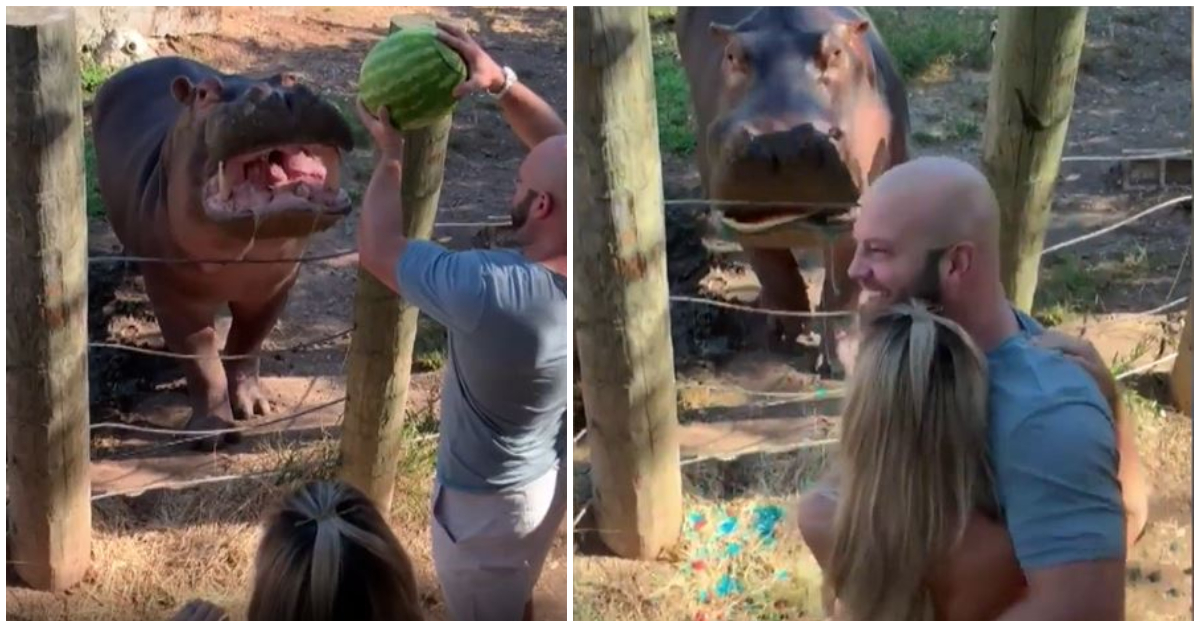 Couple Who Fed Hippo Jell-O For Their Gender Reveal Respond: 'It Was A Very Small Amount'
Feeding a hippo Jell-O to reveal the gender of an unborn child is not an everyday thing. Perhaps such is why this couple decided to solicit the services of Tank, a friendly hippo who happens to love Jell-O and watermelon, to help them reveal the gender of their baby.
The couple from Texas went to great lengths to make their big reveal different. "Everyone it seems has done the cake thing," the expectant father says. "You cut the cake open and there is either pink or blue inside. Not many people think outside of the box with these things," he adds. The father-to-be and his wife hoped to change that dynamic.
The expectant couple went to Capital of Texas Zoo in Cedar Creek where Tank the friendly hippo currently resides. "From the moment we saw Tank, we knew that he was the one," the mother-to-be says. "He came right up to us," she adds. "He was so friendly."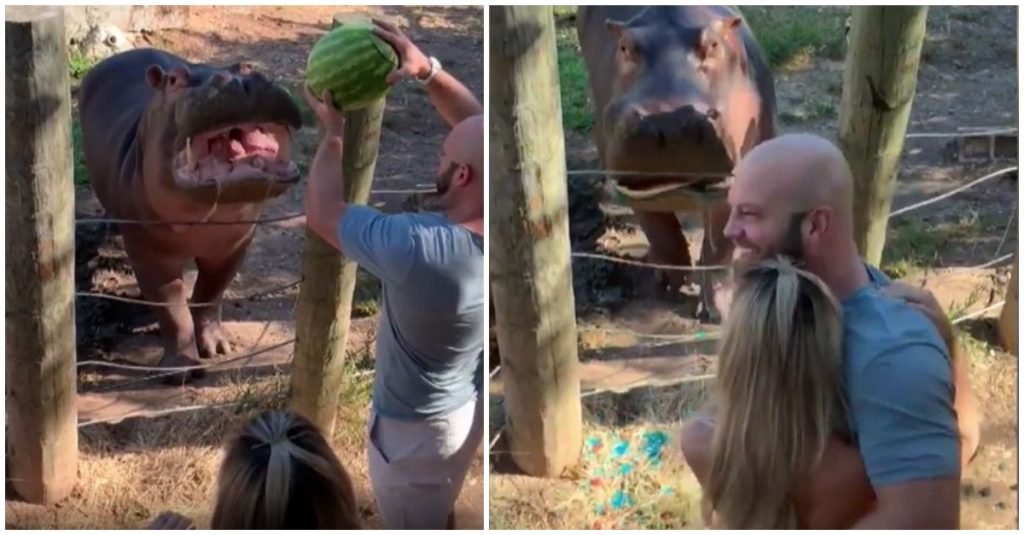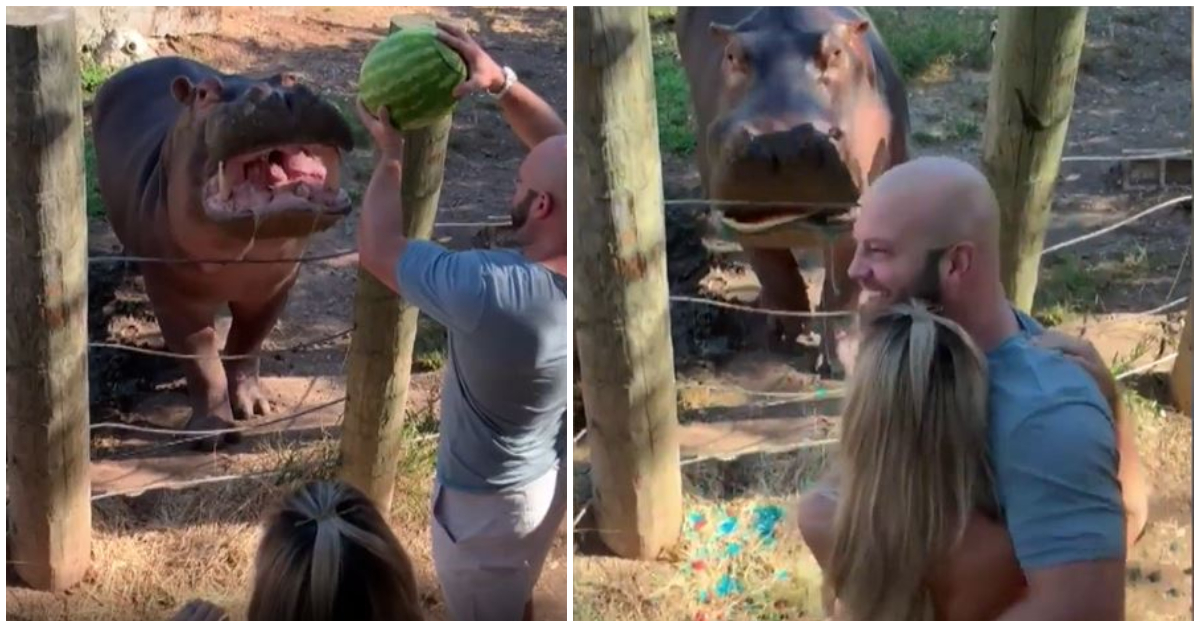 The couple formed a bond with the animal and knew that they had to have him at their gender reveal party. "We asked the zookeeper and he told us everything that we needed to know about Tank. He told us about the hippo's sleeping patterns, when he is most interactive, and his favorite foods."
The couple got an idea upon hearing that Tank loves Jell-O and watermelon. "Why not fill a watermelon with Jell-O that represents the color of our unborn child's gender? We knew that our idea was fresh," the mother-to-be says.
Fresh is one way to describe the notion of giving a hippo blue Jell-O (the couple is expecting a son). Controversial is another word that comes to mind. Social media was certainly happy to see another couple expanding their family with the expectancy of a child. Viewers were not thrilled to see the father-to-be give Tank the mystery watermelon.
"Are you serious," one Twitter critic asked. "Who had the bright idea to give this animal food coloring? How dumb can you be? And they're having a kid??? God help us all." Another critic was not as harsh.
"Jell-O may be good for humans but it is not the best thing for animals," the social media viewer wrote. "There is a lot of sugar in Jell-O and other artificial ingredients that a hippo's system may not be able to digest. Did you all do any research before deciding to do this?"
The expectant couple assured their critics that they in fact researched the matter. "This was not a rush job," the father-to-be wrote in response to all the scrutiny. "We asked Tank's caregiver what would be best."
If given the opportunity, would the couple do things differently? "I think we would do it again," the mom-to-be says. "We probably wouldn't share it with the world, though," she added. "There are way too many critics out there."
Dog Trainer and Dog Groomer Get Married Accompanied By Their Best Friends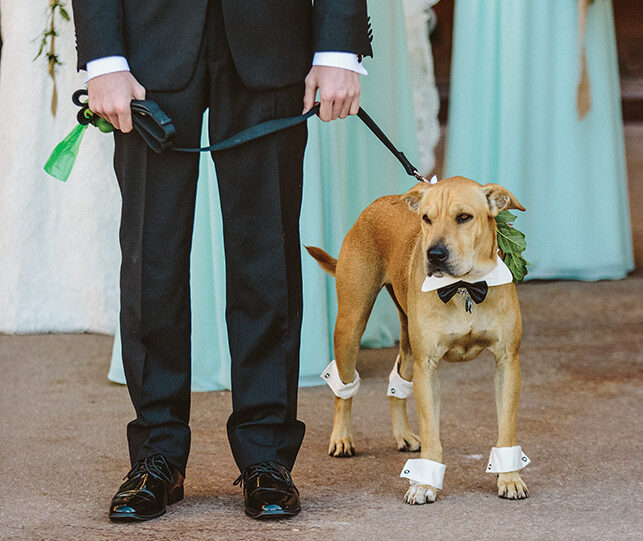 Weddings Are for Sharing With Loved Ones
When people get married, they spend one perfect day with their most loved friends and family. While many people only think about their human friends and family, there are a lot of people who could never imagine starting this important new chapter in their lives without their beloved pets. In fact, many people might have to admit, if they were being honest, that they loved their pets more than some of the relatives who came to the wedding, especially if they felt obligated to invite some relatives they rarely see and barely know.
Some People Already Spend Their Lives With Pets
Anyone who works full-time as a dog trainer or groomer already spends most of their working days with animals. They see dogs all day long, and they make the choice to do so because of many reasons. Working with pets is rewarding on many levels. Especially if you see the same dogs again and again, you form a close bond. Communicating with pets is therapeutic and generally far less stressful than dealing with humans. The people who work with dogs don't get sick of dogs and try to go home to a quiet house; they tend to have larger pet families than average.
A Dog Trainer and a Dog Groomer Tie the Knot
Paul and Annette Anthony are typical in that they work with dogs as a profession, and they have a large pet family. On the day they got married, their family consisted of 2 humans and 9 canines. Both Paul and Annette admitted that their pets were more to them than just fun — their beloved dogs also helped them get through rough times in their lives, including personal tragedies. Annette's German Shepherd Pesci is even an emotional support animal, helping her to deal with severe anxiety and depression. There was no way that their pets were going to be left out of the most important day of their lives going forward.
Canine Best Man
Paul's service dog Finn has earned his retirement. Finn has competed in over 40 events, earning titles and even setting records. He was also there for Paul when Paul developed PTSD after being at the scene of the deadliest plane crash in Pennsylvania's history. Finn was the one who helped with the proposal, giving Annette the ring with a note asking her to marry his dad. It was only fitting that Finn ended up being one of the best men at the wedding too.
A Family Affair
All 9 dogs walked down the aisle and stayed throughout the ceremony. Annette's dog Pesci even came to comfort her during the ceremony when she started to cry from happiness because he wanted to make sure his momma was all right. Whether you want to use your dogs in the ceremony as ring bearers, best men, or flower girls, or if you just want them to be present, it makes sense to have your pets help you celebrate such an important day in your life.