Couple Who Fed Hippo Jell-O For Their Gender Reveal Respond: 'It Was A Very Small Amount'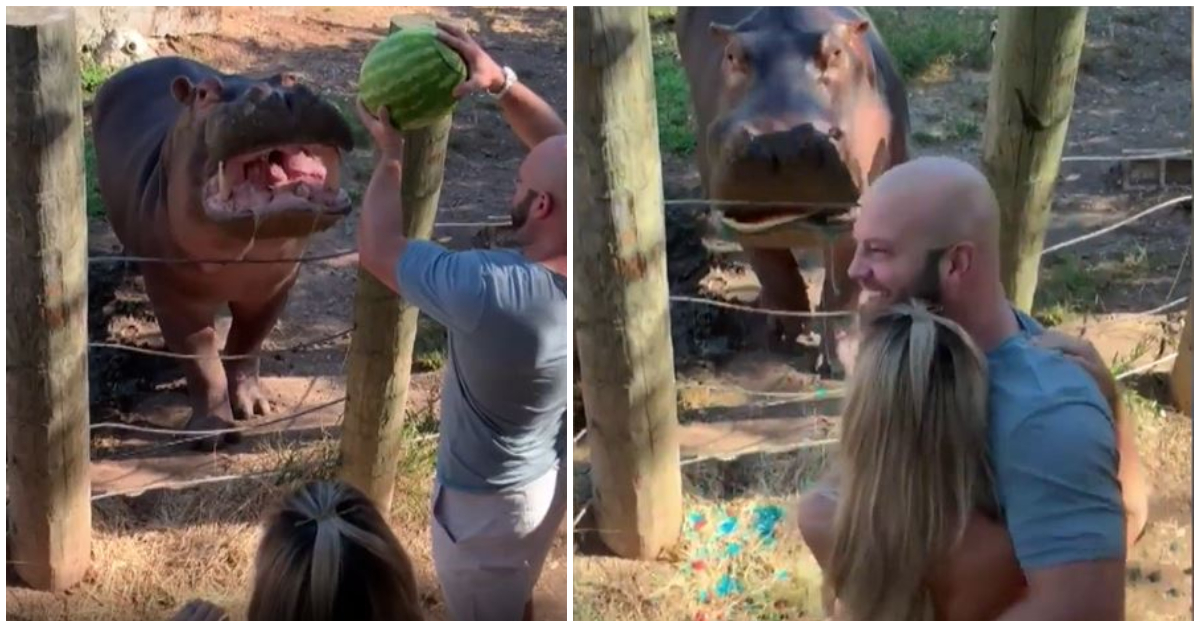 Feeding a hippo Jell-O to reveal the gender of an unborn child is not an everyday thing. Perhaps such is why this couple decided to solicit the services of Tank, a friendly hippo who happens to love Jell-O and watermelon, to help them reveal the gender of their baby.
The couple from Texas went to great lengths to make their big reveal different. "Everyone it seems has done the cake thing," the expectant father says. "You cut the cake open and there is either pink or blue inside. Not many people think outside of the box with these things," he adds. The father-to-be and his wife hoped to change that dynamic.
The expectant couple went to Capital of Texas Zoo in Cedar Creek where Tank the friendly hippo currently resides. "From the moment we saw Tank, we knew that he was the one," the mother-to-be says. "He came right up to us," she adds. "He was so friendly."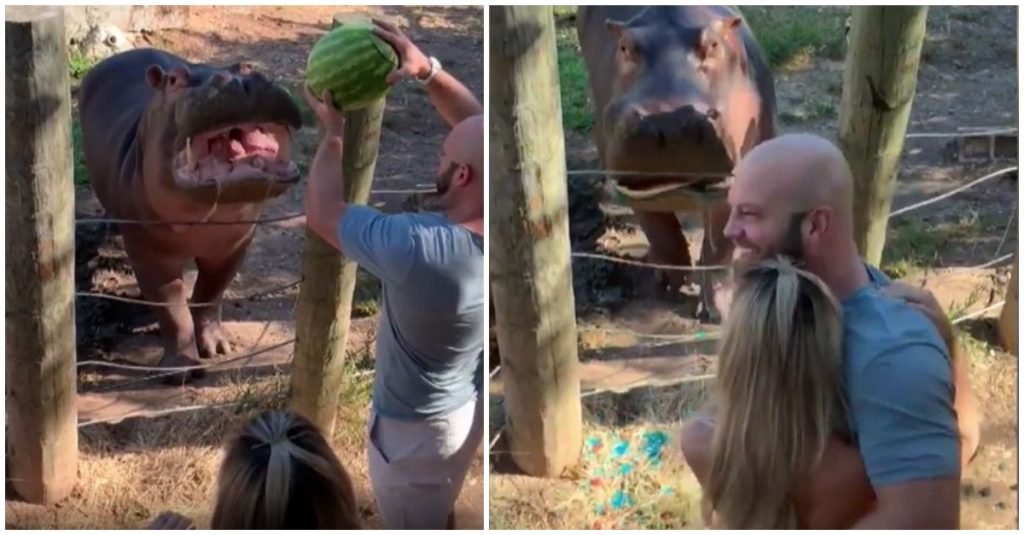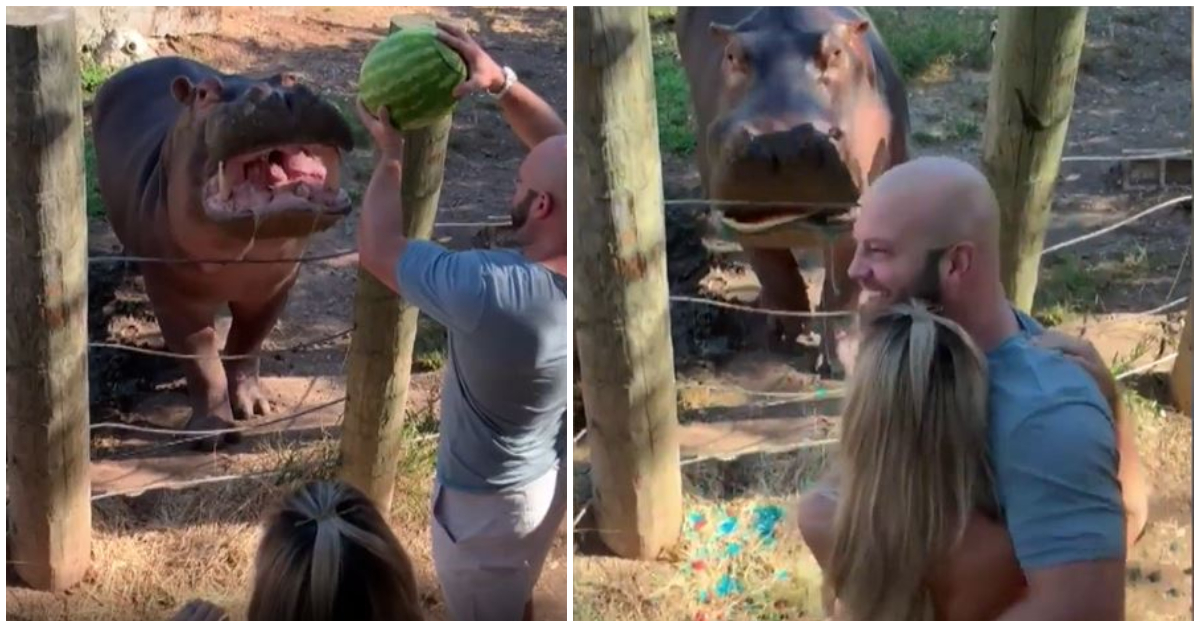 The couple formed a bond with the animal and knew that they had to have him at their gender reveal party. "We asked the zookeeper and he told us everything that we needed to know about Tank. He told us about the hippo's sleeping patterns, when he is most interactive, and his favorite foods."
The couple got an idea upon hearing that Tank loves Jell-O and watermelon. "Why not fill a watermelon with Jell-O that represents the color of our unborn child's gender? We knew that our idea was fresh," the mother-to-be says.
Fresh is one way to describe the notion of giving a hippo blue Jell-O (the couple is expecting a son). Controversial is another word that comes to mind. Social media was certainly happy to see another couple expanding their family with the expectancy of a child. Viewers were not thrilled to see the father-to-be give Tank the mystery watermelon.
"Are you serious," one Twitter critic asked. "Who had the bright idea to give this animal food coloring? How dumb can you be? And they're having a kid??? God help us all." Another critic was not as harsh.
"Jell-O may be good for humans but it is not the best thing for animals," the social media viewer wrote. "There is a lot of sugar in Jell-O and other artificial ingredients that a hippo's system may not be able to digest. Did you all do any research before deciding to do this?"
The expectant couple assured their critics that they in fact researched the matter. "This was not a rush job," the father-to-be wrote in response to all the scrutiny. "We asked Tank's caregiver what would be best."
If given the opportunity, would the couple do things differently? "I think we would do it again," the mom-to-be says. "We probably wouldn't share it with the world, though," she added. "There are way too many critics out there."
A Call to Change by An Amazing Third Grade Class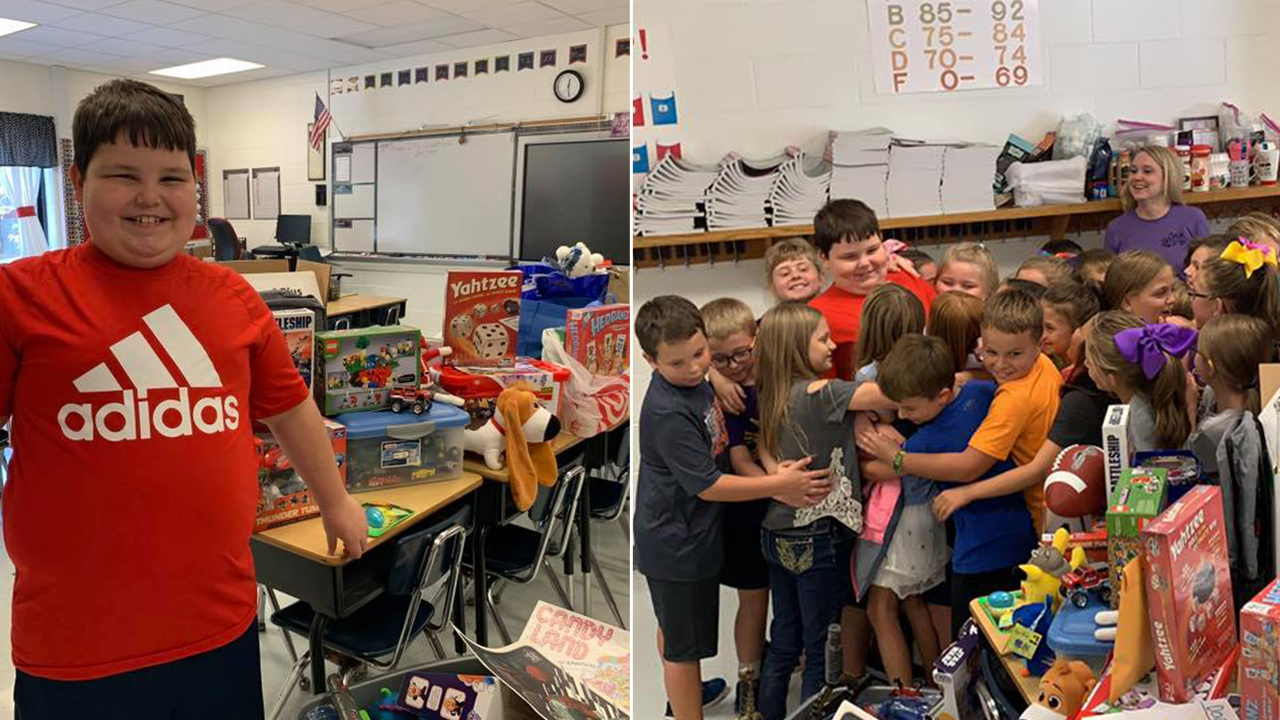 I have always believed that hate and greed are things that humans are taught- that they are learned behaviors- not characteristics that we are born with. Children are pure and, unless taught otherwise, they are full of love and compassion. This story encompasses this theory more than any other I have ever seen.
Just a few weeks ago on September 21, 2019, sweet and lovable eight year old Daniel Hunt's and his family's Tennessee home went up in smoke, along with their possessions. This included all of Daniel's beloved toys. What was a devastating blow to this child did not stop him from being the happy and friendly kid on campus.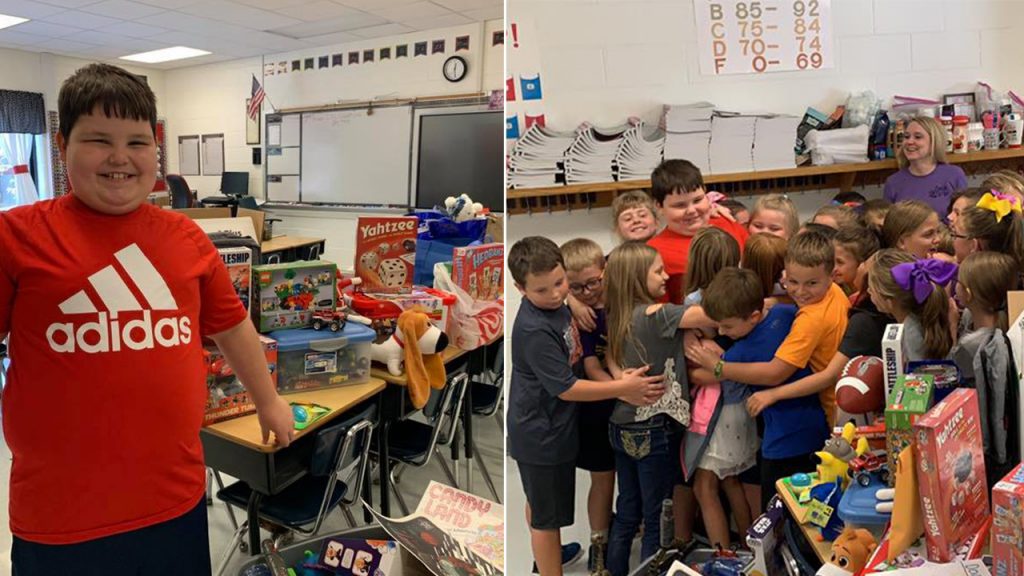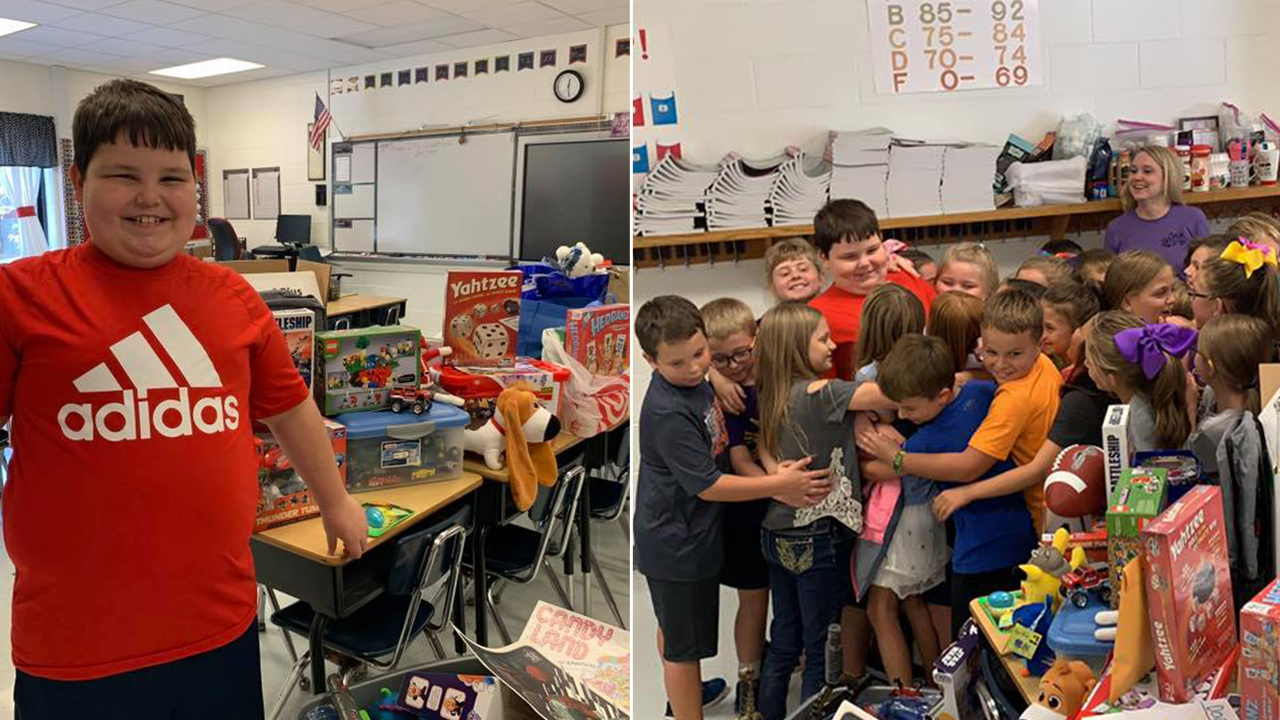 More touching, though, is his classmates' response. It started with being overly friendly- making an extra effort to play with him, holding doors for him, even sharpening his pencils for class- but sweet Daniel could have never guessed just how far it would go.
After being sent on an errand by the teacher, Daniel Hunt returns to his classroom to find a large pile of toys and classmates yelling, "Surprise!" Turns out, his teachers and classmates had been secretly collecting toys for Daniel. This group of 8 year olds had such compassion for their classmate that they put extreme effort into replacing the possessions that kids love most- his toys.
And, in true Daniel Hunt fashion, while being elated at his new toys, he responded in a way that most adults would not: He turned to his classmates first- before even approaching his new toys- to say, "I love it!" and called them all in for a giant group hug.
These selfless, loving, and compassionate acts from such young hearts is incredibly touching. At the same time, it calls us to question ourselves. When is the last time we have given so selflessly to others in need? As adults, it is so easy to worry about whether our bills are paid as opposed to caring for others as we should. Not these young children- they simply worried that their friend had nothing to play with.
This group of eight years olds- both Daniel and his classmates- can inspire the world to be different. They can remind us of the compassion that we should show other humans. They can remind us of the joy of giving. It is time that we learn to give again.
People are in need year round, so there is always a reason to give, but this time of year is a great time to start. With the holidays quickly approaching, we should bear in mind the families who cannot afford to buy their children Christmas presents, the elderly who have no family to visit them, the single moms and dads who are merely trying to keep their heads above water, the families with no heat for the winter, and those with no home at all.
Let's take a lesson from these incredible children and find the love that we were born with to give to others what they need this year and every year to come.