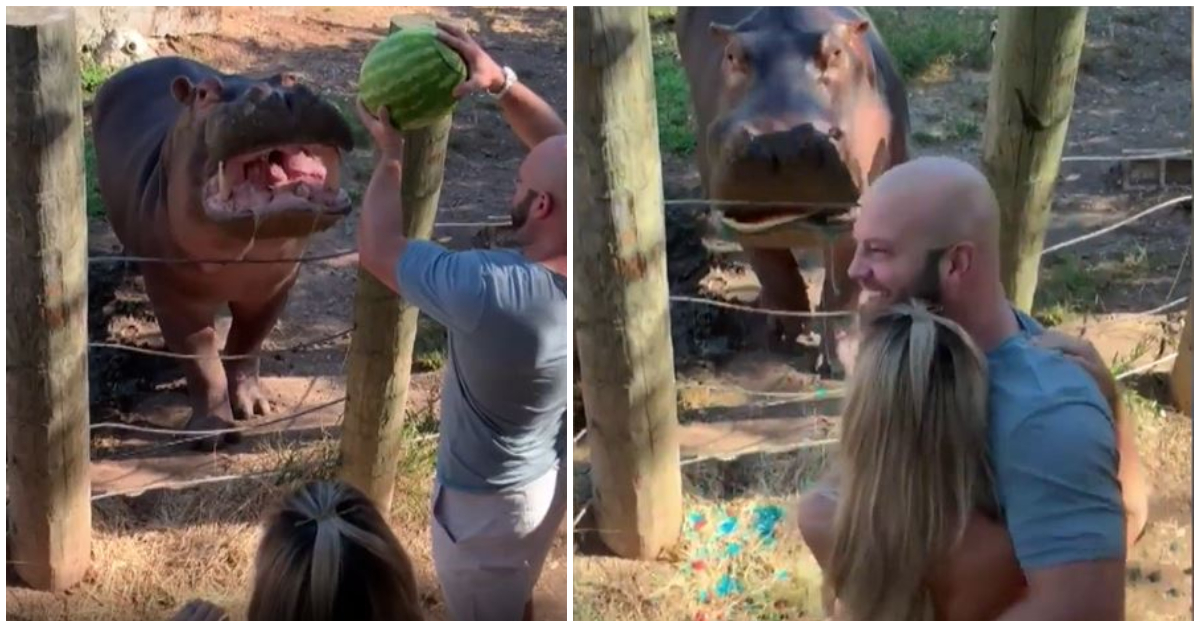 Couple Who Fed Hippo Jell-O For Their Gender Reveal Respond: 'It Was A Very Small Amount'
Feeding a hippo Jell-O to reveal the gender of an unborn child is not an everyday thing. Perhaps such is why this couple decided to solicit the services of Tank, a friendly hippo who happens to love Jell-O and watermelon, to help them reveal the gender of their baby.
The couple from Texas went to great lengths to make their big reveal different. "Everyone it seems has done the cake thing," the expectant father says. "You cut the cake open and there is either pink or blue inside. Not many people think outside of the box with these things," he adds. The father-to-be and his wife hoped to change that dynamic.
The expectant couple went to Capital of Texas Zoo in Cedar Creek where Tank the friendly hippo currently resides. "From the moment we saw Tank, we knew that he was the one," the mother-to-be says. "He came right up to us," she adds. "He was so friendly."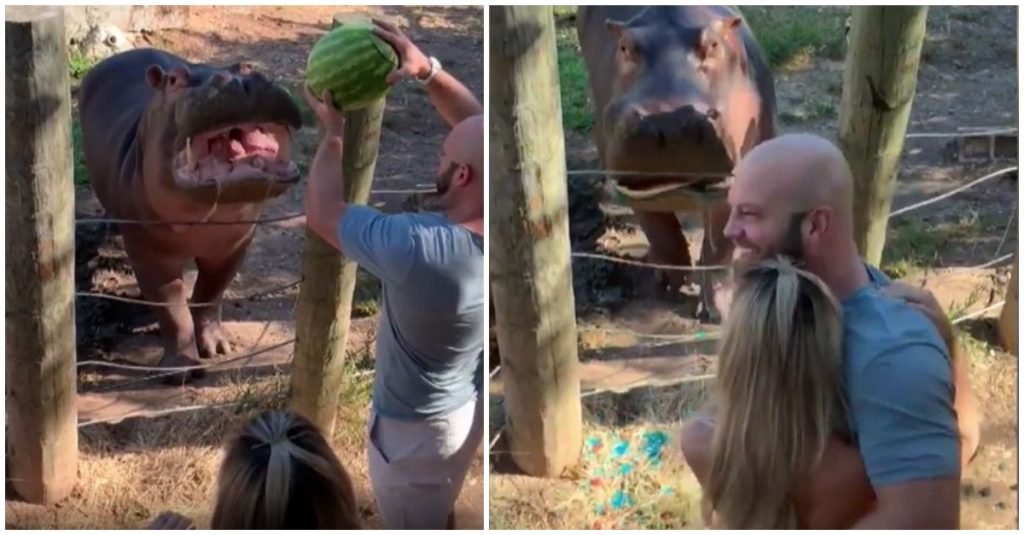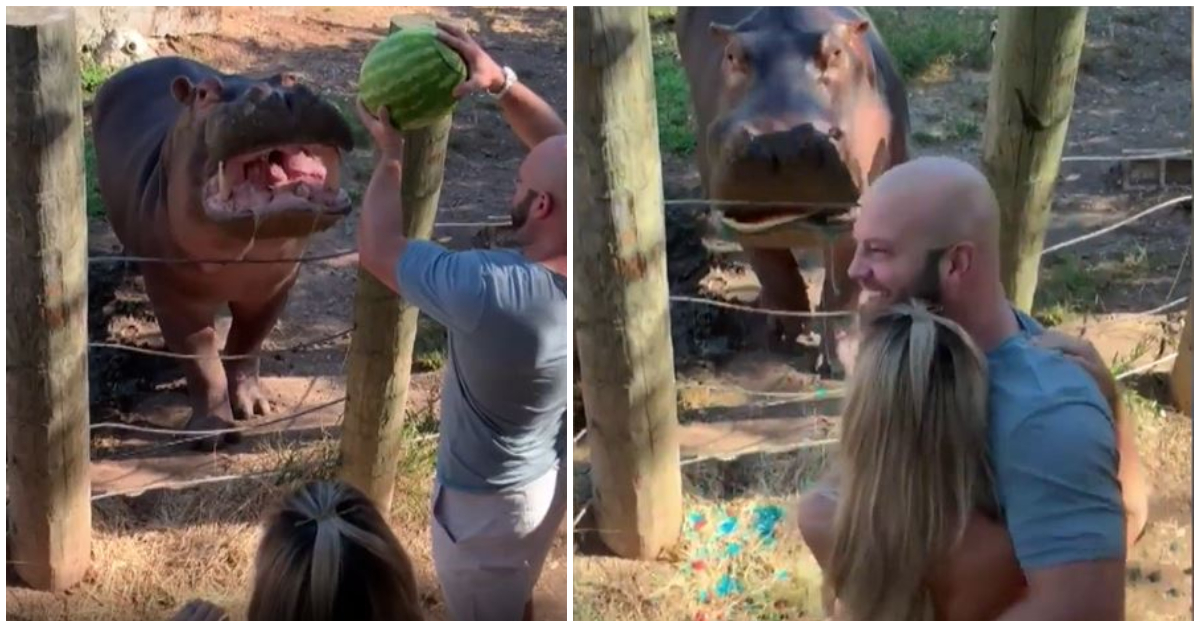 The couple formed a bond with the animal and knew that they had to have him at their gender reveal party. "We asked the zookeeper and he told us everything that we needed to know about Tank. He told us about the hippo's sleeping patterns, when he is most interactive, and his favorite foods."
The couple got an idea upon hearing that Tank loves Jell-O and watermelon. "Why not fill a watermelon with Jell-O that represents the color of our unborn child's gender? We knew that our idea was fresh," the mother-to-be says.
Fresh is one way to describe the notion of giving a hippo blue Jell-O (the couple is expecting a son). Controversial is another word that comes to mind. Social media was certainly happy to see another couple expanding their family with the expectancy of a child. Viewers were not thrilled to see the father-to-be give Tank the mystery watermelon.
"Are you serious," one Twitter critic asked. "Who had the bright idea to give this animal food coloring? How dumb can you be? And they're having a kid??? God help us all." Another critic was not as harsh.
"Jell-O may be good for humans but it is not the best thing for animals," the social media viewer wrote. "There is a lot of sugar in Jell-O and other artificial ingredients that a hippo's system may not be able to digest. Did you all do any research before deciding to do this?"
The expectant couple assured their critics that they in fact researched the matter. "This was not a rush job," the father-to-be wrote in response to all the scrutiny. "We asked Tank's caregiver what would be best."
If given the opportunity, would the couple do things differently? "I think we would do it again," the mom-to-be says. "We probably wouldn't share it with the world, though," she added. "There are way too many critics out there."
Love, Laughter, and 75 Years Together: Gene and Virginia Nelson's Remarkable Anniversary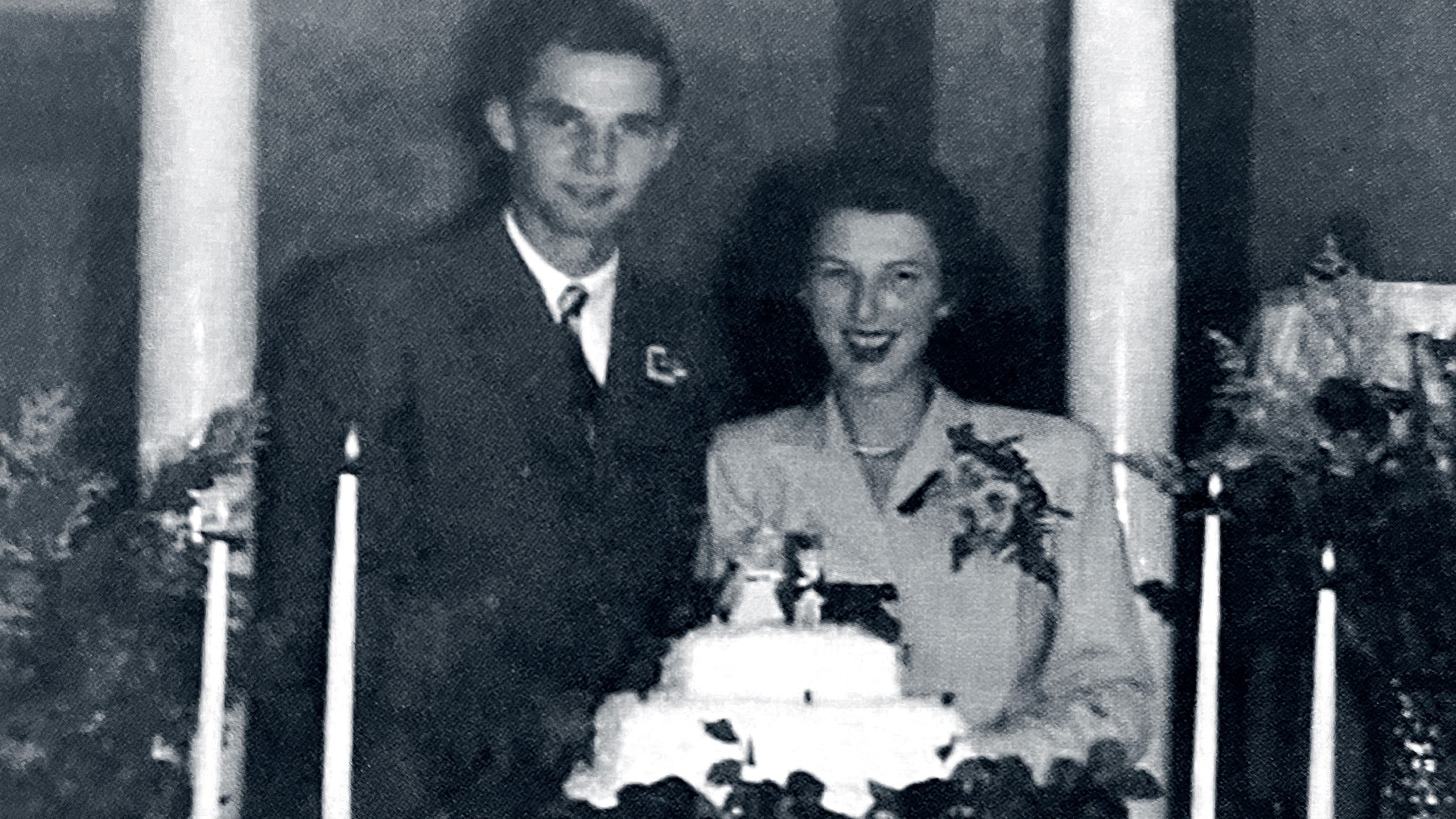 Gene and Virginia Nelson of Canby, Oregon, have a relationship that showcases love's enduring power. The couple recently celebrated an incredible 75 years of marriage, a milestone that very few can claim to have reached. When asked the secret to their lasting love, they attribute it to patience, trust, and a good sense of humor.
Gene, at 95, and Virginia, at 92, have seen a lifetime of changes and challenges, but their love has remained steadfast. When questioned about their enduring bond, Virginia simply replied, "We were just meant to be together!" Gene chimed in, "Have patience through the good times and the bad, try to be honest and faithful."
Their journey began 75 years ago on August 8 when they decided to elope from Brownsville, Oregon, in Linn County. They hopped on a bus to Reno and got married, a move that still brings a giggle to Virginia's lips as she recalls how they outfoxed their parents. At the time, Virginia was just 17, and Gene was 20, with Gene humorously adding, "I was 20 and five months, lacked 2 days, and she was 17 years and 25 days."
According to their grandson, Cody Westphal, their sharp minds are one of the reasons behind their enduring relationship. He said, "Just actively trying to exercise your mind is how it stays sharp."
The couple has three children and seven grandchildren, with the youngest being 29 years old. Gene recalled what made him know that Virginia was the one, saying, "She was a sweet girlfriend, and I hadn't found out any of her faults yet when we were young," which elicited laughter from both of them.
Judy, their daughter, expressed her pride in her parents' long-lasting love. She said, "It takes a lot to make it 75 years and not give up, and they never gave up."
Their sense of humor remains a cornerstone of their relationship, as Judy shared, "They both have a really good sense of humor." Gene and Virginia often engage in friendly banter, and even if they have disagreements during the day, they never go to bed angry.
The couple's thrifty nature is another shared trait. They still have the refrigerator they purchased right after their wedding from Sears Roebucks, and it's still in working condition. Just like their marriage, it has stood the test of time. Gene proudly mentioned, "Never had a service charge, and it's still working! We've always been thrifty."
Their light-hearted arguments, thrifty habits, and enduring love have earned them the nickname "the Bickersons" among family members. Cody noted, "Even if they fight all day, they don't go to bed angry. I think that's why they wake up the next day, and they're still the Bickersons!"
In the twilight of their lives, Gene and Virginia continue to cherish their partnership. As Gene put it, "We're in our waning days. I hope she outlives me because I don't want to outlive her." Their story is a heartwarming reminder that love, patience, and a good sense of humor can make a marriage truly timeless.