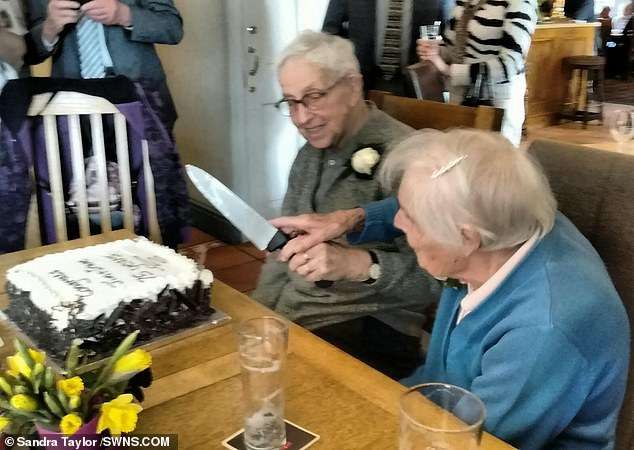 Couple Renews Wedding Vows 75 Years Later, You Won't Believe Where!
Weddings can be some of the most romantic events in the world. When Jim and Irene Richardson tied the knot on April 12, 1944, they knew that they were getting together for the long-haul. Their marriage began during World War II which was a time of great unrest. Jim and Irene were 20 and 19-years-old respectively and that meant that they had a lot of life ahead of them. The two had met during a village dance in Lancashire and it wasn't long until they were tying the knot for good. Now, 75 years later, Jim and Irene are going back home to renew their vows, in the very spot that they were married.
At 95 and 94 years old, Jim and Irene were ecstatic to head back home to Lancashire in order to celebrate their diamond anniversary. After 75 years of marriage together, they knew that they wanted to go 'back in time' in order to celebrate the start of their beautiful marriage. The retired farmers knew that they wanted to go back to the exact place that they had gotten married so that they could recreate their wedding photo. Believed to be the longest married couple in Lancashire, the celebration ended up getting quite a bit of attention.
The service began at 2 P.M., exactly as it had in 1944. Jim and Irene stood in the exact spots that they had stood in originally, with tears in their eyes and smiles on their faces. There were multiple reasons as to why this moment was so special for the couple. With four children together, Jim and Irene had made a wonderful life together. However, Jim had always regretted not properly thanking his mother during his speech. His granddaughter, Sandra Taylor, decided to help him pay proper tribute by putting together the ceremony.
The wedding was held at St Michael's CE Church which is located in the heart of Lancashire. There were four children, eight grandchildren, nine great-grandchildren, and one great, great-grandchild in attendance. Needless to say, Jim and Irene had the whole family gathered for the emotional and touching event. Sandra was proud of how the event turned out for her grandparents, and she made sure to capture as many photographs as possible.
Back in the '40s, Jim had proposed to Irene while taking her for a bike ride. Jim had stopped their ride in a beautiful copse of trees on their cycling path in order to get on one knee and propose. In 1944, Jim and Irene were driven to Preston in order to get their photographs done for their wedding. Their wedding feast came from a local farm and it had featured salmon that were fished from the Lune river. Back then, Jim had worked as a mini-bus driver while Irene worked at a cafe. The two then spent decades together as farmers before retiring to St. Michael's.
For the vow renewal, Sandra made sure to emulate as much of the original wedding as possible — with the addition of a special thank, you to Jim's dearly departed mother. Jim and Irene were ecstatic with how the wedding turned out. Jim got to walk down the aisle to the Wedding March, and he claimed that the experience had made him feel 'six feet tall'. Jim would go on to say that he was proud of his entire family, and he would happily do it all again. Irene was equally overjoyed, claiming that she could always go to Jim and the rest of her family with her troubles. Irene concluded her comments on the renewal by saying simply, "It has been a lovely life."
Father in Bumblebee costume escorts his kid back to school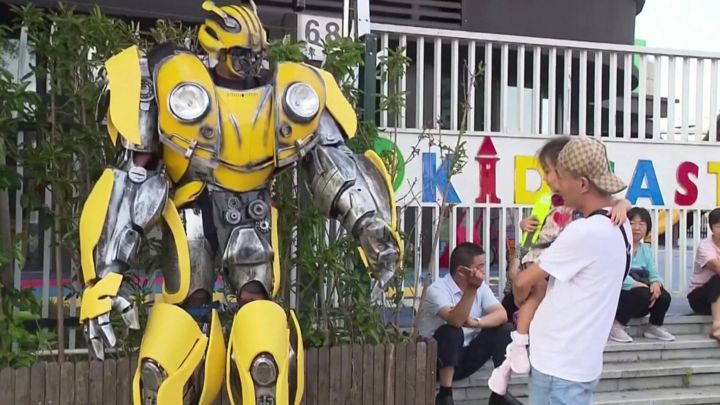 Bumblebee from the American sci-fi movie series Transformers never had a kid, but if he did, he'd have definitely escorted him to school.
A father in Shanghai, China has gone above and beyond to encourage his kid to go back to school after staying at home for months due to the Covid-19 pandemic. There's no way any child is refusing to walk with Bumblebee into school, and this man had that in mind when building his Autobot suit.
Just like the rest of the world, China had been on lockdown, and for months, kids had to stay away from school to prevent infection and spread of the deadly virus. However, some normalcy is being restored in some parts of the region, and schools now have the green light to open and allow children continue with their education.
The Bumblebee suit wasn't only for his kid, though. He built it to serve as some amusement and surprise to other kids at school- and that he did.
"I also want to bring happiness to other children. I didn't only wear it for my own child. All of them were preschoolers," he said in the video.
His suit looks like the real thing. The only things missing were metal, alien technology, and missiles- not much, right? Standing about 2.3-metre tall, the suit was built using soft materials to prevent touchy and curious children from getting injured- and he was right to have done that because he was rushed and hugged by children upon arrival at the school.
The excitement of the kids at the sight of Bumblebee could light up astronomical units of outer space, as the intergalactic warrior once again put smiles on the faces of humans. Kudos to this amazing dad for his efforts to make kids happy to resume back to school- he'd probably do it every day if he could.
The home-made suit seems to be inspired by the 2017 movie Bumblebee.