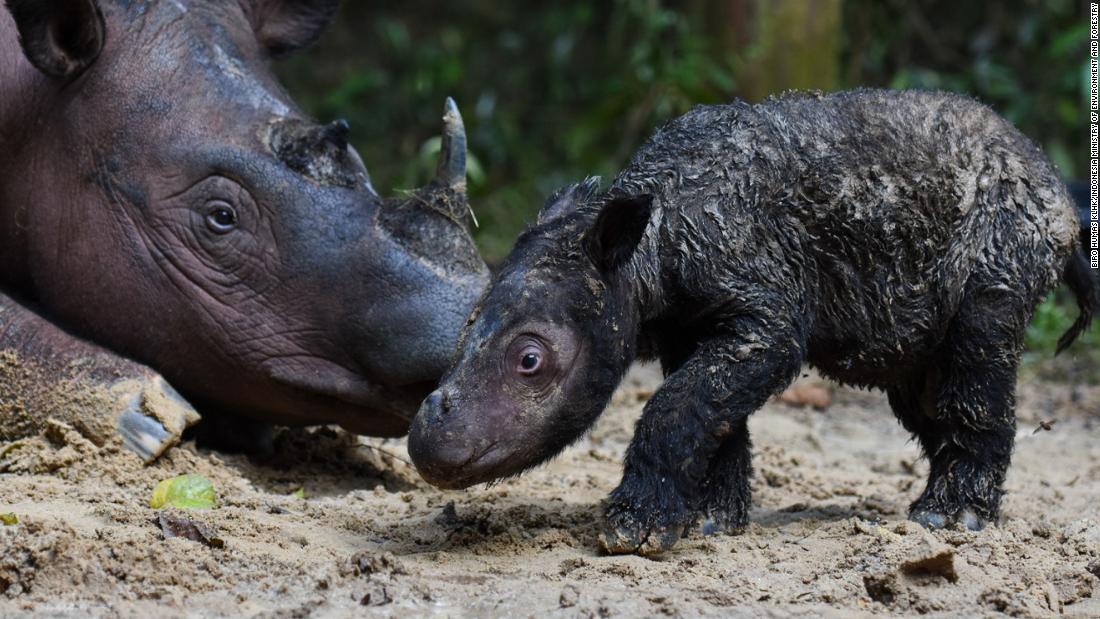 Celebrating Life: Sumatran Rhino Welcomed to the World in Indonesia
In a heartwarming development for conservationists and wildlife enthusiasts, a female Sumatran rhino was recently born in Indonesia, marking a significant milestone for the endangered species. The little calf, weighing a healthy 59.52 pounds, made her entrance into the world at the Sumatran Rhino Sanctuary (SRS) facility in Way Kambas National Park, located in the lush Lampung province of Indonesia.
The Sumatran rhino, known for its distinctive appearance with two horns and reddish-brown fur, is sadly on the brink of extinction. These majestic creatures once roamed freely across Southeast Asia, but habitat loss and poaching have pushed them to the edge of survival. The birth of this baby rhino brings hope for the future of the species and underscores the importance of conservation efforts.
The proud mother, a 22-year-old Sumatran rhino, is reported to be in good condition, which is promising news for both mother and calf. The newborn rhino displayed remarkable strength and resilience by standing just 45 minutes after birth. Impressively, the following day, she took her first steps, exploring her surroundings in the jungle.
Indonesia's environment minister, Siti Nurbaya, expressed her joy, stating, "This is happy news, not only for Indonesia but for the world." The arrival of this young Sumatran rhino is indeed a cause for celebration, as the species faces numerous challenges in the wild.
Sumatran rhinos are the smallest of the rhinoceros species and are distinguishable by their hairy appearance, which sets them apart from their larger, more well-known relatives. The Sumatran Rhino Sanctuary, where the birth took place, plays a crucial role in protecting and preserving these endangered creatures.
The ongoing threat of extinction for Sumatran rhinos emphasizes the importance of conservation initiatives and international cooperation to safeguard these incredible animals. Efforts like those at the Sumatran Rhino Sanctuary contribute to breeding programs and habitat protection, offering hope for the survival and flourishing of this unique species.
Kenyan Tree Planting Holiday: A Collective Effort Against Climate Change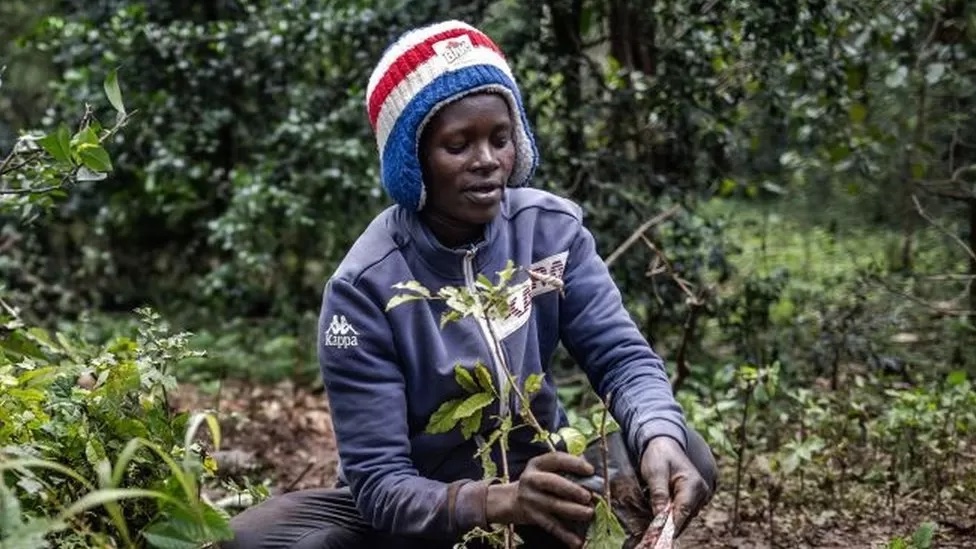 Kenya has embraced a unique and powerful approach to combating climate change with a national tree planting holiday. This initiative, led by Environment Minister Soipan Tuya, aims to involve every Kenyan in planting trees to contribute to a lofty goal of reaching 15 billion trees in the next decade. Recently, Kenyans came together to plant a staggering 100 million seedlings, demonstrating their commitment to a greener and more sustainable future.
The tree planting holiday allows "each and every Kenyan to own the initiative," as Minister Tuya emphasizes. This means that every citizen has a role to play in contributing to the ambitious goal of planting billions of trees. The target is for each Kenyan to plant at least two seedlings, a simple yet impactful way to make a difference.
The primary goal behind this massive tree planting effort is to fight climate change. Trees play a crucial role in mitigating climate change by absorbing carbon dioxide during photosynthesis. They act as natural carbon sinks, reducing the concentration of greenhouse gases in the atmosphere. Additionally, trees help regulate local climates, prevent soil erosion, and provide habitats for various species.
To encourage widespread participation, the Kenyan government is distributing tree seeds for free. However, there is also a push for planting trees in specific areas where they are more likely to thrive. This strategic approach ensures that the trees planted have a higher chance of growing into healthy, mature specimens.
While the initiative promotes free seed distribution, Kenyans are also encouraged to buy at least two seedlings for planting on their private land. This personal investment further engages citizens in the cause, fostering a sense of ownership and responsibility for the environment.
One notable tree planting site near the source of Kenya's second-longest river, Athi, saw active participation from various groups, including soldiers, residents, and families. The event showcased a collective effort to address environmental concerns.
To monitor the success of the tree planting initiative, an internet app has been introduced. This app allows individuals and organizations to record their planting activities, including details like plant species, the number of trees planted, and the date of planting. This technological aspect enhances transparency and accountability in achieving the set goals.
While the initiative has garnered widespread support, environmentalist Teresa Muthoni highlights some challenges. She notes that the effort is not organized in a way that ensures everyone is actively participating, as many individuals must prioritize their livelihoods. Additionally, Muthoni emphasizes the importance of planting the right trees in the right places, cautioning against the prevalence of exotic species in public nurseries.
Kenya's tree planting holiday exemplifies a collective and determined effort to combat climate change. By involving every citizen, the initiative seeks to make a significant impact on the environment. As the nation strives toward its ambitious goal of 15 billion trees in the next decade, the tree planting holiday stands as a beacon of hope for a greener and more sustainable future for Kenya and the planet.