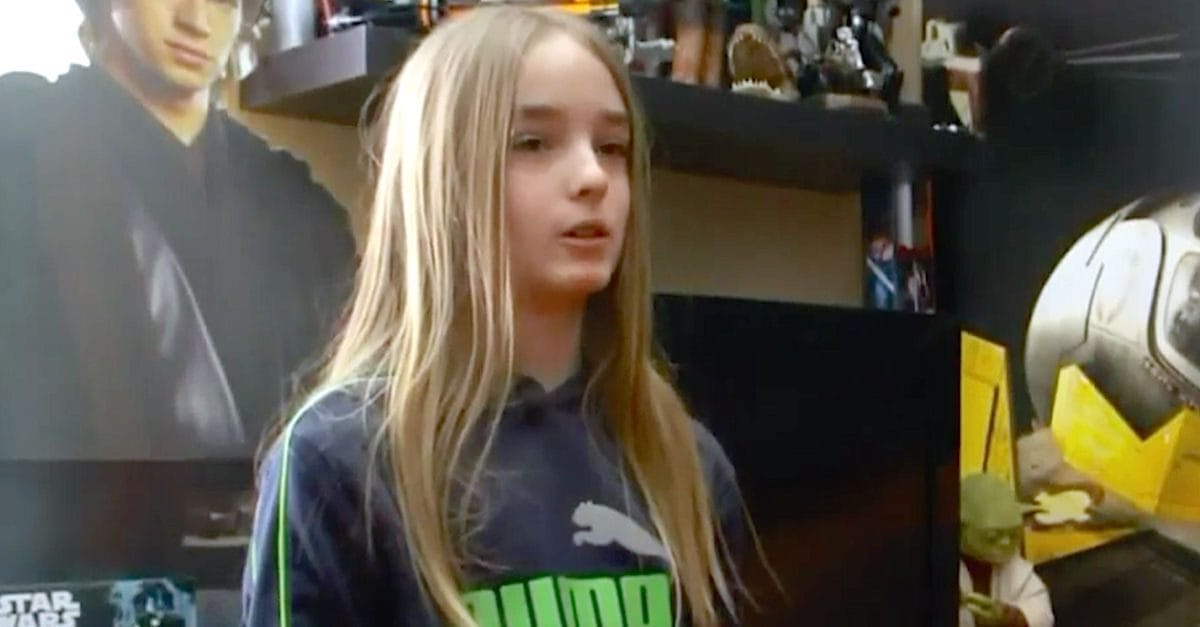 Boy Grows Hair to Make Wig for Friend
For two years, Morgan from West Jordan, Utah, has stopped cutting his hair and letting it grow out so that he could have enough hair to donate to Wigs for Kids.
Morgan's brown hair goes all the way down to his back. Over time, he has gotten a lot of comments, questions, and strange looks from not only his peers, but also parents who even assume he's a girl due to his long hair. Morgan is a fan of Star Wars, just like many 12-year-old boys. He says that when he goes into the boy's bathroom people can look at him funny and even adults will ask why he is in this bathroom. This isn't the first time Morgan has started growing out his hair. He has done so already and immediately after he donated his hair, he went back to growing his hair out again for another donation. Despite any judgment, Morgan plans to continue the cycles of growing out his hair and donating. His mother, Sandrine, says that Morgan knows first hand what it's like to overcome medical issues. He was born premature at only 27 weeks and spent the first few weeks of his life in the NICU. His mom said that he nearly died but he defied the doctor's expectations and grew up to be a healthy and happy child. He now feels like he wants to do everything he can to help children feel as normal as possible, and that's growing out his hair to make wigs. He's now growing out his hair for a third time after getting it cut, and says that even when it's annoying that people make comments, he's excited about helping out other kids.
Wigs for Kids is a cooperative effort with Certified Cosmetic Therapists throughout North American who share one goal. That goal is to not have children worried about the way they look, especially when going through a health crisis. The company wants the kids to have an opportunity to feel good about themselves. Wigs are valued at $1,800 and are custom-made hair replacements. Each wig is made from human hair and is hand tied, in order to make sure it looks like a child's own hair. These wigs don't come off on the playground or the field, so kids can look the way they did before any health problems and feel better. The founder of the company was a successful hairdresser and after his niece was diagnosed with leukemia, he did research in learning how to make children's wigs. A kid's wig is more difficult because kids are smaller and are more active. He worked with prosthetics specialists and doctors to develop options that would withstand kid activities, such as gymnastics and swimming, and if it gets wet it will still be like everyone else's hair.
In order to donate hair to Wigs for Kids, hair needs to be 12 inches or longer. While the minimum donation is 12 inches, it's encouraged to donate more than 14 inches. The more you can donate, the more of an impact it will have. Once your hair is long enough, you will need to get in contact with a hair professional. The company relies on hair professionals that know how to property cut ponytails and braids for hair that will be donated to Wigs for Kids. Certain steps must be followed in order to make sure your donation is accepted. Once you have your hair ready, you send in your donation. For parents of children who need wigs due to radiation, chemotherapy, alopecia, or another medical reason, you can apply online.
Mayor Max III: The Golden Retriever Who Leads with Love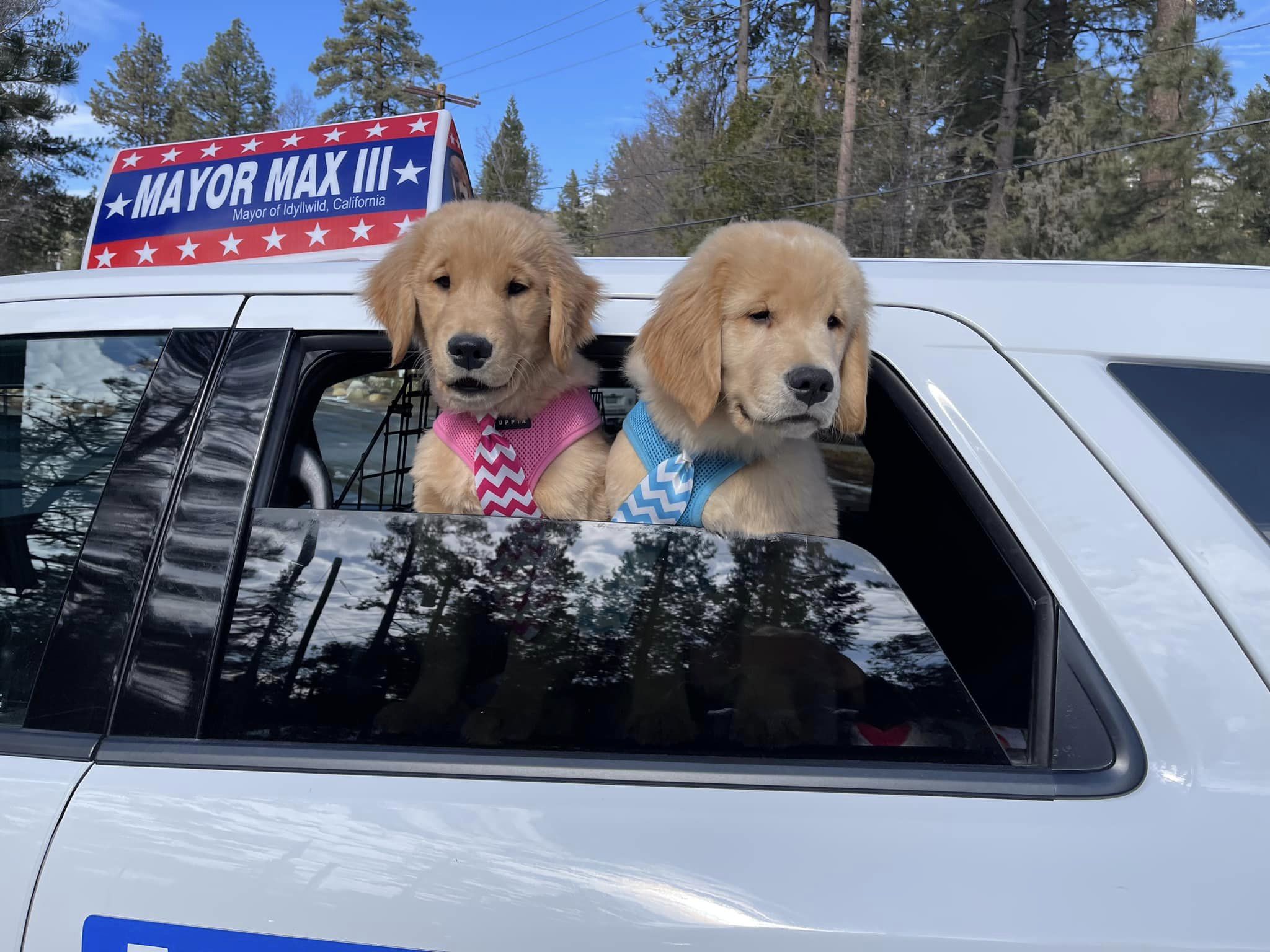 In the picturesque unincorporated mountain town of Idyllwild, nestled in the heart of Southern California, an extraordinary political figure has been making waves for the past year. But this isn't your typical politician; this is Mayor Max III, a lovable and charismatic golden retriever who has celebrated a year in office as the town's mayor. In a town known for its unique and quirky traditions, Max III has carved out a special place in the hearts of the residents.
The legacy of golden retriever mayors in Idyllwild began in 2012 when Mayor Max I took office, followed by Mayor Max II. These remarkable dogs were more than just pets; they were symbols of unity and positivity in a world sometimes marked by division and strife. Max III proudly continues this legacy, and some say he possesses a unique talent passed down from his predecessors—a charming "mouth-closing trick."
Phyllis Mueller, Max III's owner, attests to the magic of this trick. "I just held the treat above his mouth, and he knew exactly what to do, without any instruction," she says with a proud smile. This special skill has become a signature move during his public appearances in the center of town, where Max III has embraced his role with enthusiasm.
Mayor Max III's duties extend beyond his charming tricks. He is a dog on a mission to bring joy and comfort to the people of Idyllwild. His calendar is filled with visits to schools, nursing homes, and hospitals, where he spreads cheer and offers a welcome distraction from life's challenges. "It's a fun way to do politics because we don't do anything divisive, ever," Mueller explains.
Max's journey to becoming the mayor of Idyllwild is a heartwarming tale. Phyllis Mueller, a successful owner of a full-service marketing agency, always maintained a commitment to living on a smaller budget with the intention of giving back to the community. When she adopted Max, she realized that golden retrievers were the perfect ambassadors for her mission to achieve world peace through love and compassion.
Several golden retrievers later, Mueller, along with her husband Warren and their elderly dog Max, made a life-changing move from Pasadena to Idyllwild in the summer of 2011. Fate seemed to be on their side when the town's animal rescue center announced that it would be holding its first-ever election for a non-human mayor. This was the opportunity they had been waiting for.
In their cozy mountain home, Mayor Max III enjoys the perks of his position. Mueller proudly showcases one of two tie closets for the mayor, where Max's collection boasts an impressive 3,000 ties. However, being a mischievous pup at heart, Max couldn't resist indulging in a few of his ties, devouring three of them during his first month in office.
But beyond the ties and the charming tricks, Mayor Max III serves as a reminder to the people of Idyllwild that there is still goodness in the world. "Every day, people do good things," says Mueller, "and these dogs here, they are living angels, and they love you with all their heart."
As Mayor Max III continues his reign, the town of Idyllwild remains a shining example of how love, unity, and the unbreakable bond between humans and their four-legged companions can make the world a better place—one adorable golden retriever at a time.