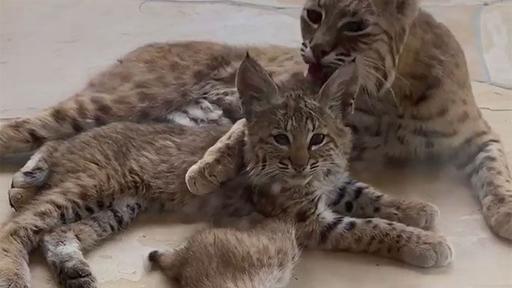 Bobcat Visits Homeowner, Brings Her Five Excited Kittens!
Would you consider yourself a cat person? Do you find yourself drawn to petting or cuddling with just about anything furry? If so, this story might be right up your alley! Earlier this year, a homeowner in the Midwest opened her front porch to find a massive female bobcat on her deck. As bobcats are the most populous wildcat in all of North America, this in and of itself wasn't a shock or a revelation. What came next, however, was as exciting as anything you could hope to find on your porch in the morning.
Before we dive into this exciting story, let's peel back our understanding of wildcats and bobcats. Bobcats are roughly double the size of a traditional house cat and many times more dangerous than their domesticated counterparts. Female bobcats tend to be smaller than their male counterparts, though both genders hover around three feet in length and roughly 20 to 30 pounds in weight. These polygamous animals mate during the winter and will give birth to up to six kittens in roughly two months. From there, the kittens will continue to nurse for an additional two months before eventually leaving home behind after a year.
During their youth, bobcat kittens are blind and as such will stay really close to their parents. After about eight weeks, bobcat kittens are significantly larger and more active. When this mama Bobcat came back to visit the homeowner in question, she brought along her entire litter! If you are a cat person, having a litter of bobcat kittens on your deck has to be a dream come true. Thankfully, the owner of the home went overboard on capturing photographs and we couldn't be happier if we wanted to. Just look at these small beans!
While wildcats aren't exactly rare or reclusive creatures, it is pretty unusual for people to get this close to wild animals. Thanks to the glass screen between the door and the deck, the owner of the home was able to get the kind of pictures that we can only dream of. The homeowner, one Kathy Maniscalco, considered herself as lucky as anyone when the mama Bobcat chose her porch to settle in on. As Kathy watched the kittens, she realized that there were five of them with the young Bobcat — this meant that the mother had nearly a full litter!
Bobcats are crepuscular animals that live relatively solitary lives when they are not mating or raising kittens. Living upwards of 12 to 13 years, bobcats are natural prey to wolves and cougars with bobcat kittens preyed upon by both owls and coyotes. Bobcats don't really have a history of attacking humans because they are fickle and easy to scare. If a bobcat does seem willing to attack a human, it means that they have rabies or are potentially near their kittens. In either situation, creating space is the safest course of action.
How would you react if you found a litter of bobcat kittens on your deck?
Mysterious Buyer Orders HUGE Girl Scout Order to Save Troop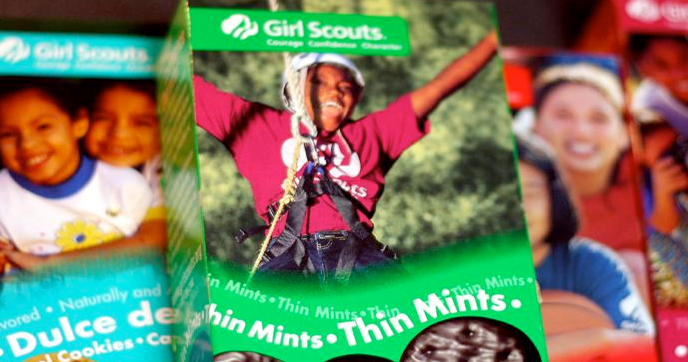 When Kayla Dillard and her daughter went gathered with their troop to sell Girl Scout Cookies, they had no idea what was in store for them. If you only have a brief understanding of the Girl Scouts, you likely know that they are revered for the delicious snacks sold outside of stores and parking lots every year. One mystery man in Greenville, South Carolina, apparently loved the cookies so much that he decided to buy the entire stock from Dillard and her troop. This heartwarming story had a rather mysterious ending, however, with nobody knowing who the man was.
Let's peel this story back and start from the beginning, and maybe we'll learn more about the mysterious hero!
Troop 1574: Selling Cookies to Make a Difference
Kayla Dillard manages the cookie sales offered by Troop 1574. As part of her job, Dillard helps the scouts to advertise their cookies while making sales, using the received money to further support the troop. Dillard had been managing the station on a regular Friday night when a mystery man approached the table. Dillard relayed the story on social media at a later time saying, "This man purchased seven packs of cookies and gave the girls $40 and said to keep the change."
A large order and not at all out of the ordinary, Dillard thought that she had made a great sale to a kind soul. Little did she know, the night was only getting started. The man would return shortly after making his first purchase before telling the troop, "Pack up all of your cookies – I'm taking them!"
According to Dillard, the man had wanted to help the troop while also getting the kids out of the cold. Apparently, the weather was bitter and cold, leaving the troop more than a little uncomfortable. Needless to say, the entire troop was ecstatic when they heard that their mystery buyer was taking the rest of the lot. Dillard would go on to say of the mystery buyer, "$540 he spent on cookies. What an amazing soul!!!!"
Despite the story going viral, Dillard and her scout troop have been unable to identify the man. Numerous reporters and local news agencies have tried to contact the mystery buyer in order to highlight his story. As it turns out, this is one hero who has decided to remain unidentified.
History of the Girl Scouts
The Girl Scouts were founded by Juliette Gordon Low in 1912, during the middle of what we now call the Progressive Era. It was at this point in American history that women couldn't vote and this was something that frustrated the nearly deaf Juliette Gordon Low to no end. In order to fight back against this oppressive, Juliette would host events with fellow women, playing games, hiking, camping, and learning about the world around them.
Juliette and her girls would learn different languages, how to lend a helping hand, and how to read the stars. Thanks to these early efforts, the Girl Scouts Club would grow by leaps and bounds over the years, potentially to a level that Juliette never could have imagined. At the time of this writing, and according to the Girl Scouts, there are more than 1.7 m million girls and 750,000 adults within the organization across 92 countries.