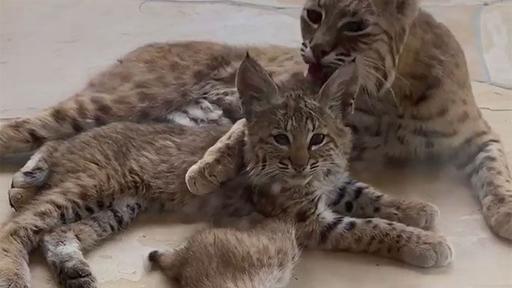 Bobcat Visits Homeowner, Brings Her Five Excited Kittens!
Would you consider yourself a cat person? Do you find yourself drawn to petting or cuddling with just about anything furry? If so, this story might be right up your alley! Earlier this year, a homeowner in the Midwest opened her front porch to find a massive female bobcat on her deck. As bobcats are the most populous wildcat in all of North America, this in and of itself wasn't a shock or a revelation. What came next, however, was as exciting as anything you could hope to find on your porch in the morning.
Before we dive into this exciting story, let's peel back our understanding of wildcats and bobcats. Bobcats are roughly double the size of a traditional house cat and many times more dangerous than their domesticated counterparts. Female bobcats tend to be smaller than their male counterparts, though both genders hover around three feet in length and roughly 20 to 30 pounds in weight. These polygamous animals mate during the winter and will give birth to up to six kittens in roughly two months. From there, the kittens will continue to nurse for an additional two months before eventually leaving home behind after a year.
During their youth, bobcat kittens are blind and as such will stay really close to their parents. After about eight weeks, bobcat kittens are significantly larger and more active. When this mama Bobcat came back to visit the homeowner in question, she brought along her entire litter! If you are a cat person, having a litter of bobcat kittens on your deck has to be a dream come true. Thankfully, the owner of the home went overboard on capturing photographs and we couldn't be happier if we wanted to. Just look at these small beans!
While wildcats aren't exactly rare or reclusive creatures, it is pretty unusual for people to get this close to wild animals. Thanks to the glass screen between the door and the deck, the owner of the home was able to get the kind of pictures that we can only dream of. The homeowner, one Kathy Maniscalco, considered herself as lucky as anyone when the mama Bobcat chose her porch to settle in on. As Kathy watched the kittens, she realized that there were five of them with the young Bobcat — this meant that the mother had nearly a full litter!
Bobcats are crepuscular animals that live relatively solitary lives when they are not mating or raising kittens. Living upwards of 12 to 13 years, bobcats are natural prey to wolves and cougars with bobcat kittens preyed upon by both owls and coyotes. Bobcats don't really have a history of attacking humans because they are fickle and easy to scare. If a bobcat does seem willing to attack a human, it means that they have rabies or are potentially near their kittens. In either situation, creating space is the safest course of action.
How would you react if you found a litter of bobcat kittens on your deck?
More than Three Decades After Adoption, DNA Reunites Mother and Son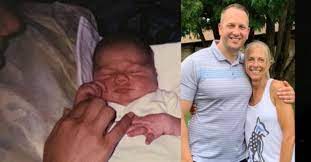 Melanie Pressley found out she was pregnant when she was 18 years old. Her boyfriend insisted on a termination, which she declined, but she worried that she wouldn't be able to give her kid the life he deserved. She gave her baby child up for adoption, but she never forgot about him. The mother and son have eventually reunited after 33 years apart.
Pressley described what lead her to explore adoption in an interview. "I simply knew I wouldn't be able to accomplish it financially," she explained. "And the second issue is that I wished him to have parents, so I thought it best to place him for adoption at that juncture."
During her pregnancy, Pressley engaged with an adoption center with the help of her family. She gave birth to her son in June of 1988 but didn't name him. After an initial objection, she convinced a nurse to hold the baby, and her sister snapped a photo.
Even after marrying and having three additional children, she pondered what her first child looked like while stressing every year on his birthday. After the death of Pressley's mother, she became overwhelmed with the desire to meet her son and cried since her mother never got the opportunity.
As a result, one of her daughters sent her a 23andMe kit as a surprise gift in May 2021. Meanwhile, her kid was doing the same activity approximately 300 miles away.
When Greg Vossler was nine years old, his parents informed him that he was adopted, but he was uninterested in learning more about his biological family. "I used to joke that 'I don't see a star who looks like me,' or 'No one who is a king or queen in some foreign nation looks like me,'" he remarked. "And I always claimed it was a joke. It was my method of getting that fast reply in my back pocket whenever someone asked; I'd never actually given it any serious thought."
But later, Vossler had his child, a son whom he named after himself. "One night, my spouse and I were relaxing and talking, and I remarked, 'I don't know anything about my medical records, heredity, or where I came from,'" he recalled. "And there was some 23andMe campaign going on." As a result, I took the exam."
Vossler did the test in 2019; therefore, when Pressley sent in her specimen in 2021, he was immediately identified as a match. Pressley stated, "I immediately sent a reply, and my first text was, I believe we're related." "I feel I am your birth mother," said the following message. And it just exploded up from there."
They started conversing, though Pressley stated that she didn't want to hear his voice until they met in person. They were ultimately reunited earlier this summer, and the bond was instantaneous. Vossler not only met his original mother, but he also received new family members. Meanwhile, Pressley has a recent photo of herself with her long-lost son.
"Everyone is emotional; they're all holding hands or hugging one other. 'Hey, I'm your half-brother, half-sister,' and so on. Melanie's elder sister, who was key in permitting Melanie to take that initial photo, approached me and touched my face. "It's the first time she's seen me in 33 years," Vossler said. "It's an incredible sensation. And that demonstrates that there's always space for families to develop and more love to share among them."