Beautiful Story Of A 96-Year-Old Grandma Experiencing Snow For The First Time Ever.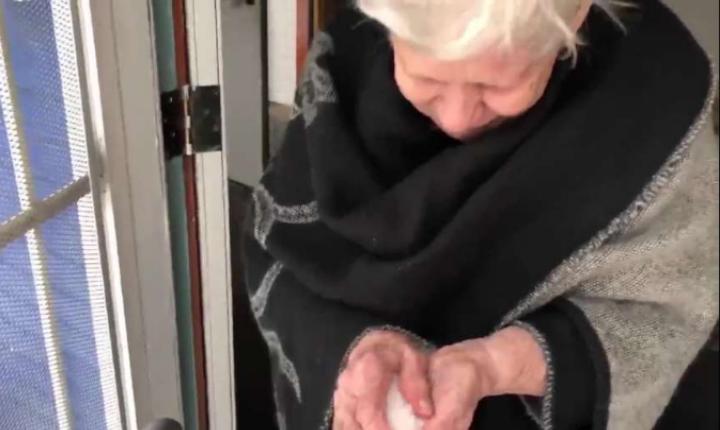 Do you remember the first time that you saw snow? Whether you were three years old or thirty, your reaction was probably priceless. There is something magical about seeing those big fluffy flakes falling from the sky. Oria Carrera lived her entire life in Miami, FL alongside her longtime husband. At 96 years old, Oria had experienced plenty that life had to offer. Well, except for that illusive snowfall. When her husband died in June of 2018, Carrera decided that she had had enough. She decided she would move near her son and she was going to see some snow. While the trip from Miami to Washington D.C. was a long one, her reaction to seeing snow for the first time was well worth the wait.
Making Her Way North
Leaving her longtime home behind had to have been difficult for Carrera, as was dealing with the loss of her husband. Still, moving to her family was more than sensible, it was the right thing to do. Carrera left Florida in the heart of summer and in doing so she left the extreme temperatures of Miami behind. Landing in Washington D.C. safe and sound, Carrera wouldn't have to wait long for the temperatures to change. Alongside her son Armando, Carrera anxiously waited for winter to arrive so that she could experience her first snowfall in person. While you or I might take snow for granted, Oria had gone nearly 100 years without ever touching a flake of the stuff for herself. This was a big moment.
Snow On The Horizon
By the time November rolled around, snow was in the forecast and that meant that Oria was going to finally get to experience her first taste of real snow. This wasn't going to be the snow you see in movies or on the television. This wasn't going to be another winter storm that she read about from the comfort of her home back in Miami. She was going to be able to reach out and touch the stuff all for herself. Snow would be real for Oria for the first time in her life. So, naturally, Armando reached for his camera in order to document the experience.
In the video captured by Armando, Oria can be seen staring out her front door at the falling flakes of snow. To natives of Washington D.C., this was just another 'first day of snowfall'. What could possibly be so special about a light dusting of snow? While we don't blame people for being jaded to the beauty of winter's delight, we can't help but smile at the way that Carrera embraced the experience.
Oria's First Experience With Snow
Armando led Oria to their back porch so that he could assist her in coming outside. Oria was the portrait of excitement as her 96-year-old frame squirmed like a child as the snow-dusted her face, hands and coat. Oria reached out for the snow, capturing a few snowflakes in her palm before exclaiming, "I love it very, very much." Oria went on to describe how happy she was to get to experience the natural beauty. Later on in the video, exclaiming her disbelief, we get to see Oria roll up a snowball before tossing it at her son.
Sometimes it is important to step back and take the little things in life as they are: small miracles that give great joy. Carrera reminded the world, if only for a moment, that even the most tired aspects of our daily life can be something beautiful to behold.
Mother Goose Saves Her Babies from a Hungry Leopard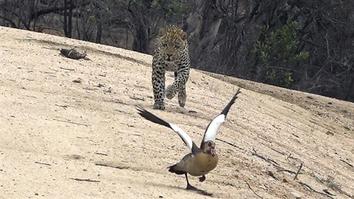 There is a saying down south that goes, "Don't mess with momma!" A mother will do anything they can to protect their offspring. It does not matter if it is a "David and Goliath" situation. Leopards are one of the quickest creatures on the planet. A hungry leopard cornered a family of Egyptian Geese, and the mother goose saved her babies with intelligence.
In South Africa, at the Sabi Sands Game Reserve, a male leopard was captured on video how he planned to have geese for dinner. The leopard was quickly outsmarted by the mother goose who separated herself from the flock and her young. She faked a wing injury and caught the attention of the leopard, forcing him to chase her instead of the others. The mother knew this was the only way to save her babies which was too young to run or fly away. This heroic act drew the leopard away so the other geese could take the babies to safety.
If an animal senses its prey is injured, it will be its choice of the kill. This mother goose timed it perfectly and was in the perfect environment. Leopards can only hold their speed and stamina for a short time. The mother goose kept the leopard chasing her through a water hole which wore out the leopard. When the mother goose saw the leopard was exhausted, she continued to fake the injury upon getting out of the water with the leopard on her tail. When the mother goose had the leopard far away from doing any harm to the flock and her babies, the tired leopard gave up the chase. The mother goose made her way back to the flock and mother and babies were reunited safe and sound.
There are different types of geese, but they all keep the same loyalty to their flock. For example, if one goose gets hurt or sick and falls out of formation, then a few geese will stay with the sick or injured for protection. They will not leave the goose until it dies or flies. The geese will remain with each other when they take off again. They may fly with another flock until they catch up to their own.
Geese are territorial creatures and can get vicious when people walk by their family or their babies. If they have a nest and someone walks by, rest assure, they will attack. Geese will not attack a predator. In the case of this leopard or another large predator, they use their intelligence to ward them off. It can be amazing to watch nature and how intelligent some animals are.
Here we learn of the heart of a mother and the loyalty of a flock of geese. We learned how instinct takes over fear, and this mother goose becomes the ultimate hero. The flock pulled together, and they all waddled away happy. The ultimate lesson is, in nature, it is the survival of the fittest, but it is also the survival of the smartest.