Animal rescue specialist removes gator from a residential property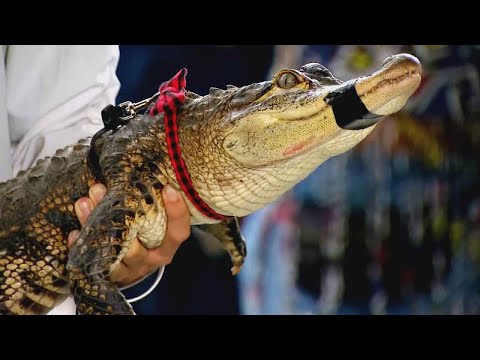 It is very common for wild animals to roam freely in the state of Florida. Gainesville is home to the largest population of gators in the world, who are often seen residing in freshwaters and even trespassing on people's private properties. Even though they primarily eat fish, birds, and other reptiles, but once big enough, they can prey on larger animals like deer and buffaloes, however, if given a chance can easily attack a human as well.
Their predatory nature is what makes them one of the most dangerous creatures in the world, so their proximity to humans in the area puts people to risk in their everyday lives. One such incident happened when a homeowner, Mr. Scott returned from a casual grocery run only to find a gator amusingly laying on the front porch of his house. Living in Gainsville for nearly more than 40 years, he was used to this sight and was well-rehearsed in the protocol that needed to follow. He immediately called the FWC's toll-free Nuisance Alligator Hotline. Andrew Dunlop picked up the phone who guided Mr. Scott to take some precautionary measures before the trapper arrived. The guidelines included to not feed the gator anything as this act can make it lose its natural fear of humans. Secondly, Andrew asked Mr. Scott to keep his distance as coming too close to the gator can cause it to explore what it normally would have avoided.
The trapper arrived within 20 minutes of the call. He was well equipped and seemed confident and experienced. He used the tapping technique where he put a fish as a bait on a hooked stick. He started tapping the baited stick on the floor, slowly nearing the reptile on the porch. Once the gator caught sight of the fish, it quickly moved his face towards it. Taking small and gradual steps, the gator plunged to the bait opening its mouth in an attempt to devour the fish. The hook on the stick caught its mouth and prevented the creature from escaping. The trapper slowly pulled the gator to his cage. The gator was showing rapid movements however the tapper along with the assistant was well trained in calming the creature by holding it with secure hands and placing the cage at the back of their van. Mr. Scott was asked by the trappers if he would like to accompany them to see the gator escape to its natural habitat. He responded in the affirmative and hopped on with them in the van.
A small lake at a 5 minutes' drive from Scott's neighborhood was located as the home for the captured gator. His cage was taken out on the shore and the reptile was slowly unhooked. With a quick and small splash, the gator quickly rushed in the water back to his haven.
Three Week Pet and House Sitting Turns Into a Year Long Mystery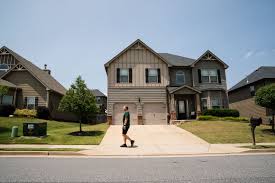 Any responsible pet owner knows that if you cannot bring the animals with you then you need to make arrangements to ensure they are taken care of. If you are going to be gone for any length of time it is also a good idea to have someone check in on the house once in a while to make sure everything is ok. Last year one Canadian man agreed to watch his neighbor's home while they were away.
The neighbors were going to be traveling for a few weeks visiting family overseas. They asked the man and his wife to watch the house and their pets and check on the house for three weeks while they went to Taiwan as his mother was dying and they wanted to see her and spend time with the family. They left the man $500 dollars for food for their 2 German Sheppards and their cat. The man agreed and went over daily to feed the pets and would walk through the house to check on things every week.
On July 1, he got an email asking if the man and his wife could watch things for a little longer. It was taking more time than they expected to take care of everything after his mother had died. They agreed and expected the man to return in 2 week's time. They never arrived and no other communications were received. On July 21, the man sent an email but never got a reply. By the end of the month the neighbor's cell phone had been disconnected and he was not responding to any email messages at all now. At some point in the following weeks a pipe had burst and ended up flooding the basement causing massive water damage. The man did not know what to do now since he still could not get in touch with the family.
He ended up paying someone out of his own pocket to have the leak fixed, and he also paid for one of their dogs to have surgery. This was quickly becoming a real nightmare situation, and worst of all, he had no idea how long it was going to last. He thought about trying to track them down via social media but they had a very common last name and he had no address or name for contact on who they were staying with in Taiwan so it seemed a search on his own was going to be fruitless.
The electricity was still running in the house, which the man credited to an autopayment. The internet was also still working. There was no way to track down a place of employment or other contact ins Canada who might know the couple and be able to help track them down. So, after waiting nearly a year, the man filed a missing person report with the police to try and get some help finding out what happened to the couple. Eventually, they got a response- there was good news and bad news.
The good news was that the couple were alive and well and not dead or in prison as the man had feared. The bad news was that they seemed to be very irresponsible and privileged people. They said they had asked a relative to come to get the pets and deal with the house but had never checked in with him to see if any of it had been done. They said the man and his wife could keep the pets if they wanted or he could find some way to take them off their hands. He also seemed to care little about the house and made a statement along the lines of – if we ever come back we can pay to fix it or just buy a new house.
The man said that he and his wife would keep the pets as they couldn't bear to give them up after a year of caring for them. They were also very worried about what this couple may do with animals they seemed to truly care so little about. It is one of the most bizarre stories ever, but at least it ends on a happy not and those pets are still in good hands and are being loved and cared for. But let this be a warning before anyone agrees to house sit or pet sit for something- get all the details and contact information before you ever say yes!