Adorable Shorebirds That Grow Up Quickly and Have Long Migrations
There are plenty of birds that spend a lot of time on land. People tend to associate birds with the process of flying. However, it takes a lot of energy for any bird to fly. Flightless birds, like ostriches, are actually relatively common. Still, many of the birds that can fly still spend a lot of time walking or running.
Bird watchers often appreciate the fact that some birds still do remain on land. It makes birds significantly easier to observe. Even when birds are perched on trees or in bushes, they tend to blend in with all of their natural surroundings very easily. It's an ability that protects them from predators and competing birds. However, people who are just interested in calmly watching them can still face challenges in these situations.
The birds that don't spend as much time flying can also be seen from many different angles. Bird watchers can see the birds from above when birds are walking on land. It's also easy to appreciate the fact that many birds walk differently than many other animals. They have tiny and narrow legs, and they seem to wobble as they walk. Lots of people find that adorable.
Birds might generally be cute, but they always seem so powerful and majestic when flying. They seem somewhat awkward when walking. Birds make quite a memorable impression either way.
Seagulls are still probably the most famous of all shorebirds. However, there are still plenty of other shorebirds out there. It's easier today to learn about new shorebirds, including piping plovers.
These little seabirds rarely weigh more than sixty-four grams, and some of them only weigh about forty-three grams each. When they reach full adulthood, piping plover birds are still only around twenty centimeters in length. However, the birds are still very recognizable when people do get the chance to see them in person.
Their legs and beaks are both orange. They have black feathers around their necks, making it look as if they're wearing collars or scarves. Since those markings extend to the top of their heads in some cases, it can also look like they're wearing little hats or headbands.
The feathers on their backs and the backs of their heads are light gray. Otherwise, piping plover birds are white. They can look as if they're wearing gray coats, and they have white shirts underneath. These markings actually can help them blend in with the sand and beach landscapes.
Many people will find them striking. Infant piping plover birds are particularly cute, especially when they're together in a group. These infants actually don't spend much time inside their nests. It only takes them about twenty days to become mature enough to fly, at least for brief periods of time. After another week, these birds are capable of migration. Their early lives progress very quickly.
People can find piping plover birds in the broader Great Lakes area on the beaches. They're also still frequently found throughout the wetland ecosystems in today's Great Plains. Sadly, wetland ecosystems are still being threatened, which is also the case for piping plover birds.
Conservation efforts have actually been helping piping plover birds since 1991, and there are more of them now than there were back then. However, they're still either a threatened species or an endangered one. Their nests often get damaged by tourists. However, with the right guidelines, it should be possible to prevent these problems.
Individuals who live throughout the Gulf Coast might see the piping plovers, because these birds migrate there. They're specifically found on the beaches adjacent to the Atlantic Ocean.
Father in Bumblebee costume escorts his kid back to school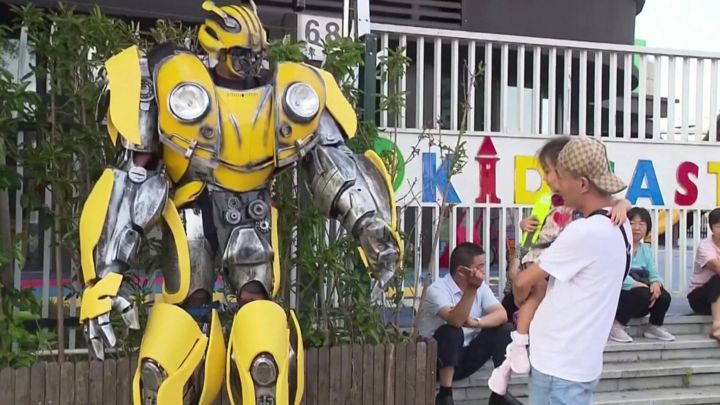 Bumblebee from the American sci-fi movie series Transformers never had a kid, but if he did, he'd have definitely escorted him to school.
A father in Shanghai, China has gone above and beyond to encourage his kid to go back to school after staying at home for months due to the Covid-19 pandemic. There's no way any child is refusing to walk with Bumblebee into school, and this man had that in mind when building his Autobot suit.
Just like the rest of the world, China had been on lockdown, and for months, kids had to stay away from school to prevent infection and spread of the deadly virus. However, some normalcy is being restored in some parts of the region, and schools now have the green light to open and allow children continue with their education.
The Bumblebee suit wasn't only for his kid, though. He built it to serve as some amusement and surprise to other kids at school- and that he did.
"I also want to bring happiness to other children. I didn't only wear it for my own child. All of them were preschoolers," he said in the video.
His suit looks like the real thing. The only things missing were metal, alien technology, and missiles- not much, right? Standing about 2.3-metre tall, the suit was built using soft materials to prevent touchy and curious children from getting injured- and he was right to have done that because he was rushed and hugged by children upon arrival at the school.
The excitement of the kids at the sight of Bumblebee could light up astronomical units of outer space, as the intergalactic warrior once again put smiles on the faces of humans. Kudos to this amazing dad for his efforts to make kids happy to resume back to school- he'd probably do it every day if he could.
The home-made suit seems to be inspired by the 2017 movie Bumblebee.