Adorable Shorebirds That Grow Up Quickly and Have Long Migrations
There are plenty of birds that spend a lot of time on land. People tend to associate birds with the process of flying. However, it takes a lot of energy for any bird to fly. Flightless birds, like ostriches, are actually relatively common. Still, many of the birds that can fly still spend a lot of time walking or running.
Bird watchers often appreciate the fact that some birds still do remain on land. It makes birds significantly easier to observe. Even when birds are perched on trees or in bushes, they tend to blend in with all of their natural surroundings very easily. It's an ability that protects them from predators and competing birds. However, people who are just interested in calmly watching them can still face challenges in these situations.
The birds that don't spend as much time flying can also be seen from many different angles. Bird watchers can see the birds from above when birds are walking on land. It's also easy to appreciate the fact that many birds walk differently than many other animals. They have tiny and narrow legs, and they seem to wobble as they walk. Lots of people find that adorable.
Birds might generally be cute, but they always seem so powerful and majestic when flying. They seem somewhat awkward when walking. Birds make quite a memorable impression either way.
Seagulls are still probably the most famous of all shorebirds. However, there are still plenty of other shorebirds out there. It's easier today to learn about new shorebirds, including piping plovers.
These little seabirds rarely weigh more than sixty-four grams, and some of them only weigh about forty-three grams each. When they reach full adulthood, piping plover birds are still only around twenty centimeters in length. However, the birds are still very recognizable when people do get the chance to see them in person.
Their legs and beaks are both orange. They have black feathers around their necks, making it look as if they're wearing collars or scarves. Since those markings extend to the top of their heads in some cases, it can also look like they're wearing little hats or headbands.
The feathers on their backs and the backs of their heads are light gray. Otherwise, piping plover birds are white. They can look as if they're wearing gray coats, and they have white shirts underneath. These markings actually can help them blend in with the sand and beach landscapes.
Many people will find them striking. Infant piping plover birds are particularly cute, especially when they're together in a group. These infants actually don't spend much time inside their nests. It only takes them about twenty days to become mature enough to fly, at least for brief periods of time. After another week, these birds are capable of migration. Their early lives progress very quickly.
People can find piping plover birds in the broader Great Lakes area on the beaches. They're also still frequently found throughout the wetland ecosystems in today's Great Plains. Sadly, wetland ecosystems are still being threatened, which is also the case for piping plover birds.
Conservation efforts have actually been helping piping plover birds since 1991, and there are more of them now than there were back then. However, they're still either a threatened species or an endangered one. Their nests often get damaged by tourists. However, with the right guidelines, it should be possible to prevent these problems.
Individuals who live throughout the Gulf Coast might see the piping plovers, because these birds migrate there. They're specifically found on the beaches adjacent to the Atlantic Ocean.
Young Boy Keeps Toy He Was Measured Against As A Premature Baby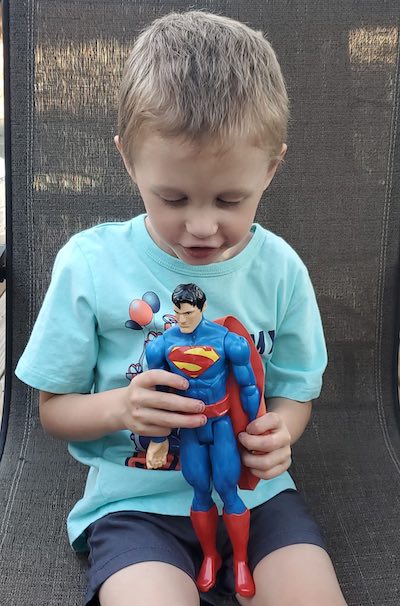 Doctors sent home a woman and her husband to prepare for a miscarriage, but the defiant parents stayed put and now have the tale of a lifetime to tell.
So does their four-year-old son Logan Ray, born less than six months of pregnancy, has a Superman action-figure as proof of how small he was at birth. He was only 12 inches in length and weighed a pound and a half. He and the action figure his parents Rob and Val placed beside him shortly after his birth, are now inseparable.
How did this fascinating and heartwarming story come about?
Nearly five years ago, when Val was pregnant with their son, doctors wiped the smiles off their faces by announcing that the baby would not make it to full term. The Physician claims the baby would not survive at all, and they should brace themselves for any eventuality.
The reason for the bad news was that Val had been diagnosed with a cervix problem. The doctors said examinations showed her Cervix was incompetent. That situation usually transpires when unstable cervical tissue induces or contributes to premature delivery or the loss of pregnancy even though the gestation is, on the other hand, healthy.
Val and Rob blocked out the bad news they received, and we're adamant that they would remain in the hospital to see the pregnancy through. The baby was a fighter too and stayed put for all of twenty-three weeks. Val helped out by keeping her feet elevated and staying in bed for three weeks without getting up to do anything that could further jeopardize the pregnancy.
She gave birth to a child now known as the "Superman Baby" for dual reasons. He was mighty strong and put up a fight to survive, and he was the size of a Superman toy. The toy idea came about when the nurses suggested to the mom that she should use something like a keepsake to measure the baby alongside. When she ran the idea by her husband, he was very supportive and they agreed on the Superman novelty.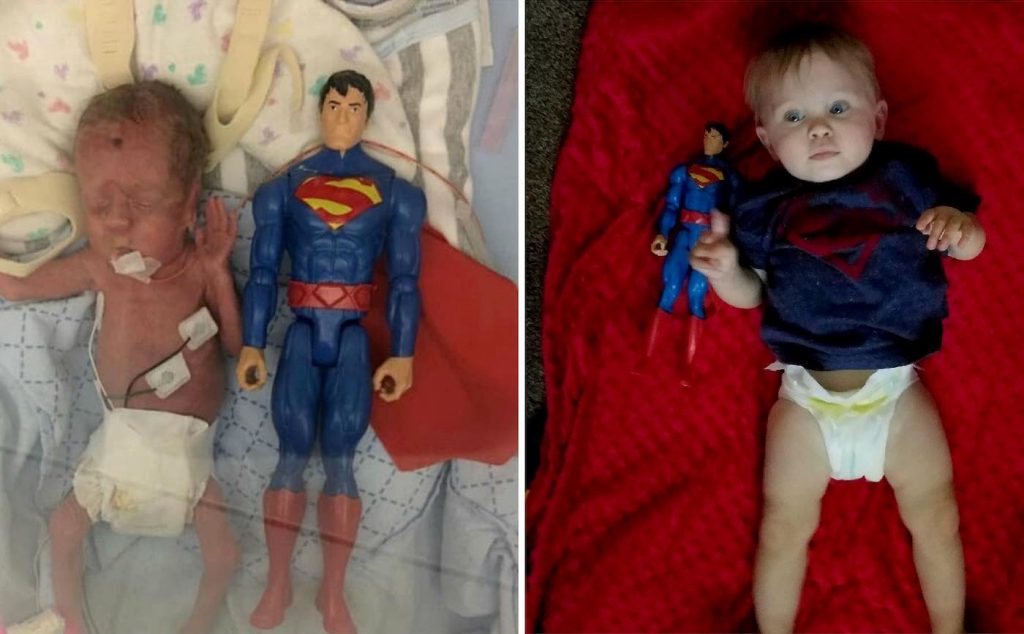 The doll was sanitized and placed beside Logan. For fifteen weeks, he remained in an incubator at the Randall Children's Hospital in Portland, Oregon fighting a myriad of complications that many feared would hinder the survival of Logan, but he pulled through like a champ. It was after those four months that he was finally able to leave with his parents.
From the hospital days to now, four years later, Val has been taking a multitude of photos with Logan carrying around his action figure. The doll is an indicator of Logan's successful development after a traumatic experience in the first few months of his life.
According to the happy and grateful parents, they communicate with the doctor who wants a regular update on Logan, who he refers to as " tough."
Many people consider not just Logan's survival but the fact that he has no further complications a miracle. Just like his action figure, Logan is healthy and strong as any regular child his age. His parents say they will never get rid of the Superman tog as memorabilia is not just for them, but for Logan when he becomes an adult.
He will have a tear-jerking story to tell years from now if or when he becomes a parent as well.