A White Reindeer is Found In Norway and It's Amazing!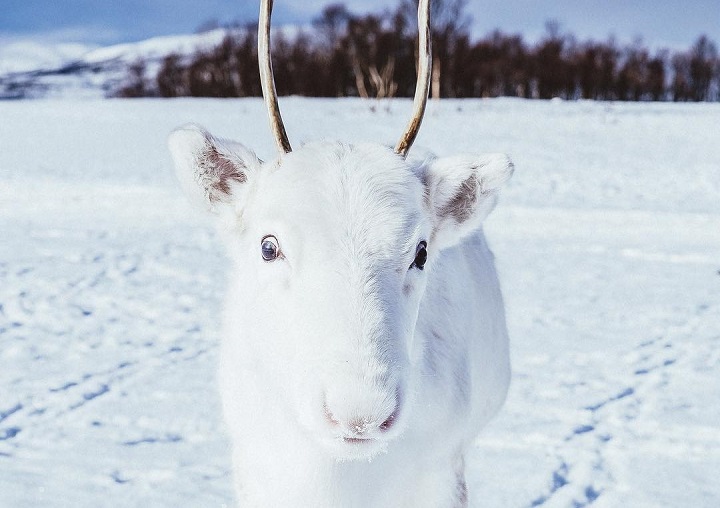 The wonders of nature are always something to marvel at. When we see an animal that is out of the ordinary, it only stands to help show us how truly great nature can be. We are always searching for proof that there are still marvelous things out there and this reindeer calf does just that.
Stunning Discovery
In Norway there is a calf that is as white as the snow that it treads. Photographer Mads Nordsveen took phots of a this stunning little calf for the world to see. The photographer was set to take a trip through the wilderness to take some photos of the landscape. There he found something truly stunning. The 24 year old photographer nearly missed the calf as it was walking away because it blended with the snow. He snapped a few photos because he knew that what he had found was more rare, and more stunning than anything he had ever seen before.
White Reindeer in the Wild
Reindeer are commonly a greyish brown color and tend to go with little variation. The rarity of a white reindeer calf is very extreme with only one in fifty reindeer inheriting the trait for white fur. He stood still and watched from afar and was even more amazed by what happened next, the little deer came up to him. He fully expected that the deer would flee when he moved to snap its picture but it seemed to feel that he was calm and was not a threat. The calf came right up to him and allowed him to take photos for a while. He snapped as many photos as time would allow while the mother of the deer stood by watching him.
He marveled at the boldness of the little calf and admired the little calf all the while it stood by and watched him. He noted later that it seemed almost as if the tiny deer knew what the camera was and knew that he was taking its photo. He took a series of photos to help make sure that the moment would be immortalized forever and that he would be able to take this experience with him. He was no doubt left awestruck and dumfounded and did not know what to think with this stunning little deer so close to him.
What Causes White Fur?
The reindeer that Nordsveen encountered was not a typical albino deer. Though albinism is possible, it is not terribly common. Instead, the animal that was seen here was likely just a genetic anomaly. Most reindeer are going to have the genetic code for white fur buried in their DNA sequence, it is the one in 50 derer that not only inherit the gene but that it also displays itself when the calf is born.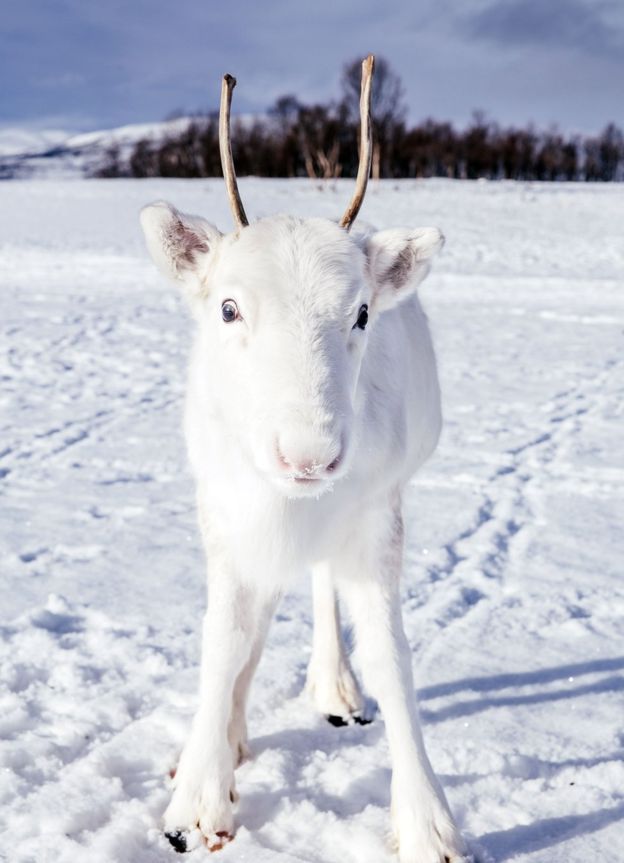 Reindeer in Norway
Reindeer are a fairly common animal in the icy and snowy landscape of Norway. There are around 200,000 reindeer in the wilds of Norway and commonly they are not as friendly as the little deer that Nordsveen encountered. In most cases, reindeer are going to skitter away and run from anything that seems like it may even potentially be a threat. Reindeer are prey animals and are often taken down by things like hunters, big cats, and larger carnivorous animals. When startled, reindeer can actually be quite dangerous and can even cause great injury or death to those that present them with a threat or make them feel like they are in danger in any way.
This certainly is a stunning story that he will be able to tell his family for years to come.
Zookeepers Set Up Camera And Capture Pregnant Rhino Giving Birth Without Any Assistance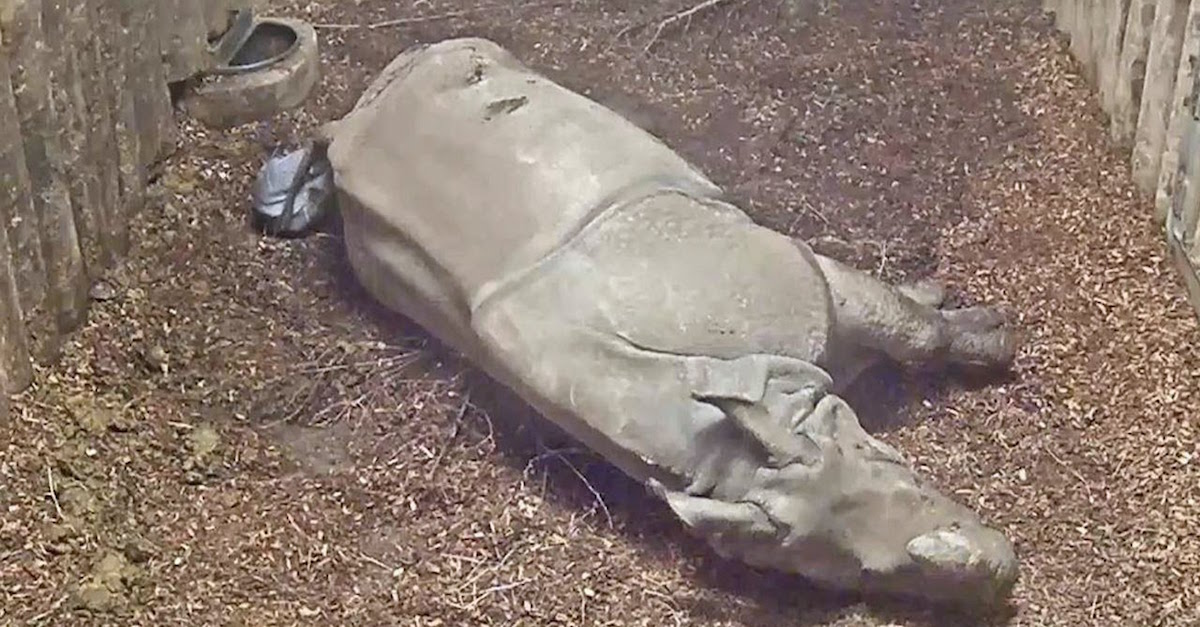 For a whopping sixteen months, Asha carried her baby in her womb. Asha, a rare greater one-horned rhinoceros, lives at the Chester Zoo in Cheshire, England. Luckily, her labor and delivery were much quicker than the gestational period was for her baby Rhino to come into the world.
After only about 20 minutes of labor, Asha successfully delivered a healthy male calf in the early morning hours on May 3, 2018, at her home at the Chester Zoo. The staff at the zoo were able to capture Asha's labor and delivery on video. The mama had an easy delivery on the floor of her enclosure and did not require assistance from the staff as she labored and brought her 132-pound baby boy. Once he is fully grown, Asha's son will balloon to an eye-popping two tons plus in weight!
Guests of the Chester Zoo were excited to visit the little rhino and his mama in their exhibit. Asha's baby is named Akeno which means "beautiful sunrise." Along with his birth, Akeno's first steps were also caught on tape along with snuggles with his 11-year-old mother Asha. They are a hit at the zoo and seem to be getting along well.
The staff at the well-visited zoo have been working towards keeping beautiful animals like Asha and baby Akeno together and better protected. One-horned rhinos are one-horned rhinos that are endangered at this point in a critical way and the staff is hoping the miraculous birth will not only attract visitors to the zoo but will draw attention to their work on this front. Animals like Asha and baby Akeno are the object of hunters who illegally poach them to be able to obtain their horns and sell them. There is a market for them as they are used in traditional Chinese medicine. A hunter can sell a single horn on the Asian black market for around $65,000 United States dollars. Even more offensive is the fact that wealthy hunters simply want the horns to hang on their walls and show off to friends as a status symbol of wealth and popularity.
According to a staff member of the Chester Zoo, not long ago there were less than 200 greater one-horned rhinoceros in the wild.
"They were hunted almost to extinction. Just in time steps were taken to protect them. Now there are about 2,600, but they still face threats in India and Nepal… it's important we do all we can to stop their numbers going down to critical levels again."
As the staff and many others work hard to fight against the illegally poaching of these beautiful animals, Asha and Akeno, who appears like he is dressed in a dark gray suit of armor, are enjoying their stay at the zoo and the many delighted visitors they come into contact with each day. The birth of Akeno on video has drawn more new visitors to the Chester Zoo and everyone seems to be happy with this new situation.