A White Reindeer is Found In Norway and It's Amazing!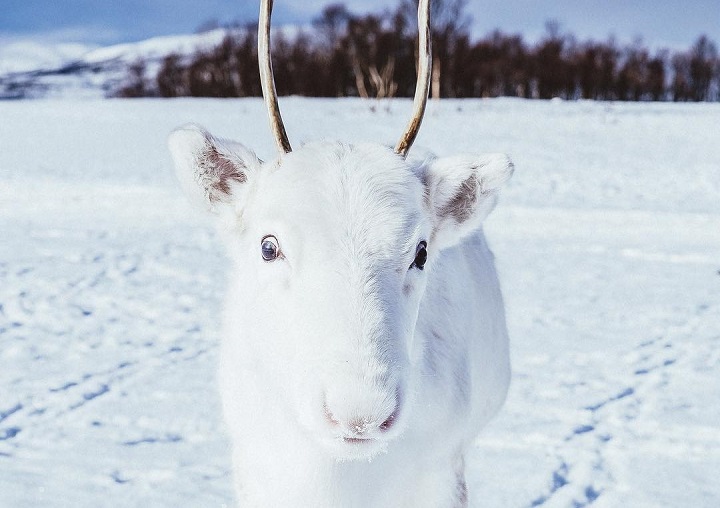 The wonders of nature are always something to marvel at. When we see an animal that is out of the ordinary, it only stands to help show us how truly great nature can be. We are always searching for proof that there are still marvelous things out there and this reindeer calf does just that.
Stunning Discovery
In Norway there is a calf that is as white as the snow that it treads. Photographer Mads Nordsveen took phots of a this stunning little calf for the world to see. The photographer was set to take a trip through the wilderness to take some photos of the landscape. There he found something truly stunning. The 24 year old photographer nearly missed the calf as it was walking away because it blended with the snow. He snapped a few photos because he knew that what he had found was more rare, and more stunning than anything he had ever seen before.
White Reindeer in the Wild
Reindeer are commonly a greyish brown color and tend to go with little variation. The rarity of a white reindeer calf is very extreme with only one in fifty reindeer inheriting the trait for white fur. He stood still and watched from afar and was even more amazed by what happened next, the little deer came up to him. He fully expected that the deer would flee when he moved to snap its picture but it seemed to feel that he was calm and was not a threat. The calf came right up to him and allowed him to take photos for a while. He snapped as many photos as time would allow while the mother of the deer stood by watching him.
He marveled at the boldness of the little calf and admired the little calf all the while it stood by and watched him. He noted later that it seemed almost as if the tiny deer knew what the camera was and knew that he was taking its photo. He took a series of photos to help make sure that the moment would be immortalized forever and that he would be able to take this experience with him. He was no doubt left awestruck and dumfounded and did not know what to think with this stunning little deer so close to him.
What Causes White Fur?
The reindeer that Nordsveen encountered was not a typical albino deer. Though albinism is possible, it is not terribly common. Instead, the animal that was seen here was likely just a genetic anomaly. Most reindeer are going to have the genetic code for white fur buried in their DNA sequence, it is the one in 50 derer that not only inherit the gene but that it also displays itself when the calf is born.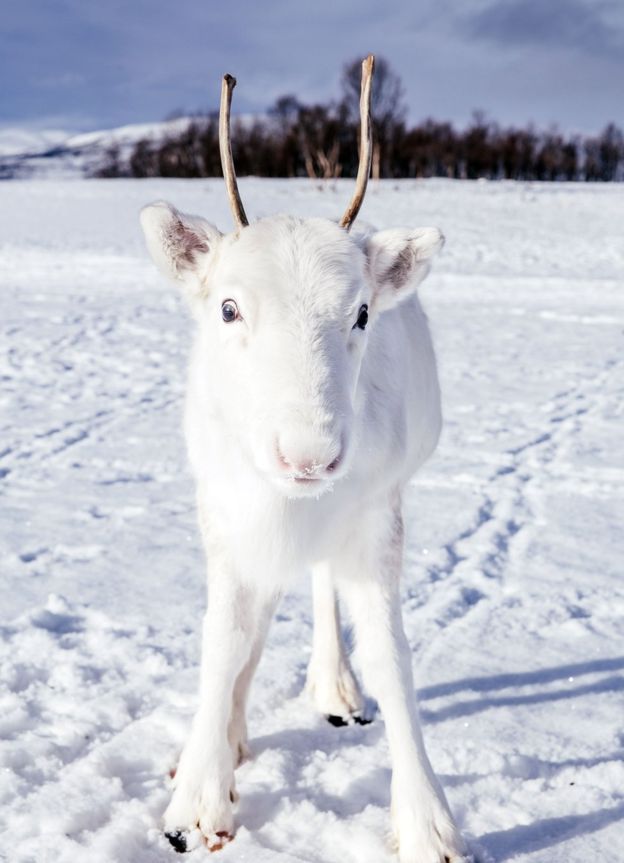 Reindeer in Norway
Reindeer are a fairly common animal in the icy and snowy landscape of Norway. There are around 200,000 reindeer in the wilds of Norway and commonly they are not as friendly as the little deer that Nordsveen encountered. In most cases, reindeer are going to skitter away and run from anything that seems like it may even potentially be a threat. Reindeer are prey animals and are often taken down by things like hunters, big cats, and larger carnivorous animals. When startled, reindeer can actually be quite dangerous and can even cause great injury or death to those that present them with a threat or make them feel like they are in danger in any way.
This certainly is a stunning story that he will be able to tell his family for years to come.
Mother Goose Saves Her Babies from a Hungry Leopard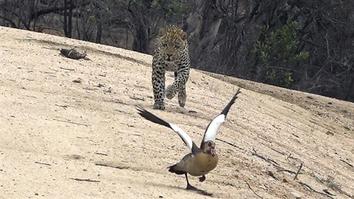 There is a saying down south that goes, "Don't mess with momma!" A mother will do anything they can to protect their offspring. It does not matter if it is a "David and Goliath" situation. Leopards are one of the quickest creatures on the planet. A hungry leopard cornered a family of Egyptian Geese, and the mother goose saved her babies with intelligence.
In South Africa, at the Sabi Sands Game Reserve, a male leopard was captured on video how he planned to have geese for dinner. The leopard was quickly outsmarted by the mother goose who separated herself from the flock and her young. She faked a wing injury and caught the attention of the leopard, forcing him to chase her instead of the others. The mother knew this was the only way to save her babies which was too young to run or fly away. This heroic act drew the leopard away so the other geese could take the babies to safety.
If an animal senses its prey is injured, it will be its choice of the kill. This mother goose timed it perfectly and was in the perfect environment. Leopards can only hold their speed and stamina for a short time. The mother goose kept the leopard chasing her through a water hole which wore out the leopard. When the mother goose saw the leopard was exhausted, she continued to fake the injury upon getting out of the water with the leopard on her tail. When the mother goose had the leopard far away from doing any harm to the flock and her babies, the tired leopard gave up the chase. The mother goose made her way back to the flock and mother and babies were reunited safe and sound.
There are different types of geese, but they all keep the same loyalty to their flock. For example, if one goose gets hurt or sick and falls out of formation, then a few geese will stay with the sick or injured for protection. They will not leave the goose until it dies or flies. The geese will remain with each other when they take off again. They may fly with another flock until they catch up to their own.
Geese are territorial creatures and can get vicious when people walk by their family or their babies. If they have a nest and someone walks by, rest assure, they will attack. Geese will not attack a predator. In the case of this leopard or another large predator, they use their intelligence to ward them off. It can be amazing to watch nature and how intelligent some animals are.
Here we learn of the heart of a mother and the loyalty of a flock of geese. We learned how instinct takes over fear, and this mother goose becomes the ultimate hero. The flock pulled together, and they all waddled away happy. The ultimate lesson is, in nature, it is the survival of the fittest, but it is also the survival of the smartest.