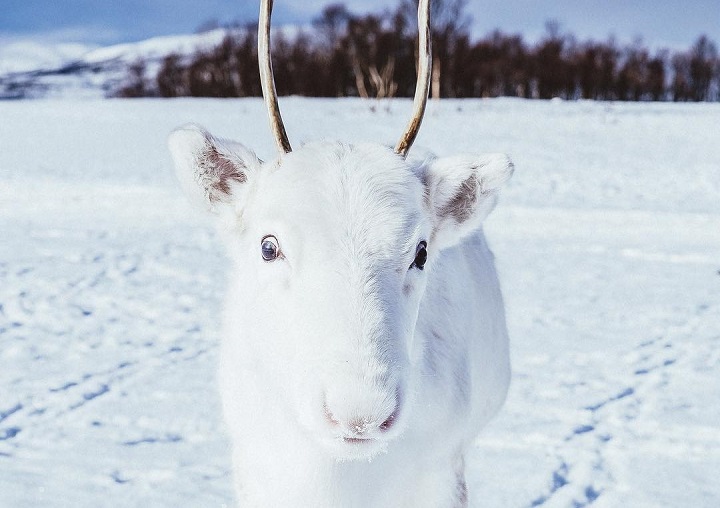 A White Reindeer is Found In Norway and It's Amazing!
The wonders of nature are always something to marvel at. When we see an animal that is out of the ordinary, it only stands to help show us how truly great nature can be. We are always searching for proof that there are still marvelous things out there and this reindeer calf does just that.
Stunning Discovery
In Norway there is a calf that is as white as the snow that it treads. Photographer Mads Nordsveen took phots of a this stunning little calf for the world to see. The photographer was set to take a trip through the wilderness to take some photos of the landscape. There he found something truly stunning. The 24 year old photographer nearly missed the calf as it was walking away because it blended with the snow. He snapped a few photos because he knew that what he had found was more rare, and more stunning than anything he had ever seen before.
White Reindeer in the Wild
Reindeer are commonly a greyish brown color and tend to go with little variation. The rarity of a white reindeer calf is very extreme with only one in fifty reindeer inheriting the trait for white fur. He stood still and watched from afar and was even more amazed by what happened next, the little deer came up to him. He fully expected that the deer would flee when he moved to snap its picture but it seemed to feel that he was calm and was not a threat. The calf came right up to him and allowed him to take photos for a while. He snapped as many photos as time would allow while the mother of the deer stood by watching him.
He marveled at the boldness of the little calf and admired the little calf all the while it stood by and watched him. He noted later that it seemed almost as if the tiny deer knew what the camera was and knew that he was taking its photo. He took a series of photos to help make sure that the moment would be immortalized forever and that he would be able to take this experience with him. He was no doubt left awestruck and dumfounded and did not know what to think with this stunning little deer so close to him.
What Causes White Fur?
The reindeer that Nordsveen encountered was not a typical albino deer. Though albinism is possible, it is not terribly common. Instead, the animal that was seen here was likely just a genetic anomaly. Most reindeer are going to have the genetic code for white fur buried in their DNA sequence, it is the one in 50 derer that not only inherit the gene but that it also displays itself when the calf is born.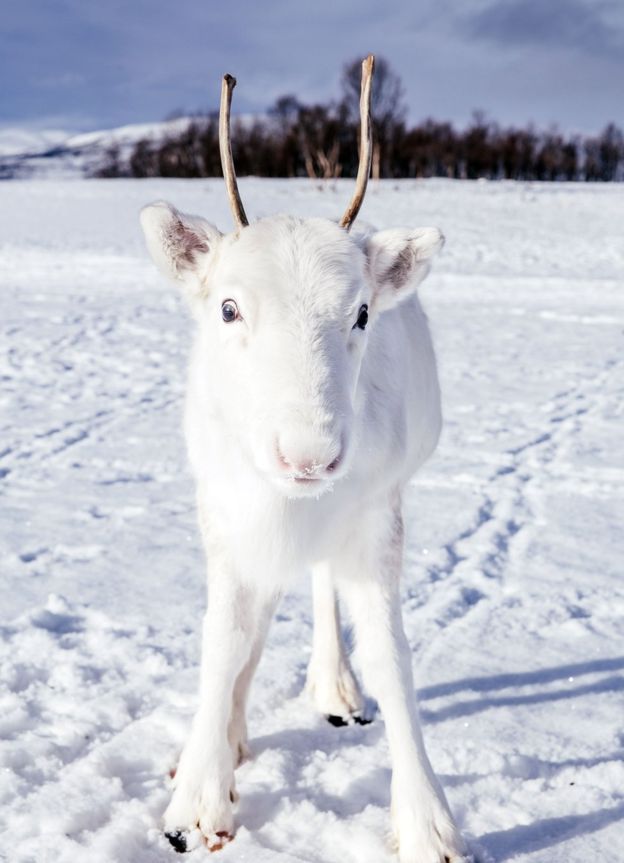 Reindeer in Norway
Reindeer are a fairly common animal in the icy and snowy landscape of Norway. There are around 200,000 reindeer in the wilds of Norway and commonly they are not as friendly as the little deer that Nordsveen encountered. In most cases, reindeer are going to skitter away and run from anything that seems like it may even potentially be a threat. Reindeer are prey animals and are often taken down by things like hunters, big cats, and larger carnivorous animals. When startled, reindeer can actually be quite dangerous and can even cause great injury or death to those that present them with a threat or make them feel like they are in danger in any way.
This certainly is a stunning story that he will be able to tell his family for years to come.
Father in Bumblebee costume escorts his kid back to school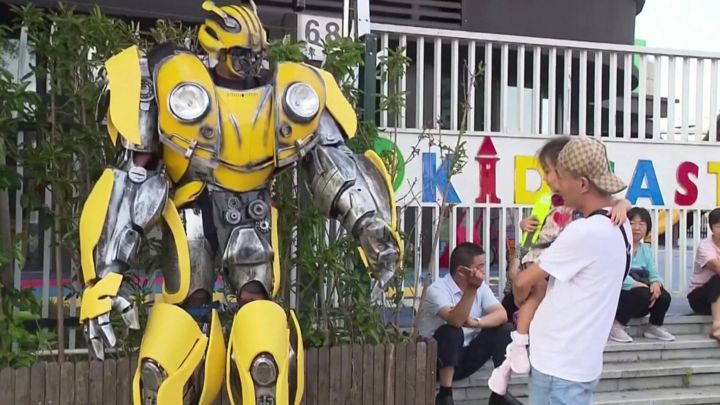 Bumblebee from the American sci-fi movie series Transformers never had a kid, but if he did, he'd have definitely escorted him to school.
A father in Shanghai, China has gone above and beyond to encourage his kid to go back to school after staying at home for months due to the Covid-19 pandemic. There's no way any child is refusing to walk with Bumblebee into school, and this man had that in mind when building his Autobot suit.
Just like the rest of the world, China had been on lockdown, and for months, kids had to stay away from school to prevent infection and spread of the deadly virus. However, some normalcy is being restored in some parts of the region, and schools now have the green light to open and allow children continue with their education.
The Bumblebee suit wasn't only for his kid, though. He built it to serve as some amusement and surprise to other kids at school- and that he did.
"I also want to bring happiness to other children. I didn't only wear it for my own child. All of them were preschoolers," he said in the video.
His suit looks like the real thing. The only things missing were metal, alien technology, and missiles- not much, right? Standing about 2.3-metre tall, the suit was built using soft materials to prevent touchy and curious children from getting injured- and he was right to have done that because he was rushed and hugged by children upon arrival at the school.
The excitement of the kids at the sight of Bumblebee could light up astronomical units of outer space, as the intergalactic warrior once again put smiles on the faces of humans. Kudos to this amazing dad for his efforts to make kids happy to resume back to school- he'd probably do it every day if he could.
The home-made suit seems to be inspired by the 2017 movie Bumblebee.