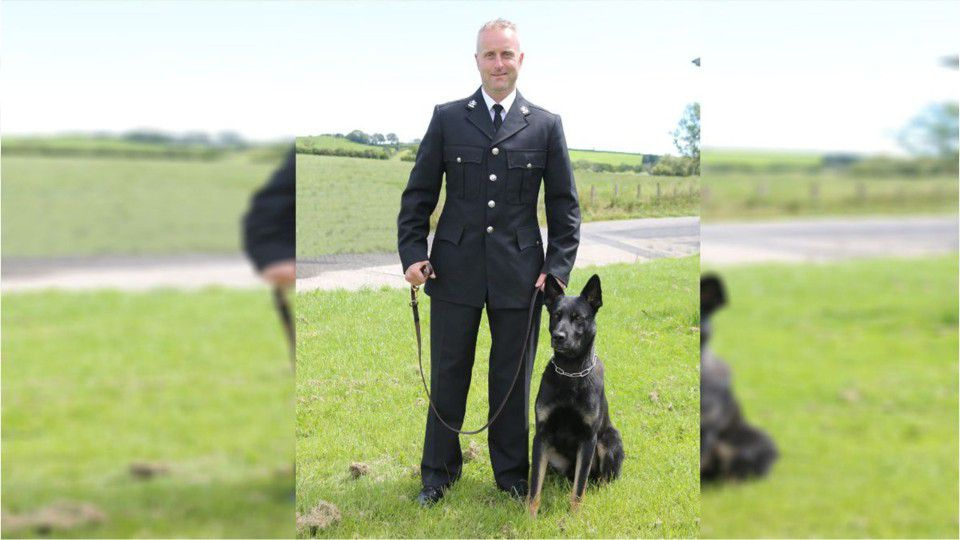 A Police Dog Saves a Lost Mother and Baby
The police have been using dogs to help them for a long time. Max, a young German Shepherd in the Dyfed-Powys Police Department K-9 unit, successfully found a mother and her child.
These two people had been missing for two days. It gets harder and harder to find missing people, and it's important to locate them as quickly as possible. Max was certainly able to do so, and he's only two years old himself. He was only a rookie at the time, but has been given the Very Good Boy title already.
He'd literally only been on the police force for one shift when this happens, demonstrating that it's possible for someone to have an extremely productive and successful first day.
Dogs have abilities that humans don't, especially when it comes to sensing scents. Some dogs have particularly excellent senses, including German Shepherds. Max probably has a great sense of smell, even by German Shepherd standards. As such, he was able to successfully save two human lives.
The mother herself has not yet been identified, but that part of the process should not take long. The important thing is that she's safe. She was with her one-year-old child in the Powys area when they managed to become unexpectedly isolated. They were in a relatively remote area at the time, making the situation even more dangerous for them.
Fortunately, the mother in question was not the sort of person to fall out of touch with people for a long period of time, and other people were able to notice that she was not responding to her phone or communicating with anyone. The community was able to respond very quickly, with professional search officers, response officers, and local policing teams going to the lost mother's home. The professionals did what they could to try to track down and understand her whereabouts.
German Shepherds are among the smartest dogs in the world, which is also certainly helpful on the police force. Max had his license and the training necessary to be a police dog in the first place. However, he didn't have a great deal of experience at this point in time. In all likelihood, because of Max's early impressive success, he should only get more important assignments in the future. He'll certainly have plenty of experience then. At some point in the near future, he could be one of the most decorated members of the K-9 unit.
His handler is Peter Lloyd, a police constable who had not worked with Max previously. However, the two of them certainly have already made a great team. They were assigned to the organized search.
The searchers found some success when they were able to locate the mother's automobile, which was on a road in the mountains. They were then able to narrow down the possibilities. She was clearly in Powys, and specifically in an area that had a woodland ecosystem and little reservoir.
Max is a great tracker, and he was able to search throughout the entire open area very effectively. Woodland ecosystems are complex, and it can be difficult to effectively search through them without a dog's nose. Fortunately, that's what they had. It only took Max ninety minutes to find the two lost individuals.
The mother was brought to a safe place after being stranded near a frightening ravine. They were both cold, and they'd been in that location for far too long. However, a doctor was still able to see them quickly. This search operation was performed very effectively, demonstrating how important it is to have the right allies in these situations.
Young Boy Keeps Toy He Was Measured Against As A Premature Baby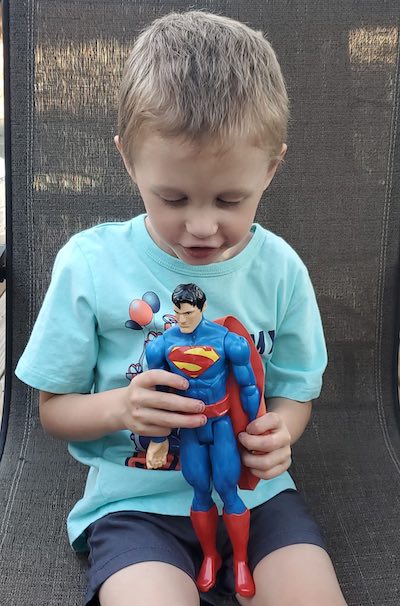 Doctors sent home a woman and her husband to prepare for a miscarriage, but the defiant parents stayed put and now have the tale of a lifetime to tell.
So does their four-year-old son Logan Ray, born less than six months of pregnancy, has a Superman action-figure as proof of how small he was at birth. He was only 12 inches in length and weighed a pound and a half. He and the action figure his parents Rob and Val placed beside him shortly after his birth, are now inseparable.
How did this fascinating and heartwarming story come about?
Nearly five years ago, when Val was pregnant with their son, doctors wiped the smiles off their faces by announcing that the baby would not make it to full term. The Physician claims the baby would not survive at all, and they should brace themselves for any eventuality.
The reason for the bad news was that Val had been diagnosed with a cervix problem. The doctors said examinations showed her Cervix was incompetent. That situation usually transpires when unstable cervical tissue induces or contributes to premature delivery or the loss of pregnancy even though the gestation is, on the other hand, healthy.
Val and Rob blocked out the bad news they received, and we're adamant that they would remain in the hospital to see the pregnancy through. The baby was a fighter too and stayed put for all of twenty-three weeks. Val helped out by keeping her feet elevated and staying in bed for three weeks without getting up to do anything that could further jeopardize the pregnancy.
She gave birth to a child now known as the "Superman Baby" for dual reasons. He was mighty strong and put up a fight to survive, and he was the size of a Superman toy. The toy idea came about when the nurses suggested to the mom that she should use something like a keepsake to measure the baby alongside. When she ran the idea by her husband, he was very supportive and they agreed on the Superman novelty.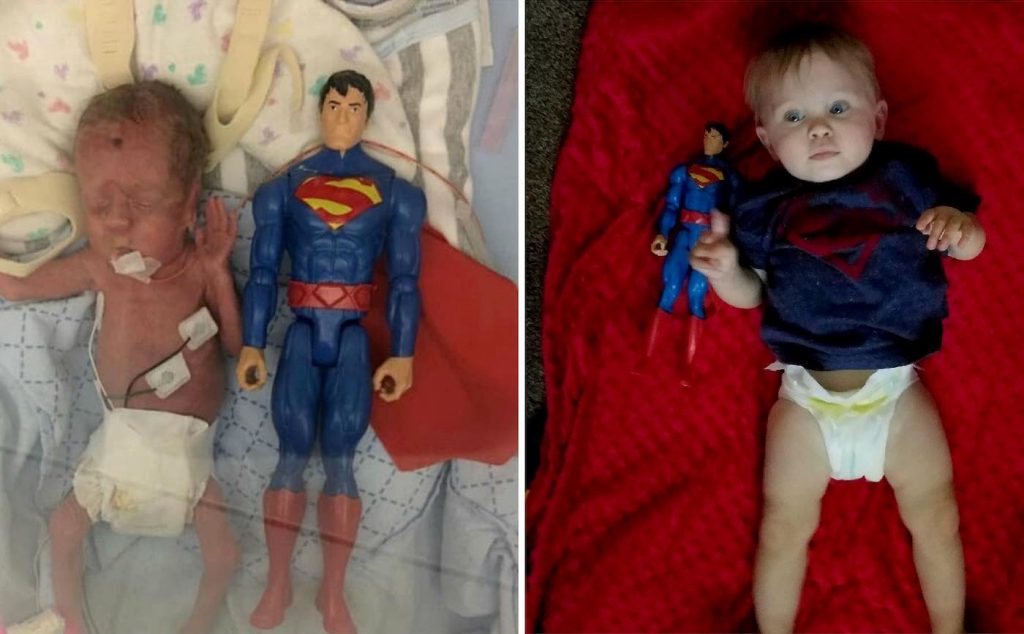 The doll was sanitized and placed beside Logan. For fifteen weeks, he remained in an incubator at the Randall Children's Hospital in Portland, Oregon fighting a myriad of complications that many feared would hinder the survival of Logan, but he pulled through like a champ. It was after those four months that he was finally able to leave with his parents.
From the hospital days to now, four years later, Val has been taking a multitude of photos with Logan carrying around his action figure. The doll is an indicator of Logan's successful development after a traumatic experience in the first few months of his life.
According to the happy and grateful parents, they communicate with the doctor who wants a regular update on Logan, who he refers to as " tough."
Many people consider not just Logan's survival but the fact that he has no further complications a miracle. Just like his action figure, Logan is healthy and strong as any regular child his age. His parents say they will never get rid of the Superman tog as memorabilia is not just for them, but for Logan when he becomes an adult.
He will have a tear-jerking story to tell years from now if or when he becomes a parent as well.