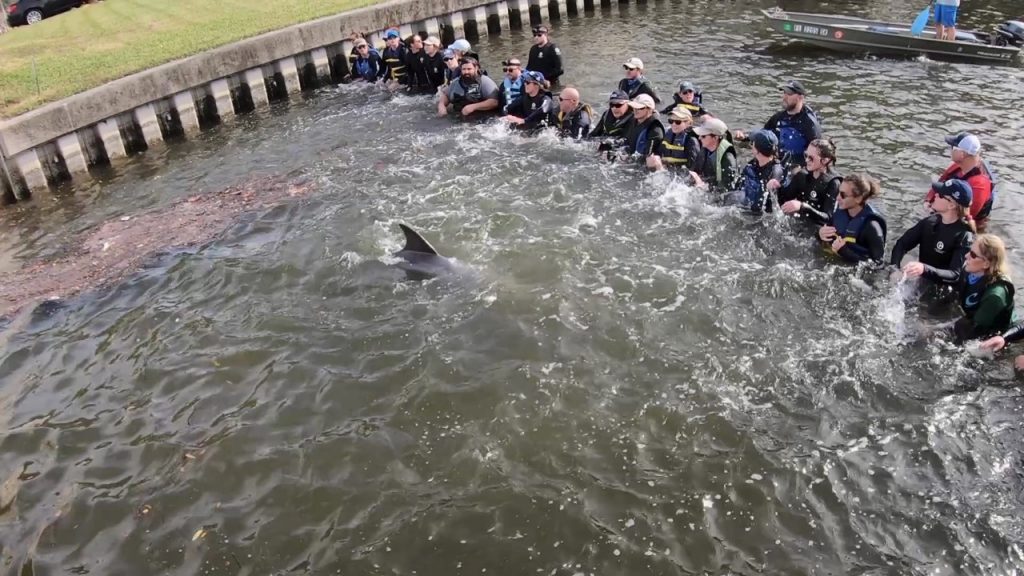 A Florida Dolphin Gets Help Swimming Out of a Residential Creek
A dolphin found itself lost in a residential creek in Florida and was having trouble navigating back to open waters. That's when a few organizations stepped in to give the dolphin a hand. NOAA-NFMS, FWS and Clearwater Marine Aquarium worked together to gather a team of 28 marine biologists. These biologist formed a human chain in the creek to create a sound and visual barrier to help guide the dolphin to freedom.
The dolphin didn't seem to be in too much distress and had taken a liking to the creek. It was monitored for a few weeks before the rescue and seemed to be in good health and exhibiting normal dolphin behavior. However, the marine biologists fear it was eventually be isolated and suffer from harassment and human interactions if it stayed in the creek.
Dolphins are social creatures that often swim in groups, known as pods. They are highly intelligent animals that are known for their playful and communicative behavior. Swimming in groups offers a number of benefits for dolphins, including increased safety from predators, easier hunting, and opportunities for social bonding. Pods can range in size from just a few individuals to hundreds of dolphins. In these groups, dolphins engage in a variety of activities, such as hunting for food, playing, and communicating through complex vocalizations and body language. The strong social bonds within a pod are a key aspect of dolphin behavior and play an important role in their overall well-being.
The neighborhood was very helpful and supportive of the marine biologists work to guide the dolphin to freedom. It is now swimming happily in the ocean.
Smallville: A Social Village Simulator That's Advancing AI Research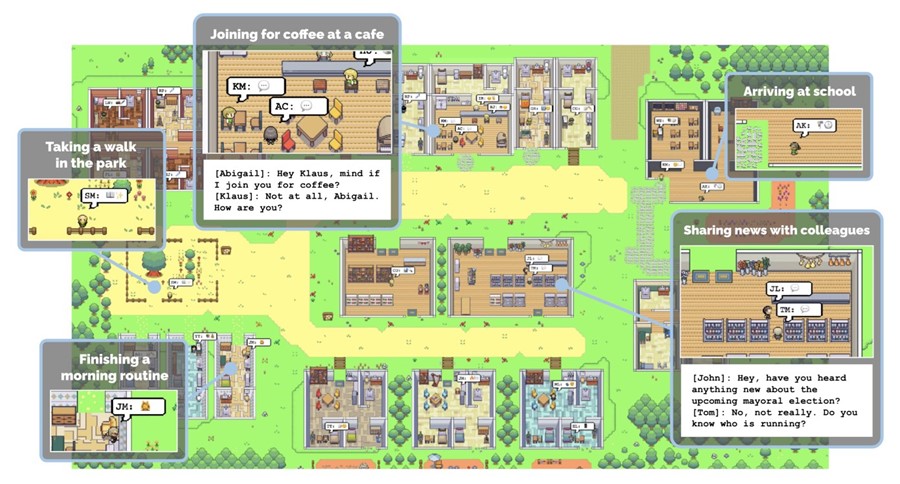 Researchers created a world where an entire village thrives with inhabitants who are not human but AI-driven characters exhibiting intricate human social behavior. This fascinating experiment is called Smallville, and it's turning heads in the world of AI research. A collaborative effort between Stanford University and Google, Smallville is pushing the boundaries of what artificial intelligence can achieve.
Last August, Stanford and Google published a groundbreaking paper titled "Generative Agents: Interactive Simulacra of Human Behavior," which shed light on their ambitious project, Smallville. At its core, Smallville is designed to simulate a small city environment, complete with local shops, a college featuring dormitories, a library, a café, and a handful of houses. Notably, there's also a co-living space housing 25 generative agents – the AI characters that make this simulation so unique.
What sets Smallville apart is the remarkable depth of its AI characters. Each generative agent is imbued with its own identity, goals, and roles, essentially becoming "characters" within this simulated world. The objective? To explore what a world entirely populated by AI would look like and how these AI beings would interact with one another.
The results have been nothing short of astounding. Smallville has provided valuable insights into AI's ability to mimic complex human social interactions. The agents within this simulated world engage in intricate relationships, reminiscent of real-life social dynamics. They rely on their memory to remember past interactions and nurture connections, demonstrating a level of sophistication that was once considered science fiction.
However, this advancement in AI research comes with a mix of excitement and apprehension. The potential of AI agents participating in complex social interactions has numerous applications, from improving customer service to enhancing virtual worlds and even aiding in mental health support. On the flip side, it raises questions about ethics, privacy, and the boundaries of AI's capabilities.
Smallville is a testament to the ever-evolving landscape of AI research, where the line between the artificial and the human becomes increasingly blurred. As the development of AI agents like those in Smallville progresses, it challenges us to navigate the exciting and, at times, unsettling frontier of AI's potential impact on our society.