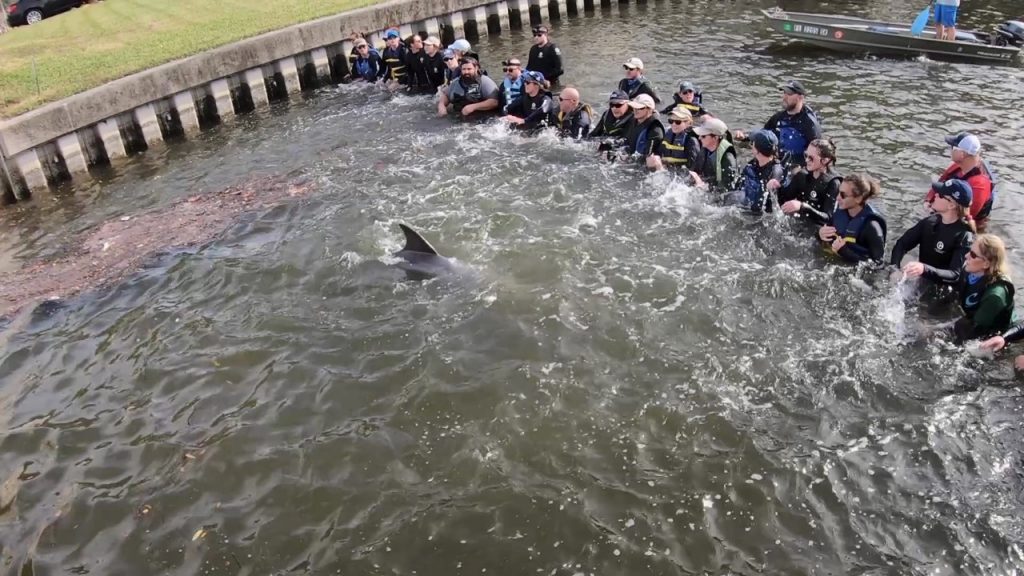 A Florida Dolphin Gets Help Swimming Out of a Residential Creek
A dolphin found itself lost in a residential creek in Florida and was having trouble navigating back to open waters. That's when a few organizations stepped in to give the dolphin a hand. NOAA-NFMS, FWS and Clearwater Marine Aquarium worked together to gather a team of 28 marine biologists. These biologist formed a human chain in the creek to create a sound and visual barrier to help guide the dolphin to freedom.
The dolphin didn't seem to be in too much distress and had taken a liking to the creek. It was monitored for a few weeks before the rescue and seemed to be in good health and exhibiting normal dolphin behavior. However, the marine biologists fear it was eventually be isolated and suffer from harassment and human interactions if it stayed in the creek.
Dolphins are social creatures that often swim in groups, known as pods. They are highly intelligent animals that are known for their playful and communicative behavior. Swimming in groups offers a number of benefits for dolphins, including increased safety from predators, easier hunting, and opportunities for social bonding. Pods can range in size from just a few individuals to hundreds of dolphins. In these groups, dolphins engage in a variety of activities, such as hunting for food, playing, and communicating through complex vocalizations and body language. The strong social bonds within a pod are a key aspect of dolphin behavior and play an important role in their overall well-being.
The neighborhood was very helpful and supportive of the marine biologists work to guide the dolphin to freedom. It is now swimming happily in the ocean.
Vaccine For Bees Could Offer Glimmer of Hope To Declining Bee Populations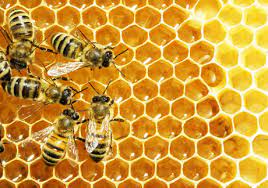 In recent years, the world has been grappling with the alarming decline of bee populations. Bees play a crucial role in pollinating crops and contributing to the ecosystem, making their survival critical to our food supply and environment. Unfortunately, diseases, parasites, and climate change have been devastating bee populations, and many beekeepers are losing up to 50-70% of their colonies due to disease. However, a new development could be a game-changer in the fight to save bees.
A biotech company has created the world's first vaccine for honeybees, offering hope for the survival of bee populations. The vaccine works by vaccinating the queen bee, who then passes on the immunity to millions of offspring that make up the colony. This breakthrough could revolutionize the fight against American foulbrood disease, a bacterial infection that has been decimating bee populations.
American foulbrood disease is a severe bacterial disease that affects honeybee larvae, causing them to die rapidly and emit a foul odor. When a colony is infected, all equipment and infected bees must be burned and buried, making the disease a significant threat to the beekeeping industry. The vaccine could help prevent the spread of the disease by providing colonies with immunity to the bacteria.
The vaccine is still in the early stages of development and requires further testing, but it has already shown promising results in trials. If successful, the vaccine could be a game-changer in the fight to save bees and protect our food supply. Bees are responsible for pollinating a third of the food produced in the United States, and their role in the ecosystem is worth an estimated $15 billion annually.
The decline of bee populations has become a global concern, and scientists and beekeepers have been working tirelessly to find solutions. The development of the bee vaccine could be a significant step forward in protecting these essential creatures. With the vaccine, beekeepers can help reduce the impact of diseases on their colonies and keep their bees healthy and thriving.
The creation of a vaccine for honeybees offers a glimmer of hope in the fight against the decline of bee populations. While the vaccine is not a silver bullet, it could be an essential tool in reducing the impact of diseases on bee populations. As research continues, we can only hope that this development will lead to a brighter future for bees and the important role they play in our ecosystem.