27 Easy Holiday Hacks For A Stress-Free Season
We are officially entering the holiday season! Gumdrops, Candy Canes, Hot Chocolate, Presents, Fires, Carols – the list of joyous moments is long, but so is the list of holiday frustrations. Such as, tangled christmas lights and broken ornaments. Well we are here to help! Here are 27 Holiday Hacks that will make your holiday season stress-free and oh so jolly!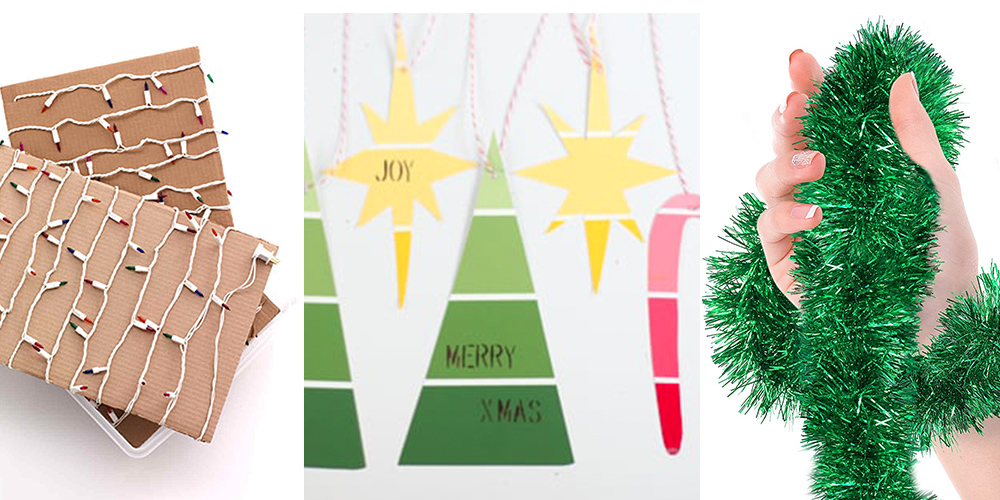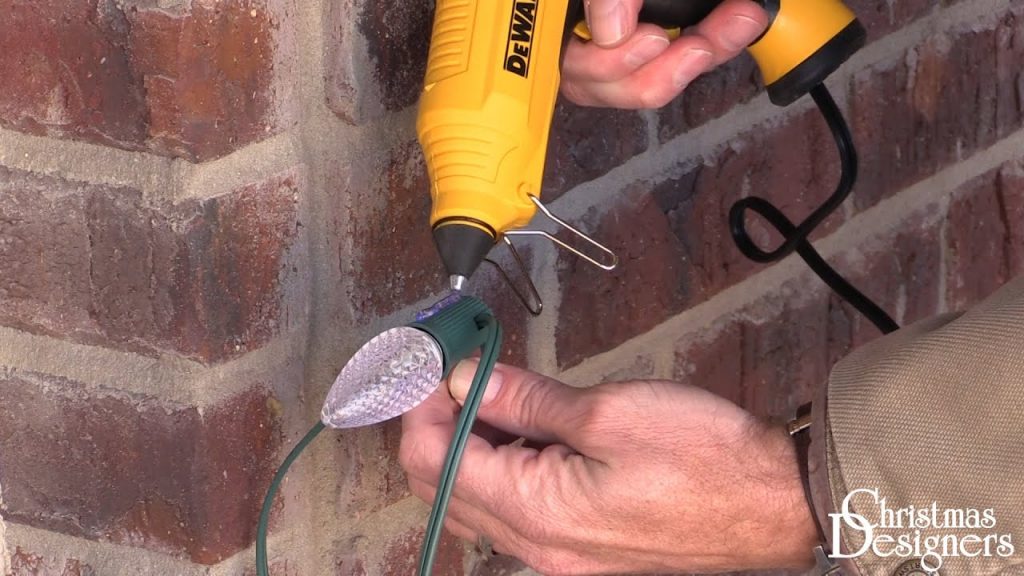 Adhere Lights To Porous Surfaces
Hot glue guns are a must-have tool during the holiday season. They make everything easier. One of our favorite hacks with the hot glue gun is using it to adhere strings of lights to our brick house.
The hot glue gun will quickly and easily secure the lights and cause ZERO damage to the building. Turn your house to the most sparkling and festive on the block!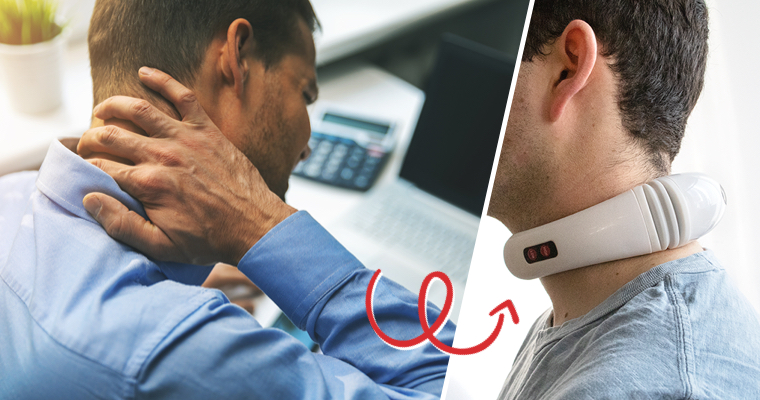 Relieve Neck Pain After Hanging Lights
Hanging lights can be pretty tiresome on your body – but totally worth it when you make the newspaper as one of the most spectacular houses to drive-by!
We like to relax after light hanging with the NeckRelax self massage device. The device also makes a great gift if someone else in your family is complaining about "xmas light hangers neck" (not a recognized medical term…yet).
We love the small nature of the NeckRelax – it looks like a comfortable set of headphones and three different modalities. These options helped produce the most substantial healing benefit for me and were more than worth the price.
The deep infrared heat offered by this device helps to relax muscle tissue and help circulation. It also has different massage modes for specific uses. The electro-frequency massages target specific muscles in a way that works.
Since the company is still new, they are currently offering 50% off by clicking here.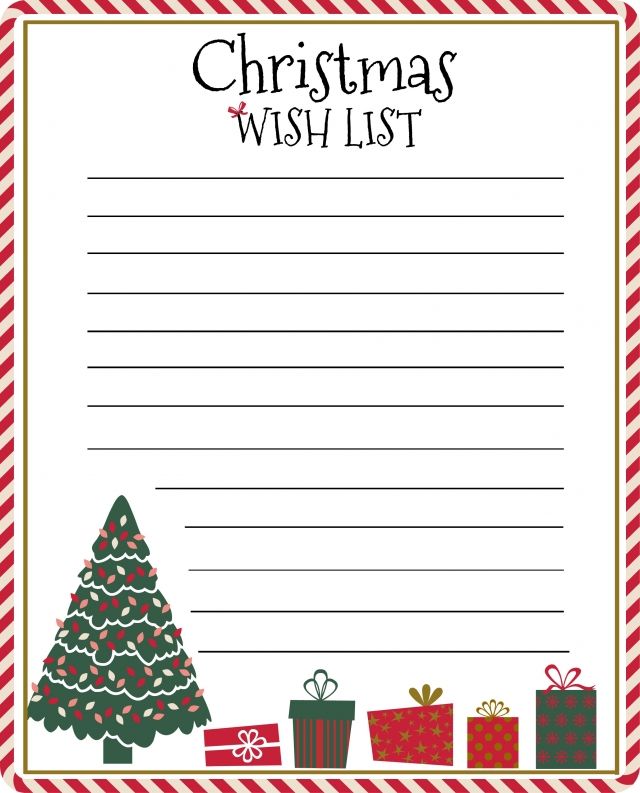 Holiday Gift Idea Help
Don't know what to get your loved ones for the holidays? Well if they don't have a wish list that's easily accessible, then fake like you already finished your shopping for them.
Ask them, "You get three guesses on what I bought you. What do you think it is?" They will name three things that they want and Voila! you have your list done.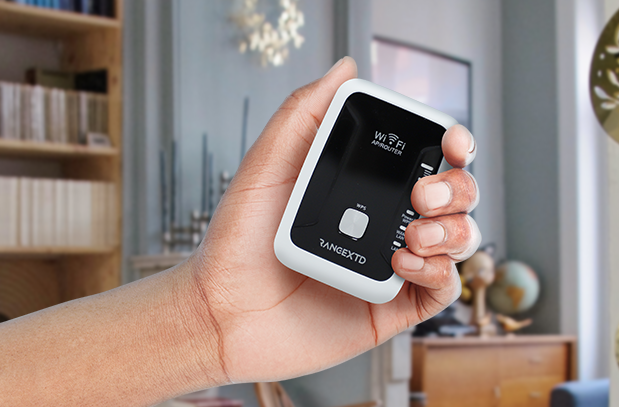 Make Sure Your Wi-Fi Can Handle The Additional Devices
Family coming for the holidays? Uncle Joe too much of a workaholic to take off work and wants to work from your guest room? Are your nieces and nephews addicted to TikTok? Then you are going to want to make sure you have the Wi-Fi capacity to handle a truly techy family.
SuperBoost is a hand-sized gizmo that plugs into a wall outlet in a home and automatically hooks up to your wireless internet. With dual-antennas and a built-in speed of 300 Mbps, the SuperBoost helps to increase a home's wireless speed and makes it much more consistent – when used correctly, it can handle the demands of five or more full-speed streams in one house. 
It's great because:
Increases wireless speeds immensely
Low Cost (one time payment vs. monthly to internet provider)
No more buffering
Great for homes with multiple internet users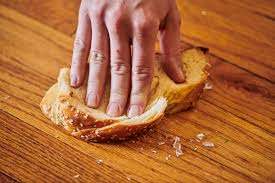 Clean Up Holiday Party Fouls
Aunt Sharon drink too much wine again and drop her glass while dancing to "Santa Baby"? No problem, you got this.
An easy way to clean up broken glass is with a slice of bread. Take the slice and press it over the broken glass carefully. The big and small glass shards will stick to the bread for you to dispose of.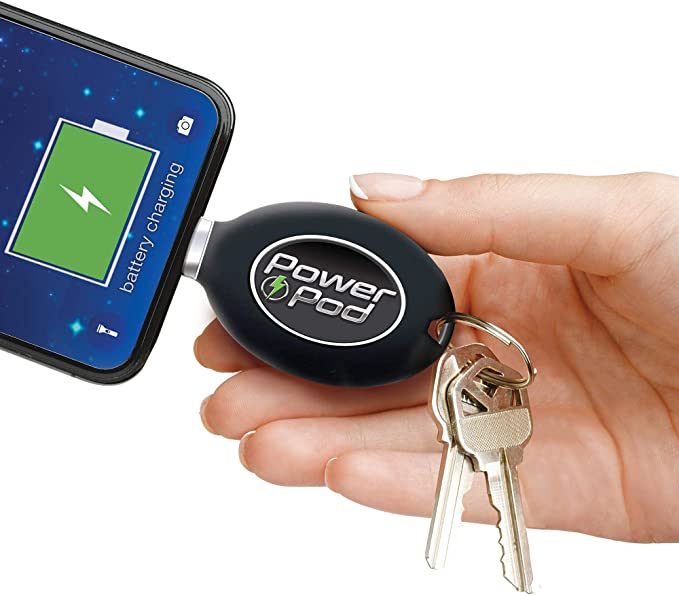 Holiday Travel Phone Battery Hack
Traveling for the holidays? You will want to make sure your phone has enough battery for the flight or car ride. Don't be caught huddle up with the traveling masses by the airport outlets (stay away from those germs!)
Potable, wireless charges are a huge help during the holidays. We like the PowerPod because it fits on your keychain and is powerful. It's also a great gift for your teenagers. Trust me, they will use it more then you think.
The PowerPod is a portable charger that provides hours of instant power, compatible with both Android and Apple devices, charges your phone quickly on-the-go and provides peace of mine.
Check out their current specials, I know a lot of people who have bought these for their whole families so they never have to deal with the "my phone died" drama.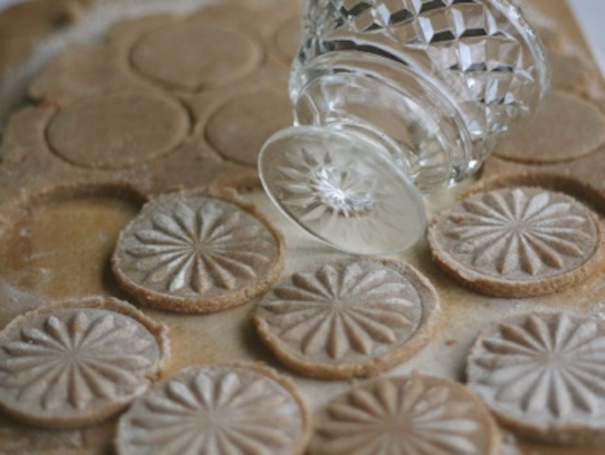 Easy Cookie Shapes
Clean off the bottom of a crystal vase and press it into the cookie dough for a stunning pattern on your holiday cookies. These cookies will look beautiful and professional and are super fun to decorate. Plus, you don't have to add special cookie cutters to your already overflowing kitchen cabinets.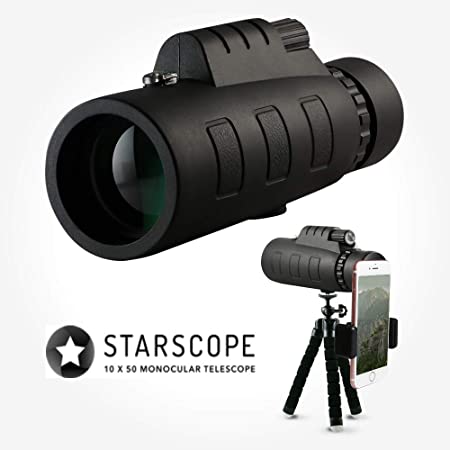 Capture Precious Holiday Moments
We've got two devices that we like to use to capture the holiday moments — these also double as great gifts.
First up, the Starscope Monocular is a telescope lens that takes amazing photos. It's military-grade magnification let's you see for 50 miles or more and take amazing photos. Christmas lights, your kids sledding, Holiday parades – the quality, magnification, size, and weather proofing of the Starscope Monocular is perfect for these activities. Starscope Monocular is currently 50% off
Second is the Action Hero 4K camera. Like the GoPro, except I actually like some of the features better and it's more afforable.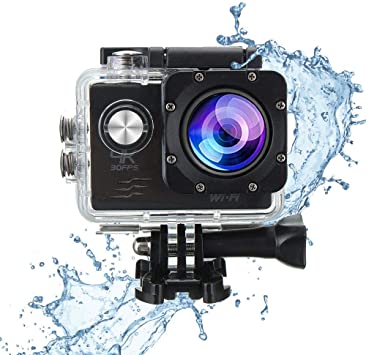 My girlfriend recently gifted me the Action Hero 4K camera, so I have first-hand knowledge of how great a gift this is. It's seriously so fun to take sledding. Your kids will love to see the footage of them flying down the hill.
It's great for the holidays and anytime:
Fantastic high-def sports camera
Affordable
Easy to use
Records stunning video and audio
Fast load
Waterproof
Powerful battery
Built-In WiFi
They are currently running a special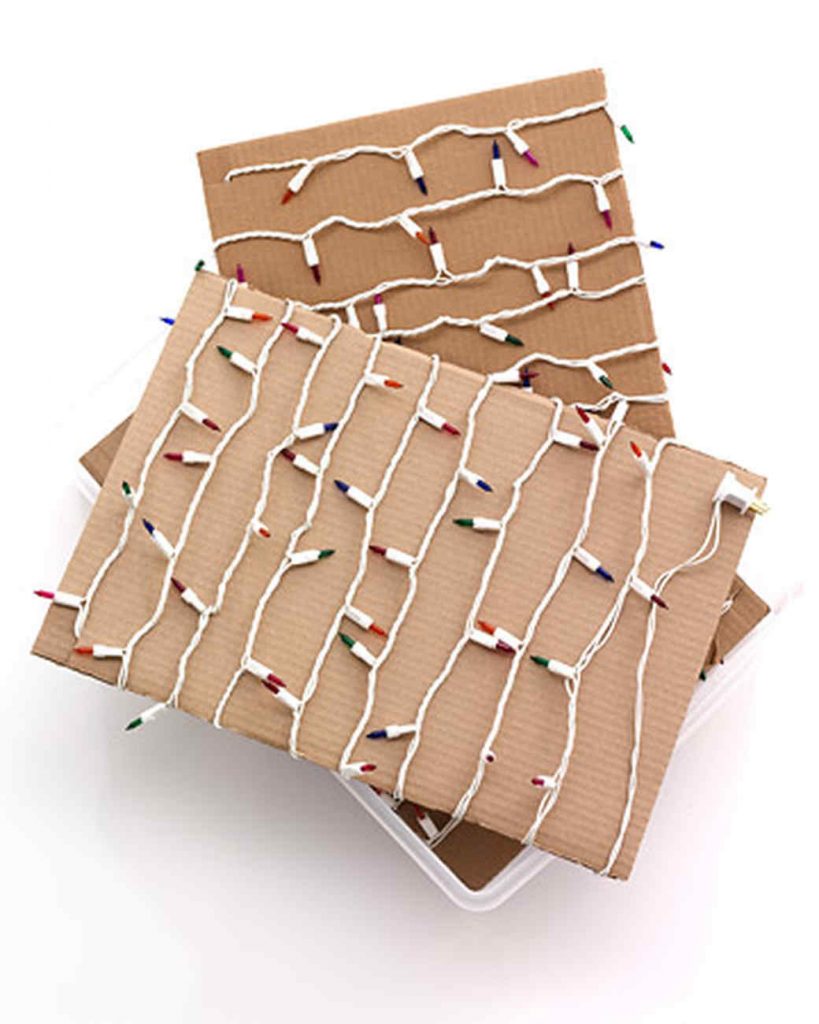 Keep Lights Tangle Free
Untangling christmas lights is the worst. It's almost worth it to just buy new ones if you have a real nest of lights. Not only is it time-consuming, but you also have to be careful not to break any lights.
Well, fortunately, with a little forethought the year before, you can save yourself a lot of grief. When storing christmas lights, wrap them around a piece of cardboard. This will keep them neat and tangle free.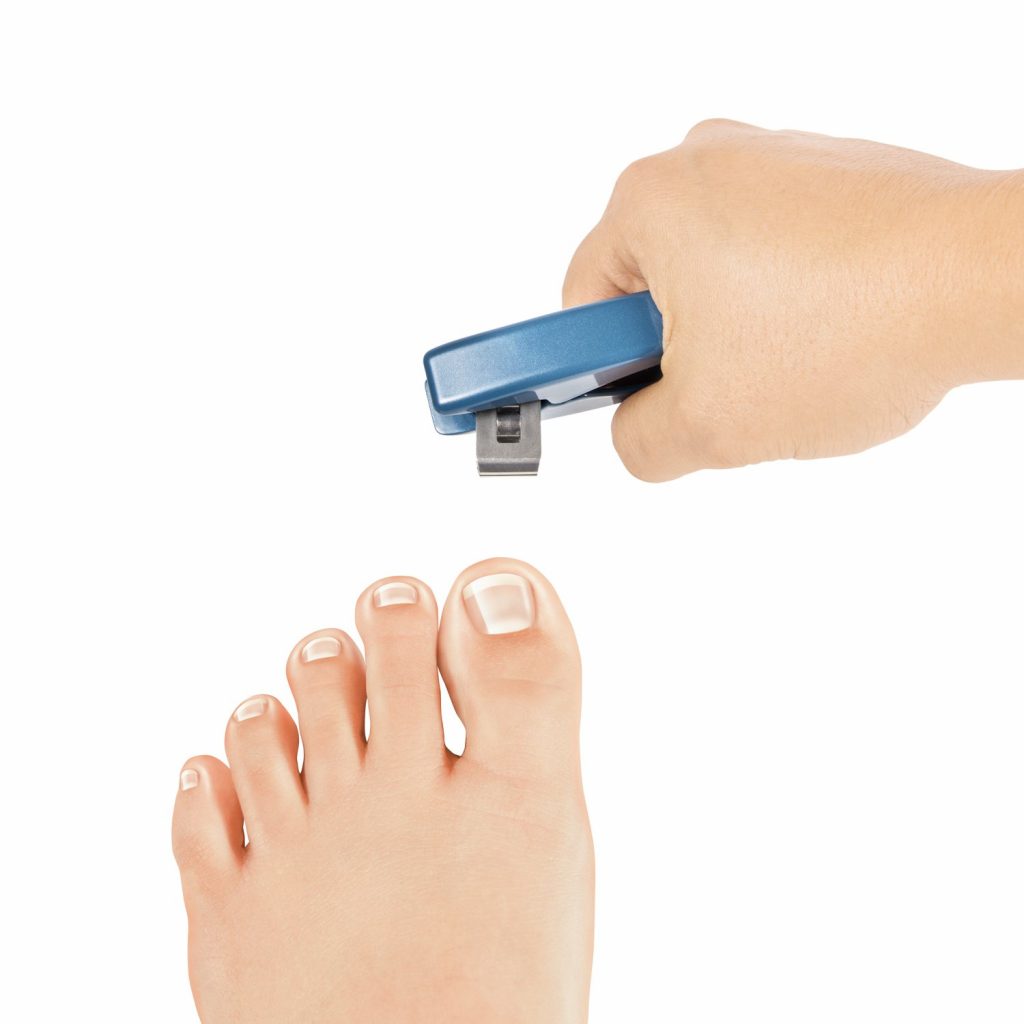 Surprise Your Parents or Grandparents With These Essentials
If you are having your parents or grandparents come stay with you for the holidays, then these two items will really elevate their stay. They are also very thoughtful gifts that show you care about them and their health.
Have the ClipperPro handy for easy grooming. Although not the most glamorous gift, ClipperPro will truly be appreciated and is so thoughtful. ClipperPro has a swivel head for better positioning, better control, and easier cutting. ClipperPro puts your hand in a more natural position when cutting which helps with arthritic joints. It also helps if you have to be extra careful cutting your nails due to diabetes. 
WHY IT'S A GREAT
High-quality, precision nail cutting tool
Designed by surgeons
Little force is needed
Puts your hand in a more natural position for easy cutting
Another item to have for when you guest are spending the night are Miracle Sheets.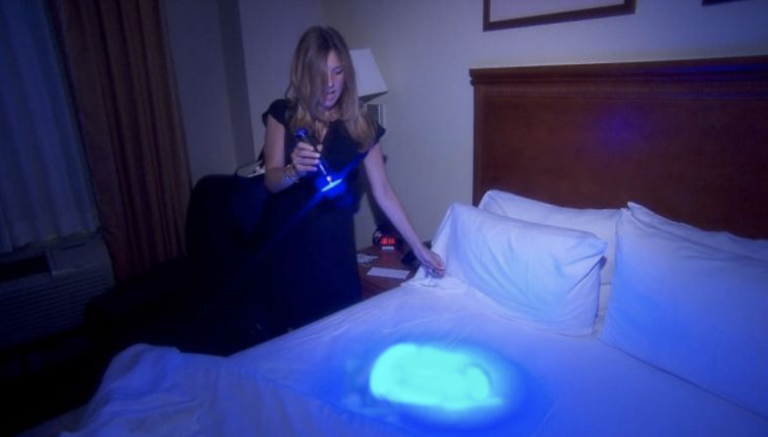 Another not so glamorous, but practical and needed item. Germ destroying Miracle Sheets (and they also reduce night sweats!) Did you know that sheets that haven't been washed in one week have 3 million particles of bacteria per square inch? That's 17,442 more then a toilet seat. Your sheets are literally crawling and saturated with bacteria and germs. You can drop this knowledge bomb as your excited recipient opens this gift or as your family lays down in the guest bedroom and you brag about your germ consciousness.
WHY IT'S A GREAT
Made with silver ions that kill 99.9% of bacteria
Hygienic and Luxury
Cooling and moisture-wicking
So so soft and comfortable
Cleaner (less laundry)
Odor Free
Low Maintenance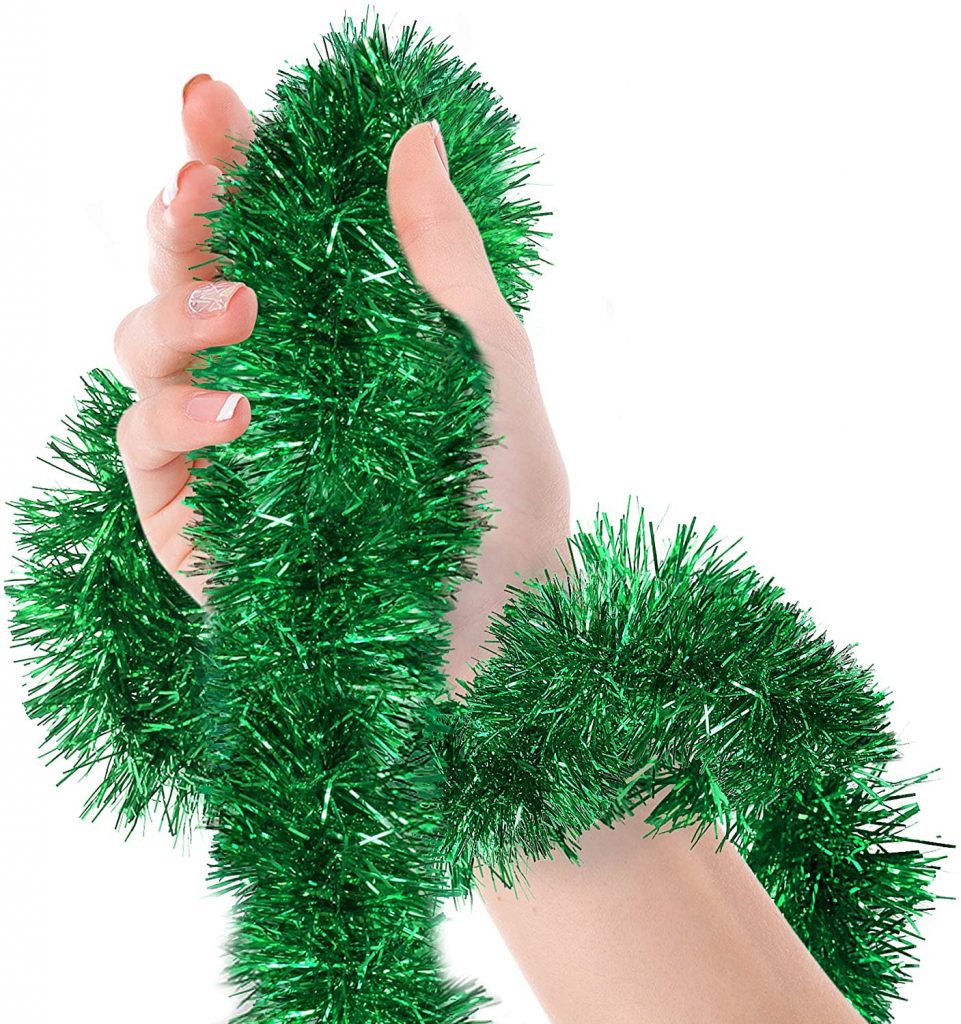 My Your Christmas Tree Look Extra Lush
If your buying your christmas tree from a lot, sometimes it's hard to tell how it will look once its all relaxed in your home. So if you happen to chose a tree that is a little light on the greenery and branches, just wrap green tinsel around the center of the tree. This will make it look extra lush and beautiful.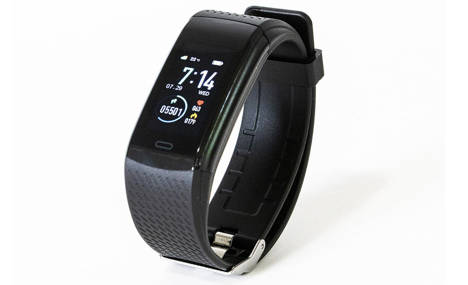 Track Your Holiday Exercise
So you set up the tree, strung the garland, put up the wreath, and sang along to Mariah Carey – but how many calories did you burn? Can you have that second cup of hot chocolate with the obscene amount of marshmallows?
Wear the Koretrak during your holiday scramble and you will know how much sweat you are really putting into making this a perfect Christmas. Koretrak the fitness trackers that big brands don't want you to know about. Why? Because it has all the functionality of $300 smart watches, at a fraction of the cost. Koretrak is able to offer a superior smart watch at an affordable price because they strip away all branding/advertising. This is also a great gift for anyone, buy multiple and check everyone off your gift list.
Same functionality as more expensive smartwatches
Biometric Technology (real-time): Heart Rate, Blood pressure, Blood Oxygen Level, Built-In Fitness Apps, Track Steps, Track Distance, Track Calories Burned, And more…
Smartwatch Connectivity: Text message alerts, Missed Calls, Find Your Phone, Time, Weather, Location, Easy Set-Up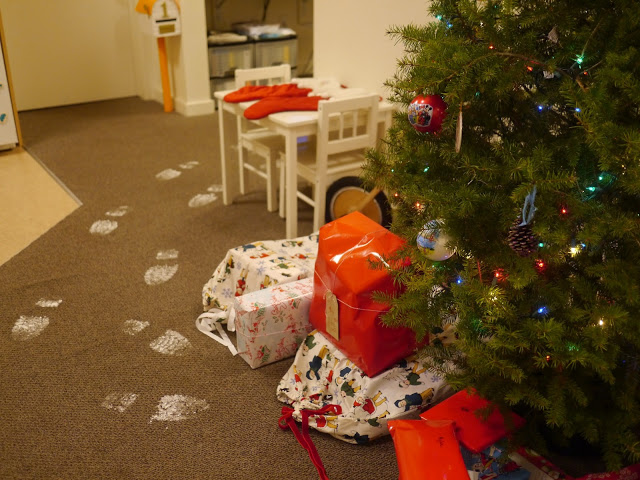 Make Santa Footprints
Here's a fun hack – santa footprints. All you need to make your kids Christmas morning extra special is some glitter, baking soda, water, and boots. Simply mix the glitter and baking soda on a sheet pan. Then spray the bottom of the boots with a little water and press down into glitter/baking soda mixture. And then press the shoe prints onto the carpet (from the door or window) to the tree. The footprints also easily vacuum up!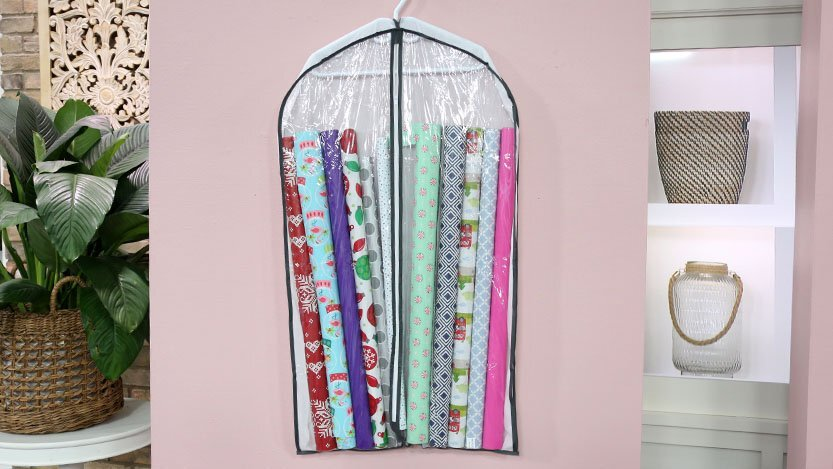 Easy Wrapping Paper Storage
Do you open your craft closet and the wrapping paper all tumbles out? Are the ends of the wrapper all smushed and torn? Well then you will like this hack.
Place all your wrapping paper in a garment bag and hang in your closet. They fit neatly and it is super easy storage.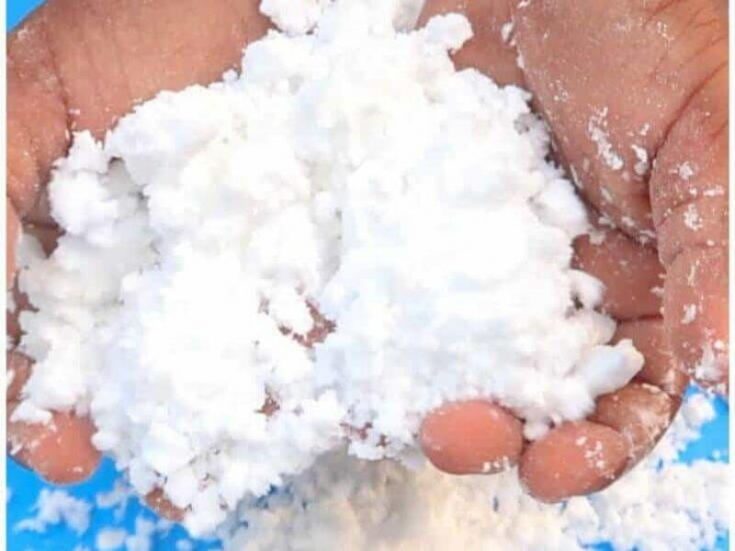 Make Fake Snow
I'm dreaming of a white Christmas….. wait, but I live in Florida. No problem, there is an easy way to make fake snow and still plummet your kids will snowballs as they return from class. You will need:
2 cups cornstrach
1/3 cup vegetable oil
4 tablespoons silver glitter
Mix it all together and you have smooth, pretty snow that can be moulded and thrown for extra holiday fun!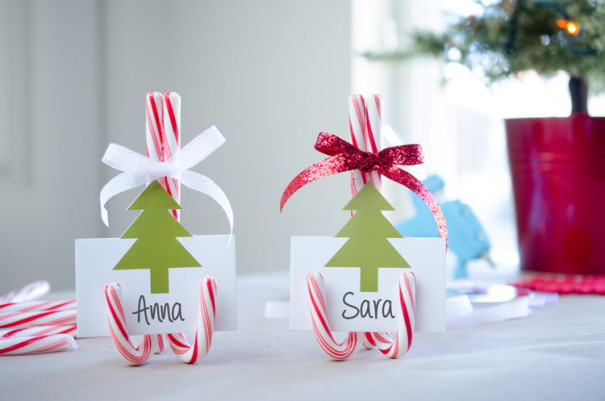 Candy Cane Card Holders
This is a cute, easy craft idea. If you are having guest over for dinner, make these candy cane card holders. After dinner they can enjoy the candy.
All you need is two candy canes (big or small), a bow if you want to make it extra festive, and a small piece of paper to write the name.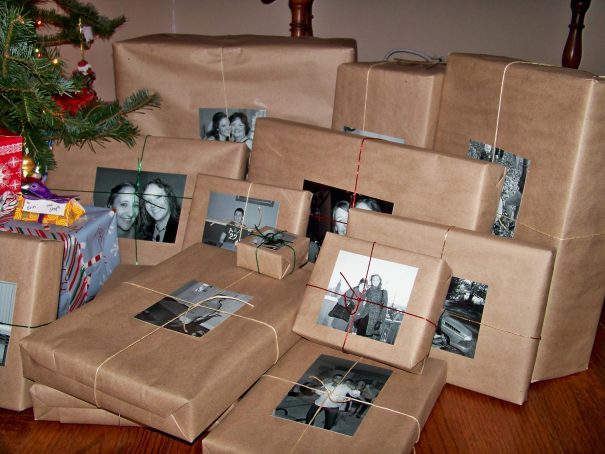 Photos Instead of Name Tags
This hack is extra special. Instead of simply writing everyones name on the gift's you got them, print out a photo of the recipient. Or a photo of the two of your together!
It is a very thoughtful touch and it also makes looking at the gifts under the tree before the holidays super fun.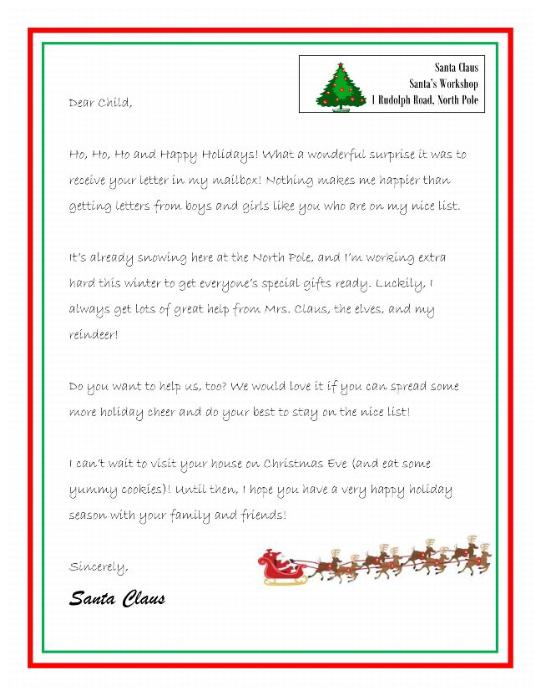 Get An Actual Letter From Santa
Writing a letter to Santa is such a fun activity for kids and it makes him seem extra real. This is a great Thanksgiving weekend activity. And what is super cool, is you can now he a letter back from the post office that is postmarked from The North Pole!
Simply have your child write a letter to Santa and place it in an envelope addressed to Santa Clause, North Pole. You then write a response to the letter and sign it "From Santa". Mail these two letters together and sure enough, the response letter will come back looking like it's from The North Pole. More detailed instructions can be found here.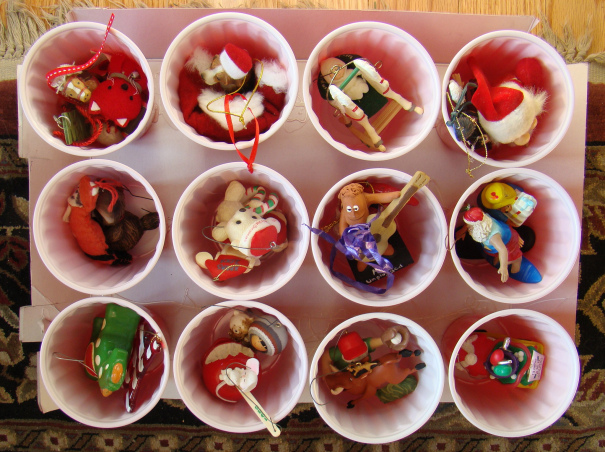 Ornament Storing Made Easy
There are two fabulous and easy ways to store your ornaments so they don't break and can easily be put away.
1 – Store smaller, fragile ornaments and glass balls in egg cartons. The little spaces are perfect size for ornaments and the egg crate was made for fragile items so it's perfect for these.
2 – Store other ornaments in plastic or paper cups. These will keep the ornaments neat and tangle-free and also protect against breakage.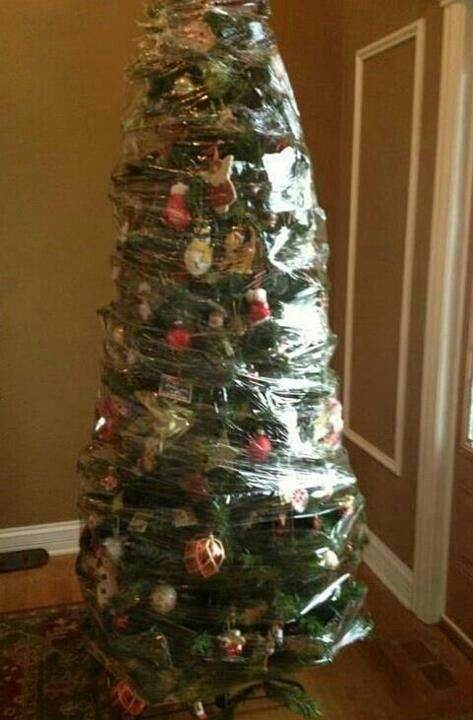 Keep Your Tree Decorations In Place
Another option is to not remove your ornaments at all — of course, this only works for fake trees. One genius idea is to wrap your fake tree – decorations and all – in plastic wrap. Just spin the plastic wrap around the whole tree and everything will remain perfectly in place for next year. For the truly lazy AND truly genius.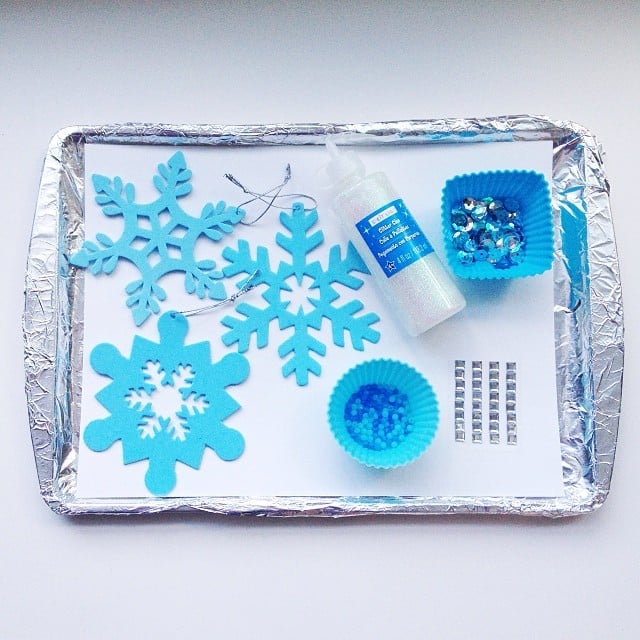 "Limited Mess" Craft Time
The holiday season is the perfect time for crafting with the kids. They are home more and it's usually too cold to play outside. The only downside, the mess holiday crafts leave.
Easy solution – line a cookie sheet with tine foil and confine the crafting to that area. All glitter, glue, etc. will stay on the cookie sheet. Then when crafting it down, simply remove the tin foil and toss it along with all the mess!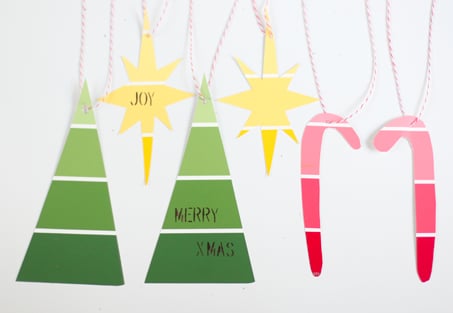 Free & Fun Ornaments
There are probably a lot of things in your house that you could turn into an ornament with a simple bent paper clip. But these paint chip ornaments turn out extra cute.
Just grab paint chips in your holiday color scheme from the hardware store and cut into festive shapes to hang from your tree or just scatter about your mantel or table.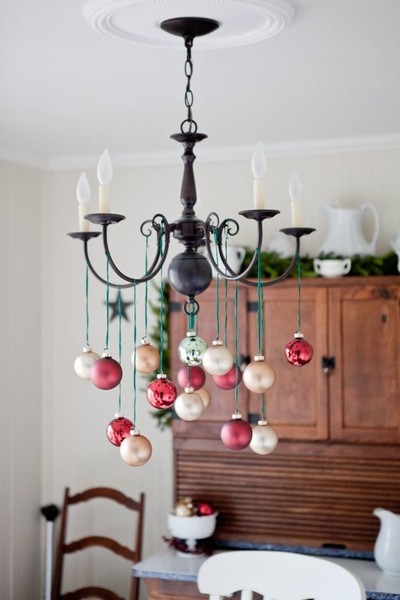 Extra Festive Dining Room
Ornaments – they aren't just for you Christmas tree anymore! Seriously, ornaments look fantastic a variety of places, but they truly shine when you hang them your your chandelier in the dining room.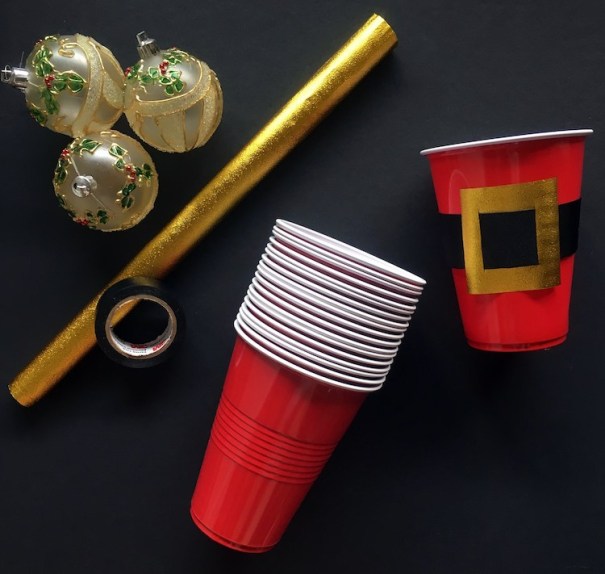 Santa Cups
Do you want to use red solo cups at your holiday party, but worry they will be seen as a little cheap / non-festive? Well then this hack is awesome for you.
Turn your red solo cups into festive Santa Cups with just electrical tape and gold wrapping paper. Just cut a square in the gold wrapping paper and weave the electrical tape through it to make Santa's belt. Adhere to the red solo cup and you have just elevated your drinking game to holiday level!
57 Brilliant Life Hacks That Simplify Everyday Living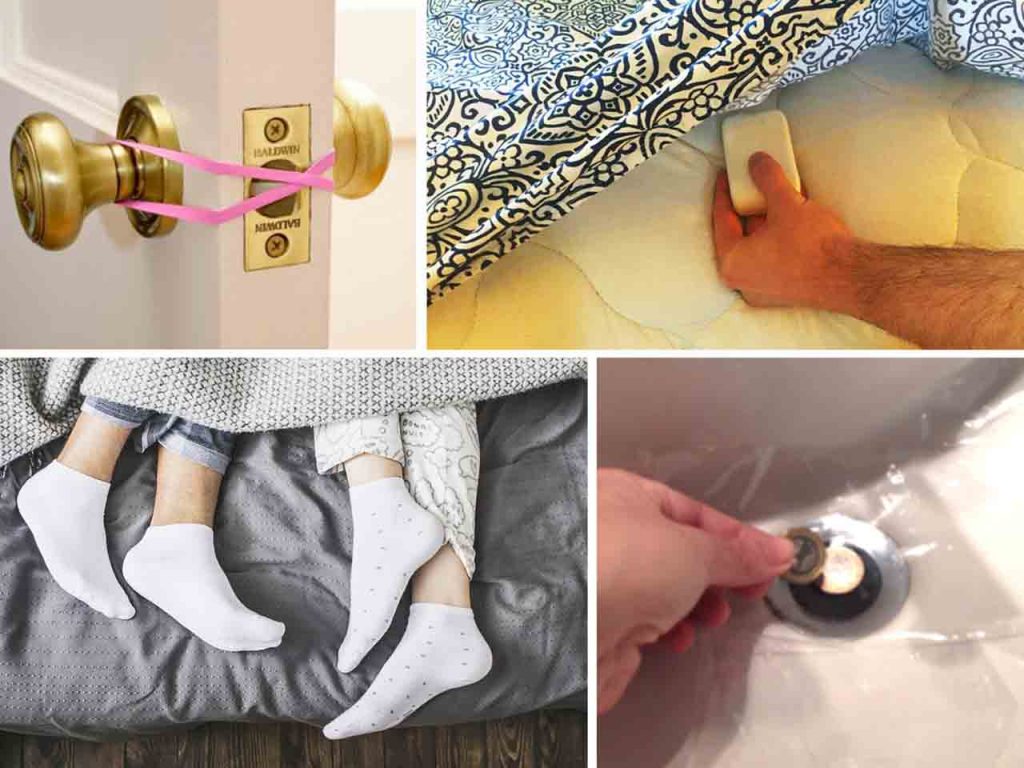 We may not like to admit it but life can be difficult in even the best of circumstances. One of the secrets of making our day-to-day difficulties more tolerable is by looking for easier ways to approach them. By this point in your life, you have probably heard of life hacks. A life hack is a little trick that can be quickly implemented in your day-to-day life to solve a problem. With new life hacks hitting the internet every day, it can be hard to keep up with the real life-changers. Fortunately for you, we are here to help!
Keep on reading to learn about 57 unique life hacks that will change the way you live your life!